A New Level: An interview with Yannick Alléno
This article first appeared in print in issue 31 of Supper. Subscribe here.
---
Ahead of his London debut, Yannick Alléno reveals more about the neighbourhood-style restaurant concept coming to Four Seasons Park Lane, and why he finally feels ready to take on the UK market.
"I'm stressed," says Yannick Alléno, as we sit down to discuss his highly-anticipated debut at London's Four Seasons Park Lane. We had arranged to meet at the hotel – an informal rendezvous and perhaps take a sneak-peek at the under-refurbishment restaurant that would soon carry his name. But alas, the train strikes that have been plaguing Europe scuppered our plans, so make-do with a video call. "With every passing day, I'm getting more and more stressed," he affirms – an understandable response given the complexities of opening a new restaurant, not to mention one that occupies a prestigious hotel in a sought-after capital city location. "London is a very tough market," Alléno continues, alluding to the variety, quantity and quality of dining options in the city. "There are so many fantastic chefs and so many great restaurants; to open in London, you really have to be sure you're at the right level."
While Alléno may have questioned whether he has reached the "right level", his credentials surely come as confirmation. As one of the most decorated chefs in France, he holds no less than 15 Michelin stars across his global portfolio of restaurants – Alléno in Paris was awarded the ultimate accolade of three stars in 2015, while Le 1947 at Cheval Blanc in Courchevel won the same recognition in 2017. There's also Pavyllon Monte Carlo at Hôtel Hermitage and Fre at Réva Resort in Monforte d'Alba, with a Michelin star each, and Stay at One & Only The Palm in Dubai with two stars. Alléno's portfolio extends to Asia too; the chef heads up Stay, a modern French restaurant at Signiel in Seoul, as well as cuisine at the hotel's Bar 81 and The Lounge venues.
In all, Alléno has put his name to 14 restaurants around the world, a portfolio that continues to grow. And though he's experimented with various styles over the years, the chef is best known for his reinvention of modern French cuisine, an approach he defines as being rooted in French gastronomy, yet inspired by contemporary techniques and seasonal ingredients.
The origins of Alléno's craft can be clearly traced back to childhood; as a youngster, evenings and weekends were spent at bistros that his parents ran in the suburbs of Paris, and so when his grandmother taught him to cook at the age of eight, he immediately realised he wanted to be a chef. At 15, Alléno got his first job in a professional kitchen, initially learning from Gabriel Biscay at Le Royal Monceau, before working with French greats including Roland Durand and Martial Enguehard at the former Sofitel Paris Porte Des Sevres and Louis Grondard at Drouant. Having refined his skills, Alléno was appointed Head Chef for Les Muses at L'hotel Scribe, where he was awarded his first Michelin star. He then joined Le Meurice as Chef de Cuisine, and through a decade-long tenure became regarded as one of Paris' best.
Alléno's first solo venture came in 2014, when he took ownership of Pavillon Ledoyen, a majestic Neo-Classical building on the Champs-Elysées. Here, he opened Alléno Paris, which gained its three stars only seven months after opening. The Pavillon has a longstanding history as a temple of gastronomy, and as the birthplace of Alléno's empire, it now houses three of his restaurants. In 2018, he added L'Abysse, a 12-seat sushi counter concept developed in collaboration with Yasunari Okazaki, a sushi master he met on one of his many culinary voyages to Japan. And in 2019, he opened his third and final restaurant in Pavillon Ledoyen – Pavyllon. This, his most casual concept, focuses on seasonal dishes that combine French influence with other culinary traditions; cooking on a teppanyaki for example, or preparing seafood the Nordic way.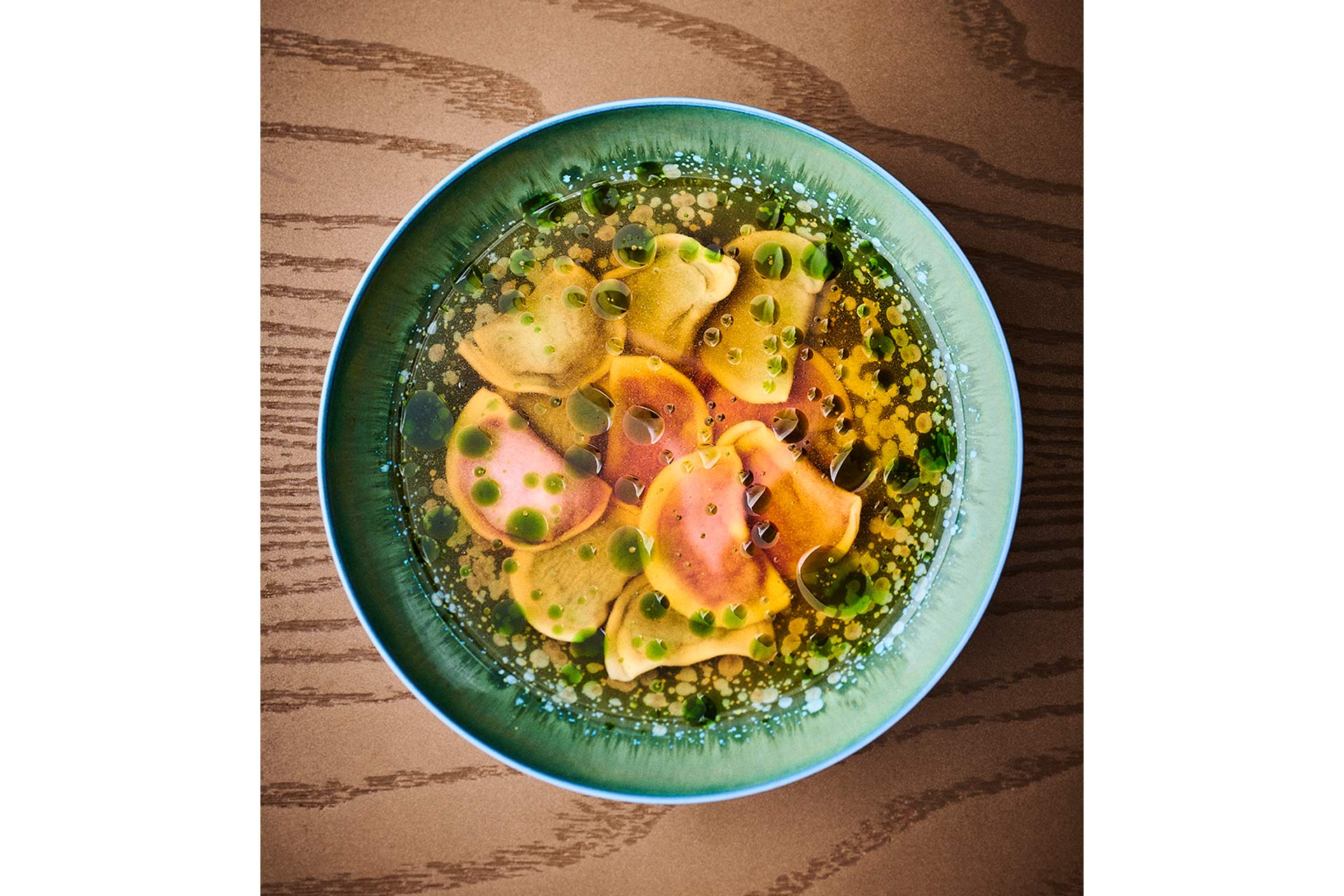 And it's this concept that brings Alléno to the UK. So is a presence in London a long-held ambition? "Ahh…" he sighs, signifying that the city has been a goal for quite some time. "I love London and I love the energy of the city," he continues, adding that there have been offers before but they didn't work out. I ask why – difficulty in finding the right site or the right partners, perhaps? "I was not ready for the market," he quips in another hint of self-doubt. "I'm 54 now, so I think I am okay; Pavyllon is now mature enough and I am mature enough to work in the English market."
His calling came with news that Four Seasons was on the lookout for a casual yet refined eatery for its Park Lane property. Given that the majority of his restaurants sit within hotels, Alléno clearly has an affinity for the hotel setting, describing himself as "more comfortable" within the support system that a global operator offers. But not just any operator. Four Seasons is a group he holds in high esteem. "Four Seasons is a leading luxury brand with a fantastic portfolio; it was one of my targets in terms of brand development," he explains. The opportunity arose through a network of connections that led to meetings and subsequent tastings with both owner and operator. Alléno also credits the successful partnership to the team on the ground, notably Lynn Brutman, Regional Vice President and the hotel's General Manager. "When the planets align, we can do fantastic things," he says of the fruitful combination of the right brand, the right location and the right people.
With Pavyllon London set to open this summer, Alléno reveals that the aim is to create a refined, neighbourhood-style restaurant that welcomes everyone, whatever their budget or dietary preference. "We want to bring Four Seasons Park Lane back to the city," he explains, alluding to a general desire amongst luxury hotels to be more accessible. "That's what I did with Pavyllon Paris – it's a destination for Parisians, where anyone can come to meet and dine. Pavyllon London will follow that same philosophy."
The approach reflects Alléno's belief that restaurants form the backbone of a city's social scene, and so in London, the menu is designed to appeal to a diverse range of occasions, from leisurely lunches to celebratory dinners. Though the chef remains tight-lipped as to exactly what's on the menu, he whets the appetite with the promise of "a British expression of my signature modern French cuisine" revealing that seasonal British produce is key to the offer: "There are so many good providers in England – the meat is fantastic and the fish is the best in Europe; the result will be a combination of these products and my French touch."
Indeed, Alléno will have no problem in finding quality produce. Since Pavyllon London was announced, the chef has been inundated with offers of support. "Clare Smyth, Jason Atherton and Claude Bosi all called to offer help in finding suppliers," he explains. "I was very proud of that, it's good to feel welcomed in such a way."
The menu at Pavyllon London will also be in keeping with the core pillars that have come to define Alléno's cuisine. For example, he strongly believes that chefs have a responsibility to look after the health of their guests, and so strives to reduce the amount of sugar, fat and salt in his dishes – without compromising flavour, of course. And there's also the importance of sauces, made using a patented Extraction technique developed by Alléno in 2013 with the help of a scientist, in which a precise cooking temperature safeguards ingredients from destructive heat, bringing natural flavours to the fore and giving a textured finish. These approaches can be found on the menu at Pavyllon Paris, in dishes such as vegetable ravioli with spring extraction broth and perfumed oils, and Alléno's interpretation of the French classic – soufflé steamed with Comté and celery extraction. Pavyllon London will follow the same approach, and diners can expect a greater variety of dishes along with an equally well-considered wine offering.
While ingredients and flavour combinations are undoubtedly of utmost importance, this is a chef who knows that dining out is about more than what's on the plate. Alléno talks at length about the interiors of his new restaurant, to the same level of detail as if he were the designer himself. He has in fact been closely involved, enlisting long-time collaborator Chahan Minassian to take the lead on the design of the space, building on his schemes at Pavyllon's Paris and Monaco outposts. Minassian has been quoted as saying "our approach is the same; his is on the plate, mine is with space"– to which Alléno wholeheartedly agrees, revealing a shared belief that they complement one another. There's also a commonality in putting the guest first to ensure the entire dining experience is enjoyable. "We design for the customers," he confirms. "It means that the chairs are comfortable, the lighting is fantastic, and everything from the noise levels to the atmosphere is considered."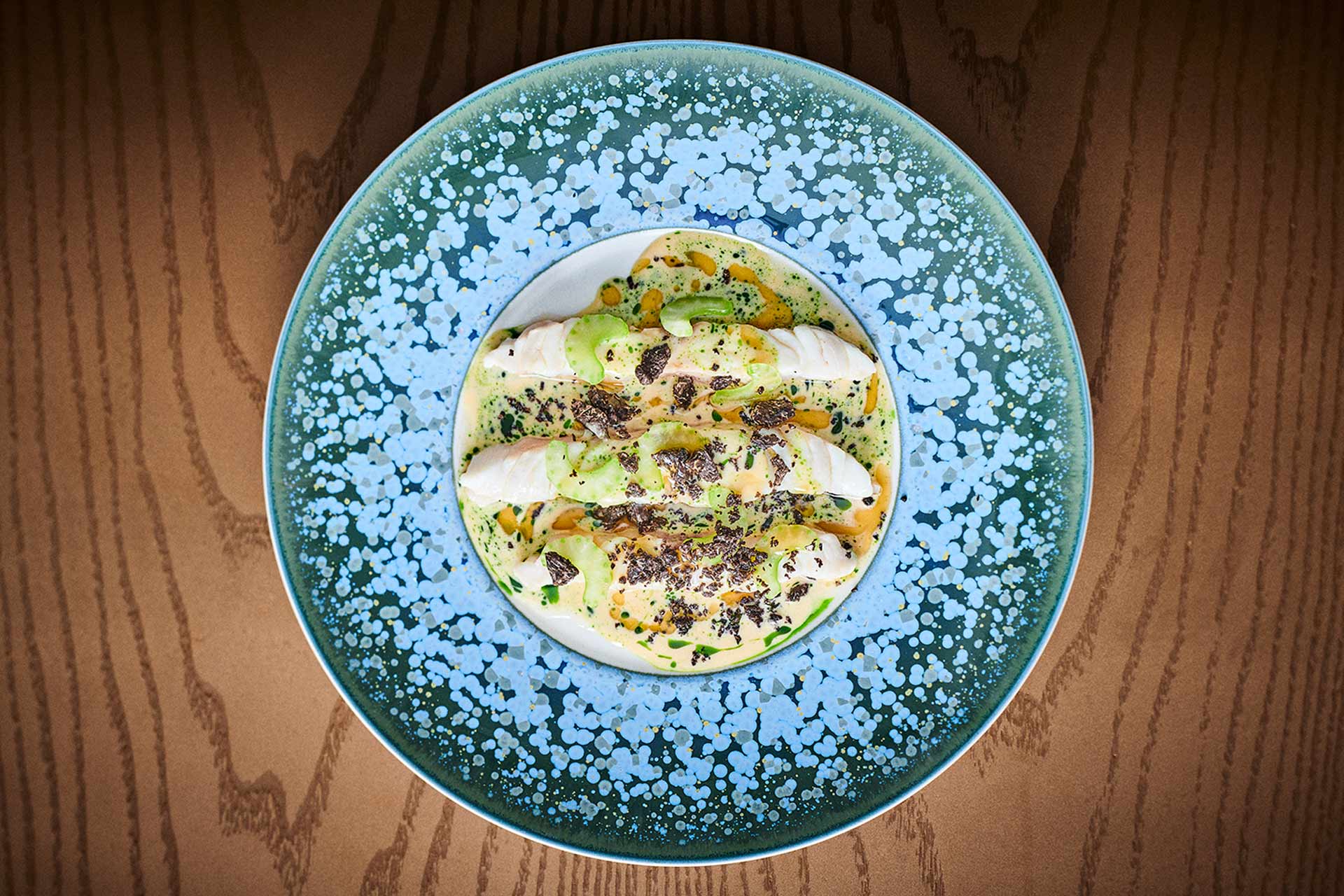 The overarching design scheme is set to combine chic Parisian style with characteristics of a London members' club, through the use of contrasting textures in complementary tones. Occasionally slipping back into his native tongue, Alléno describes the ribbed lacquer panelling and tactile fabrics, hand-blown Murano chandeliers and custom art installations, stating that this will be the "most exceptional" of the three Pavyllon restaurants. The venue itself is large by anyone's standards, with 90 covers and a 40-seat private dining room offering views across Hyde Park. The focal point of the main dining room will be a sweeping counter inspired by the Parisian bistros of Alléno's childhood, where guests have a front-row seat to the theatre of the kitchen. In line with the neighbourhood dining concept, a variety of seating options – from cosy banquettes to relaxed lounge chairs – are designed to meet all manner of occasion, with the ultimate aim being to attract locals as well as hotel guests.
Service is another topic that Alléno is particularly passionate about, so much so that during the pandemic he wrote a book – Tout Doit Changer, translated as Everything Must Change – calling for a rethink in the way restaurants are run. He talks about training, working conditions and staff wellbeing, pointing out their impact on a smooth and efficient service. He laments the online booking system and lack of human interaction – "it's a disaster!" – believing that a simple conversation in advance would allow for tailor-made menus, resulting in less waste and an altogether better experience – both in the kitchen and for the guest.
Putting the guest first is a sentiment that Alléno returns to time and time again through our conversation. Even when I ask whether he aspires to get a Michelin star for Pavyllon London; he's hopeful, of course, but states: "I work for my guests, not for stars." As talk turns back to the London debut, the apprehension begins to show – this is clearly a launch that means a lot. "We have to be good," he stresses. "I don't want to disappoint the market and I don't want to disappoint the hotel."
Despite the pre-opening jitters, Alléno is confident in his offer and ready to make his mark on the London dining scene. As we come to the end of our call, I probe further on a signature dish in the hope that he might reveal more about Pavyllon London's menu. "I know you have to ask that question to explain to your readers," he laughs. "But I hate to speak about a signature dish – it puts me in a box, and I never want to be in a box. My signature is to make people happy through good food, good wine and good service."
---
CREDITS
Words: Catherine Martin
Photography: Courtesy of Yannick Alléno
Issue: 31