Hyatt Regency London – The Churchill is a hotel steeped in British history, and now its in-house restaurant The Montagu Kitchen is tapping into the theme. The seasonal eatery's Executive Chef Roger Olsson recently unveiled a 'British Icons' menu, with the aim of taking diners on a culinary journey through some of their familiar favourites, cooked with precision and personality.
The menu starts with a 'Prologue' section, moving onto the chapters 'Harvested', 'Hooked' and 'Farmed,' and finishing with an 'Epilogue'. A chapter named 'The Montagu Specials' has also been thrown in for good measure: it is this section that includes one of the more intriguing delicacies on offer – the Quail Wellington.
The dish is one of Chef Roger's favourites, so Supper sat down with the culinary star to find out more.
_____________________________________________________________________________________________________________
What's in The Montagu Kitchen's Quail Wellington? 
The Montagu Kitchen version of the Wellington is made with quail, rather than beef. We needed a meat that would cook quicker than beef, but that would also lend a unique taste to this classic dish. The stuffing remains quite traditional, with chestnut mushrooms, Swiss chard and chicken mousse. We serve it with a garnish of baby beetroot and Port wine jus.
What's the technique behind the dish?
The dish is made by mixing sautéed Paris brown mushrooms with a chicken mousse and placing the mixture on a large leaf of blanched Swiss-chard, layering with the quail breast and wrapping the whole thing into a ballotine. After it's rested and firmed up, I wrap it in puff pastry, decorate it and add picked thyme leaf to the Wellington. I'll stuff the legs and wrap them in cling film, cook them in boiling water and double pan before deep frying.
What do you love about this dish? 
I see this dish as a firm family favourite. I like to think it brings fond memories from Sunday meals spent together around the table. In addition to this, I think we can all agree that it's a showstopper!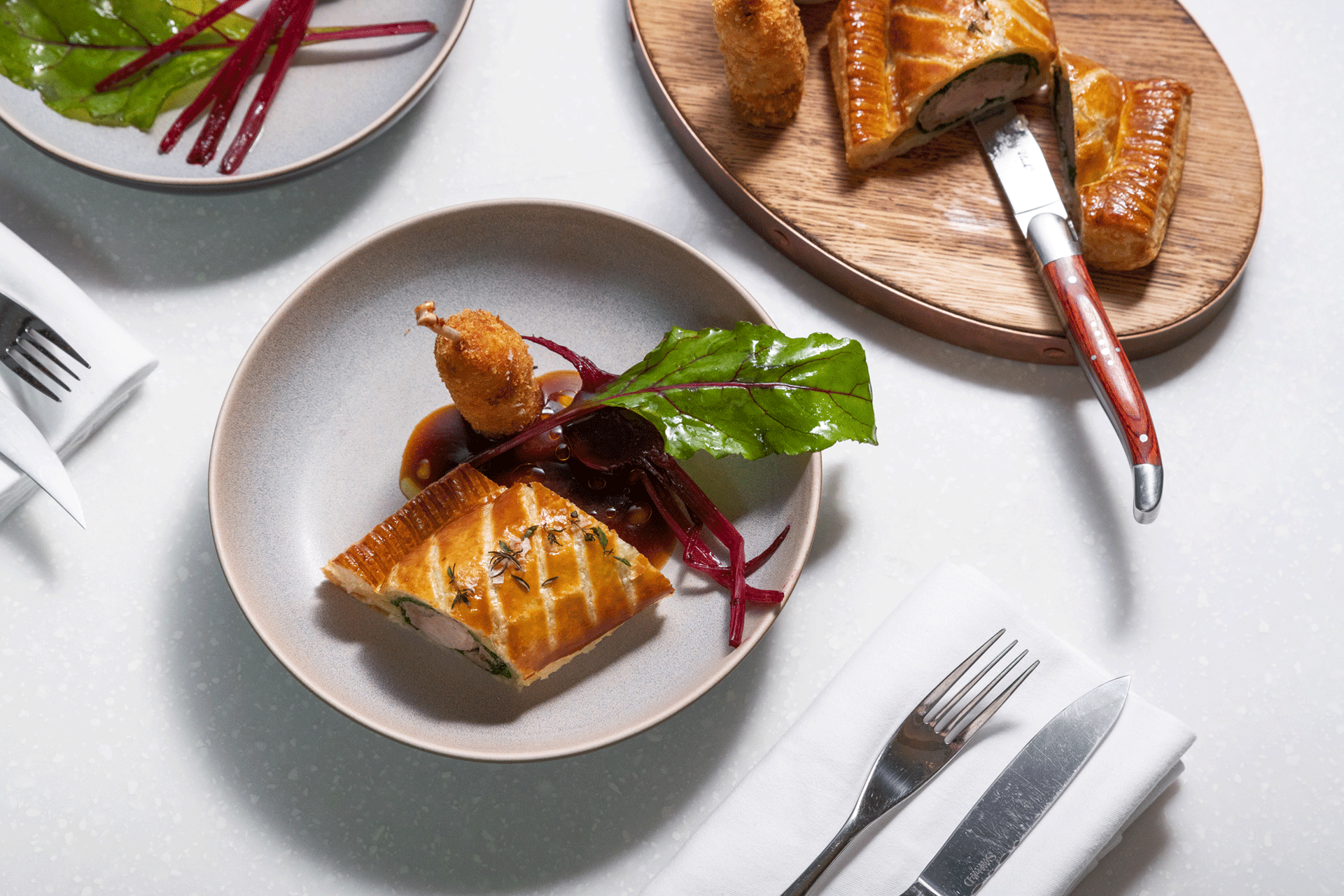 Why was it important to add a personal touch to this dish? 
We replaced the traditional beef with quail, which is a more delicate meat that allows for quicker cooking. This meat also means that the portion is smaller, making it the perfect size for two people to share as part of our four-course tasting menu. It also works perfectly with our restaurant concept, which encourages social sharing for our dishes.
Where do the ingredients come from? 
We strive to source all our ingredients in the UK from trusted and sustainable sources. The last two years have brought on some unprecedented challenges for food suppliers and consequently, we have had to adapt and go further afield on occasions. However, our ethos remains unchanged and we only use the highest quality and sustainable options on the market.
What has the reaction been to this dish?
It is certainly one of our most popular dishes on the menu! It brings happy memories and that is what food is all about – to make people happy.
How do you see this dish evolving with time?
We created this dish so it would be a year-round crowd-pleaser. We did remove it for a short time as we were trialling other dishes on the menu, but quickly put it back due to popular demand!
Why did you want to include this dish on the 'British Icons' menu? 
Aside from the memories and place it holds in people's hearts, I believe that it's one of the most recognisable dishes in British cuisine and a staple to have on a British menu.