Luxury Mexican resort Viceroy Riviera Maya boosted its culinary offering last month with the announcement that it had appointed rising star Julio Cesar Chavez Arias as Head Chef at its fine-dining restaurant La Marea. 
Chavez, a self-taught and award-winning cook known for his mastery of traditional Tlaxcalan dishes, will lend his creative flair to the restaurant, which values a unique interpretation of traditional Mexican cuisine and customs, and specialises in elevated local gastronomy. He will introduce flavour-packed new healthy options to the menu – including vegan and vegetarian offerings. Supper sat down with the chef to find out more about one of them, his signature dish 'Beet Steak'. 
_____________________________________________________________________________________________________________
What inspired the Beet Steak?
It all started with lots of fun by using a Japanese mandolin with multiple vegetables: after curing the long strips of beetroot with salt, they become flexible, so I realised that I could mimic a steak by cooking the beetroot sous-vide and then grilling it. The challenge was bringing out as many umami flavours as possible from the veggies, in order to create a savoury dish similar to a steak with demi-glace vegetables.
What's in the dish?
Long strips of folded beetroots cooked sous-vide with sherry vinegar, a fine cashew purée and a vegetable demi-glace. It's actually a vegan dish.
What's the technique behind this dish?
I cure the beetroot with salt, which allows me to fold it into a steak-like shape. Then it is cooked sous-vide at 85°c for an hour and subsequently grilled. The cashews are cooked in a pressure cooker in order to make a silky purée, and the vegetable demi-glace is made with lots of veggie leftovers that are rubbed with tomato paste and roasted in the oven. It is then reduced by half, or until it reaches the desired texture.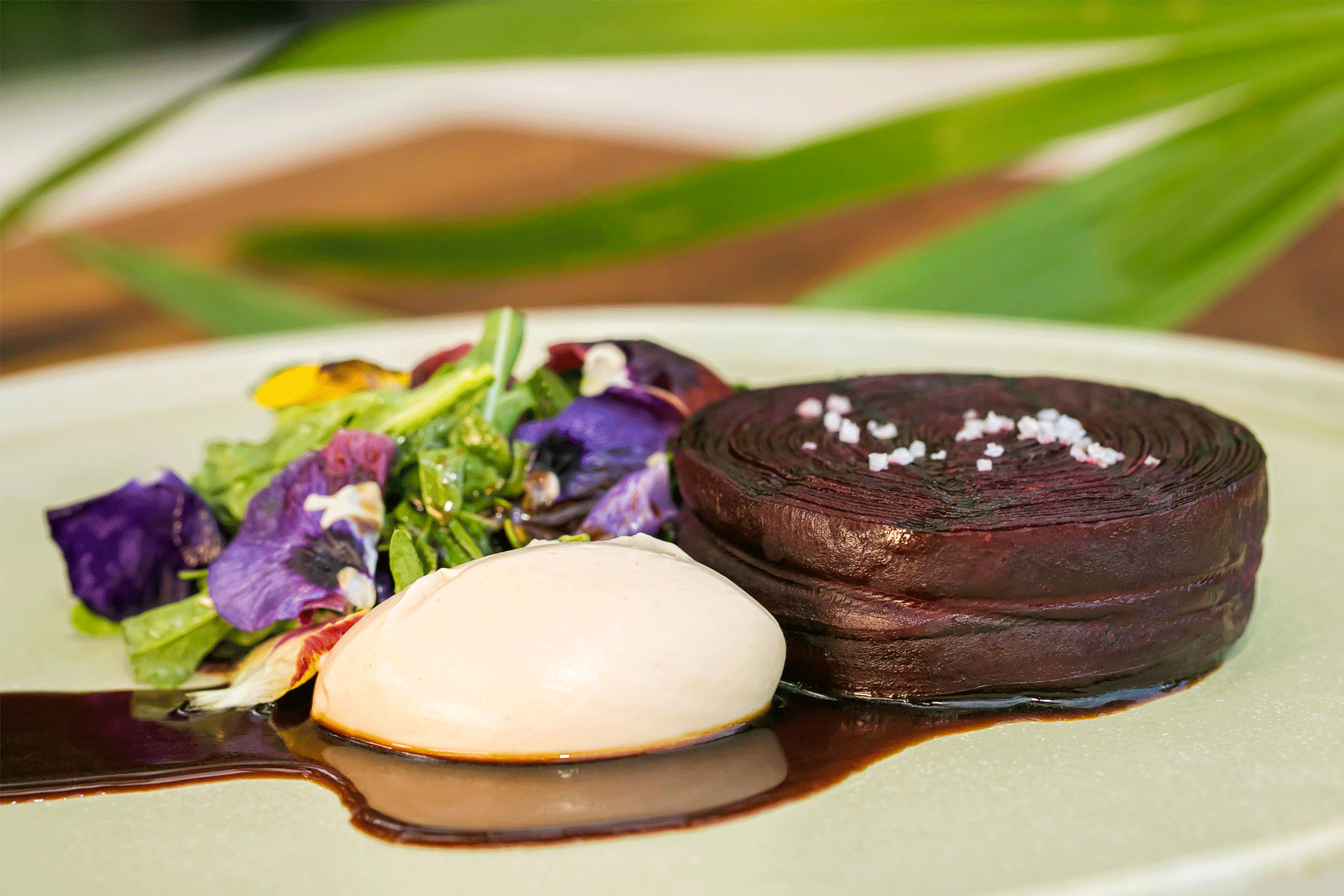 Why is this dish one of your favourites?
Because it is made with humble ingredients. I love to work with vegetables because of their versatility.
Where do the ingredients come from?
They are all organic, and sourced from the region local to Viceroy Riviera Maya

What has the reaction been to the Beet Steak?
People are surprised by it; both by its appearance and by its taste.
How do you see this dish evolving with time?
I'd like this dish to become one of my classics. It will be enhanced with all the new knowledge that I will achieve from now on…
Why did you want to include the Beet Steak on the menu at Viceroy Riviera Maya?
Principally because I want vegetables to be the main theme at La Marea.
What's your favourite thing about this dish?
It's the simplicity of it: the simpler the better, in my view!