At 4 Saints, Kimpton The Rowan Palm Springs' signature rooftop restaurant, Chef Ysaac Ramirez specialises in crafted menus that pay tribute to the traditions, notes and techniques that have shaped his style of cooking. Making everything from scratch, he layers flavour with Southern and Latin undertones, using locally sourced ingredients from throughout Southern California.
Supper sat down with the culinary star to find out more about one of his signature dishes, Roasted Beets. 
_____________________________________________________________________________________________________________
What inspired the dish Roasted Beets?
Funnily enough, I never liked beets until I found myself working under a French chef early on in my culinary career. One of his dishes was a simple one with red beets in it. From this chef I learned anytime acid is added to a beet, it takes away the earthiness and brings out a sweetness. That was a defining moment when I started to really love beets and became more curious about the root vegetable. I've put a beet dish on the menu at every restaurant at which I've worked ever since. When I'm dining out and if there's one on the menu, I'll always order the beet dish to see how different chefs utilise the ingredient.
What goes into the dish?
The original Roasted Beets dish at 4 Saints includes a variety of beets sourced from Weiser Family Farms in California's Central Valley, our house-made pistachio butter, lemon juice and olive oil from 123 Farm near Palm Springs. It's garnished with parmesan crumble, ninja radish and petite pink watercress.
How is it made?
The dish is quite simple. We toss a variety of beets in lemon juice and olive oil, which is then plated on a base of house-made pistachio butter and topped with parmesan crumble, ninja radish, and watercress.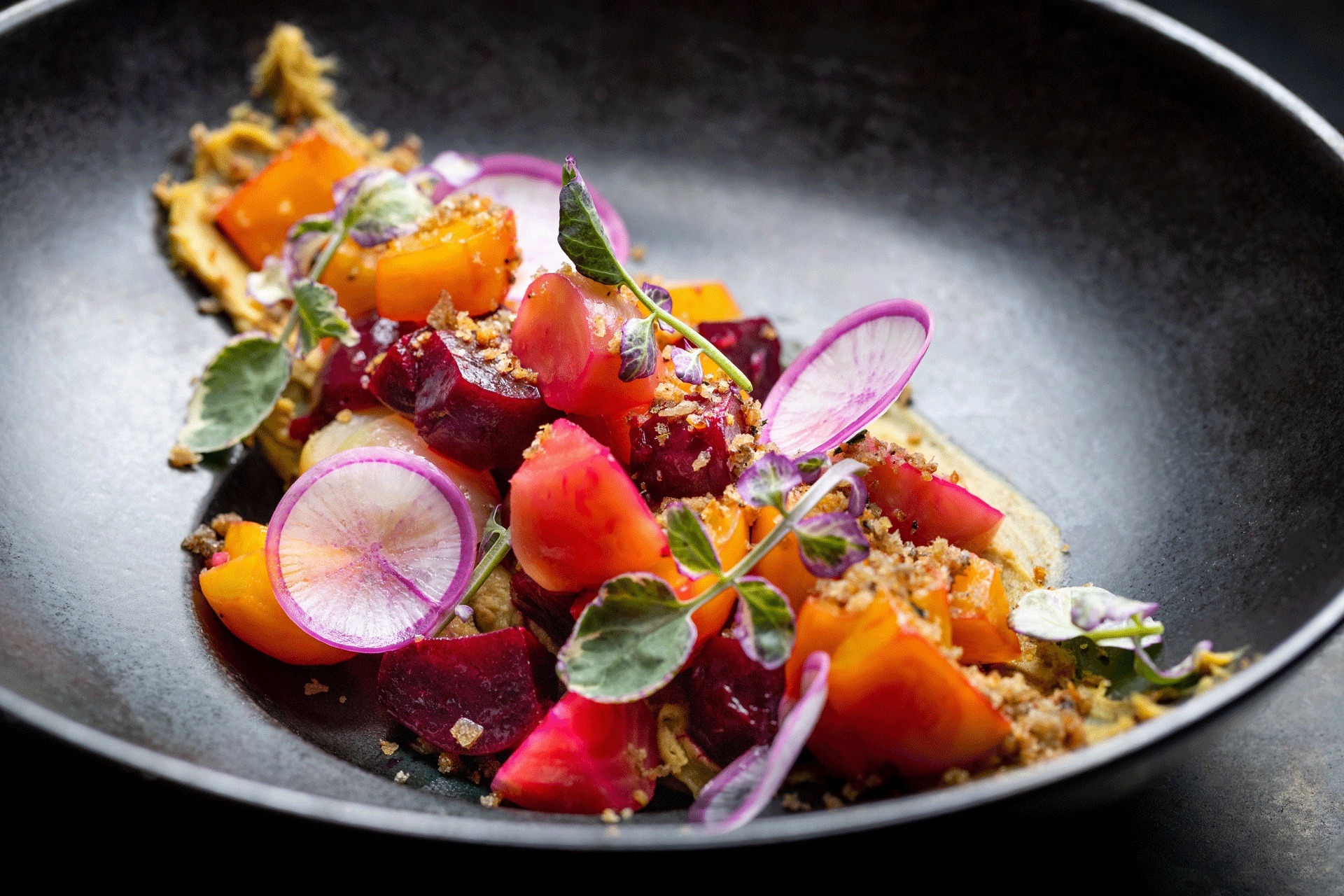 What do you love about this dish?
It's a refreshing, light and simple dish where the ingredients shine. Personally, I don't like to eat heavy dishes when I dine out.
What personal touch did you put on this recipe?
The house-made pistachio butter is somewhat my secret recipe. It involves steeping pistachios in heavy cream, thyme, garlic and shallots, which are then blended to a smooth butter.
What reaction does Roasted Beets get?
People love the dish! They love it as a whole, but the pistachio butter especially. We've had several guests ask for a side of just the pistachio butter, which got me thinking about putting it in jars for retail purchase. It's something I plan to incorporate into future dishes.
What's your favourite thing about this dish?
For me, it's not only the great flavours but it's nostalgic to me. It brings me back to my early culinary days and the first time I tasted beets and liked them.