Spotlight: charcoal cooking with Harrison Ovens
After years of working with heat distribution through metal in the vinyl-record pressing industry, Daniel Thumwood decided to channel his engineering skills and his fascination with cooking over charcoal into developing a new type of oven, leading to a three-year journey of creative and scientific experimentation. The result was The Harrison 'S' – the first Harrison charcoal oven, which was immediately snapped up by innovative UK chefs including Richard Corrigan and Neil Rankin.
Following the success of this model, in 2019 Daniel designed The Icon – a charcoal oven with two chambers, which offers the option of cooking at two different temperatures from one heat source. The Icon can be found in some of the most prestigious cooking establishments around the world, from Michelin-starred restaurants to the kitchens of super yachts.
Though the company has its roots in South London, today it is based near the coast in Kent, where each oven is expertly hand-built from the inside out by Daniel, using all British sourced components. Designed to be used both inside and outside, the ovens prioritise high performance twinned with statement design, a mark of Daniel's edict: 'Function comes first – aesthetic is what then comes from that'.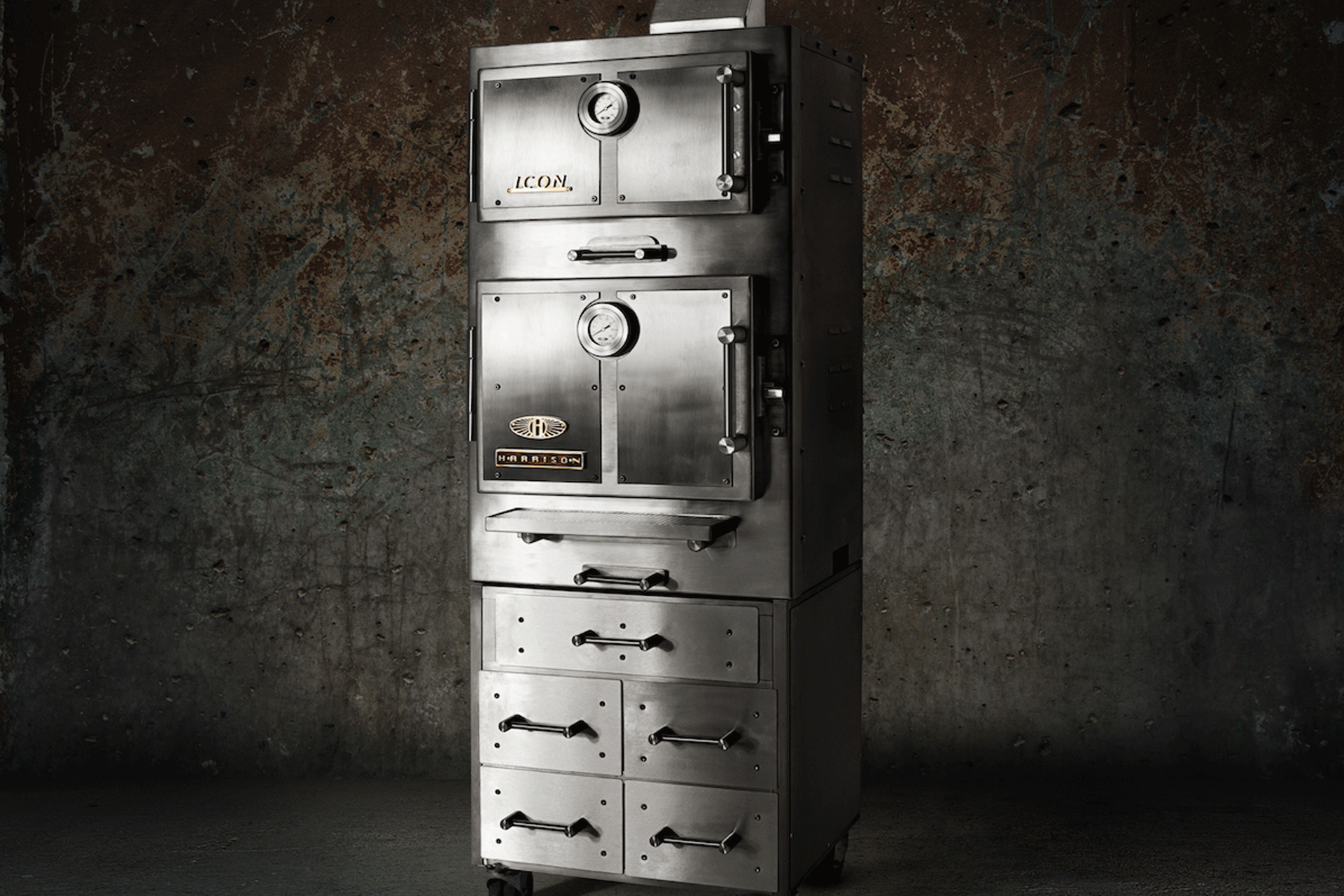 Harrison professional ovens owe their stellar reputation to strategic engineering that ensures that heat reaches the ingredients in various ways to create exceptional flavour and moisture retention. Considered insulation enables the ovens to minimise their impact on kitchen environments, keeping them a pleasant place to work, as well as ensuring that the machines are robust enough to withstand the most challenging professional kitchens.
Made of pure stainless steel, a Harrison charcoal oven features exposed exterior metalwork bolts and strong, rounded handles, resulting in an industrial showpiece that nods to classic British culture via retro details such as a temperature gauge that references the dial of a vintage  car dashboard. Featuring two cooking racks, a drip tray and its own ashtray that allows  charcoal to be cleared easily, The Harrison 'S' has an  an optional stainless steel cabinet on wheels and the Icon comes with a cabinet as standard. Clients are also able to choose from a range of bespoke options, which includes a choice of colours and finishes as well as the possibility of incorporating specific restaurant branding into the design.