Spotlight: Terra by Costa Verde
Ever since it was founded in 1992, Costa Verde has prioritised the strong allegiance it shares with Portuguese porcelain distributors; a strategy that has helped the brand to achieve and maintain such rapid and widespread success. Today, the company remains rooted firmly in the Portuguese market, with a production unit located in the district of Aveiro – yet more than 30 years of steady growth have also seen it benefit from myriad partnerships that have emerged from marketplaces around the world. A consistent appetite for research, as well as for the creation and development of new products, means that Costa Verde now enjoys a presence across more than 50 locations globally, making 70% of its revenue from the international market. But though its business focus is unwavering, the brand remains dedicated to producing innovative, proactive and flexible hospitality solutions in the form of products and services that show respect for the organisation's internal and external environment. 
It is for this reason that its new porcelain collection Terra is one of its most meaningful yet. The series, is the result of a creative collaboration with the San Francisco-based engineer, and sculptural designer Pere Gifre, whose work across the fields of scenography, interior and industrial sculptural design and architectural elements allows him to enrich his creations with the implementation of various specialised techniques and processes such as VFX engineering, which uses computer systems to transform the physical processes of nature into sculpture, light structures or other forms, regardless of scale, material or difficulty. An influential name in the horeca sector, he is currently collaborating with more than 200 Michelin restaurants worldwide on tabletop designs.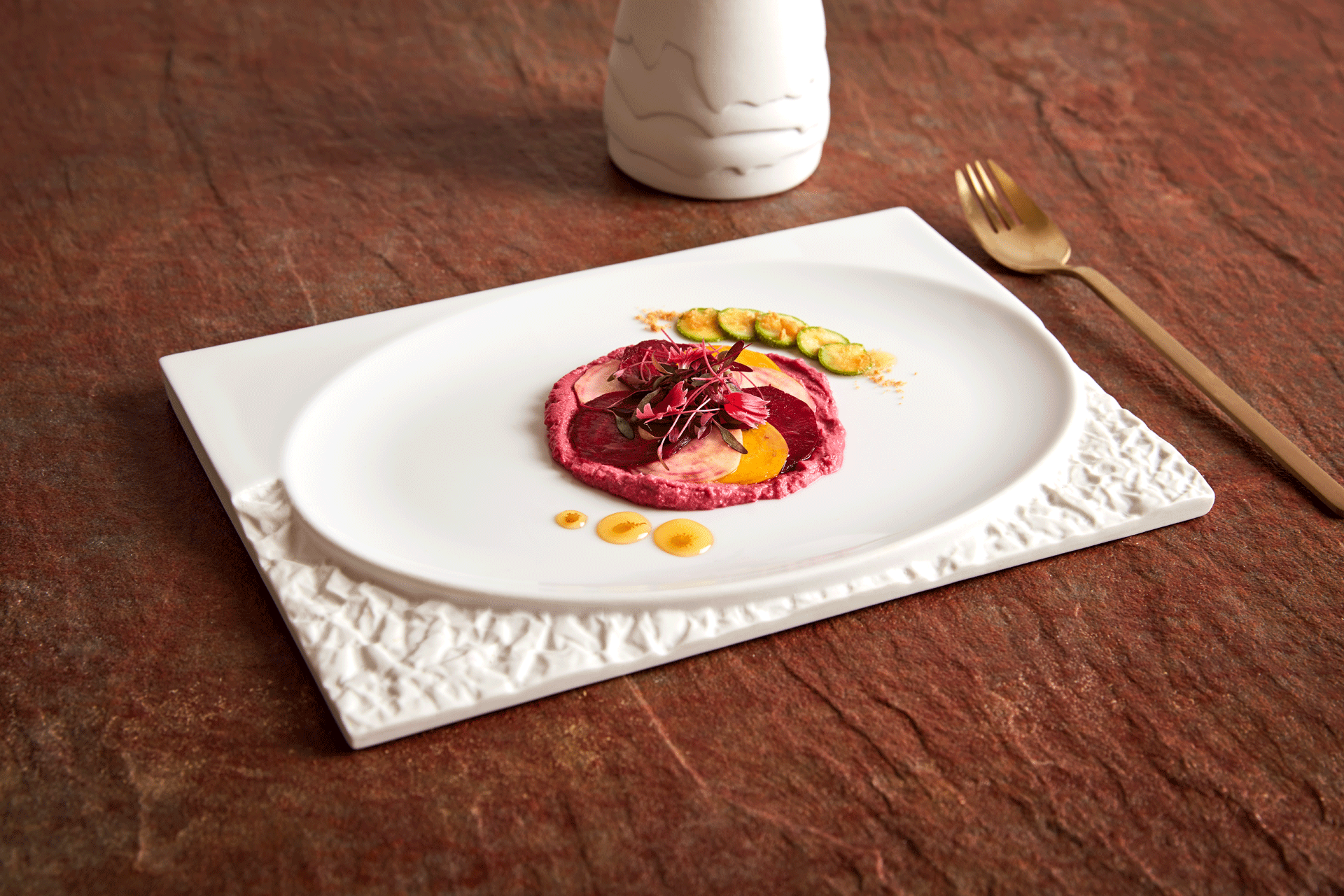 Terra focuses on the elemental, symbolising the start of a new era for Costa Verde. Comprising plates, bowls, podiums and a creamer, the line's signature feature is its organic shapes, with each strikingly imperfect profile lending the products an earth-carved appearance and allowing them a compelling, elemental aesthetic. Described as 'a collection aiming to awaken the senses', the series offers a tactile experience that aims to connect diners with nature, thanks to its various textures – which range from rough to satin – and gradients – which range from flat to steep. Each piece has been crafted with the goal of being unique and disruptive.
Sponsored by the two-Michelin-starred Portuguese chefs Dieter Koschina and Henrique Sá Pessoa, Terra aims to appeal to the luxury and fine-dining markets. Made using the finest raw materials, from the brand's expert porcelain craftspeople, the collection is an ode to Costa Verde's motto, All Senses Matter. In bringing the art of sculpture to the table, it hopes to revolutionise design standards, across the hostelry markets and world-class restaurants. Encompassing the Costa Verde principles of innovation, proactiveness and flexibility while showing respect for the organisation's internal and external environment, it is sure to make a mark.