Pic Perfect: An interview with Anne-Sophie Pic
This article first appeared in print in issue 29 of Supper. Subscribe here.
_____________________________________________________________________________________________________________
With no fewer than ten Michelin stars to her name, Anne-Sophie Pic, the most-decorated female chef in the world, has taken the success of her family dynasty to dizzying new heights, writes Shanna McGoldrick. 
It's often life events that guide you in making decisions," says French culinary legend Anne-Sophie Pic, nursing a cup of tea in the plush surroundings of her London restaurant La Dame de Pic. "That's what makes you grow up. Unfortunately, they can be happy events or unhappy events, but that's life."
The specific life event she is referring to is the sudden death of her father, the acclaimed chef Jacques Pic, in 1992. Anne-Sophie, just 23 years old at the time, had returned to the family's restaurant – the three-Michelin-starred Maison Pic in Valence, Southeast France – three months previously, with a view to beginning her culinary training with him.
In the aftermath of his death, Pic returned to working in a front-of-house position, but in 1995 the restaurant was dealt a blow when it lost its third Michelin star. Despite having no formal culinary training, she made the decision to take control of the kitchen. "At that point, I think I was probably in a very vulnerable place, because I'd just lost my father, my guide, the person I thought would teach me everything," she recalls. "And at the same time, I had a fierce drive – that had always been there, really – to tell myself: 'It's possible – you have to go after your dreams.'"
'It's possible' proved to be an understatement: not only did Pic win back the restaurant's third Michelin star, but today she has an astonishing 10 of them to her name, making her the most highly-decorated female chef in the world. The doyenne of French gastronomy, her prestigious dining portfolio still includes the Valence flagship, as well as acclaimed venues such as La Dame de Pic in Paris, Anne-Sophie Pic at the Beau-Rivage Palace in Switzerland, and La Dame de Pic outposts at Four Seasons Hotel London at Ten Trinity Square and Raffles Singapore. The newest addition to the collection, La Dame de Pic – Le 1920, which recently opened at Four Seasons Hotel Megève in the French Alps, won its first Michelin star earlier this year. But she's not stopping there: October finds her even further afield in Mauritius, where she is hosting a culinary pop-up experience, La Dame de Pic at Prime, at the luxurious One & Only Le Saint Géran.
Pic boasts a stellar culinary heritage: her great-grandparents Eugene and Sophie founded Maison Pic in 1889 and her grandfather André was the first to win three stars for the establishment. Yet despite her genetic makeup – and a childhood spent living above the restaurant, dabbling in baking and patisserie during the school holidays and permanently immersed in the sounds, smells and rhythms of the kitchen – she never imagined she would find herself in this position. In fact, she initially sought to break away from the family legacy, undertaking studies and internships in business and marketing that took her overseas in her early twenties. Asked what her young self might make of her brilliant culinary success, she shakes her head modestly. "No, I don't think I would have believed it," she says, reflecting of the freedom of her early years. "I think I had a sort of carefree outlook that I thank my parents for giving me."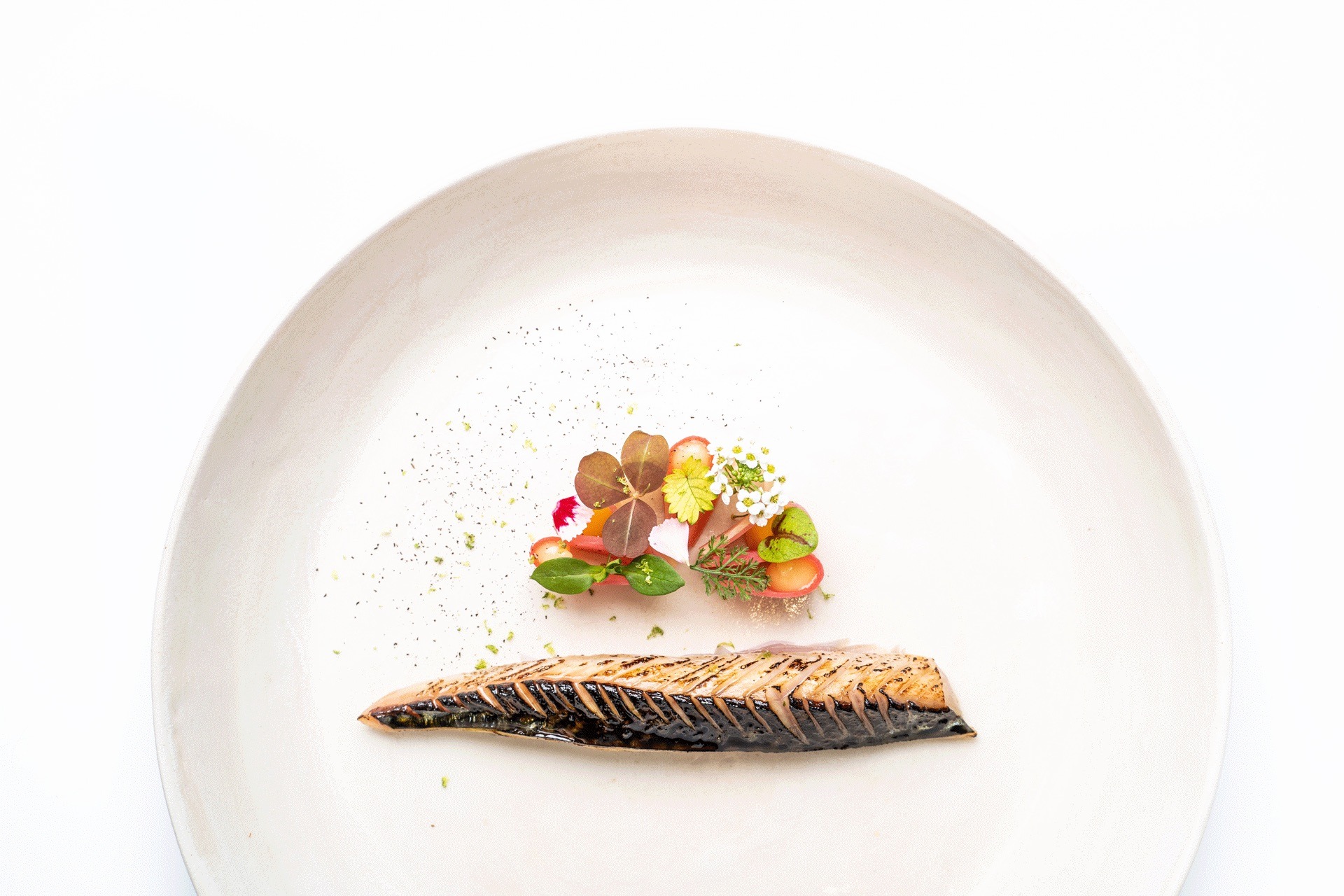 It is an attitude that has come in handy throughout the course of her career. As a self-taught chef carving a path through what is often a male-dominated industry, her success has been hard-won. Having taken the reins at Maison Pic, she threw herself into gaining a complete understanding of her new universe, seeking the advice of mentors and contemporaries, and undertaking intense courses to master specific techniques. "At the time it was really a disadvantage to be a self-taught woman," she recalls of her baptism of fire. "My biggest worry was telling myself 'Above all, you must not lose the second star'." She didn't, of course, going on to regain the third star in a coup reminiscent of the success of her father, who won back both second and third stars for the restaurant after they were lost in the aftermath of WWII. Her own reinstating of the all-important third was, she believes, the moment that signalled the start of her culinary journey. "It was the beginning for me; it was the start of something," she reflects. "I no longer felt guilty about not being in the right place. I moved on to a new stage and it was completely liberating. From that moment, I started to really have fun."
Today, Pic's gastronomic style is driven by a fascination with both the alchemic qualities of her ingredients, and a keen interest in the intricate techniques that elevate them to new levels. She experiments with flavours and aromas, specialising in dishes that reveal themselves gradually through each bite. It's an approach that might see her glaze Cornish turbot with pastis, or Hereford beef fillet with gin, dill seeds and coffee, as at her two-Michelin-starred venue La Dame de Pic in London. Alternatively, she might lacquer Arctic char with whisky, or stuff Berlingo pasta with absinthe green zebra tomato broth infused with meadowsweet and ground ivy – just two of her signature dishes at La Dame de Pic – Le 1920 in Megève. In the same venue, her millefeuille blanc dessert is served with leatherwood honey eucalyptus in a fine jelly and blackcurrant for a dash of contrasting tartness; it is the perfect example of how she unites sweet and bitter notes in a symphonic approach to haute cuisine that is both scientific and artistic.
"I really love nature and its ingredients, I find it extraordinary," she elaborates. "For me, what gives food its taste is emotion: technique exists to serve the concept of flavour, and that has always been the case for me."
This fascination with flavour means she is constantly experimenting with unorthodox possibilities in her cuisine. "It's the invisible threads that pull on each ingredient, that marry up with each other, that reveal themselves in relation to each other; that's the magic of flavour," she says. "It must be a living thing."
One of her latest undertakings is the development of Imprégnation Absolue, a globally inspired non-alcoholic drinks pairing menu that launched this September at La Dame de Pic in London. The concept is grounded in the theory of metamorphosis, using steeping, steaming, smoking or marinating to enhance aromas and create surprising flavours in both the dishes and drinks. As part of the dining experience, guests are invited to observe the process of transformation before the dishes arrive, via tableside rituals such as the theatrical preparation of cocktails and tea, or the mixing of certain ingredients for the sauce.
She finds inspiration in meetings and encounters, she says, but also, inevitably, in her travels. She would, she hints, love to open a restaurant in Japan one day – a country she feels a great affection for – and perhaps launch a venue in New York. "These days we live in a world where we're locavores – and personally I am, too – but I think it's important to remain open to the world, because if not we run the risk of no longer knowing how to do new things," she points out. "Locavorism can have a very positive effect, but also a negative effect if it's a bit too extreme: it's all about balance."
The approach is demonstrated at her upcoming One & Only pop-up, where the exclusive one-off menu offers a locally inspired fine-dining experience that she refers to as being "straight off the shores" of Mauritius. "It is this landscape, and the aromatic complexity of the lush produce found on the island, that inspired me to curate a menu bursting with the textures and tastes reflecting the local terroir," she reflects. The pop-up – which will run until March 2023 – will see Pic incorporate ingredients sourced from the island into her signature culinary style, resulting in elegant and tropical dishes such as grilled octopus and foie gras, bouillabaisse jelly served with heart of palm salad and lobster bisque served in a coconut infused with Chamarel rum. Regional ingredients such as coconut and hibiscus will feature throughout.
One thing is for certain: Pic is exceedingly well-versed in the art of the hotel restaurant. Her longstanding partnerships with groups such as Four Seasons Hotels & Resorts, Sandoz Foundation Hotels and Accor have given her a wide-ranging and comprehensive perspective on the myriad ways in which thoughtfully executed hotel-restaurant collaborations can be mutually beneficial for both parties. "I think that a hotel is, in some ways, the extension of a restaurant," she divulges. "I love hotels because they often have a magic, an atmosphere that's just different." She points out that dining venues can play a major part in the overall success of a hotel, saying: "I also think the energy of a hotel is often sustained by the restaurant. The restaurant can be the lungs of the hotel – it's a real dynamic."
Asked what she believes is the secret to her success, she is characteristically unassuming. "I think it's actually a form of sincerity," she eventually concludes. "That's what you have to seek all the time in your work and in your relationships with others – because you can't succeed alone." She is quick to credit her international team of chefs, with whom she creates all the menus for each restaurant at the goup's HQ in Valence. Though she spends a lot of her time in the southeast French region, she regularly visits her overseas restaurants and explores their environments, keen to seek out inspiration. "It is important that they all have their own identity," she asserts.
She remains a fierce champion of promoting the presence of women in the profession, and feels strongly that having a balance of male and female chefs on her teams is beneficial for everyone – not least, the diner. "I think this symbiosis is important," she states. The industry, she believes, has made progress since her debut, but she is at a loss to explain how the culinary world became so densely populated by men at the top. "The profession has become very masculine, which hasn't always been the case," she says. "But at one point it closed itself off – it's hard to know why, but in any case it's the reality. My grandfather, for example, considered Mère Brazier, who had three Michelin stars, as his equal – he didn't think because she was a woman she was less technical."
How does she manage the demands of her growing culinary empire? "My father's advice to me was to never forget where you come from; stay humble and sincere, whatever you achieve," she concludes. As recipes for success go, it's one that has served her well.
---
CREDITS
Words: Shanna McGoldrick
Portrait Photography: © Fabien Dubessay
Food Photography: © Aurelie Lamour
Issue: 29