Making a name for itself in the hospitality sector with a string of exclusive five-star hotels, family-run business Maisons Pariente has created a series of beautiful, private getaways for city-dwellers to escape to and indulge in the very best dining experiences.
With a portfolio spanning three luxurious properties including Hotel Crillon Le Brave in Provence, acquired in 2018, Hotel Lou Pinet in Saint-Tropez, which opened its door in the spring of 2019 and Hotel Le Coucou in Méribel, launched in December of last year, the brand has positioned itself as a place where art, gastronomy and design seamlessly intertwine.
Drawing upon the family's love for art, each property boasts its own unique collection, a theme that is carried through into its various dining outlets. Working with leading designers such as Pierre Yovanovitch and Alexandre Benjamin Navet to bring each of the offerings to life, Maisons Pariente's properties have been carefully considered to reflect the picturesque location and setting.
As the family continues to expand its collection with the addition of a property in the Le Marais district of Paris expected next year, Supper spoke to co-founder and Artistic Director Kimberley Cohen about the inspiration behind the brand, the focus on art and the importance of bespoke dining experiences.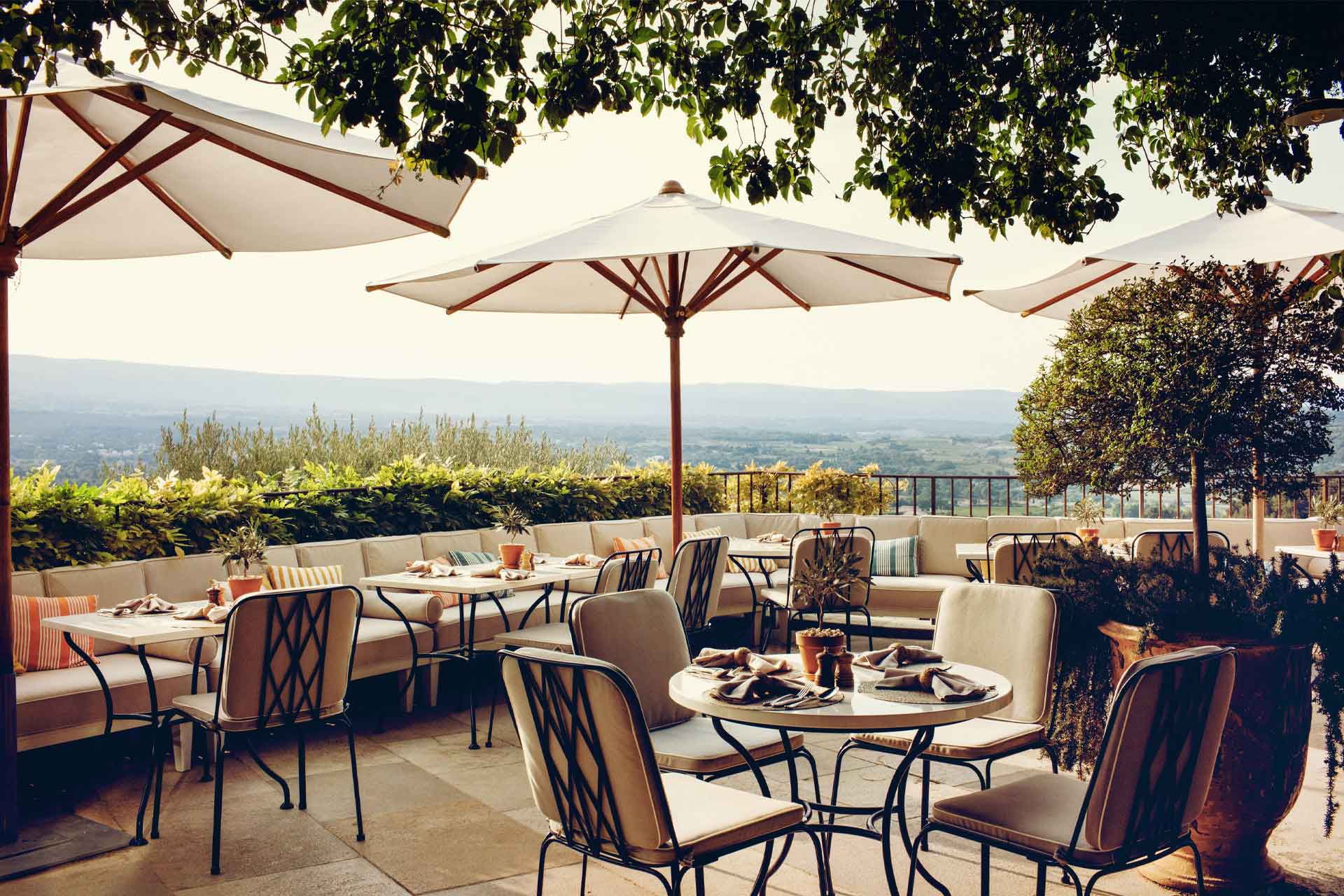 Tell us about the inspiration behind Maisons Pariente?
I am Kimberley Cohen, I work with my father Patrick Pariente and sister Leslie Kouhana and together we have created the family owned hotel collection Maisons Pariente. It all started in 2003 when we had the opportunity to purchase land in Courchevel 1850 in the French Alps and to build a hotel L'Apogée Courchevel, which has been managed by Oetker Collection since its opening. We loved the experience and believed we had a specific vision of hospitality that had to be heard and implemented: family values, generosity and anticipation. It is from there that we decided to launch our hotel collection. We are a large family and we travel a lot with the different generations and that is why we wanted to create special places that everyone in the family could enjoy.
How would you describe the style of Maisons Pariente?
Modern but warm, comfortable, timeless, and experiential. Sophisticated but cosy, pure simplicity and always true to its location in an authentic and familial manner. We always work with residential architect decorators and designers for our projects rather than those specialised in hospitality because we want to give a home-like feel to our properties.
"We have always been surrounded by art growing up as our parents are big art collectors from drawing, sculpture, painting, photo or even video mediums. Therefore, art has a special place in our hearts and we wanted to bring that to our hotels. Without it they wouldn't be complete."
Art plays a key role in the Maisons Pariente offering, how does this translate across the properties?
We have always been surrounded by art growing up as our parents are big art collectors from drawing, sculpture, painting, photo or even video mediums. Therefore, art has a special place in our hearts and we wanted to bring that to our hotels. Without it they wouldn't be complete. We hand-picked pieces from our parents collection to put in each hotel.
We work very closely with artists and with our Art Curator Amélie Du Chalard. She collaborated with each hotel designer to make sure the artist and pieces she selected matched with the designers view for the place. For each hotel we selected different designers and we often ask them to make custom pieces for our restaurants.
At Lou Pinet in Saint-Tropez, we worked with Alexandre Benjamin Navet who painted the only wall of our Beefbar restaurant with vibrant colours inspired by old postcard form Saint-Tropez. The idea was to bring light to the only wall that had no windows. For Le Coucou in Méribel, Eric Croes reinvented the traditional cuckoo and made ten ceramic creatures that are installed in the main restaurant Beefbar enthroned like hunting trophies.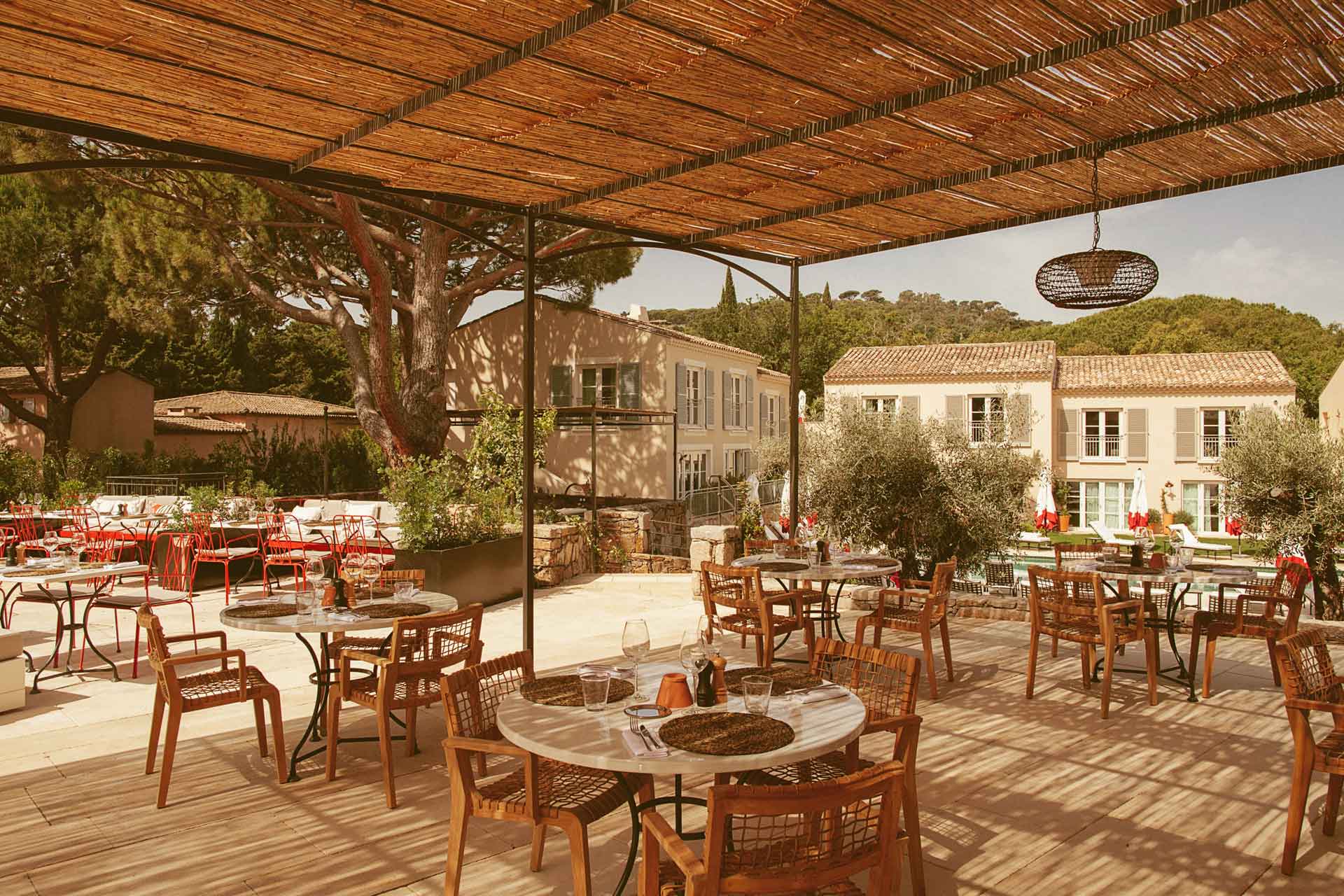 What can you tell us about the different dining experiences across the collection?
Each dining experience is different in our hotels. Even though we have a Beefbar in both Le Coucou Méribel and Lou Pinet Saint-Tropez, the menu is different and adapted to the locations and the needs of our guests.
At Le Coucou we have two restaurants, Beefbar and an fine-dining Italian restaurant, Biancaneve. Beefbar has direct access to the slopes so guests can ski straight from the slopes into the sunlit terrace for a cosy lunch. For Lou Pinet we also work with Beefbar and have worked closely on the menu to bring more raw, healthy and light dishes to the menu, with more Mediterranean influences to bring some added flavours. Think grilled fish, ceviche, carpaccio, risottos, salads and pasta. Beefbar at the Hotel Lou Pinet also serves up a number of sharing plates. Elegant and relaxed, the restaurant decor mimics the hotel's style.
we have two restaurants, the gastronomic La Madeleine and the bristronomic La Table du Ventoux by. Our chef Anissa Boulesteix is inspired by the wealth of Provence's local terroir and carefully selects products sourced from the region's very best farmers. She takes great pleasure in making full use of the symbol of the madeleine as a nod to the establishment throughout her culinary creations. For example, her already iconic Nid de Poule (Hen's Nest) starter is accompanied by three butters flavoured with garlic, Espelette peppers and fleur de sel, all moulded in the shape of madeleines. Anissa's many emblematic dishes, including the Red Mullet with Razor Clams and Wild Garlic, illustrates her virtuosic technique, married with her undeniably refined and asserted taste for simplicity. At La Table du Ventoux, she serves up another fine celebration of Provencal terroir, this time through bistro-style cuisine.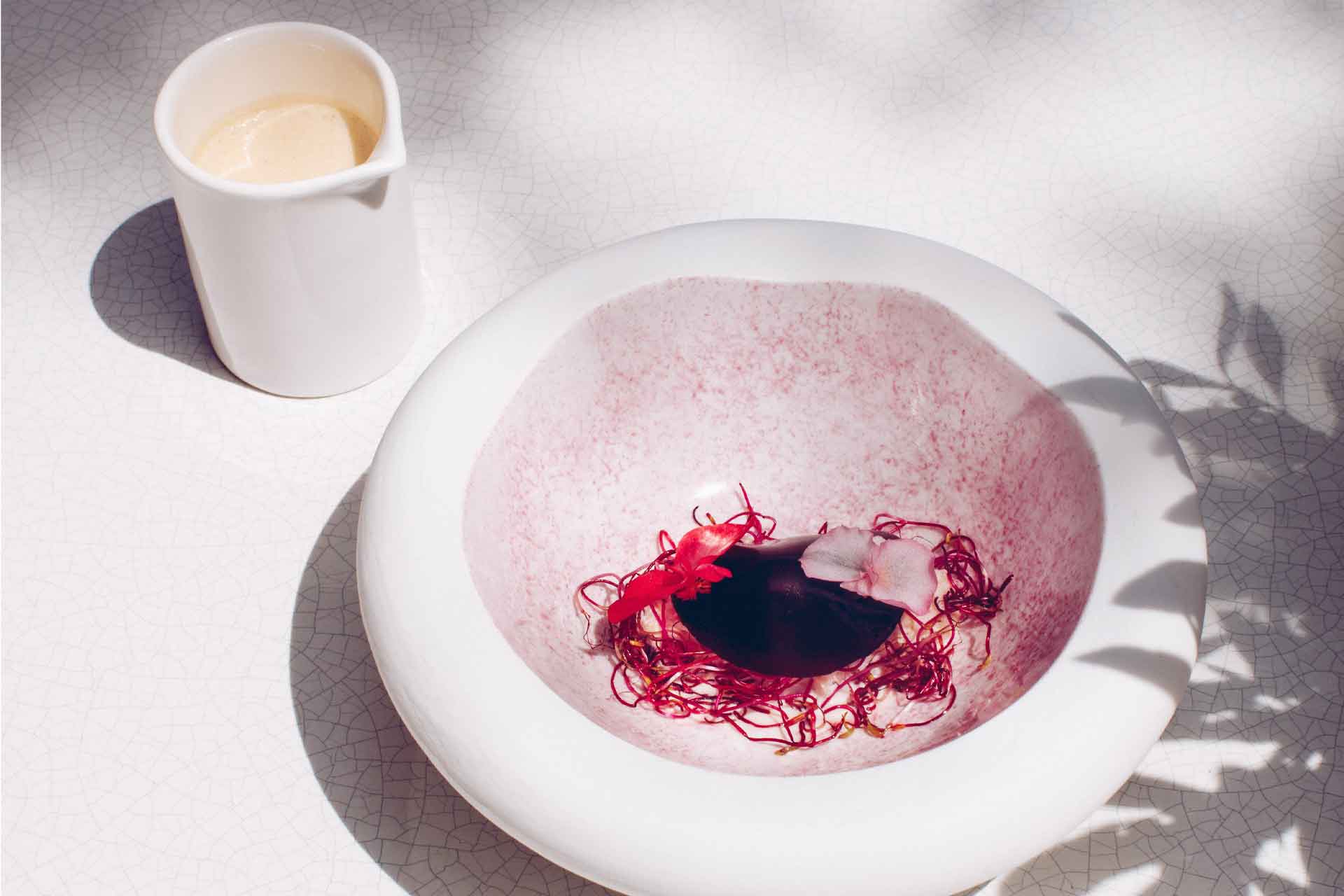 How important is it to the brand to work with local suppliers and producers to create the menus?
We always try to work with local producers and products. Each of our hotels are in different areas therefore we work with different specialities. The important thing is to  always adapt our menus depending on the season and we don't have strawberries on it if they are not in season. At Crillon Le Brave our works with exquisite products such as melon from Cavaillon, strawberries from Carpentras, black fig from Caromb and Bergeron apricots from the Rhône Valley.
At Le Coucou we have many farms in the surrounding area with whom we source ingredients including cheese, milk, cream and butter to produce dishes like the hot cheese box made from Mont d'Or cheese. And in Saint-Tropez we have beautiful vegetables and direct access to a Cote de Provence Wine maker. We asked Domaine de la Siouvette to make a special cuvee for the hotel. We also work closely with fisherman to get the freshest and tastiest produce for our dishes like the ceviche made from seabass, raspberry, truffle oil.
What is the common thread that ties the various dining experiences together?
One common point to all our hotels is that we always offer a food concept based on sharing. We are very gourmand and love to test different dishes. Seating a table is a synonym of sharing a great moment where you can talk about your day, plan what to do tomorrow and where generations meet.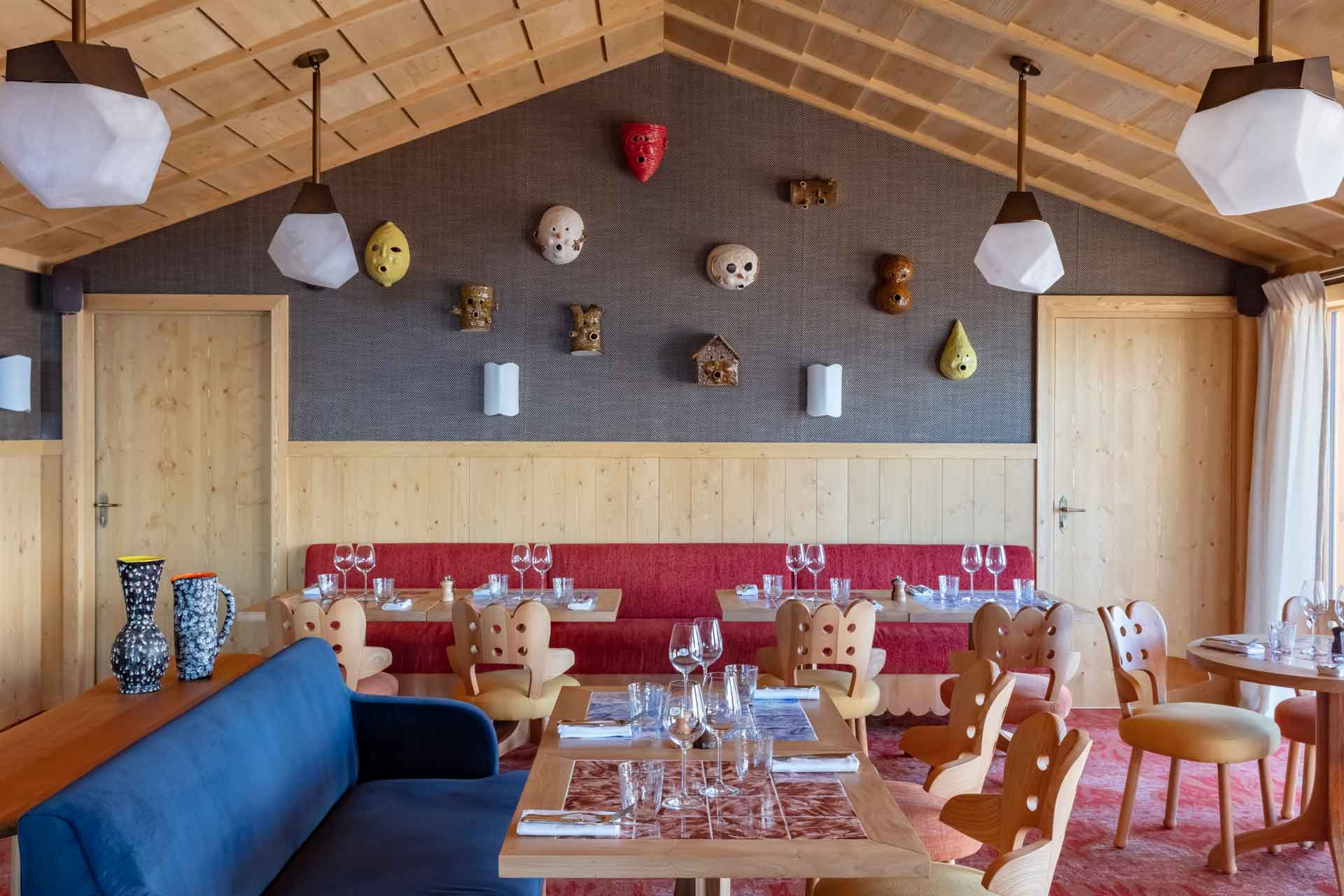 Your latest opening, Hotel Le Coucou, features the work of designer Pierre Yovanovitch, can you tell us a bit more about the brief and the dining spaces?
Pierre Yovanovitch signs a reinterpretation of the classic repertoire of the alpine style with a contemporary look that is minimal, but warm and subtly original. Le Coucou cultivates the art of contrast and rupture, between the monumental and the intimate, solid geometric lines and singular blurred volumes, vintage and innovation, impeccable regularity and artisanal imperfection.
Pierre shared our vision for a luxurious mountain hotel. We wanted to move away from the fake fur alpine style to something more original and modern but yet warm and comfortable. For the restaurants the main brief was to be seated comfortably especially on the terrace of the Beefbar where most of our guests are wearing ski gears. It had to have main thread with the hotel design and had to adapt to the different hours of the day. At Biancaneve, the Italian restaurant, we also serve breakfast in the morning so the place had to be multi-functional, able to dim the lights at night for a more exclusive dinner experience.
"We always try to work with local producers and products. Each of our hotels are in different areas therefore we work with different specialities. The important thing is that we always adapt our menus depending on the season and won't have strawberries on it if it is not in season."
You are set to reopen your properties in Saint-Tropez and Provence later this summer, how have the hotels been refreshed?
Last year in Crillon Le Brave we renovated 10 bedrooms, both restaurants, the back of the house and we created a bar with architect designer Charles Zana and this year we are renovating all the remaining rooms. The idea was to give the hotel some 'everything changes yet nothing changes' feel, so no changes have been made to the stunningly beautiful natural setting, the historic charm of the magnificent architectural complex, the restaurant renowned for its sophisticated fare, or the intimate, incredibly comfortable and elegant ambiance. We did not want to compromise the hotel's character or identity.
At Lou Pinet we have planted a lot in the garden and added olive and lemon trees as well as jasmin. We have also added art pieces in the garden. At the entrance of the hotel, Ugo Rondinone greets guests with a joyful cairn, a pile of stone blocks in fluorescent colours reflecting the brightness of the French Riviera sky. Close by, the artist Armelle Benoit signs a monumental, six-metre-long ceramic fresco on a wall now turned into a light-hearted imaginary tale. As visitors stroll along, they can also see two bronze columns signed by the British sculptor Toni Cragg. Emblematic of the work of the artist rewarded by the prestigious Turner Prize in 1988, they are aligned with the pool, where their subtlety and unstable grace metamorphoses the view.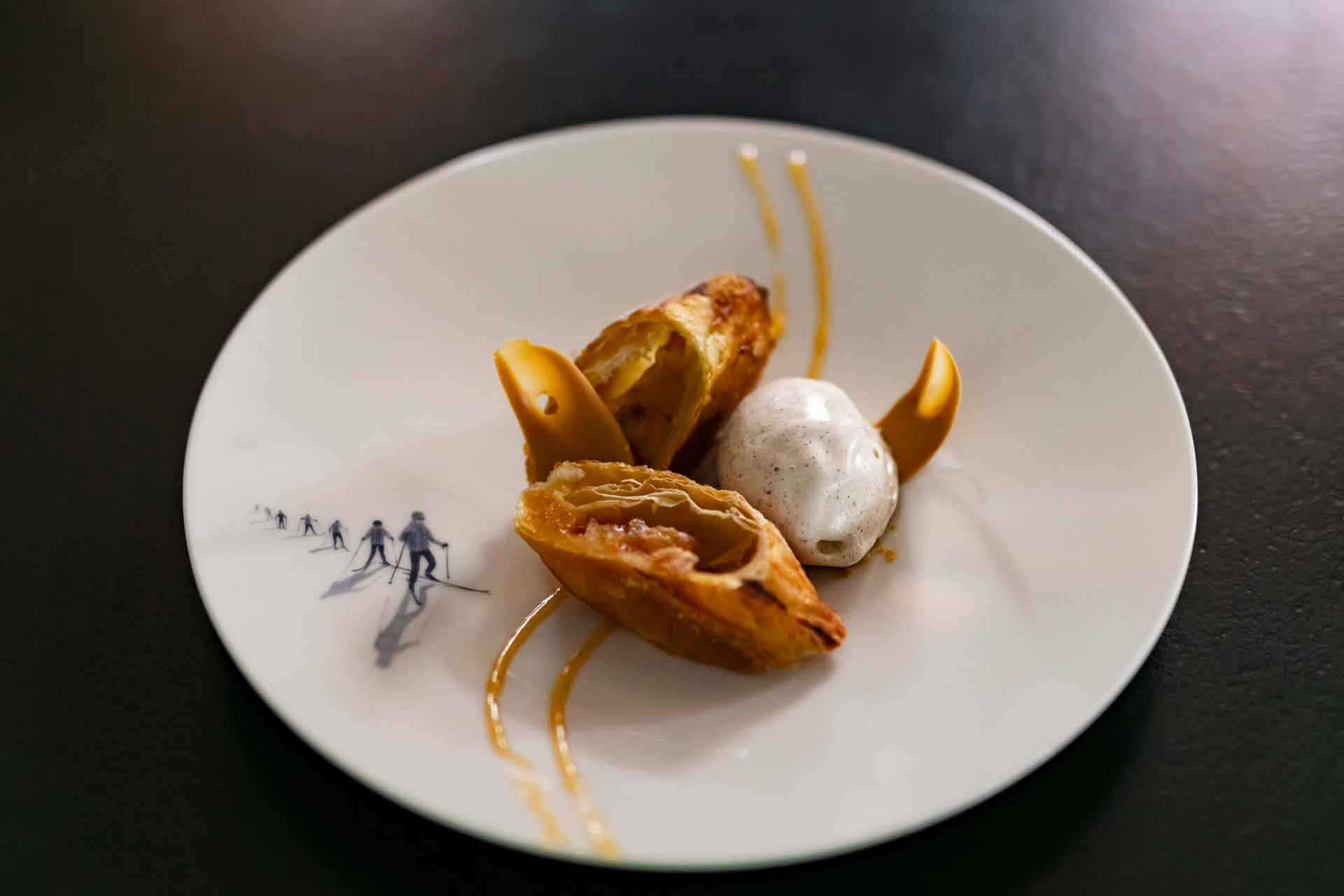 Your next venture is slated for opening next year, what can we expect from this development?
This will be our first urban hotel and it will be in Paris, the city we were born in and where we live, therefore it is a great challenge for us. We want to create a hotel that doesn't already exist in the city, where tourists and Parisians alike can meet and exchange. Le Marais is known to be an avant-garde district, a melting pot of cultures and influences and somewhere new concepts emerge every day. The bar is certainly very high. We are working on a strong food concept for the restaurant that represents best the diversity of the district.
What is unique about the Maisons Pariente experience?
Our team is always there when you need them but never intrusive, the hotel teams from housekeepers to porters display exceptional attention to detail, pre-empting desires and anticipating needs. All share the same warm and discrete manner and care only about keeping guests happy to make each stay the perfect holiday. We conceive our hotels as if they were our own private vacation homes. We always try to put ourselves in our guests' shoes in order to best anticipate what they will expect and try to go the extra mile. On top of this, food is at the centre of it all; from our restaurants to the treats you get in your rooms to the selection in your minibar.
---
CREDITS: Words: Jenna Campbell