Interview: Ivan Fargnoli on his culinary vision for Hilton Molino Stucky Venice
With over 20 years of culinary experience including posts in Dubai, Milan and most recently China, Ivan Fargnoli has joined Hilton Molino Stucky Venice as Executive Chef.
In his new role, he oversees a brigade of 32 and is responsible for the development and execution of the hotel's menus for its restaurants, Bacaromi, Rialto and Aromi, events held at the hotel, as well as managing the kitchen on a day-to-day basis.
Supper sat down with Fargnoli to talk about his new role, keeping calm in the kitchen and his wife's pancakes.
---
When did you first fall in love with cooking?
I just grew up in a family that likes to cook. My father, but especially my aunt, who was also a restaurateur, taught me how to cook.
How would you describe your culinary style? 
I like playing with classic Italian products and flavours, respecting them but revisiting them with products and perfumes from Asia, the Middle East and India. This is exactly what I would like my guests to remember after having tasted my cuisine. There is a great deal of research and experimentation to achieve a specific flavour. I consider my philosophy a traditional one, but always looking at innovative ingredients and techniques with respect to Mediterranean cuisine, brought from the East and conceptualised in my gastronomic idea.
What is your culinary vision for Hilton Molino Stucky Venice? 
The Hilton Molino Stucky's culinary offering spans from fine-dining signature dishes, local Venetian traditional recipes and classics of the international cuisine, to a rich breakfast buffet and creative banquet offering for meetings and events. To give you an idea of the variety when it comes to menus – our two main restaurants, Aromi and Bacaromi, have two completely different concepts and atmosphere that need to be interpreted in the right way.
For our Bacaromi Restaurant, which draws inspiration from typically Venetian bacaros, I have visited many of them since I have arrived and have tasted many flavours to try to understand what Bacaro is, what the essence of these places is. Experiencing the Bacaros directly helped me to follow the mood of classic Venice, to which I then add that reinterpretation of flavours that comes from my international experiences. On the other side, Aromi is a restaurant that speaks a fine dining language. In this case the care of the product and its quality, the research, the attention to the culinary technique, the dish and the final presentation are fundamental.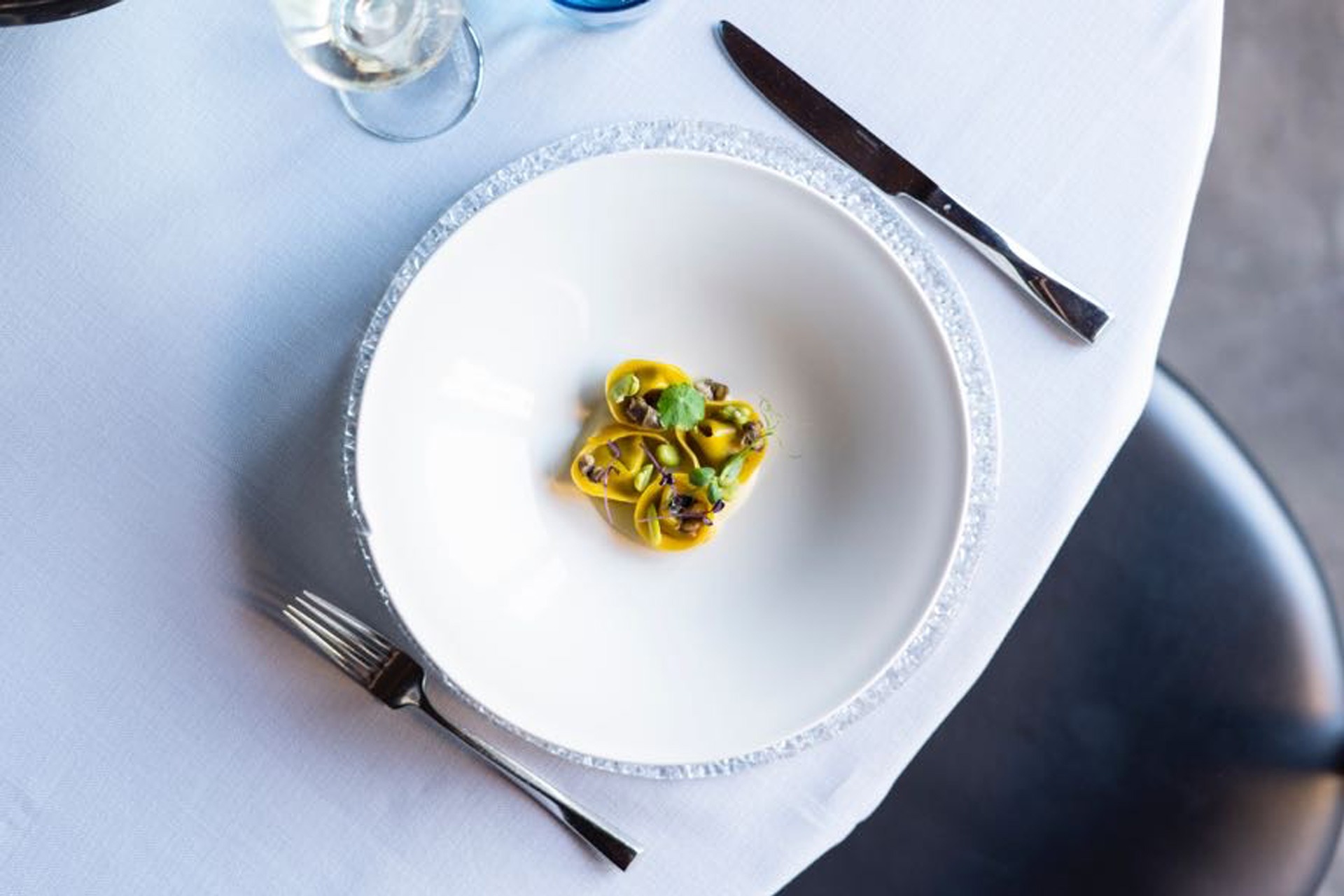 Do you have a favourite dish on the new menu at Aromi?
One of the dishes I've worked on the most is the Roasted Glacier 51 codfish fillet, fennel, green peas and reduction of lobster sauce – the research work was very intense, because it is a fish which is quite unknown and very particular. Perhaps however, the true manifesto of my cuisine and my favourite one is the Double-boiled Asian spiced duck consommé and duck floss, for which I experimented with many typically Asian flavours and combined them to create a dish with a unique taste.
What is the most important lesson you've learned during your career?
I have become a very calm person which I wasn't before. The calm allows me to work better, there's no point in getting agitated. I also learned that respect is one of the fundamental foundations for carrying on this work.
What are the biggest challenges faced by the hospitality sector at the moment, and how are you tackling them?
The biggest challenge at the moment for the hospitality sector is recruiting and having young people willing to enter the sector and having the right passion to do this job. On my side, I try to transmit to young people, especially those at their first experiences, the same passion I have, a fundamental and necessary element to do this job.
Which chefs have inspired you?  
The Executive Chef of the Hilton Shanghai Emmanuel Souliere brought me up a lot. I worked for him for 10 years and learned a lot. Also, as a person, Chef Marco Pierre White inspired me greatly.
What is your approach to sustainability in your cooking?  
For me, a very careful choice and selection of raw materials is fundamental, preferring local and 0km materials whenever possible.
Which new sustainability initiatives are working well for you at the moment? 
At our hotel, we are very committed to the development of initiatives that regulate food waste. For example, following meetings and events at our hotel, we donate the food to the local church to be shared with those in need. At our restaurants we offer wines from the Villa Russiz winery – all proceeds go to support their foster home project.
What would you like your next project to be?
Increase and improve my connection with the Veneto region. I'm now starting to get to know its products, scents and flavours. I began to understand it, going around and visiting the truly authentically local Venetian places, which inspire me and from which I draw many ideas for revisiting my culinary background.
What is your favourite dish, and who cooks it?  
My favourite dish is the Asian fried-egg sautéed and sliced pancakes with vegetables that my wife prepares for us.