Interview: Julia Sedefdjian on her Radisson Blu pop-up, being France's youngest Michelin-starred chef, and her mum's ratatouille
As France's youngest Michelin-starred chef, Julia Sedefdjian has amassed a cult following. This summer, the culinary celebrity returns to her native Nice, where she is taking over the panoramic Calade rooftop restaurant at the Radisson Blu Hotel to celebrate the property's 25th anniversary. In partnership with Chef David Rodriguez, the chef has curated a special menu for the residency, dubbed Calade by Julia Sedefdjian, which will be served until 30 September.
Supper sat down with the chef to talk about the pop-up menu, her plans for the future, and the magic of her mum's ratatouille. 
_____________________________________________________________________________________________________________
Where are you from, originally?
I was born and raised in Nice until I was 17. I have Sicilian and Armenian origins.
When did you first fall in love with cooking?
At the age of 14 I needed to do a manual job and my godmother's husband, who was a pastry chef, made me want to start cooking with his anecdotes. That's how he got me started.
How would you describe your culinary style?
My cuisine has a character that resembles my own: gourmet, colourful and flying the colours of the Mediterranean proudly.
What is the most important lesson you've learned during your career?
Hard work always pay off, and the sacrifices too. That is why I'm here today.
How did it feel to become the youngest Michelin-starred chef in France?
It is a source of great pride for my teams and our investment. A great pride in being recognised by our peers.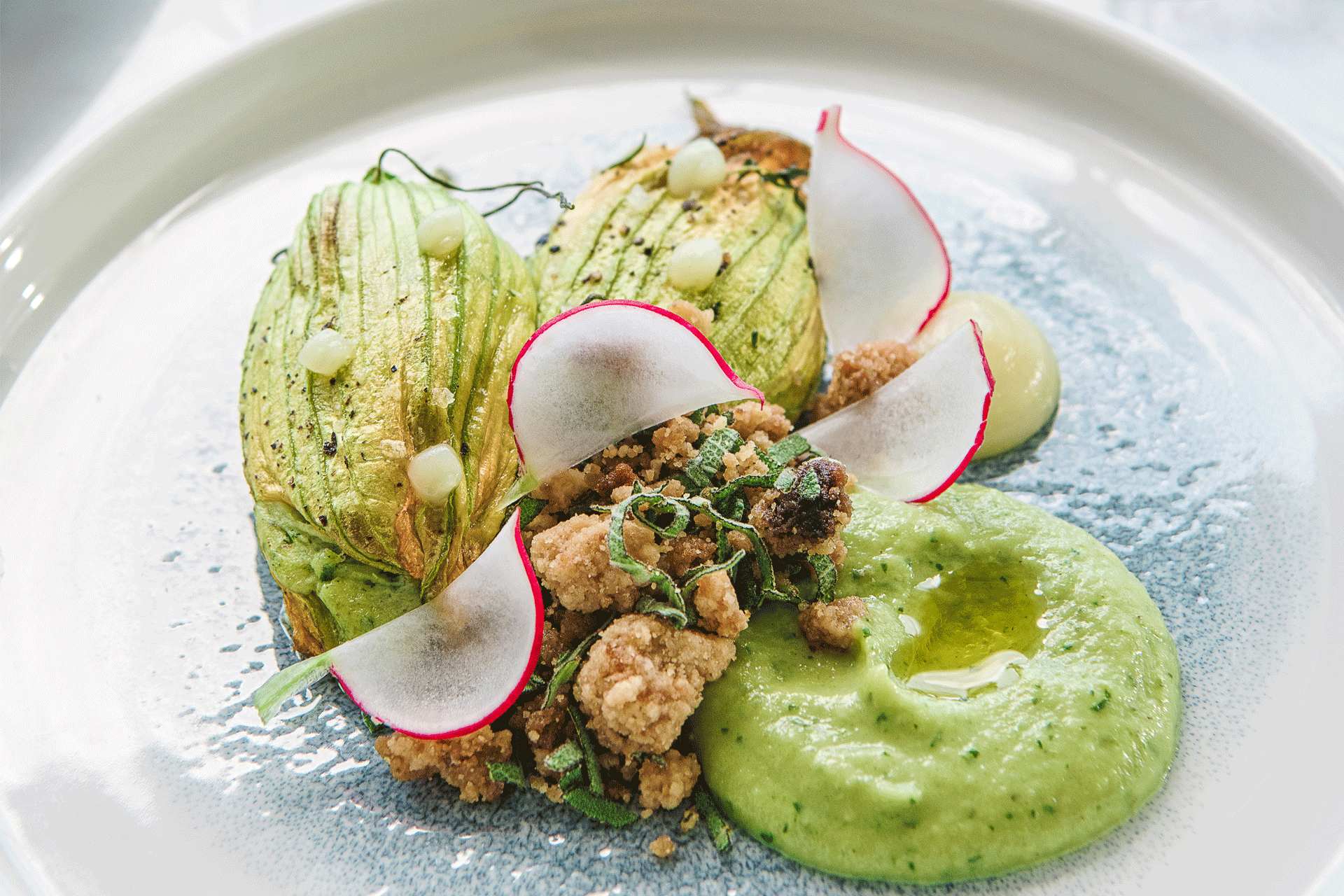 Congratulations on your collaboration with Radisson Blu Nice. What's the idea behind Calade by Julia Sedefdjian?
It offered the chance to return to our roots in a privileged place with an incredible view, and the opportunity to work with magnificent local products.
What is your favourite dish on the menu for the pop-up?
All of them, of course! But if I had to choose one, it would be the stuffed courgette flowers. It's a gourmet dish full of pep and it's very much like me!
Which chefs have inspired you?
Many; firstly the chefs that I've worked with, then great chefs like Anne-Sophie Pic, Jean-François Piège and Gerald Passedat.
What else inspires you?
Art in general, because cooking is very close to it: it's all about shapes, colours and emotions.
What would you like your next project to be?
For the time being, the focus is on stabilising after the Covid crisis.
What is your favourite dish, and who cooks it?
My mum's ratatouille!