In the peaceful surroundings of the West Sussex countryside lies the Leonardslee Lakes & Gardens, whose accompanying luxury hotel Leonardslee House comes with its own Michelin-starred restaurant, Interlude. Here, inspired by the 240-acre estate's gardens, lakes and Pinotage vineyard, Executive Chef Jean Delport crafts ever-changing multi-course tasting menus that take guests on a gastronomic journey through the flavours and textures of the Grade I woodland gardens. His dishes, which are grounded in classical British and French cooking with South African influences, feature ingredients that are foraged, cultivated and grown on the estate, or sourced from local farms.
Supper sat down with the culinary star to find out more about one of his signature dishes, 'Rabbit Eats Carrot'.
_____________________________________________________________________________________________________________
What inspired the dish Rabbit Eats Carrot?
On my first spring on the estate in 2018, we had an abundance of rabbits burrowing and nesting in mossy areas around Leonaredslee House. I instantly thought it would make the most incredible dish for the opening menu; rabbits from just outside our doorstep, served with and upon the wild grass and herbs where they matured. A bit of a cliché pairing with rabbit is carrot, and one that I have always liked the irony of, hence 'Rabbit Eats Carrot'. Since then the dish has evolved over time, but it is still a favourite on our menu.
What's in the dish?
Currently, it's a rabbit mousse sphere dipped in carrot, served with confit rabbit that uses up the remainder of the animal for no wastage. We serve it with many forms of carrot, charred chilli jam made from estate chillies, and wild foraged herbs. It's finished with preserved carrots and egg yolks, also from the estate. The idea is to have a single mouthful dish that is almost entirely from the Leondardslee Lakes & Gardens Estate, foraged as close to the restaurant as possible. All the ingredients are grown on our estate – you can't get more local than that!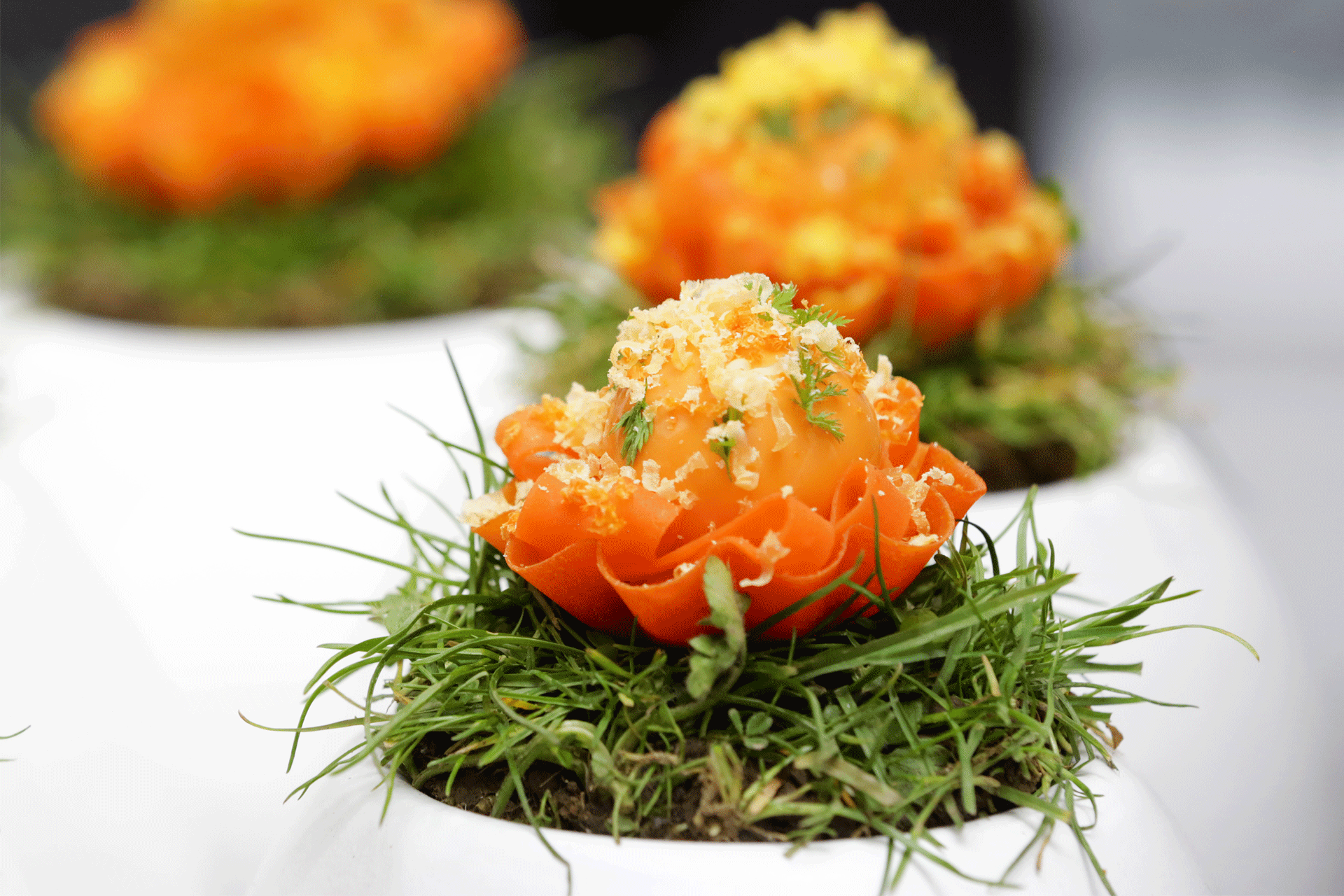 What do you love about this dish?
Its adaptability in the few years that we have been open: it has been fun for us, and enabled us to keep it on the menu since we launched. We have a winning flavour combination with this dish, but it's also a labour of love; a lot of work goes into each portion, but it's something that we still get a massive amount of satisfaction from.
What personal touch did you put on this dish?
It's a dish I make myself, every day.
What reaction does Rabbit Eats Carrot provoke?
It gets people talking at the table, which for us is really fun, as they understand the story and idea behind the dish. Normally it's a firm favourite.
How do you see this dish evolving with time?
With every updated version that we create, we always ask ourselves 'how we are going to top this one' – but we always manage it, with some creative thinking. We're currently on version 4.0. We just never want to make it too disjointed.
What's your favourite thing about this dish?
Its colour and vibrancy – and it's something fun, but with a lot of meaning behind it. For us, it's a real chef's dish.