Buzzy beachfront restaurant The Hut has now been serving up coastal-fresh food on the UK's Isle of Wight for nine seasons. This year, Chef Director Ian Daw collaborated with the venue's new Head Chef Lucian Romocea on the launch of a new menu focusing on lighter style dishes packed with local flavour – as a result, fresh seafood and shellfish are served up with locally-grown cucamelons and micro herbs, while the kitchen employs a forager on the island for gathering sea herbs and sea lettuce.
Supper sat down with Daw to find out more about his signature dish, the Fruits de Mer Platter.
_____________________________________________________________________________________________________________
What inspired the Fruits de Mer platter?
The Fruit de Mer platter is a Hut classic like the surf and turf. It looks great leaving the kitchen on a double stand, showcasing the best of south England's shellfish.
What's in the dish?
This year's version features dishes of dressed crab, seabass sashimi, mackerel tartare, king prawns, porthilly oysters, cockles, mussels and lobster if you want to upgrade!
How is the dish made?
There's a lot of preparation regarding this dish; the mussels and cockles are cooked in the classic way with white wine and aromats, the mackerel tartare is raw diced mackerel bound with yoghurt, fennel and dill. White crab is dressed with homemade mayonnaise, lemon and soft herbs, and seabass sashimi is thinly sliced and slightly cured with a ponzu dressing. The oysters are opened to order and the prawns are cooked in a court bouillon to finish it off.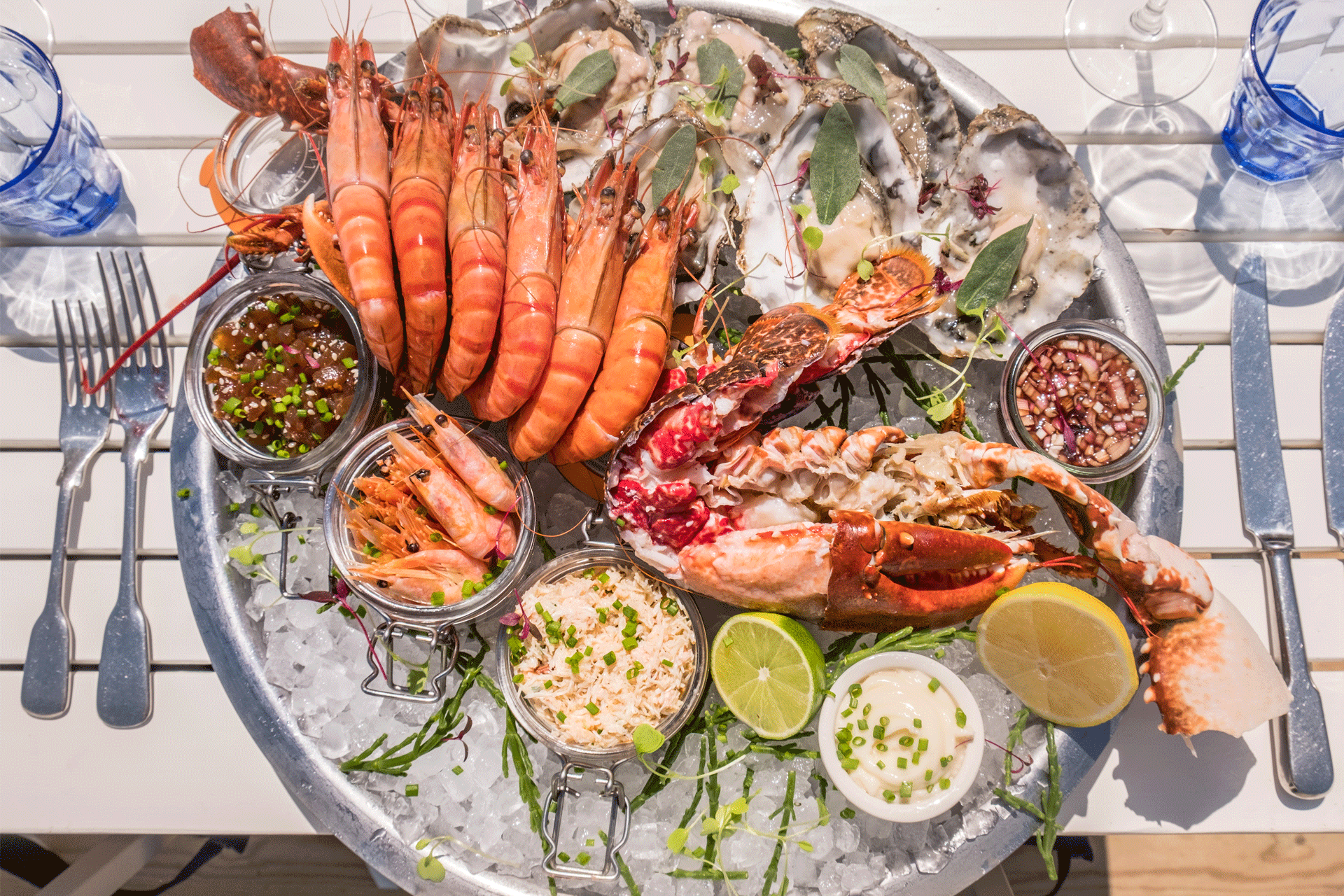 Why is this dish one of your favourites?
It makes me proud to showcase some of the amazing produce on this island. We buy lobsters from the town of Ventnor on the island, the crab comes from five minutes away from the restaurant and I even have a forager on the island for sea lettuce and herbs.
What personal touch did you put on this dish?
When you're serving a Fruit de Mer it's all about the product, and I think working with the best suppliers and knowing when everything is in season really helps. 
What has the reaction been to this dish?
People love it because of its height – everyone can see it coming through the restaurant and then it sits on a stand on the table. I would say it is the most photographed food dish and lends itself to social media in a big way!
What's your favourite thing about this dish?
It just screams 'The Hut' to me. A Fruit de Mer platter, a glass of rosé, the roof open and the summer sun; what more could you want?!