Hotel Excelsior Venice Lido Resort prides itself on offering guests an immersive window into Venetian culture, and this year the property doubled down on that commitment with the appointment of its new Executive Chef, Alessandro Ramella – known for championing local Venetian cuisine in his menus.
Supper sat down with the culinary star to find out more about his signature dish, Red Shrimp with Sant'Erasmo White Peach.
_____________________________________________________________________________________________________________
What inspired the dish Red Shrimp with Sant'Erasmo White Peach?
This dish is inspired by Venice's rich history as a seafaring city and its heritage as the primary trade port for spices grown in the East and bound for western Europe – as well as its legacy as the birthplace of the now world-famous bellini cocktail.
What's in the dish?
Red shrimp, sweet and sour pepper, white peach, fresh ginger, and Prosecco di Valdobbiadene DOCG.
How is the dish made?
Firstly, we prepare a light layer of peeled peppers that have been rested in a sweet and sour marinade of white peach and ginger. For the shrimp carpaccio, we lightly beat the red prawns and create an emulsion by adding olive oil and lemon juice. Finally, we prepare the crispy rice wafer by spreading risotto paste (made to cream consistency) over parchment paper. It is then dried in the oven at 65°C for four hours and dropped into hot oil to puff up. The peach and ginger purée can also be added to a glass of Prosecco for an exciting twist on the Bellini.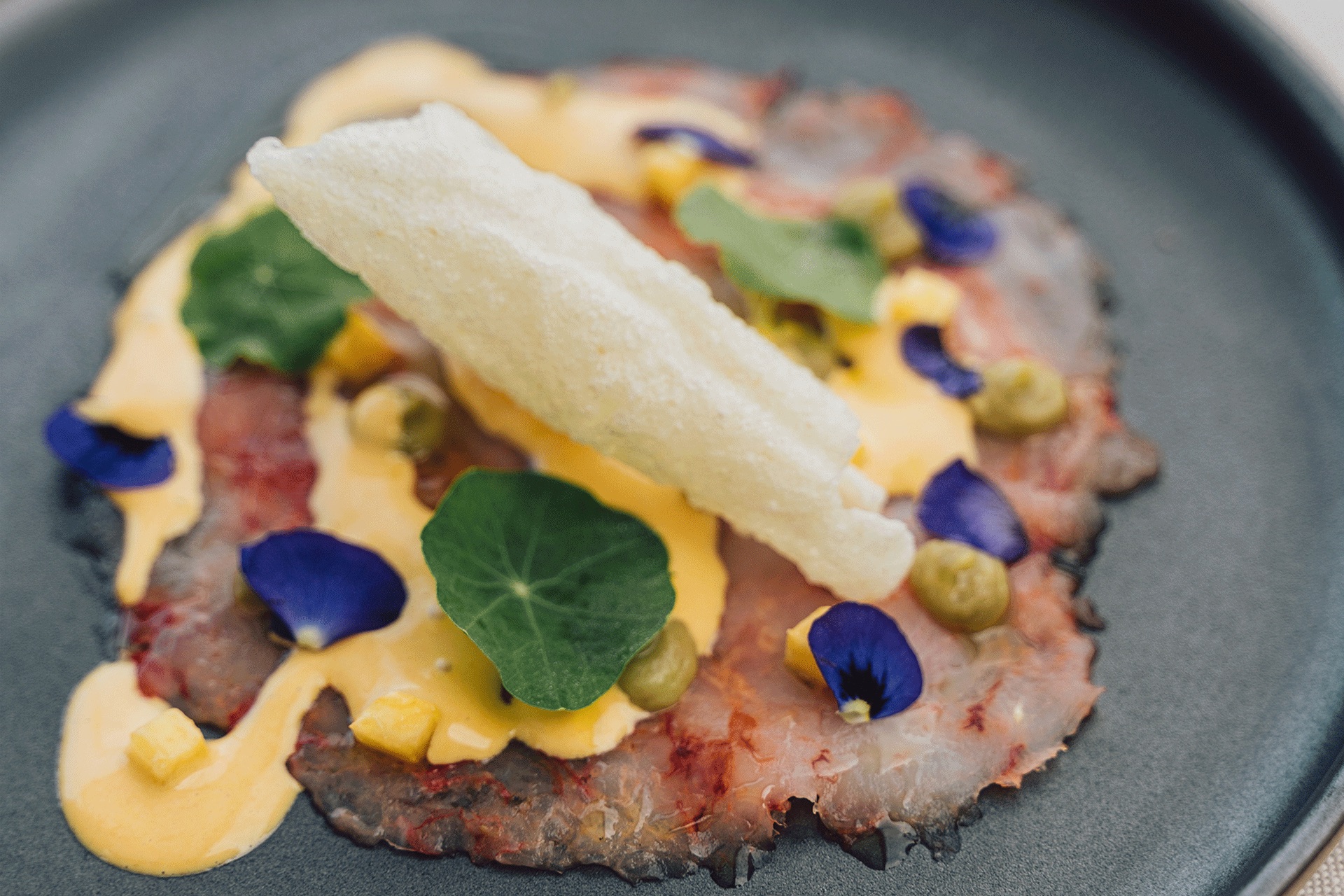 Why is this dish one of your favourites?
For me, it's the explosion of different flavours packed into every mouthful, from the sweetness of the shrimp to the acidity of the prosecco and the freshness of the ginger.
What personal touch did you put on this dish?
As a final touch I come out from the kitchen to greet the guests, talk them through the ingredients, and then sprinkle prosecco on top of the dish to complete the experience.
Where do the ingredients come from?
We always use local produce where we can; supporting local suppliers and providing our guests with the finest, freshest ingredients is very important to us. The red shrimp is bought from the Chioggia fish market, which is widely considered one of the oldest institutions in Venice. The white peach is from the Venetian Island of Sant'Erasmo, located just over 7km from the hotel, and the prosecco is sourced from our providers at the Bellussi vineyard in the Veneto region.
What's your favourite thing about this dish?
My favourite thing about this dish is that we're able to take diners on a culinary journey of historical moments through the lens of Hotel Excelsior Venice, giving locally sourced ingredients with connections to our city's past a new and exciting twist.