Rosewood Hong Kong's Spanish restaurant and bar Bayfare Social has revamped its terrace overlooking the Victoria Harbour and launched a new menu of seasonal and signature Spanish tapas with a twist, showcasing the finest ingredients from around the world.
Led in the kitchen by Chef de Cuisine Jorge Vera Gutierrez, the Tenerife native showcases his innovative cooking style with authentic Spanish culinary traditions. The wine list has also been revamped to proudly represent the various and often overlooked wine regions of Spain, as shown by a map on the menu that details the origins of each bottle.
Chef Gutierrez's refreshed à la carte menu features new additions such as hand-sliced Iberico Ham 62 Months, which is unique for its soft yet intense acorn flavour, and is served simply with sourdough, olive oil and salt; anchovies with tomato bread, a dish found in abundance throughout Spain, using Calabrian white anchovies on top of signature tomato crystal bread; Salmorejo Cordobes, a popular thick and creamy cold soup from the Cordoba region that is seasoned with garlic, Arbequina olive oil, and sherry vinegar and finished with crispy ham, croutons and grated boiled egg; and Brandada de Bacalao, a traditional Spanish codfish dish that consists of codfish mashed with olive oil, garlic, and cream until it reaches a mousse-like texture, served with sliced sourdough.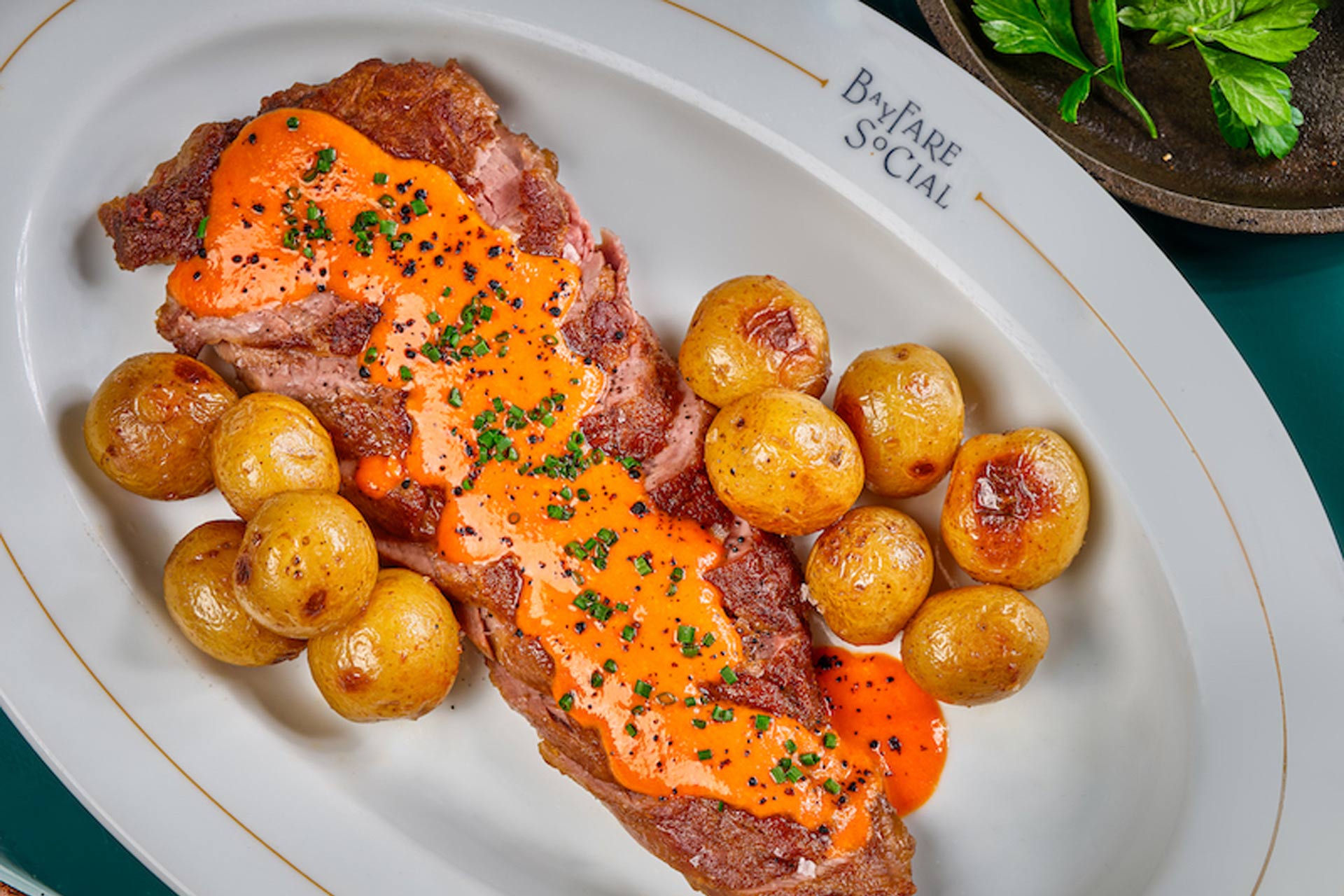 Other new tapas include Callos a la Madrileña, a take on the traditional dish from Madrid, that comprises beef tripe and tendons stewed together in a sofrito sauce with chorizo and morcilla (black sausage) until tender and flavourful, served with a piece of toasted bread; and Bomba de la Barceloneta, a popular Catalonian dish of potato ball stuffed with spiced meat and vegetables, coated in breadcrumbs, deep fried and served with the chef's signature gravy sauce. A tribute to Paella Valenciana, the new Chicken Paella features marinated juicy chicken thighs and drumsticks served on a bed of flavourful bomba rice along with green beans and aioli.
Bacalao con Samfaina is a special Spanish recipe of salt cod stewed in a sauce called samfaina, also known as a Spanish ratatouille using ingredients such as sauteed vegetables and tomato sauce. Ibiza-style Lobster is the chef's version of the most popular dish in the Balearic Islands, featuring a whole grilled Boston lobster served over padron peppers, crispy Agria potatoes and a rich seafood sauce made with monkfish liver and Salmorreta. Another reinvented classic of Spanish cuisine, Wagyu Beef Cheeks are slow cooked for 16 hours in a sweet sherry wine, glazed in a signature gravy sauce and finished with quenelles of butter squash purée. The final dish, Dry Aged Rubia Gallega Rib-Eye, uses hearty, grass-fed Galician beef that undergoes a 30-day dry-aging process, and is served simply with fried potato dices and padron peppers.
The impressive wine list showcases the diversity of Spanish wine, and the remarkable terras (terroirs) from which they originate. Some examples of the new wines on offer include red wines such as Vega Sicilia, Alion, DO Ribera del Duero 2018 (100% Tempranillo) and Bodegas Albamar, Fusco, DO Ribeira Sacra 2021 (100% Mencia), while white wine options include Bodegas Matarromera, Melior, DO Rueda (100% Verdejo) and Bodegas Albamar, DO Rias Baixas 2021 (100% Albariño).