Jazz and cocktail parlour DarkSide at Rosewood Hong Kong has launched a new cocktail menu inspired by Mahjong, the tile-based game that has become a key element of the city's culture. 
Channelling the  craftsmanship and artistry of traditional hand-drawn Mahjong tiles, the menu reinterprets the game's bonus tiles and their associated Confucian plants and seasons into the base flavours of plum, orchid, bamboo, chrysanthemum, spring, summer, autumn and winter.
DarkSide invited local artisans to contribute their unique skills towards the menu: Mahjong tile-makers Masters Ricky Cheung and Karen Aruba Art were commissioned to re-imagine the flower and season Mahjong tiles for the menu's artwork, while local glass-blowing workshop Soekjing Studio designed and handcrafted the cocktail glassware. Ceramics were created by Tung Yao Ceramics, a long-standing local brand renowned for developing and celebrating Chinese pottery.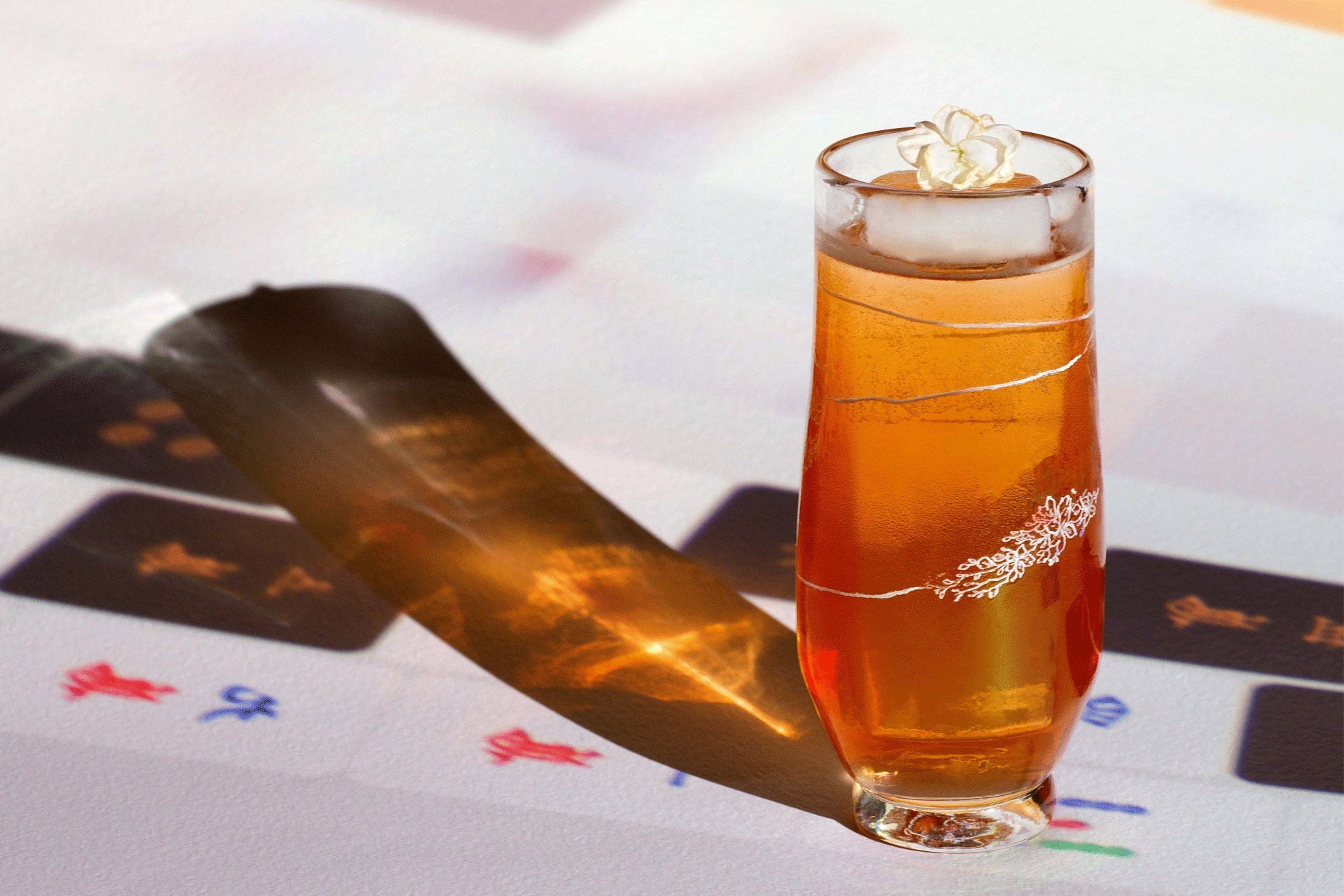 Menu highlights include the Plum, a stirred martini made with Grey Goose vodka, tomato consommé, Mancino Secco vermouth, calendula cordial and salted plum. The drink is served in a small rice wine terracotta pot, poured into an elegant ceramic martini glass with bespoke plum patterns.
In the Confucian context, summer bamboo represents vitality, resilience and flexibility. The menu's Bamboo cocktail features peaty notes of Scotch whisky followed by bitter and sweet accents from taxillus, and green tea notes from bamboo-distilled sake. The taxillus is infused with Johnnie Walker Black Label whisky and herbaceous hints of thyme. The drink is served on the rocks in a stackable bamboo vessel, garnished with a nugget candy.
Summer is created with lychee, inspired by a local café drink that uses preserved lemons and soda, while the cocktail Winter nods to traditional Chinese sweet potato and ginger sweet soup. Designed for whisky sour lovers, the concoction is served on the rocks and garnished with sweet potato candy. For the Spring cocktail, DarkSide has reimagined the gin highball with Star of Bombay gin, seasonal tangerine and longan flavours. The effervescent and refreshing drink is infused with bitter notes from Amaro Santoni with hints of rhubarb, while London Essence white peach and jasmine soda further elevates the drink with a balance of aromatics.