Acclaimed pastry chef Cédric Grolet has offered a glimpse of his first patisserie outside of France, ahead of its launch this month. The French culinary star is opening the doors to Cédric Grolet at The Berkeley on February 14.
Interior designer Remi Tessier has curated the lab-like space, which focuses on a 'Chef's Counter' for hosting globally-exclusive tasting menus. Polished stainless steel, white stone and a gold leaf gilded ceiling feature throughout, and the walls are adorned with carved flowers and lemons, representing Grolet's first ever union of his fruit and flower creations. Scallop floor tiles reference the apple slices that Grolet found in the 'tarte aux pommes' he enjoyed as a child.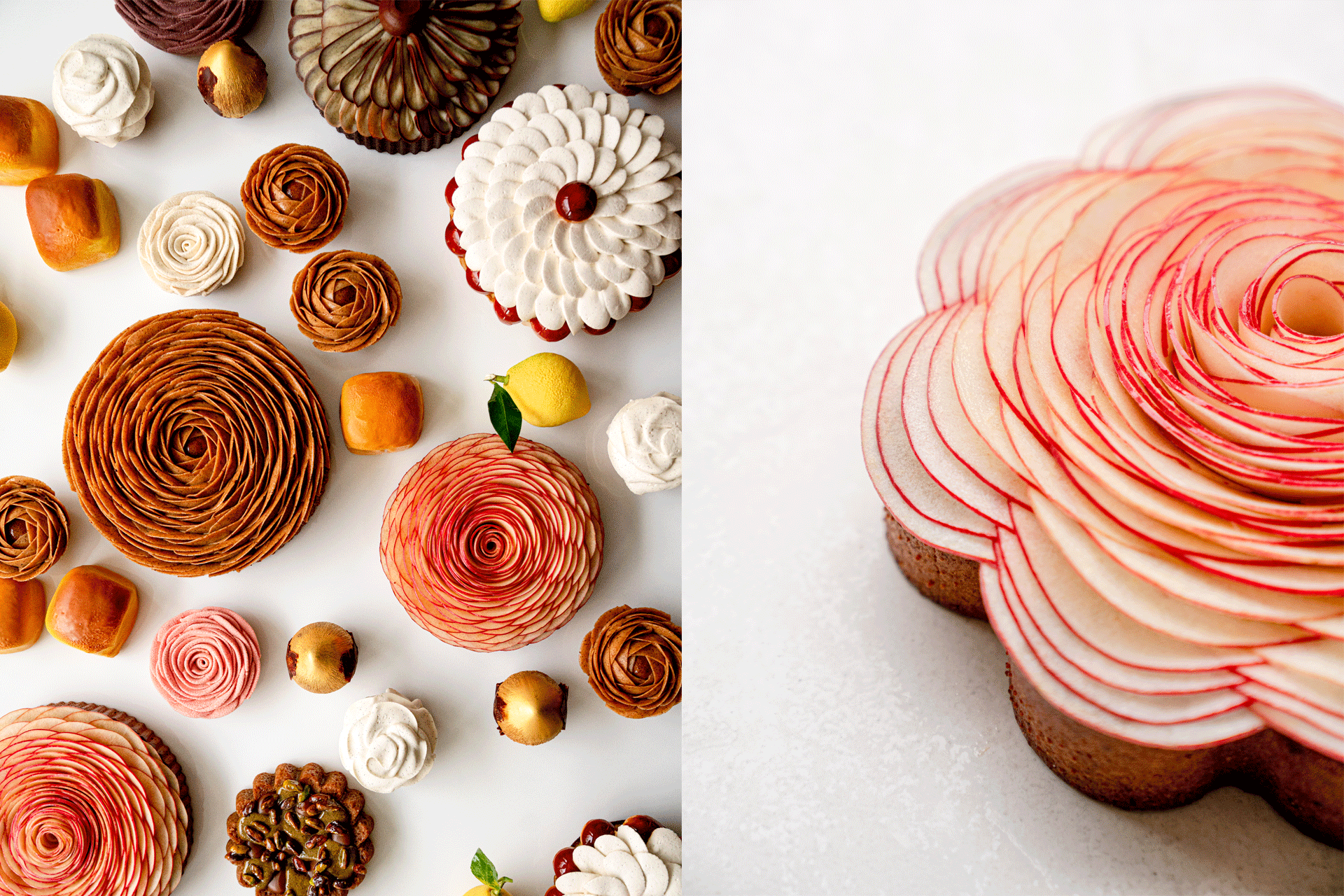 Hotel guests and diners at the London outpost will be able to purchase Grolet's famous 'trompe-l'œil' fruit and flower delicacies, as well as pastries and viennoiseries. The new outpost will see the fruit and flower cakes – which are currently sold in separate patisseries in Paris –  sold together for the very first time. Both series of cakes are inspired by the seasons, and inspired by the chef's childhood memories.
As a tribute to Britain, Grolet has also crafted an exclusive trompe-l'œil delicacy in the form of a classic scone. "London was the first city I ever visited outside of France," he says. "It has always had a very special place in my heart, and to open in this incredible city is a long time dream. We couldn't let this occasion pass without creating something unique for the capital – a trompe-l'œil scone especially for the Brits."
The patisserie sits adjacent to The Berkeley Café, a new space within the hotel that will host an additional two gourmet experiences throughout the day: a 'petit déjeuner' breakfast including viennoiserie, waffles, crepes and savoury signatures, and a 'goûter' snacktime menu featuring standout items from the patisserie.