Four Seasons Hong Kong has unveiled a new restaurant-lounge, helmed by the Michelin-starred chef, Paulo Airaudo.
The eatery, dubbed Noi, was designed by the international interior design studio AB Concept, which was behind the 2021 refurbishment of many of the hotel's communal spaces. Following a design brief set by Airaudo himself, the creative team divided the new restaurant into two key zones: a 22-cover Italian-style dining room named Italian Silhouette, and  a more casual breakout lounge featuring a wine bar kiosk, called Doodle Garden.
The interiors pay homage to Airaudo's Italian-Argentinian heritage via a combination of Italian architecture and contemporary furniture, as well as a statement wine cellar. Noi (which means "we" or "us" in Italian), channels the food the acclaimed chef grew up eating, as well as a curated playlist of his favourite 80s and 90s hits and a decor inspired by everything from his travels and his favourite films to his tattoos.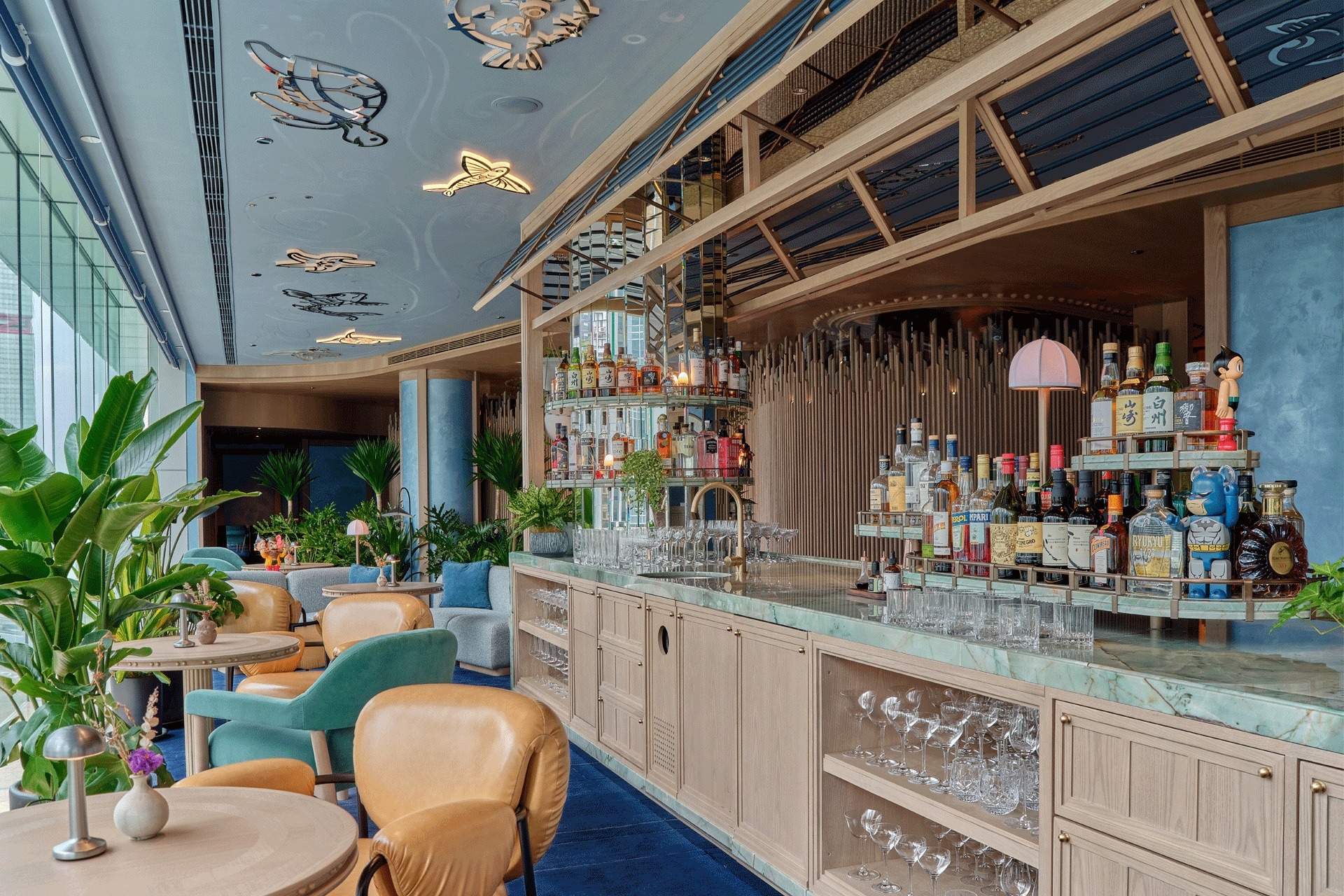 "Our vision for Noi was to create a fun fine-dining experience that suits the vibrant city scene and celebrates Chef Paulo Airaudo's philosophy," says Ed Ng, co-founder of AB Concept. "We are taking diners on an adventure that is both unique and authentic by sharing playful experiences of the chef and his heritage. The concept is contemporary Italian so guests can expect to see a palette of the finest materials, quality bespoke furniture and carpentry throughout to reflect this."
A fusion of art and cuisine, Noi goes bold on pattern, with artistic elements and pop art motifs adorning the carpets, walls and ceilings. The private dining areas feature a contemporary interpretation of Italian renaissance moulding, while diners enter the space via a foyer with a navy colour scheme complemented by graphic projections on the carpet that resemble Airaudo's vintage tattoos. Inspired by traditional Italian motifs, Italian Silhouette features rich materials and a colour palette of deep blues, bronze, dark timbers, leather, rippled glass, and silver travertine. Curved banquette seating overlooks an open kitchen backed with Japanese tiles, and bamboo screens create layers of atmosphere, separating this space from the Doodle Garden beyond.