Marrakech riad hotel Izza debuts House of Friends menu
Marrakech riad hotel Izza has unveiled details of its F&B offering, ahead of its debut in September 2023.
A blend of seven interconnecting riads inside the Medina of Marrakech, the menu reflects the 'House of Friends' concept that has shaped the boutique hotel.
The rooftop now houses gardened restaurant terraces where guests can enjoy Moroccan-style breakfasts, relaxed light lunches and suppers under the stars with views across the bustling Medina.
The menu at Izza has been curated by British consultant chef Paul Weaver, having visited a number of local vendors in the souks within the Medina, as well as nearby organic farms. Focusing on local, seasonal and sustainable produce, Izza's menu aims to showcase the best of Morocco, combining traditional cooking methods with a European influence and Mediterranean flair.
"Creating dishes for Izza has taken me on a journey through the Medina of Marrakech to a Morocco where modern meets traditional," comments Weaver. "The respectful concept of this very special House of Friends, means the menu is focused on the colours and spices so important to the taste of Marrakech and a diversity that forms part of the conversation between guests."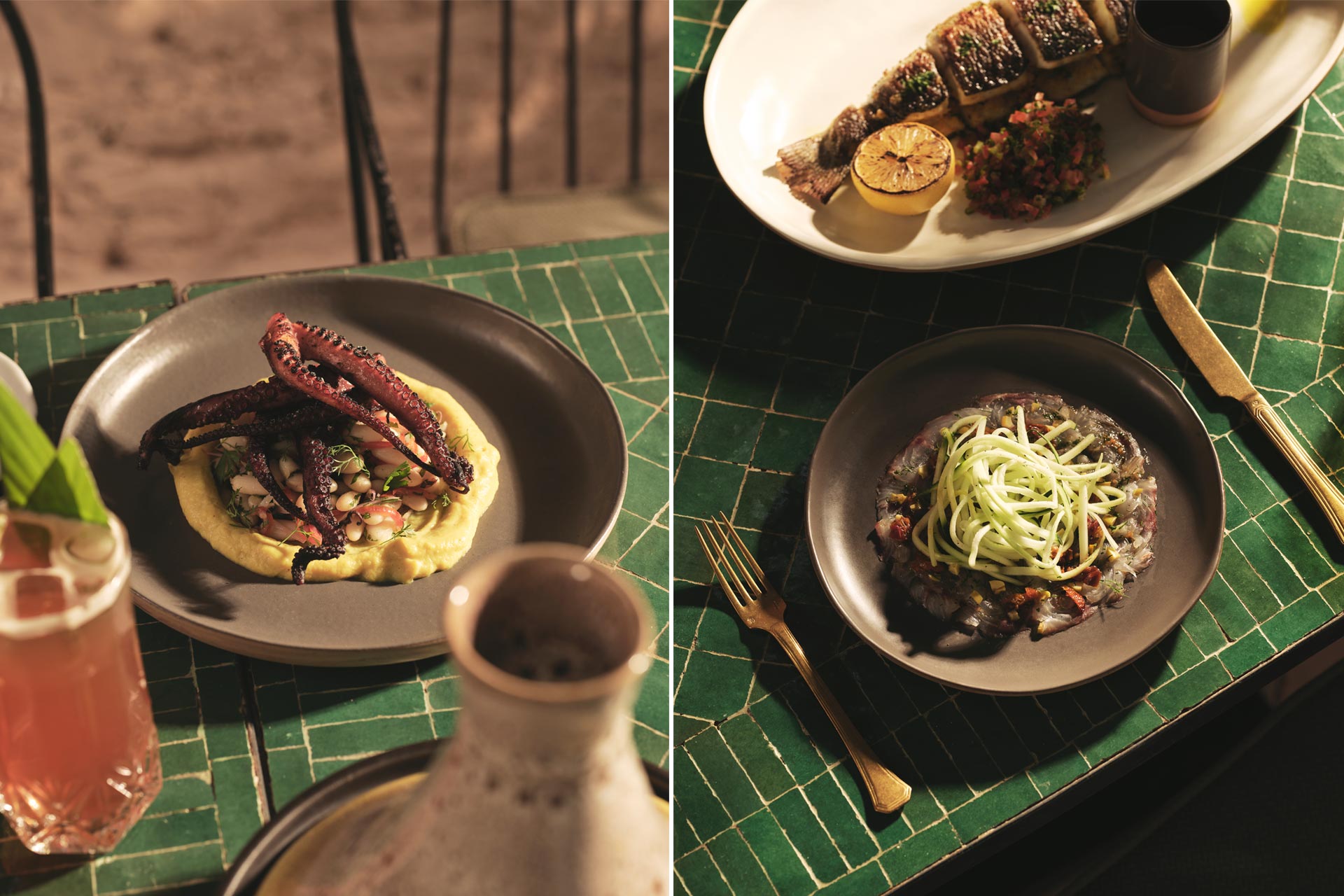 The lunch and dinner menus comprise both individual and sharing plates, including sea bass carpaccio with confit tomato, harissa and lime oil, cucumber and dill; an Izza tagine with monkfish; charred cauliflower with spiced yoghurt, and pickled watermelon with feta, mint, pine nuts and orange blossom.
All day snacks include smoked aubergine batbout with calabrese pesto; crab and leek croquettes with saffron hollandaise, and Merguez sausage with chermoula and salsa. All seafood is sourced from the sustainable Ace Maree Fish Supplier with as much produce coming from native waters.
The Izza kitchen is run by Head Chef, Ahmad El Hardoum, who, over the last 15 years, has worked in a number of hotels and restaurants in Marrakech, including Crystal Pacha, The Kenzi Menara Hotel, Le Palais Paysan and, most recently, as Chef de Cuisine at El Fenn.
"In Izza, I feel like I have found my second family," says El Hardoum. "I am so attached to the ethos and all it represents; I consider it one of the most beautiful spaces in Marrakech. The inclusive nature of this property and the people here allow me to bring my passion and creativity to the kitchen, bringing a true Moroccan flavour to our guests at Izza."