RH Guesthouse New York has launched its new Champagne & Caviar Bar after years in the making. 
Tucked away in the Guesthouse Cellar, the luminous 32-seat lounge offers a curated menu of elegant caviar-based dishes, including caviar cones, classic cornets filled with toro or salmon and topped with Petrossian Imperial Kaluga Caviar and a dash of crème fraîche; caviar rolls, warm, buttery brioche rolls enveloping king crab or Maine lobster, with Petrossian Imperial Kaluga Caviar and crème fraîche; and caviar potatoes, crispy potato skins with crème fraîche, chives and – unsurprisingly – caviar.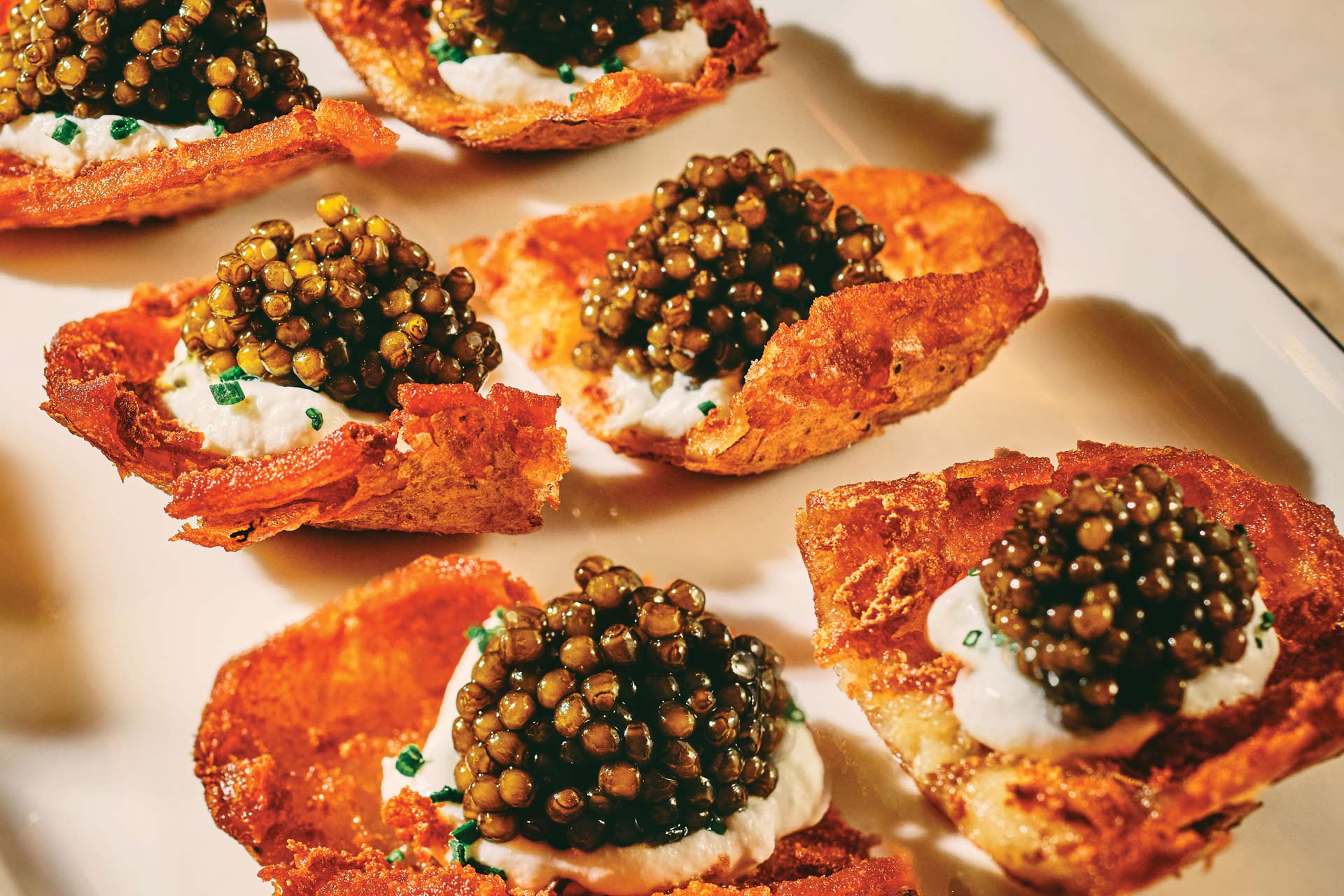 To access the new venue, guests descend a floor-to-ceiling European white oak staircase, arriving in a space with iridescent champagne lacquered walls and handblown amber glass ceilings. Italian Calacatta gold marble tables sit atop marble-mosaic floors, surrounded by banquettes of camel mohair velvet.   
The Champagne & Caviar Bar menu – personally overseen and developed by RH's Chairman and CEO, Gary Friedman, and his global culinary team – is inspired by RH's vision to create a caviar experience that respects tradition while reflecting the brand's modern values. "The Champagne & Caviar Bar at the RH Guesthouse New York reflects our vision to imagine an alluring space and immersive experience that transports you to both the glamor of secretive and sensual speakeasies of the past, and the most luxurious private lounges and clubs of the present," says Friedman. "Through our multi-year effort to design this extraordinary new concept, we have developed both a passion for and commitment to caviar, and have plans to open Champagne & Caviar Bars in Paris, London and Aspen over the next three years."  
As for beverages, a list of Champagnes spans youthful and bright bottlings to rare finds such as vintage 1975 Dom Pérignon Oenothèque. The RH Library Selection also features vintages in verticals from Champagne's finest houses including Dom Pérignon, Louis Roederer, Salon and Krug. The lounge also offers an international list of esteemed vodkas, served ice cold and poured tableside, as well as a curated collection of classic cocktails.