Shinji Kanesaka will make his debut outside of Asia Pacific in July 2023 with the opening of Sushi Kanesaka at 45 Park Lane.
Housed behind a discreet doorway within the contemporary and luxurious surrounds of 45 Park Lane, London's Sushi Kanesaka will be an intimate and traditional 13-seat omakase counter restaurant at this vibrant hotel in the heart of Mayfair. The restaurant will bring the mastery of Edomae sushi in its most traditional, purest form – to the British capital, setting a new benchmark for omakase dining in the city. Translated as "I'll leave it up to you", omakase dining means the very finest delicacies, chosen in the moment by masters of the art. In a quest for perfection, Kanesaka-san is joined by a small team of eight chefs, sommeliers, and hosts with a number of the team joining from the chef's portfolio of esteemed restaurants.
The restaurant will source its core ingredients like wasabi and rice, from his long-standing suppliers, alongside premium seafood from the UK and Europe which has undergone the Japanese ikejime method, and is sourced according to the season and of the finest quality.
To accompany the omakase experience, the restaurant offers sake pairings, wines, beers and Japanese whiskies. Hand-cut glasses by Horiguchi Kiriko will glint beneath the subtle glow of illumination from the style window. Each of the restaurant's whiskies including Hibiki, Yamazaki and Hakushu are crafted using techniques handed down through generations, embodying the dedication to tradition and craft.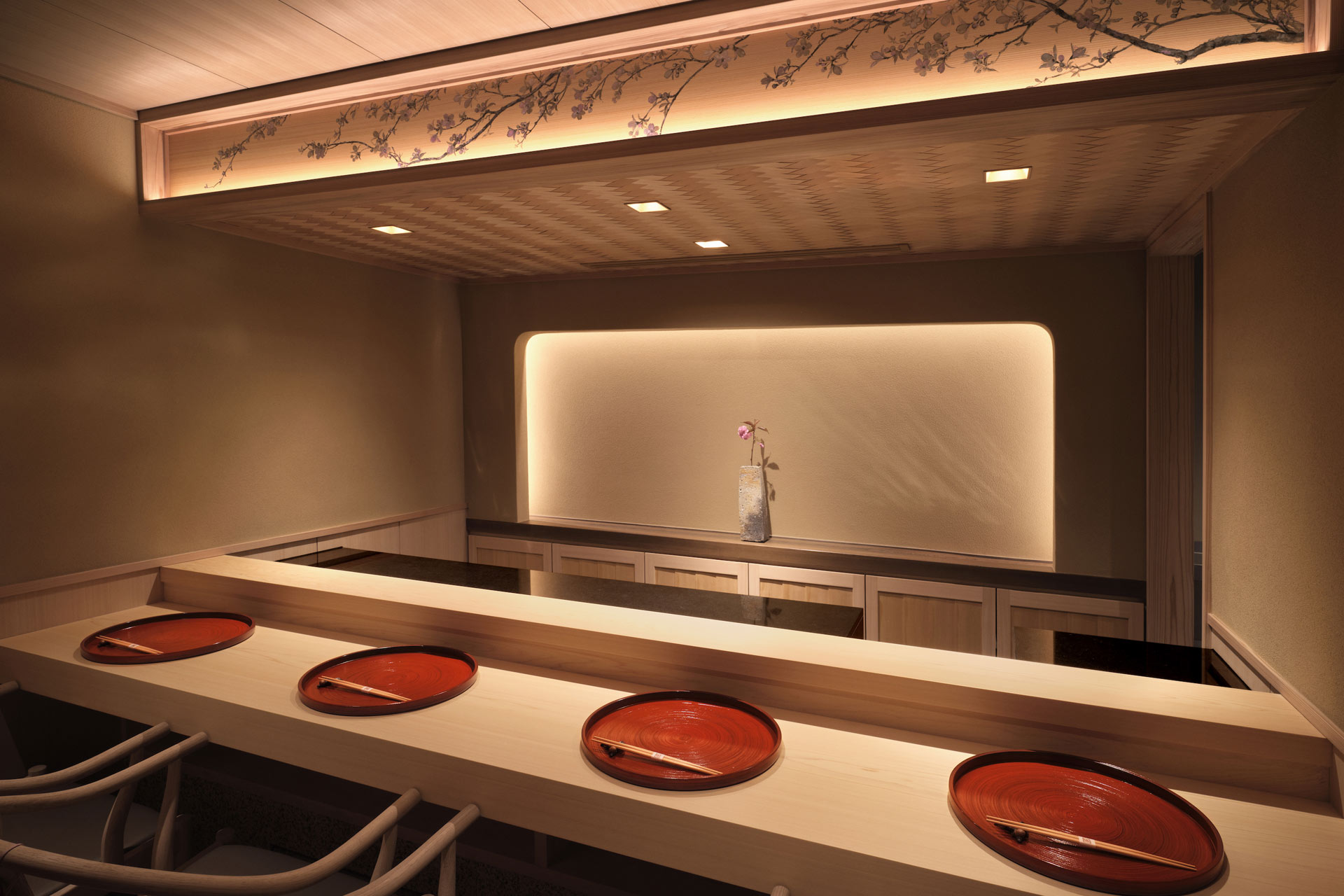 The restaurant's bespoke design provides the perfect setting for a traditional omakase experience at either the nine-person counter or the adjacent four-person counter within a private dining room. Both spaces are complete with their own sushi Shokunin, preparing and creating a uniquely personal experience for guests to watch. In keeping with tradition, the 13-seat restaurant is hosted by an okami, Nanami-san, who ensures the guest experience is unparalleled – a role at the very heart of Japanese hospitality.
Every element of the interior and experience has been thoughtfully curated to embody the spirit of traditional Tokyo sushi restaurants. Designed by Itaisan, masters of Japanese restaurants, the interiors evoke a feeling of harmony and tranquillity. From a walkway of reclaimed Japanese granite to wooden Kumiko panels inspired by the restaurant's neighbouring Serpentine in Hyde Park, every detail has been considered. The intimate chef's counter is made from a single piece of Japanese Kiso Hinoki (cedar wood). Vases have been made exclusively for Sushi Kanesaka by renowned ceramic artist Shiro Tsujimura. In keeping with tradition, the restaurant showcases its hinoki ice chests, first used by sushi chefs in the Edo period – which allow the temperature of the fish to be perfectly maintained.
"I am honoured to introduce our culinary heritage and passion for sushi, with some of my team and chefs from Sushi Kanesaka in Tokyo," comments Kanesaka. "We are thrilled to share the true essence of Edomae sushi, meticulously prepared using the finest ingredients, traditional techniques, and utmost dedication, transporting guests to the vibrant streets of Ginza – and the tranquillity of a traditional omakase service."