Three of the key players behind Cyprus' newest gourmet hotspot discuss their roles in putting a strong F&B programme at the heart of Amara with Richard Frost.
Cyprus holds a special place in Greek mythology as the birthplace of Aphrodite, the goddess of love, who was supposedly born just off its coastline before being brought to shore naked on a giant seashell – an iconic origin story immortalised by Renaissance painter Botticelli among others. In recent years, however, the so-called Island of Love has become better known among British and Russian holidaymakers in particular for its cheap package holidays, combining sun, sea and sand in the daytime with hedonistic parties after dark in the many clubs of Ayia Napa and Paphos. Now, Cypriot hospitality group Stademos Hotels is looking to attract a very different clientele with the launch of its new ultra-luxe resort Amara.
As the third property within the group – founded by Managing Director Demos Demosthenous to develop, own and operate hotels in 1989, with help from his father Stavros – the SB Architects-designed Amara raises the bar considerably. Located on a prime beachfront plot just outside the city of Limassol, all 207 well-appointed rooms offer spectacular views over the turquoise waters of the Mediterranean. The newbuild property's lavish grand opening ceremony, meanwhile, was attended by a host of dignitaries, including the country's president Nicos Anastasiades, and featured a live set from America's Got Talent finalist Glennis Grace.
A similar level of ambition is evident in the F&B programme. According to Demos Demosthenous, the plan from the outset was always to "find restaurants with a face", ones fronted by high-profile chefs capable of serving consistently excellent food; it was also important that the hotel could offer a variety of cuisines. The result is that Amara boasts no fewer than five dining venues, including signature restaurants by renowned chefs Nobu Matsuhisa and Giorgio Locatelli, as well as four main bars. Matsuhisa Limassol offers fusion cuisine combining Japanese and Peruvian influences in an elegant Rockwell Group-designed venue next to the pool deck, while Ristorante Locatelli delivers hearty Italian cooking in a restaurant created by the Michelin-starred chef's wife Plaxy and Wilson Associates, which enjoys a raised vantage point near the beach.
During our visit, Supper spoke with Matsuhisa, Locatelli and Mark Sopp, SB Architects Senior Vice President and Vice Principal, to find out more about the property's striking F&B offering.
As Stademos Hotels' most ambitious development to-date, Amara has been many years in the planning. How did you first get involved?
Mark Sopp: SB Architects has been working in Cyprus since the early 2000s. During that time, we were introduced to Demos and Stavros who had acquired some land here, and wanted to build an urban resort.
Nobu Matsuhisa: I met Demos five years ago in Matsuhisa Athens. The first time I met him face to face, I felt my sixth sense tingling, and knew we could trust each other.
Giorgio Locatelli: Demos came to London and was introduced to me by a very old friend, Des McDonald [founder of the eponymous hospitality consultancy]. I sat down with Demos and we hit it off straight away. So I decided to come to Cyprus to take a look – work hadn't even started at that point, it was just a piece of land.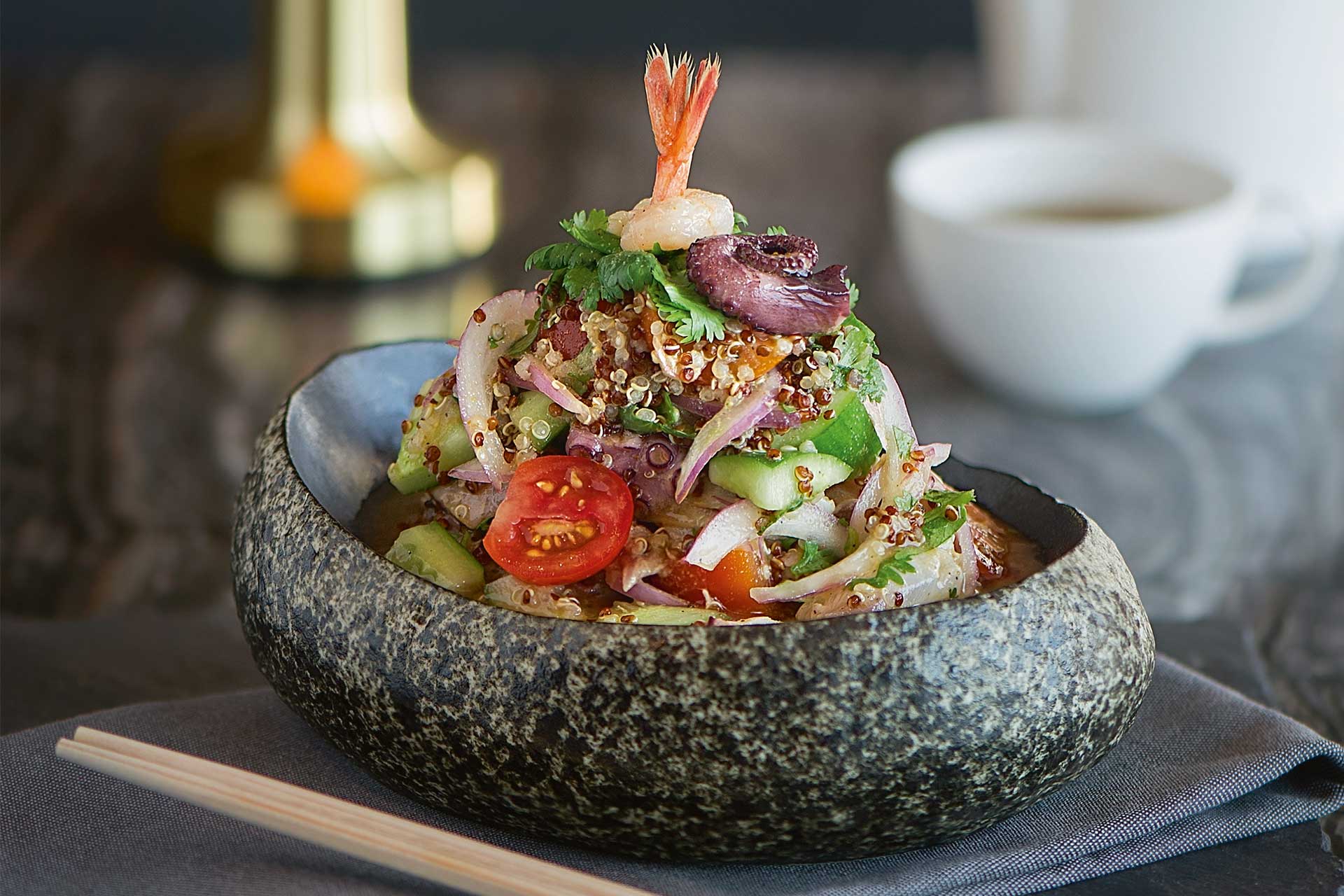 You must get invited to work on all sorts of projects around the world. What was it that attracted you to Amara?
MS: Hearing the owner's vision for the site was key. They had a strong desire to do something contemporary and try to capture the essence of the place in a very modern aesthetic, which appealed to us.
NM: Demos recommended that I come to Cyprus because it's a beautiful location, and he was building a brand new hotel. I trusted him and he supported me, so it was easy to rise to the challenge of opening a restaurant here.
GL: I liked the fact that we wouldn't be dealing with a hotel management team. If I have a problem, I can just pick up the phone and call Demos to sort it out, which is very important for me. You're not talking to someone who'll tell someone else and so on – you know where you stand.
Any large hospitality development relies on a varied network of experts supplying products and services, and Amara is no different. The hotel's design incorporates the work of many local craftsmen and materials such as limestone and wood throughout while, in its F&B outlets, tableware suppliers include the likes of Degrenne, Jasper Conran at Wedgwood, Riedel, Sambonet, Stölzle Lausitz and Vista Alegre. How would you describe the overall vision behind Amara?
MS: Amara is the family's interpretation of what modern Cypriot hospitality should be – very comfortable and with lots of different ways to appreciate it. Plus, the materials used all feel very natural, reflecting a softer palette. It's very much of its place.
"Amara is the family's interpretation of what modern Cypriot hospitality should be – very comfortable and with lots of different ways to appreciate it."
Mark Sopp
Matsuhisa Limassol seats 70 diners inside with room for a further 100 outside next to the pool deck, while Ristorante Locatelli can accommodate 60 guests indoors and another 60 on its external terrace. What's the concept underpinning Amara's restaurants?
MS: When SB Architects started work, we didn't know who the operators were going to be, so our focus was on creating different opportunities to enjoy the hotel's position. Matsuhisa Limassol has a private address on the beach road, meaning guests can come and go without entering the hotel, and it has a really nice relationship with the property's primary public space, the pool deck. By contrast, Ristorante Locatelli benefits from having an elevated position, offering 270-degree views of the sea.
NM: For me, working with David Rockwell [founder of Rockwell Group] is very comfortable because he designed the first Nobu in New York – we have a relationship going back more than 20 years. He understands the concept, the kitchen, the sushi bar and the connections between them. Here, we've created a beautiful restaurant, with a nice mix of indoor and outdoor spaces.
GL: We wanted the restaurant to feel really fresh and cool because summers are so hot in Limassol. Inside, we've got lots of banquettes to accommodate large family groups. At Locanda Locatelli [the Michelin-starred restaurant at Hyatt Regency London – The Churchill], we very rarely get tables of more than six, whereas here it seems to be the other way round, especially where locals are concerned.
Matsuhisa Limassol serves a range of sushi, sashimi, ceviche, tempura, grilled and roasted dishes, including black cod yuzu miso, Chilean seabass with jalapeño dressing, and anticucho Peruvian-style prime rib-eye steak; Locanda Locatelli, on the other hand, offers Italian classics like linguine with lobster, baked fillet of wild sea bass in a salt and herb crust, and tiramisu. How would you describe the restaurants' culinary offerings?
NM: I've brought the standard Matsuhisa concept to Cyprus – all of my signature dishes are here. But now that we've started, there's a lot of potential to use different fish in our menu going forward.
GL: Ristorante Locatelli is a great celebration of Italian culture and a lot of the dishes reflect different parts of the country. We've tried to develop a family restaurant based around the idea of conviviality, as well as the joy of being together and sharing a meal.
"We've tried to develop a family restaurant based around the idea of conviviality, as well as the joy of being together and sharing a meal."
Giorgio Locatelli
How challenging is it trying to source top-quality ingredients in Cyprus?
NM: I like to use local ingredients as much as possible. It's difficult to do that in any restaurant for the first six months to one year. But after that, it becomes easier to communicate with local suppliers, fishermen and other people in order to find excellent produce.
GL: Our cuisine is really based on having quality ingredients. Obviously, our ability to source ingredients in London is better than what we've got here, it has been a learning curve for sure.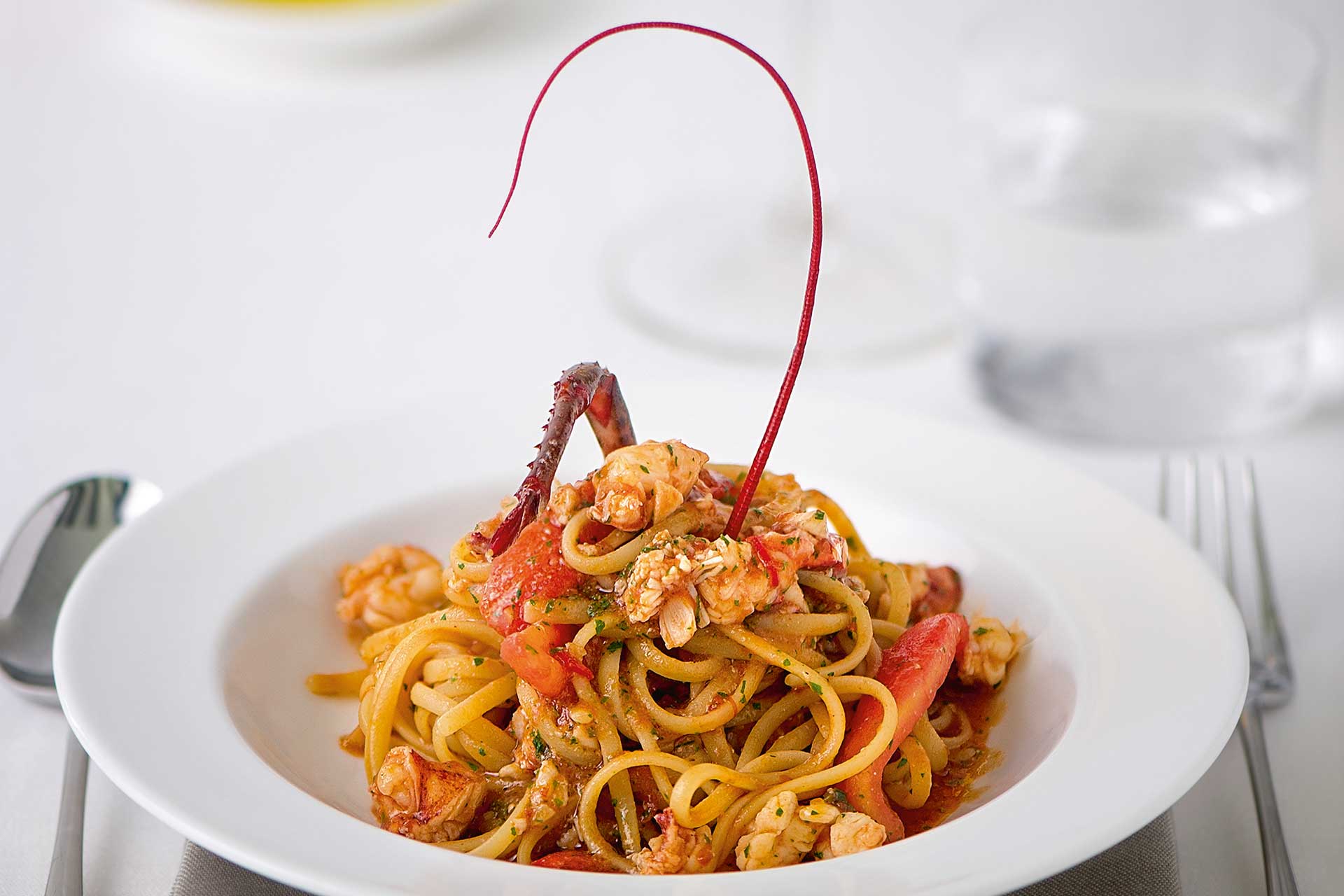 Nobu and Giorgio, you both have to juggle running lots of venues around the world, including at the Royal Atlantis Resort & Residences in Dubai, where each of you has a restaurant. Do you ever worry about overstretching yourself?
NM: Of course, I worry about maintaining the quality. I'm travelling ten months a year – it's impossible to control everything myself, but I trust my team.
GL: I don't think we're overstretched. One of the most important things that a restaurant produces is talent. But if you only have one site, there's only one manager and one head chef. You get to a point where you're going to lose people who have been with you for a while unless you expand. Seeing my boys growing into new roles gives me great joy.
"Amara marks a new era of hospitality for the city and the country. This hotel is going to open people's eyes and make them look at Cyprus in a different way."
Mark Sopp
Nobu and Giorgio, many of your restaurant projects are linked to hotels. What is it about working in this environment that appeals to you?
NM: In general, hotels make for the easiest projects. When opening a restaurant in a hotel, both sides have to carefully manage the relationship to support each other. That's the most important thing.
GL: I started working with hotels because I didn't have the financial strength to open a standalone restaurant. Hotels really help chefs with the initial structure involved in launching somewhere new.
And finally, what do you think Amara will bring to the eastern Mediterranean?
MS: I'm very happy for Demos and Stavros; Amara marks a new era of hospitality for the city and the country. This hotel is going to open people's eyes and make them look at Cyprus in a different way.
CREDITS
Words: Richard Frost
Headline Image: © Pascal Reynaud
Mark Sopp Image: © Phil Sharp
Magazine: Supper 18