Set in a former convent, August boasts a restaurant led by Michelin-starred chef Nick Bril and a spectacular bar, writes Alia Akkam.
Celebrated chef Nick Bril's restaurant at August, the new Antwerp hotel set in a one-time convent, fittingly feels like sacred territory. Housed in the corridor surrounding the Augustinian convent's original chapel, it is dominated by an oak floor and brick walls, and is brightened by a bevy of plants, conjuring an atmosphere that is at once both hushed and inviting.
August is located in the Green Quarter, a pedestrianised luxury development on the site of a former military hospital complex dating from the 19th century. Barely 50 metres away is The Jane, where Bril presides over the kitchen to widespread acclaim. Often considered the city's finest restaurant and proud holder of two Michelin stars, The Jane opened in 2014 in the old chapel on the grounds, and one of the highlights of this monastic yet glamorous dining room, courtesy of Dutch designer Piet Boon, is the open kitchen; enveloped in glass, it is a minimalist present-day shrine to the building's religious past.
Now, the 44-room August combines Bril's considerable talents with those of Mouche Van Hool, whose beloved Hotel Julien in the city centre represents a stylish reinterpretation of two 16th-century townhouses. "Nick is a very well-known chef and I love his style of cooking, it pleases a lot of people," says Van Hool. "Two years after The Jane opened, I told him I was going to launch a hotel. He asked if I had a chef already and spontaneously presented himself, as he had always dreamed of offering some rooms to his guests after dinner."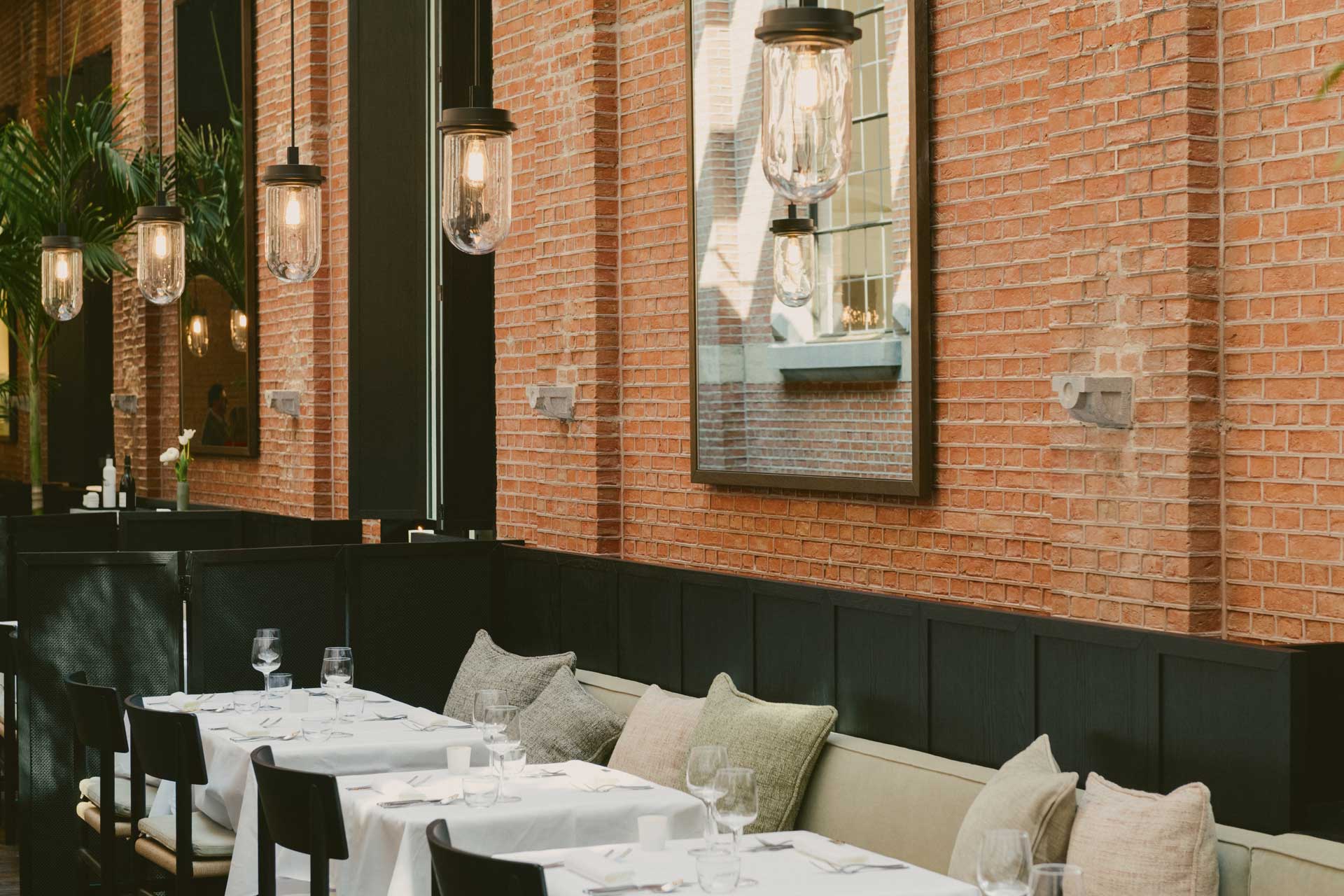 At the time of this conversation, Bril admits he was "ready for a new challenge", and was furthermore compelled by the idea of "having a beautiful hotel situated so close to the restaurant", envisioning guests checking in, savouring an apéritif at August's bar, then heading over to his Michelin-starred establishment. "Both The Jane and August are modern, but their histories are written in them," he says. "I love running restaurants that combine aspects of both the old and the new."
Departing from his menus at The Jane and the accompanying Upper Room Bar, Bril was keen to translate the allure of his hard-to-get-in flagship into something more accessible for August, a place where breakfast could organically flow into lunch and dinner day after day. This meshed perfectly with Van Hool's own vision.
In a nutshell, Van Hool wanted a "contemporary brasserie menu, a no-nonsense kitchen, and a restaurant emphasising quality ingredients". Bril's response revolves around a frequently changing menu embracing produce grown on the rooftop of Pakt, an adjacent industrial site now brimming with creative entrepreneurs working out of warehouses – where Bril also operates The Jane Table, a private-dining retreat. Fresh-from-the-garden herbs and vegetables make their way into such dishes as mackerel with eggplant, fish sauce, sesame and lime, as well as Bresse chicken with young carrot, malvasia and roasted jus. Desserts, like apricot cheesecake amped with carrot, elderflower and yogurt ice cream are also a compelling reason for customers to linger on the stylish banquettes.
Interestingly, August is the first hotel project for local designer Vincent Van Duysen, who respected the building's original bones during the restoration by mixing a muted palette with graceful furniture arrangements, and the restaurant follows suit in impressive fashion. Not only did he design the chairs and tables in collaboration with Molteni&C, he partnered with Flos for the pendant lighting, and his tableware was developed with Serax. In total, the restaurant seats just 52 patrons, which Bril reckons is the perfect size because a larger room might alienate locals; as it happens, many have already made repeat visits to this intimate space. "August is not only designed with resident guests in mind, but to draw in the general public," adds Van Duysen.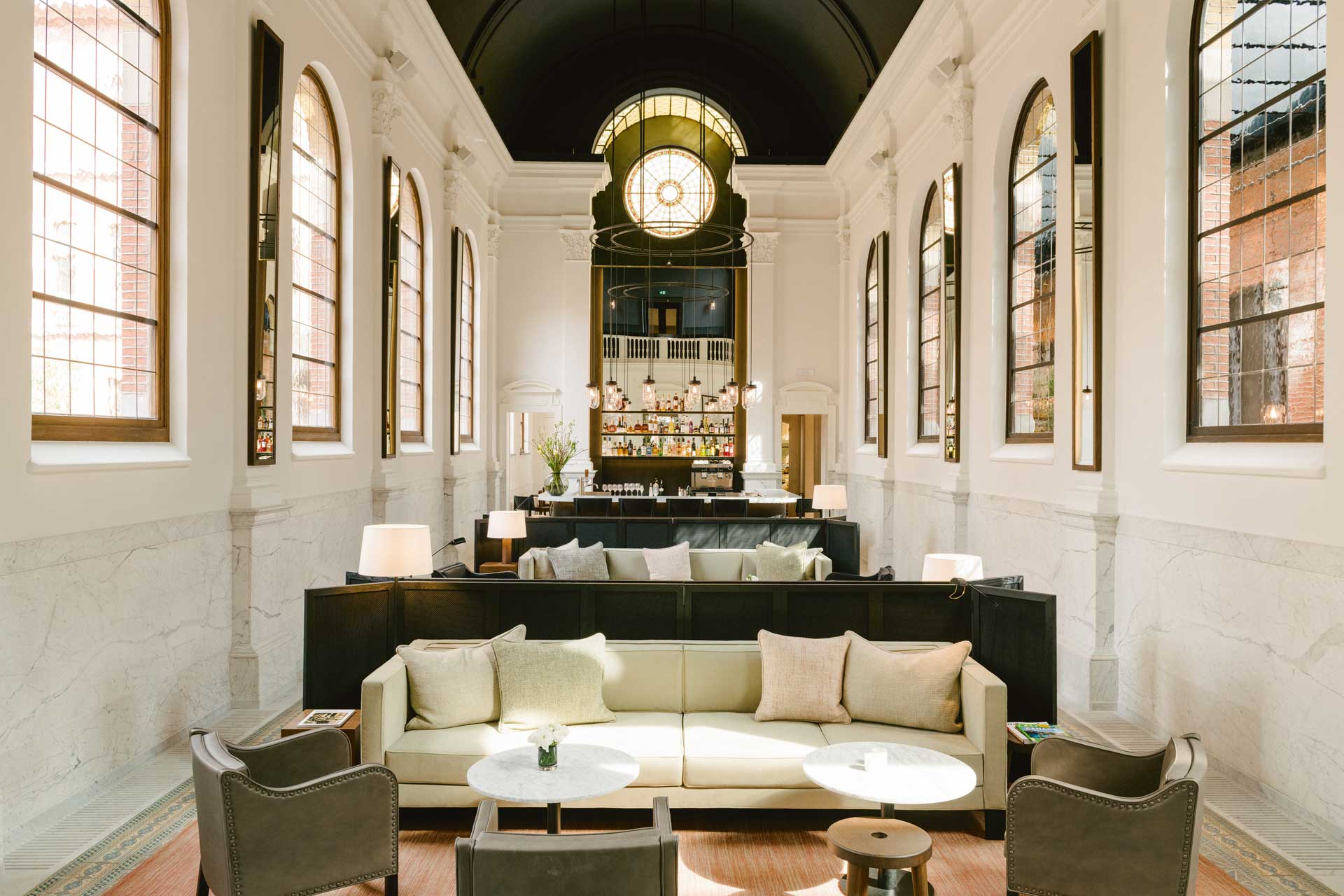 Locals also like coming to the high-ceilinged bar, housed in a glorious former chapel. Ideal for guests who check in late and want a quick round of oysters dressed with merlot vinegar or an eight-week-matured Holstein steak with béarnaise sauce and garlic, it also serves appealing drinks like a Genever Old Fashioned or a refreshing concoction blending rhubarb and Hierbas de las Dunas, a made-in-the-Netherlands liqueur relying on wild herbs from the North Sea dunes. "Having a cocktail at the bar of a hotel didn't exist in Antwerp, I love that idea," says Van Hool, who wants to foster a vibrant community at August.
More elaborate than the rest of the hotel, the bar "keeps in mind its original purpose, it is the epicentre of the entire hotel", according to Van Duysen, while white mouldings and hand-painted tiles are amplified by "black components that have been introduced selectively to distinguish the contemporary from the classic". For Bril, meanwhile, the bar provides yet another opportunity for him to showcase his versatility behind the stoves. "It's nice for a chef to be able to create things on different levels with different budgets," he explains. "At the bar, I can serve a Caesar salad and a burger."
As guests walk to and from their rooms at August, they must first pass through the central bar, taking in the sound of a bartender vigorously shaking a drink and, along the way, catching glimpses of diners laughing mid-meal. At another property, this short yet very public journey to the lift might be an awkward one. However, the connection feels natural here, the prominent visibility of the restaurant and bar attesting to how important these two social spaces are in shaping the hotel's identity. "The goal," as Van Duysen puts it, "is for hotel guests to feel completely welcome and at ease in a pleasant, hospitable environment."
IN A BITE
Covers: 52
Owner: Mouche Van Hool
Interior Design: Vincent Van Duysen
Signature Chef: Nick Bril
Tableware: Serax
www.august-antwerp.com
CREDITS
Words: Alia Akkam
Photography: © Robert Rieger
Magazine: Supper 16