Award-winning Dutch hotelier Eric Toren had long harboured a singular vision: to create an extraordinary dream hotel, one that would deliver the experience of a lifetime to demanding guests seeking the last word in luxury. Naturally, this property would have to feature the most palatial suites imaginable, but it would also need to offer the finest food and drink around.
Fortunately, he already had a wealth of experience to draw upon; not only was he the owner of the highly regarded Hotel Sebastians in Amsterdam, he had previously owned one of Europe's finest boutique hotels, The Toren, in the same city too. When The Toren was snapped up by The Pavilions Hotels & Resorts in 2016, he teamed up with the group to help develop new properties throughout the world. But it wouldn't be long before an opportunity arose to work his magic on Dam 27, a magnificent building housing the Royal Industrial Club and boasting spectacular views over Amsterdam's landmark Dam Square, and so he decided to leave The Pavilions to focus on realising his dream.
The result is Hotel TwentySeven, a luxury boutique that unabashedly bills itself as 'the most opulent sanctuary Amsterdam has to offer', with each of its 16 suites packed with premium features like handmade silk carpets by Ebru, comfortable lounge sofas by Ascensión Lattore, well-stocked EuroCave wine coolers, two-person Jacuzzis and sensual artworks. As Toren puts it, the overarching idea was to create something "lovely, sexy and romantic", characteristics that neatly encapsulate the ambience at Bougainville, its fine-dining restaurant. Toren and renowned designer Wim van de Oudeweetering worked together to develop an intimate space filled with luxurious seating, lush fabrics, chic light sculptures, aspirational pictures of beautiful models, and a stylish brown-and-gold colour scheme, cleverly accented by flashes of vivid-pink flowers and flickering candlelight. The same aesthetic is evident too in the hotel's inviting cocktail den, Bar TwentySeven, where the main focal point is an elegant onyx bar crafted from a special cut by SolidNature.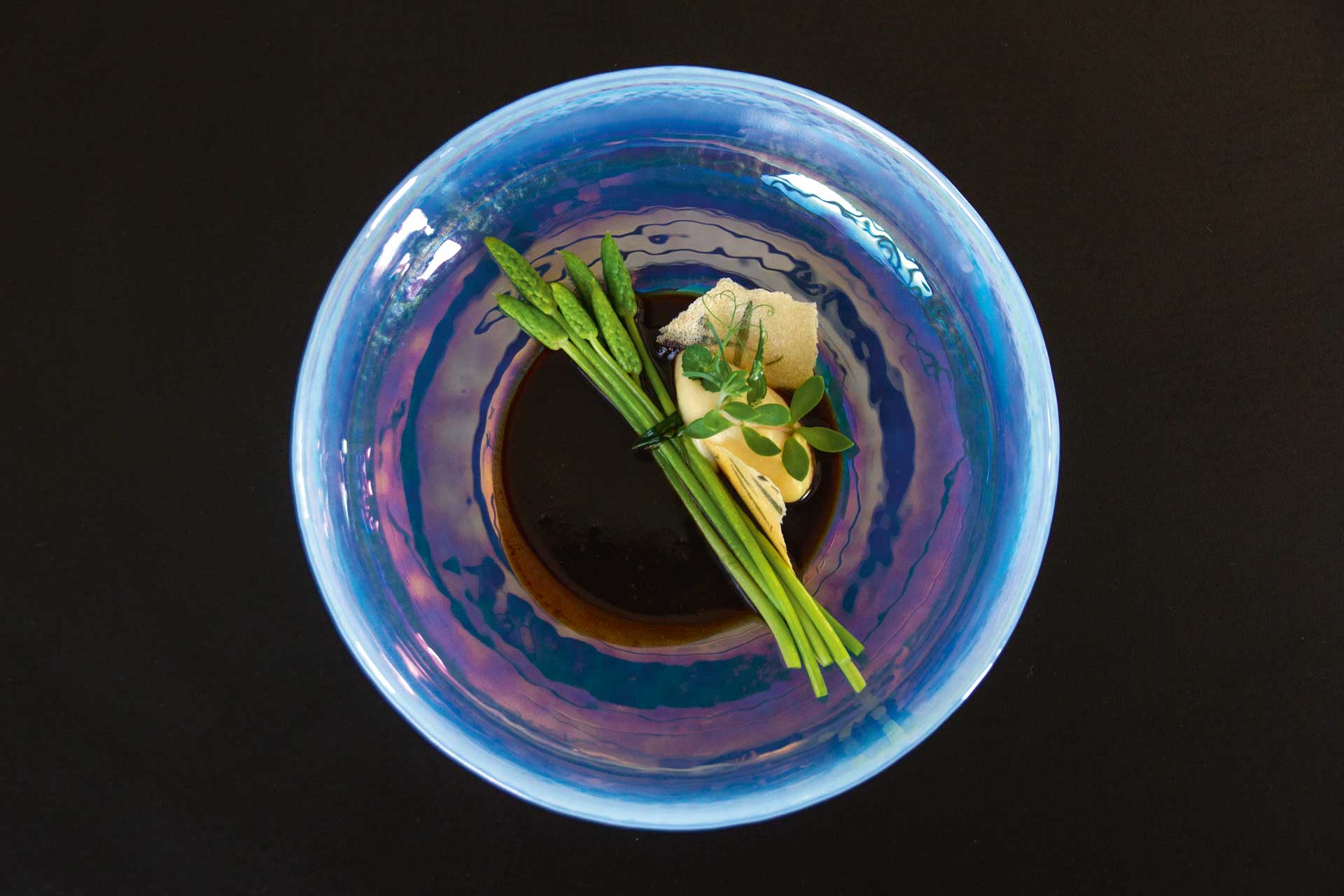 Of course, first-rate design is not the only prerequisite to setting a new property apart from the competition. "You don't create a dream hotel simply by building a nice restaurant, bar and rooms, they're just the hardware," reflects Toren. "The most important part is getting the software right, which means attracting the best people to work there." At Bougainville, the restaurant is led by Executive Chef Tim Golsteijn, a rising culinary star who made his name at Restaurant Parker's in Amsterdam, and Wine Director Lendl Mijnhijmer, the 2018 Dutch Sommelier Champion and winner of the 2015 WSET McNie Tasting Trophy. The bar, meanwhile, is overseen by knowledgeable Head Bartender Eric van Beek, whose most notable achievement to date is triumphing at the 2018 Bacardi Legacy cocktail competition in Mexico City.
Toren also stresses that individual staff members, no matter how talented, must show willingness to help colleagues deliver the best all-round guest experience. "I have to make everyone believe they're working towards the same goal," he says. "They're not just working for the restaurant, the bar or the hotel, it's all the same thing."
Bougainville provides a fascinating insight into how this collaborative approach pays dividends; on a typical day, half of those in the service team are sommeliers, and each one selflessly carries out their fair share of regular front-of-house tasks like taking orders and clearing tables, while also being on hand to share their oenological expertise the moment a guest requires it. Even more impressively, the food-and-drink offering has actually been developed jointly by the chefs and sommeliers. As Mijnhijmer explains, the process of creating a new dish might start with the kitchen brigade proposing to add something different to the menu, but this is merely the cue for an exhaustive series of group tastings in which sommeliers are invited to suggest changes to the food, just as much as chefs are encouraged to critique the recommended wine pairings. Nothing makes it onto the menu until all parties agree.
The five- and seven-course tasting menus, with accompanying wine selections, are where the fruits of this painstaking process can be most keenly felt. The highly technical kitchen's flair for combining gastronomic influences from East and West manifests in a divine cold starter featuring salty crabmeat, crisp apple, creamy avocado and fresh lettuce, accompanied by a lively 'sushi vinegar' served at the table; it's intelligently paired with a glass of Akarua Rua Pinot Gris 2017 from New Zealand, complementing the cuisine with a pleasing burst of fruitiness and acidity. Better still is a stunning main course in which a generous portion of monkfish sits above a creamy and spicy satay sauce, topped with a crunchy green papaya salad; it's paired here with a Tahbilk Marsanne 2015, an inspired choice as the oft-overlooked grape unexpectedly delivers a roundness and intensely fruity flavour profile that holds up remarkably well to the powerful sauce.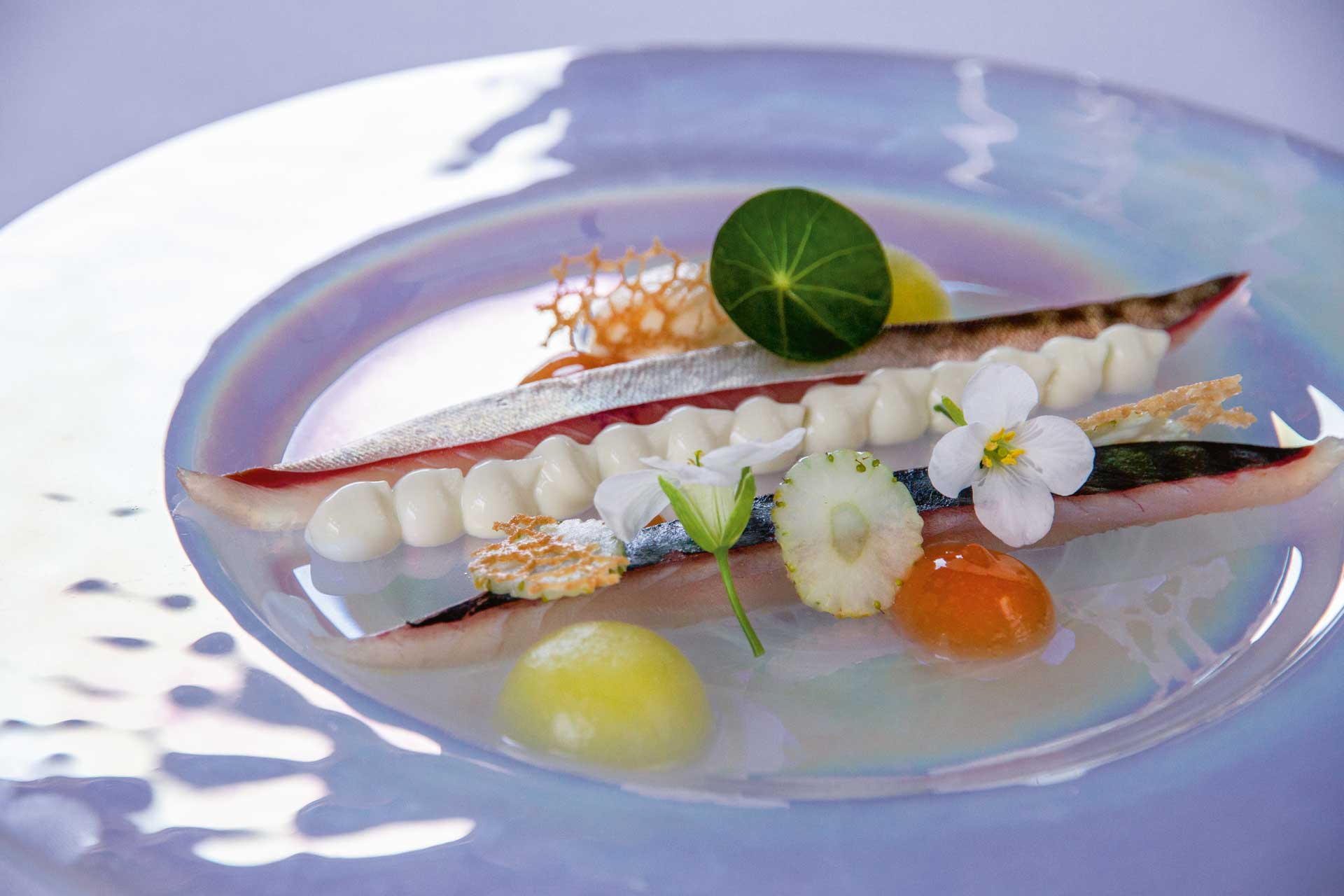 With such creativity on show, it's easy to understand why Bougainville won a Michelin star less than a year after opening, and recognition from the world's most prestigious restaurant guide has had a significant impact on bookings. "We were already doing well on weekends before but, after winning the star, even weekdays are now getting booked solid," says Mijnhijmer. "Also, the amount spent by customers has gone up significantly."
Average spend is doubtless boosted further still by the growing reputation of Bar TwentySeven, which offers an on-trend probiotic cocktail menu, and uses several exclusive ingredients such as in-house organic pineapple beer. Its signature cocktail is the Cariño, a combination of Bacardí Ocho, yellow Chartreuse, Greek yoghurt, vanilla, lemon juice and nutmeg that helped van Beek win Bacardí Legacy – a mixological masterpiece that inspired Golsteijn's team to develop a dessert of the same name over in the restaurant. Drinks are served in top-quality glassware by the likes of John Jenkins, Riedel and Luigi Bormioli, a fitting accompaniment to the plush surroundings. "The concept of Bar TwentySeven is to give guests an experience that they won't receive anywhere else," says van Beek. "We want to offer them a couple of hours in paradise."
Thanks in no small part to its outstanding F&B offering, Hotel TwentySeven has successfully realised Toren's vision of creating a glimpse of paradise for his demanding guests here in Amsterdam. So what might the 55-year-old's next challenge be? "People keep asking if I'd create TwentySevens in other cities and, of course, it interests me," he reveals. "But to make that happen, investors would need to share my vision, and have lots of money behind them." For now, though, the ambitious hotelier is focused on driving his star-studded team onto ever greater heights. "Whatever you do, you must never think you've hit perfection," he asserts. "The reputation of every new hotel brand depends entirely on the success of the first property." On this evidence, at least, the TwentySeven brand is off to a dream start.
IN A BITE
Covers: 40-45 (Restaurant), 8 (Private Dining Room)
Owner: Eric Toren, private investors
Architecture: ZZDP Architecten
Interior Design: Wim van de Oudeweetering, Cris van Amsterdam
Executive Chef: Tim Golsteijn
Wine Director: Lendl Mijnhijmer
Head Bartender: Eric van Beek
Dinnerware: Fürstenberg, Raynaud, Dibbern
Cutlery: Hepp, Roland Lanier
Glassware: Riedel, Zalto
Table Linen: Blycolin
Uniform Design: Jose Deken-Glas, Petra Toren
www.restaurantbougainville.com
CREDITS
Words: Richard Frost
Photography: Courtesy of Hotel TwentySeven
Magazine: Supper 14