Brasserie Prince unites two of the world's top hospitality dynasties in a common goal: to bring the classic French brasserie into the 21st century. On one side is the Roux family, who have consistently raised the bar at celebrated venues like The Waterside Inn in Bray and Le Gavroche in London (the former being the only restaurant outside France to retain three Michelin stars for more than 30 years). On the other is the Forte family, who rose to prominence leading Forte Group before losing control of the hotel and restaurant giant in a £4 billion takeover by Granada in 1996; the dynasty subsequently bounced back by launching a new luxury hotel company, snapping up The Balmoral in 1997 and steadily growing the portfolio ever since.
The Balmoral, now one of 11 Rocco Forte Hotels sites across Europe and the Middle East, occupies a special place in Scottish hearts. Formerly the North British Station Hotel, the property's iconic clock tower looms large over the city's main train station, and its guests have included everyone from Sophia Loren and Sir Paul McCartney to Harold Wilson and the Queen Mother. Its F&B options are similarly varied, ranging from Jeff Bland's Michelin-starred fine-dining restaurant Number One and afternoon-tea lounge Palm Court to signature whisky bar Scotch and café-bar The Gallery. But Rocco Forte Hotels' Group Director of Food & Beverage Lydia Forte felt the time had come to replace the hotel's other venues – the Celtic-inspired Hadrian's Brasserie and contemporary cocktail destination The Balmoral Bar – with something new.
"This was the final piece of the puzzle," she says. "We had redone Palm Court, reopened Scotch, refreshed Number One and revamped the suites and rooms, so this was the last space that felt the same as when we started. The old brasserie wasn't very well conceived and, while we were keen to stick with the brasserie direction, we wanted to do it right."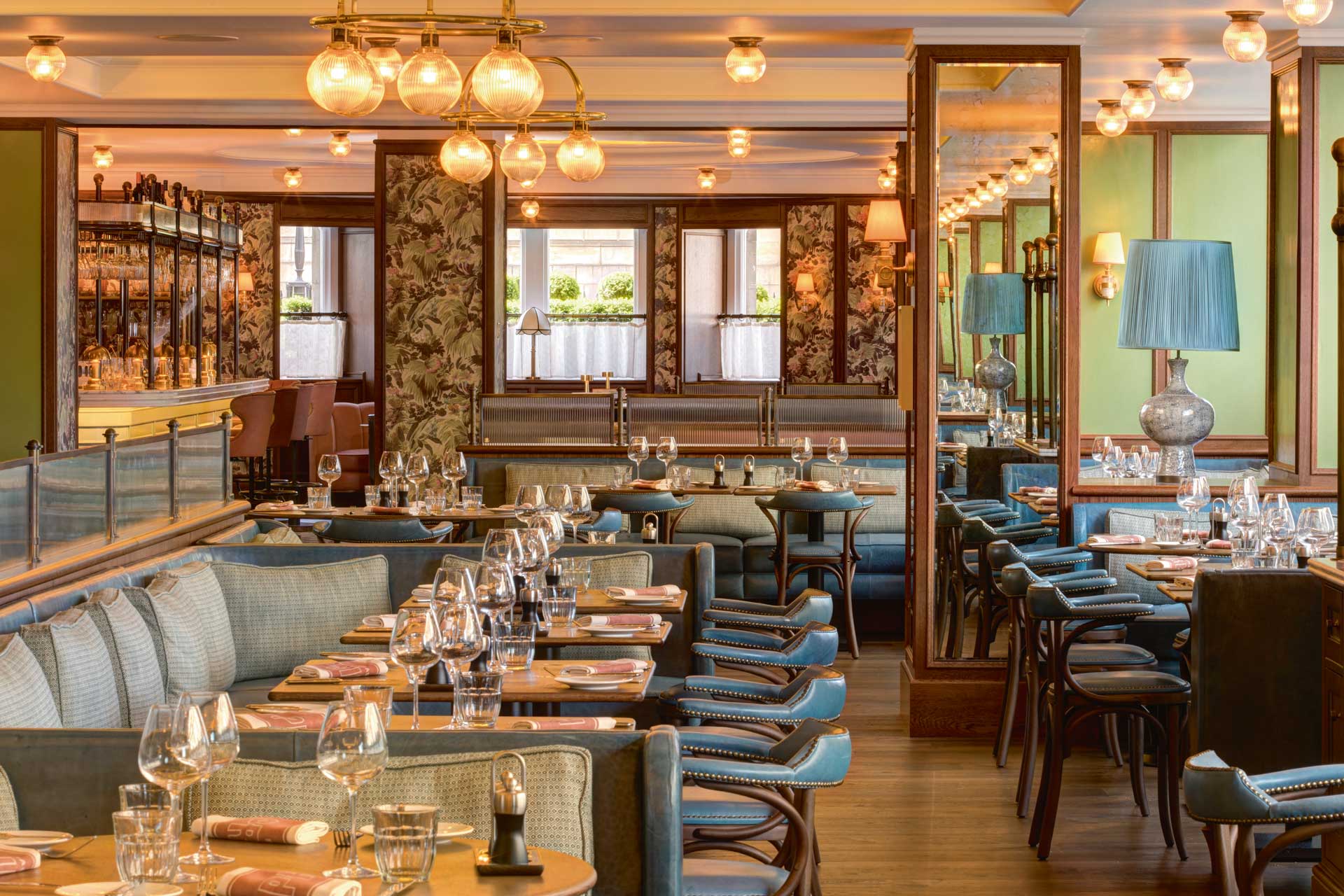 From the beginning, Forte's first choice to run this new brasserie was Alain Roux, Chef-Patron of The Waterside Inn, and his father Michel, a culinary legend whose passion for food remains as strong as ever at the age of 77. The reason was partly personal – The Waterside Inn is where she goes to celebrate special occasions – and partly professional, since she has long admired the way they have grown the family business and revolutionised the UK restaurant scene. For Roux père et fils, meanwhile, the chance to revive classic French brasserie fare proved impossible to resist.
"We're trying to bring back authentic, simple food," explains Michel. "This isn't about fine dining," agrees Alain. "It's about good ingredients cooked properly to create tasty food like our parents, grandparents and great-grandparents used to eat. What's strange is that so many of the dishes we used to have in the '70s and '80s have disappeared from restaurants. Back then, you could get a proper classic boeuf bourguignon, blanquette de veau, canard à l'orange or sole meunière in every café, bistro and brasserie, but you just can't find them anymore."
All of these feature on Brasserie Prince's expansive menu, which has been devised by Alain, albeit with input from his father. "I personally wasn't involved in the choice of dishes, though on a couple of occasions I said 'don't forget to include that'," recalls Michel. "I love rabbit, for example, and coq au vin." The result is a seasonally changing menu that expertly combines French classics such as a picture-perfect scallops à la Parisienne and rum baba bouchon with quality local produce as in the delicious Isle of Skye langoustines with cocktail sauce and Scottish rib of beef – served pink, of course. Overseeing the new kitchen, which offers all-day dining and serves breakfast, lunch and dinner seven days a week, is personable Head Chef Phil Hickman who was previously Sous Chef at The Waterside Inn. On this evidence, Hickman is clearly a man well-versed in the Roux culinary philosophy.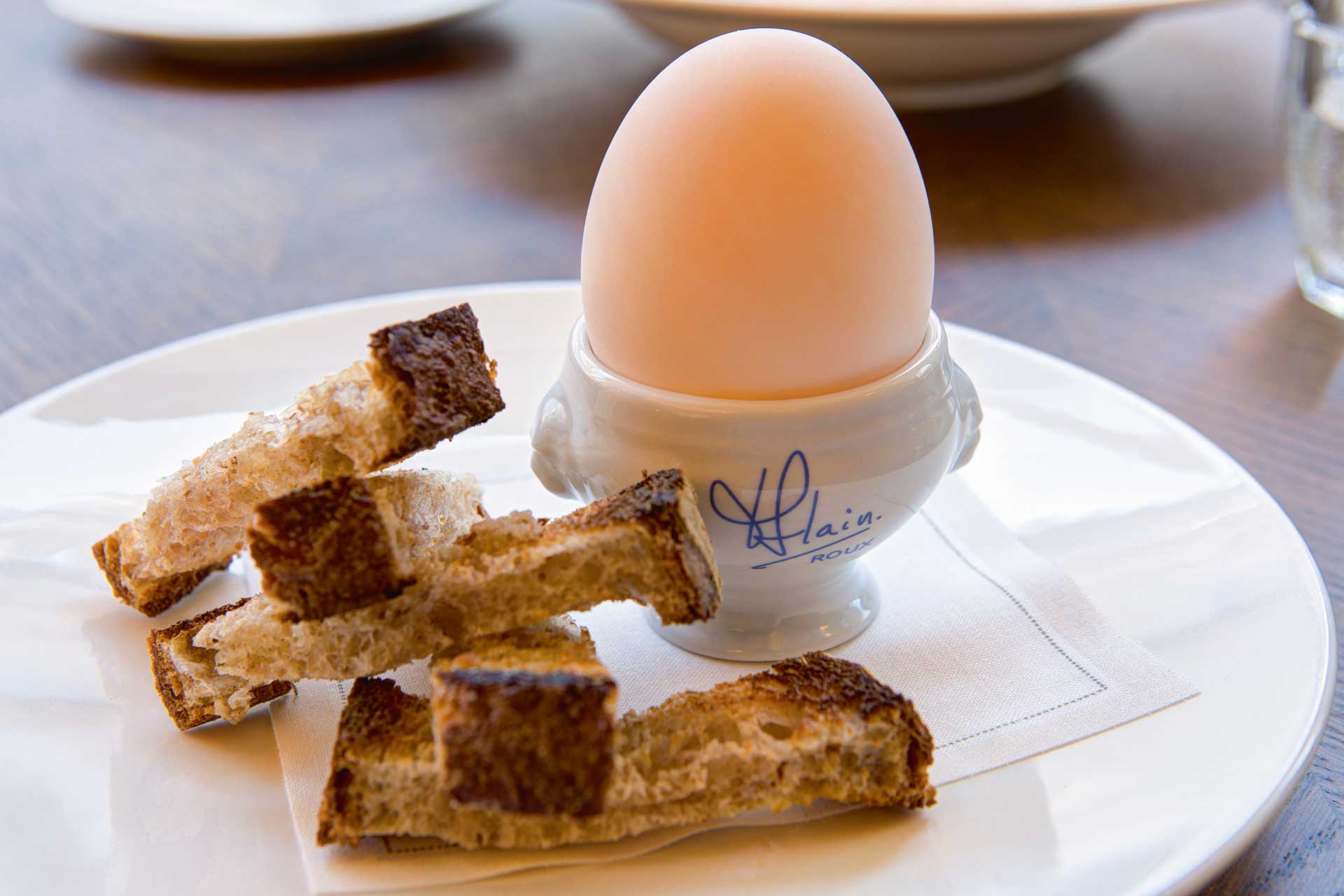 Of course, a good brasserie is as much about ambience as alimentation, and at Brasserie Prince nothing has been left to chance in ensuring that the atmosphere lives up to expectations. The £3 million renovation project has been designed by Martin Brudnizki, founder of the renowned studio bearing his name, in collaboration with Olga Polizzi, Rocco Forte Hotels' Deputy Chairman and Director of Design. This isn't the first time they have worked together either, with the pair having originally teamed up for Villa Kennedy in Frankfurt – Brudnizki's first ever hotel project. Turning Hadrian's Brasserie and The Balmoral Bar into Brasserie Prince represented a completely different type of challenge however.
"The brief I gave Martin and Olga was that we wanted to unite the two spaces, restaurant and bar, so that there was a flow between them," recounts Forte. "The motivation was partly that The Balmoral was doing so many breakfast covers, the old restaurant just couldn't fit them in; but also that a true brasserie always has its own bar." The solution is a much larger venue split into four distinct spaces – lobby, bar, library lounge and restaurant – with 210 covers in total providing plenty of room for the breakfast crowd, although the full dining menu is only served in the restaurant for now.
"The addition of the bar and library lounge helps to create a sense of journey and builds up anticipation before entering the main restaurant floor," explains Brudnizki. "When people go to a restaurant, they don't want to feel rushed, so having a place where you can relax with a drink and some nibbles is perfect." This idea of a journey extends to how customers arrive – either via the lobby, a transitional room between the hotel reception and the main L-shaped space, or via a dedicated external entrance opening directly onto Edinburgh's famed main shopping thoroughfare, Princes Street.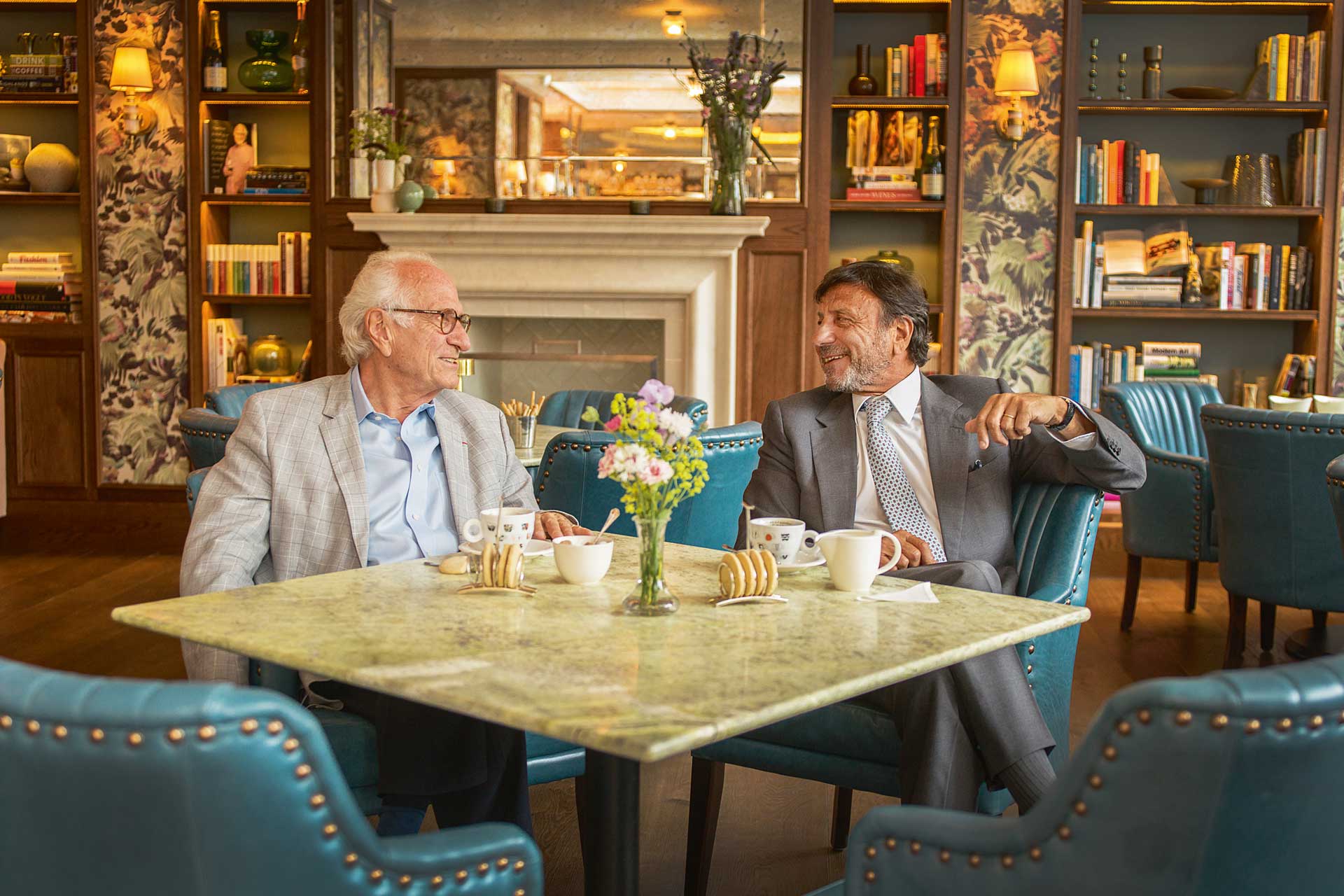 Once inside, the different spaces are brought together by a fresh colour palette of green, blue and blush pink, which complements the timber-panelled walls. Antique mirrors and brass detailing add a sophisticated touch, while the mix of banquettes, armchairs, sofas, bar stools and dining chairs ensures that seating can be found for every occasion. Forte also asked for "focal points and theatrical moments in the space" and Brudnizki has duly obliged with a retro wraparound bar that animates the restaurant and library lounge at either end, as well as a raised seafood and charcuterie counter, which enables patrons to watch chefs at work up close. And Brudnizki's first Scottish project draws plenty of inspiration from its setting, a fact most evident in the beautiful works of art adorning the walls. "A large selection is by Scottish artists and depicts local scenes, sketches of the hotel's original life as the North British Station Hotel and landscapes, all finished in oil, pen, ink, and pencil," he explains.
With Brasserie Prince, Rocco Forte Hotels has evidently chosen its partners wisely to create a new venue with a real sense of identity; a classic French brasserie fit for modern sensibilities that cleverly incorporates the very best Scotland has to offer. Make no mistake, this is a totally different proposition to The Waterside Inn, and one that will doubtless attract a much broader clientele; Brasserie Prince may not accumulate Michelin stars for fun but then it's not supposed to. "It's meant to be a brasserie, it's meant to be affordable, it's meant to be bustling," concludes Forte. "We want lots of people in here all the time, whether that's for breakfast, lunch, dinner, snacks or drinks." Given how busy the brasserie has been so far, with hotel residents and non-guests alike responding enthusiastically since day one, it looks very much like mission accomplished.
IN A BITE
Covers: 210
Owner: Rocco Forte Hotels
Group Director of F&B: Lydia Forte
Interior Design: Martin Brudnizki Design Studio, Olga Polizzi
Signature Chef: Alain Roux (with input from Michel Roux)
Head Chef: Phil Hickman
Restaurant Manager: Maxime Walkowiak
www.roccofortehotels.com
CREDITS
Words: Richard Frost
Photography: Courtesy of Rocco Forte Hotels
Magazine: Supper 12