Lightstone and Tao Group Hospitality revive the irreverent spirit of 'The Cathedral of Rock & Roll' to create an underground eatery with a secret bar, writes Ayesha Khan.
At 11pm on any given Saturday night in late-60s New York, Filmore East – lovingly referred to as 'The Cathedral of Rock & Roll' – would be packed to the rafters showcasing headline performances from the likes of Jimi Hendrix, Janis Joplin or The Grateful Dead. Outside on the gritty streets of East Village, students from New York University would be counting their quarters in hope of scoring a seat (or standing room) while the area's dive bars would brace themselves for the after-concert crowd.
Today, things have cleaned up in East Village. Filmore East has long since closed, dive bars have been replaced by trendy gluten-free, plant-based, fusion ethnic eateries and many of the musical greats have now graduated to playing stadiums. But the irreverent spirit that filled the air on those Saturday nights has been revived by New York developer Lightstone at Moxy East Village. "There's so much history here," explains Lightstone Group President Mitchell Hochberg. "The first settlers were in the East Village; Rock 'n' Roll began here; the LGBT community started in the East Village; and so many important artists like Basquiat flourished from these streets. We looked at all of this history and created a vertical timeline with different floors representing different eras."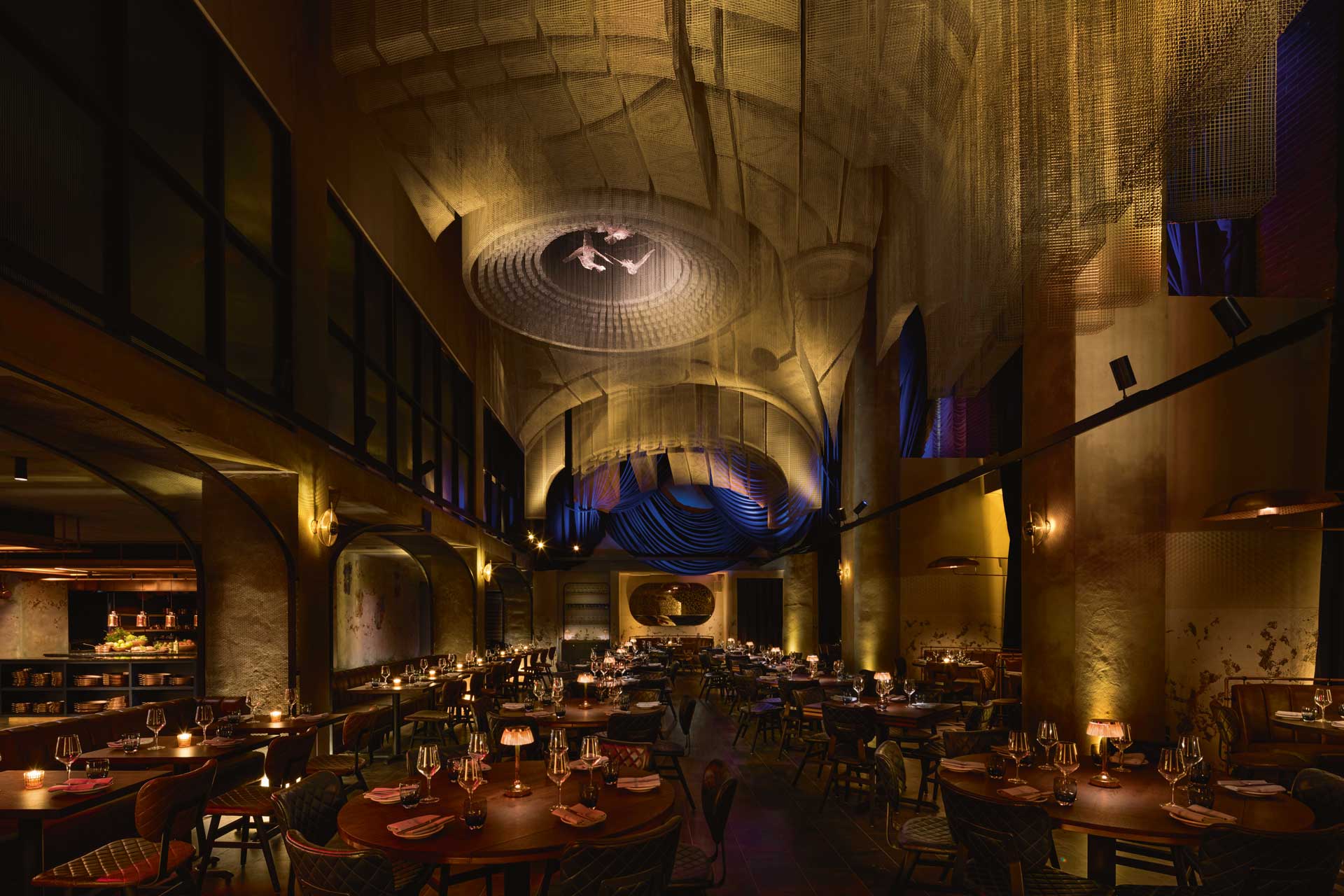 In typical East Village fashion, the hotel's anchor F&B venue quite literally takes things underground – it occupies a massive double-storey volume in the building's cellar level. New York-based restaurant design behemoth Rockwell Group helped craft the narrative of the venue, aptly named Cathédrale for the aforementioned nickname of Filmore East, to which it pays homage. "The volume of space lends itself to the idea of a grand hall," Rockwell Group Partner Greg Keffer explains. "We had an idea of creating a ghost of a building – a memory of what used to be, with plastered walls that may cover old show posters." Presiding over the space is Filmore, a massive undulating metal mesh art installation by Italian abstract artist Edoardo Tresoldi that hints at the sweeping vaulted ceilings of Filmore East and makes an almost ghostly reference to the site, while cobalt-blue curtains recall the venue's stage and lead the eye down to the action and floor level.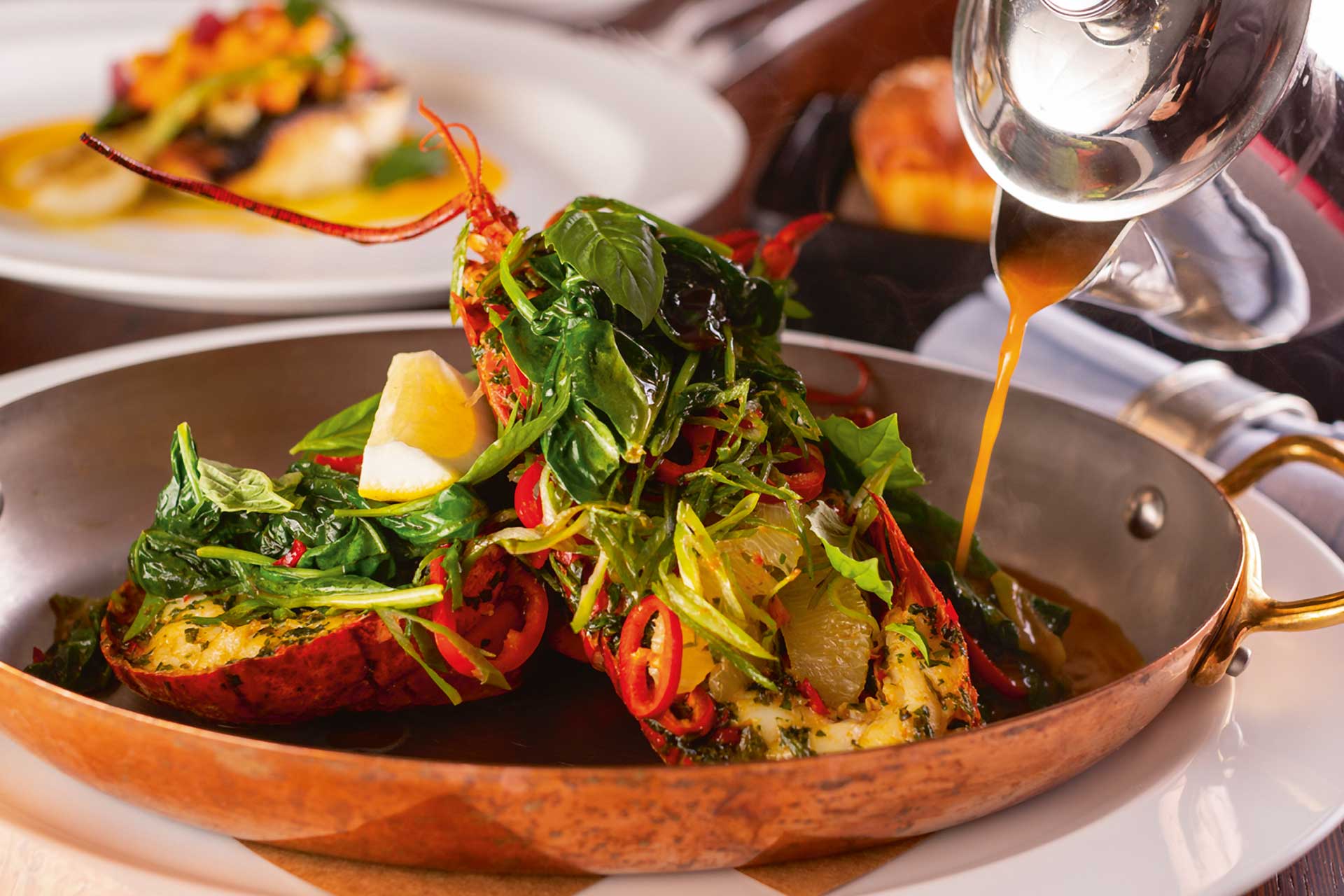 The culinary layer placed upon the irreverent underground punk-rock music venue-turned-restaurant is somewhat counterintuitive. One may expect some sort of take on New American, but French-Mediterranean hardly comes to mind. "We want to raise the level from just being a burger and steak joint, which is what may be expected of the East Village," says Chef and Partner Ralph Scamardella. At Cathédrale, one perches on bespoke leather and bronze banquettes and noshes on hearth oven-baked dates stuffed with Roquefort and Marcona almonds and indulges in house-made epi baguette dipped in generously salted drippings from the rotisserie. Mains range from a classic bouillabaisse to a hearty rotisserie chicken and, of course, the expected steak frites. For all the vegan East Village dwellers (and there are many), chefs can throw an enticing array of vegetables on the spit too. An extensive cocktail menu, meanwhile, features classics with a French twist, such as a Fitzgerald made with herbes de provence. Or there's Beverage Manager Eric Walters' personal favourite, Lemmy Caution, made with tobacco nectar (Walters is happy to brag that his is the first bar in the country to use this ingredient), house barrel-aged Dickel Rye Whiskey, Xocolatl Mole and orange bitters. Perfect for a rainy East Village evening, he says. Cathédrale's formula of high-low cuisine plays perfectly into what the East Village has become – a once-gritty, now gentrified hodgepodge of high-end and low-tech.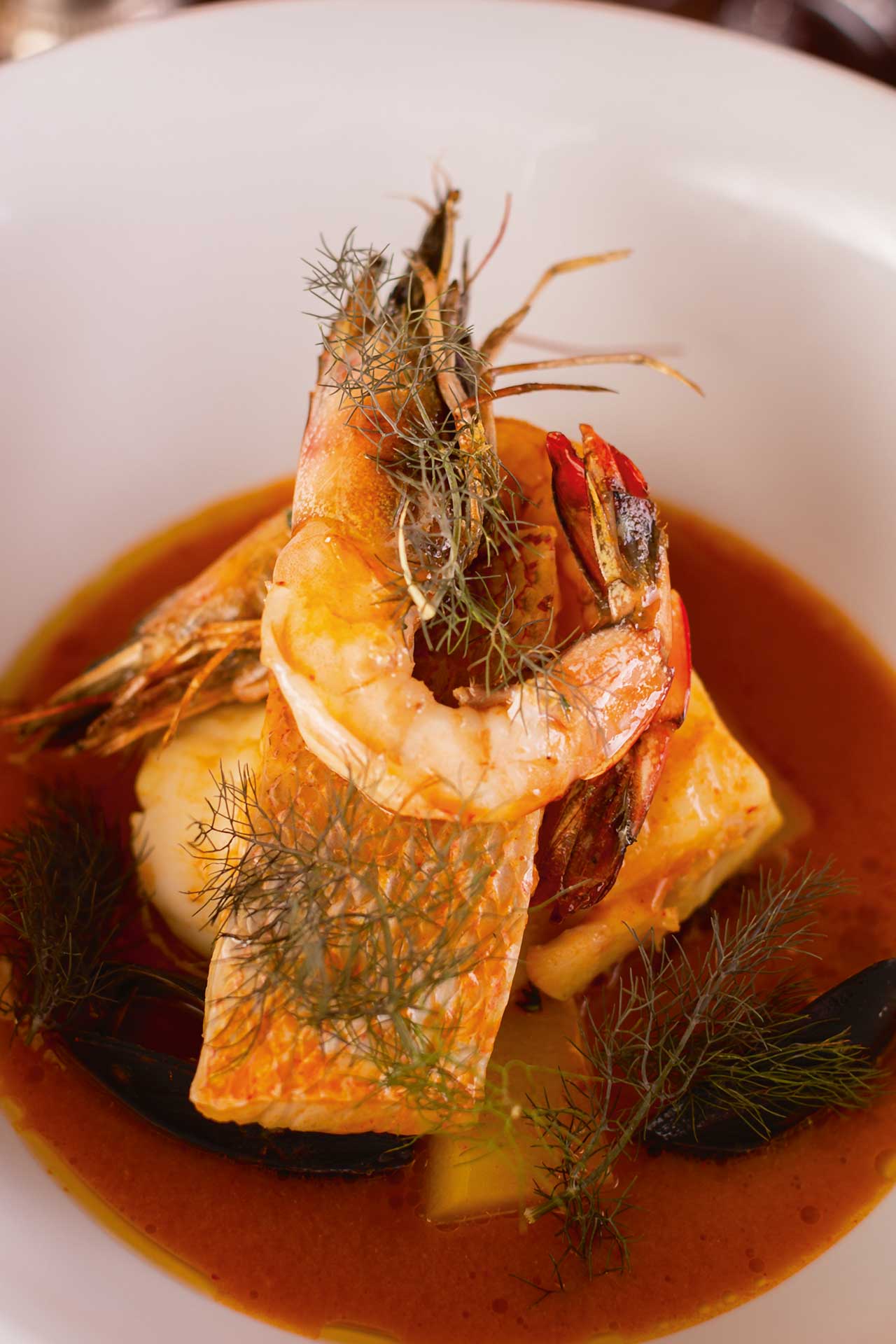 After hours at Moxy East Village are spent at the sub-cellar Little Sister bar, where a select few are invited into what Keffer describes as a root cellar. "There is beauty in imperfection," he explains. Vaulted ceilings are made from cork while the bar features a series of cut-crystal decanters illuminated with an evocative bronze light, creating a chandelier of sorts. Intimate seating niches feature custom-commissioned murals that layer bucolic scenes of the East Village's origins as a farming community with Ramones show posters and drippings of gold paint as well as a jewel-toned banquette adding an air of sophistication. Here, an extensive cocktail menu pays homage to famous song titles – there's Bowie's Berlin Trilogy, a Martini featuring blue-cheese-stuffed olives, and Mules on Parade (a nod to an iconic Rage Against the Machine song), which turns the Moscow Mule on its head.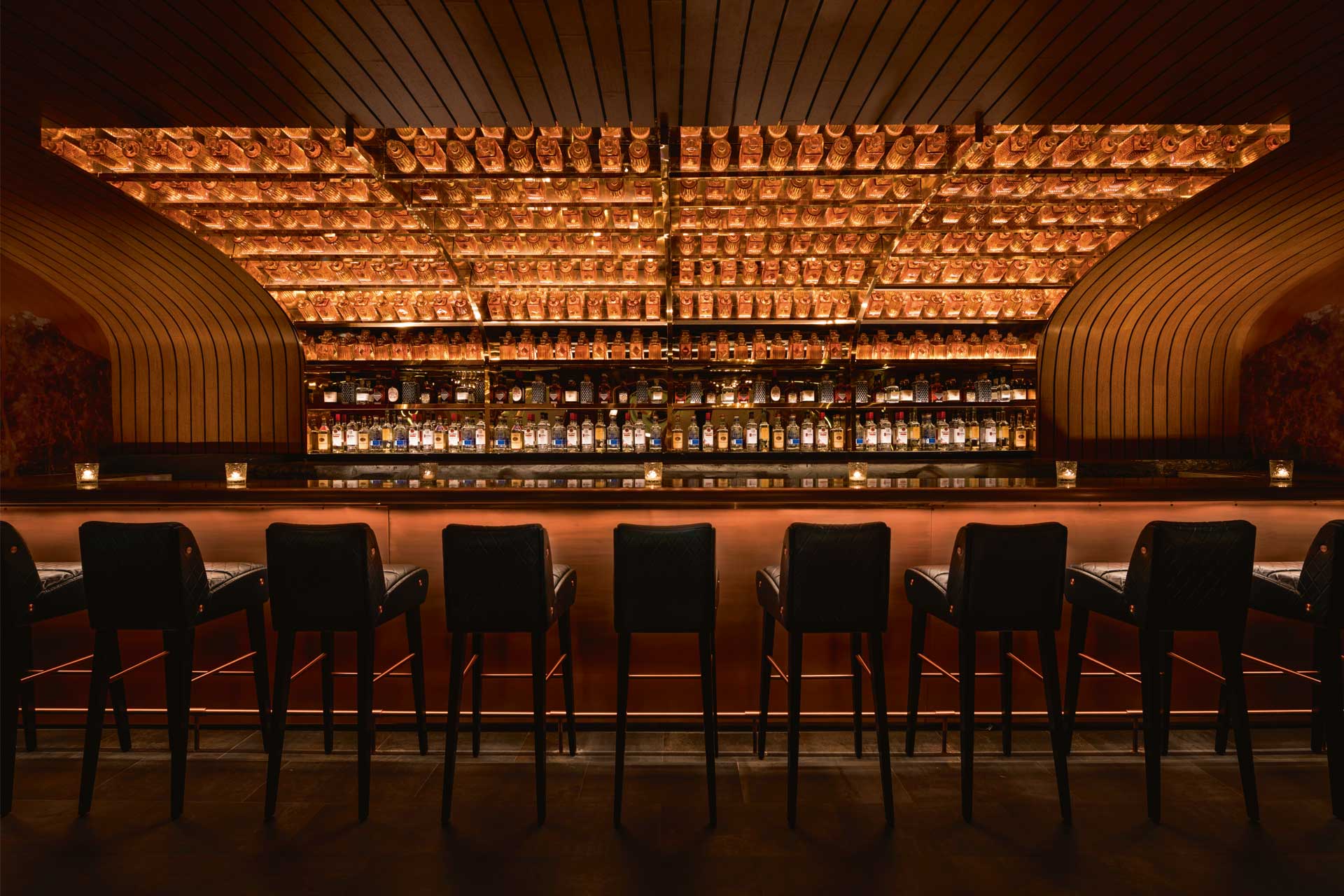 Back up at street level, the hotel's lobby bar and lounge is named for the East Village's most eclectic hub, Alphabet City. Here, modular seating sits atop a colourful carpet inspired by the remnants of an old street-art installation, the likes of which can still be found in Tompkins Square Park, Alphabet City's bohemian epicentre. A montage of vintage mirrors has been tagged by San Francisco-based graffiti artist Apex while a bookshelf enshrines 80s memorabilia like cassette players and VHS tapes. The cocktail menu, arranged in alphabetical order of course, features goodies like The Pineapple, made with Real McCoy rum, caramelised pineapple, cinnamon and a touch of pine. The food here defies most hotel grab-n-gos by offering fully house-made snacks. "People usually phone that stuff in," muses the hotel's Executive Chef Jason Hall, "but we wanted to make all our own croissants and breads." Highlights include Parisian café flatbreads, three varieties of croque monsieur, an assortment of sandwiches on pretzel buns and your heart's content of freshly baked cookies.
This spring, a rooftop bar will round out the wide-ranging F&B offering at Moxy East Village. Rather than taking its guests back in time like Little Sister, Cathédrale and Alphabet Bar & Café do, this yet-to-be-named venue is placed firmly in the here and now. Although details are still under wraps, there is talk of stadium-style seating, a communal beer pong table and a backbar installation made from milk crates – just the type of whimsy one would expect from the East Village.
IN A BITE
Owner / Developer: Lightstone Group
Operator: Tao Group Hospitality
Architecture: Stonehill Taylor
Interior Design: Rockwell Group
Procurement: HPG
Executive Chef: Jason Hall
Chef and Partner: Ralph Scamardella
Beverage Manager: Eric Walters
www.marriott.com
CREDITS
Words: Ayesha Khan
Headline Image: © Mikey Boyle
Photography: Courtesy of Moxy Hotels (unless otherwise stated)
Magazine: Supper 18