As Pan Pacific makes its European debut in London, Executive Chef

 

Lorraine Sinclair

 

and Executive Pastry Chef

 
Cherish Finden
 

talk authentic experiences and bringing a slice of Singapore to the UK capital, writes Jenna Campbell.
"We want to open our arms and to welcome everyone into our home," enthuses Cherish Finden, sitting across from fellow chef Lorraine Sinclair at the recently opened Pan Pacific London, a new destination in the city's vibrant Aldgate district. Originally slated to open in 2020, the Singaporean group's European debut certainly makes up for lost time.
Fusing elegant design, wellbeing elements and an array of destination dining, its arrival is a statement of indulgence. Designed by Yabu Pushelberg, the 237-key property, located in One Bishopsgate Plaza – a 43-storey residential and hospitality development conceived by PLP Architecture – combines sincere Singaporean hospitality with contemporary London aesthetic. Set across from Liverpool Street Station, the hotel contains several firsts for the city including an entire floor dedicated to wellbeing, more landscaped outdoor space than any other luxury offering in the area and one of the most technologically advanced ballrooms.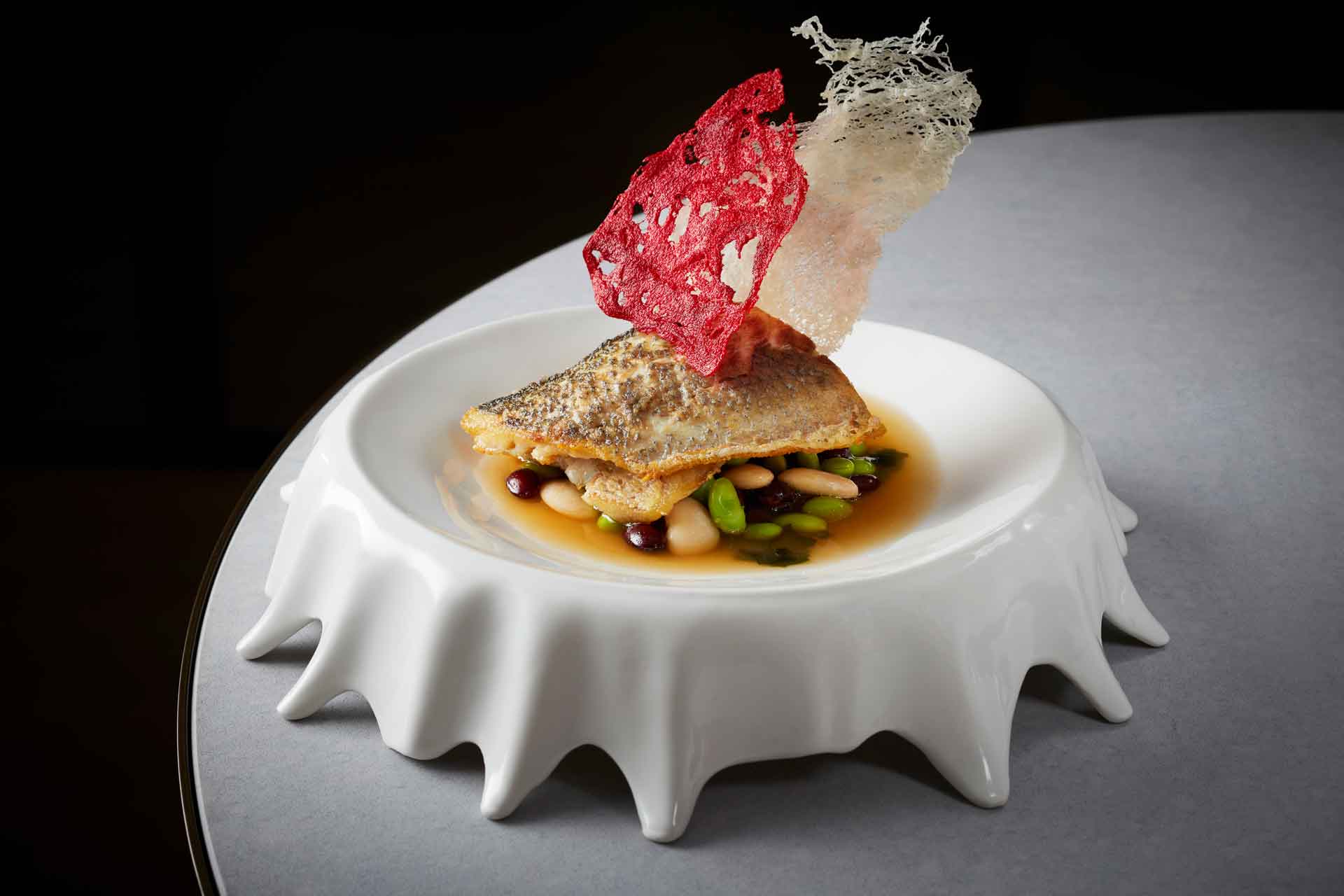 The property is also home to five unique F&B concepts led by award-winning Executive Chef Lorraine Sinclair and renowned Executive Pastry Chef Cherish Finden, with each venue incorporating the melting pot of cuisines that represent Singapore. "I knew the Pan Pacific brand having worked in Asia for a long time, and the idea of bringing the culture to London fascinates me because it is very different," says Sinclair. "It's a journey from the minute you walk into the hotel, whether it's the smell, the atmosphere, the style of the service or the food itself."
With experience in some of the top kitchens in Europe, the Middle East and Asia, Sinclair is well-placed to lead the hotel's brigade in bringing the elegance of natural Asian flavours to the capital. "I've lived in eight different countries in Asia and lived there longer than I have in the UK," she explains. "If we had an Asian-led restaurant in the hotels I was working at, I would often spend my day off with the hawkers in the street market – there's no point being an executive chef if you can't explain to your team how to make authentic dishes."
Beginning her career in Seoul at Lotte Hotel in the early 2000s, Sinclair went on to work with Mövenpick Hotels & Resorts, before joining Langham Place in Hong Kong and helping the group launch three properties in China, as well as heading up F&B at its Thailand and London outposts. Over the past decade, Sinclair has worked for The Grand Tarabya in Istanbul, Fairmont in the UAE and most recently as Director of Culinary at Sheraton Hotel Ho Chi Minh City.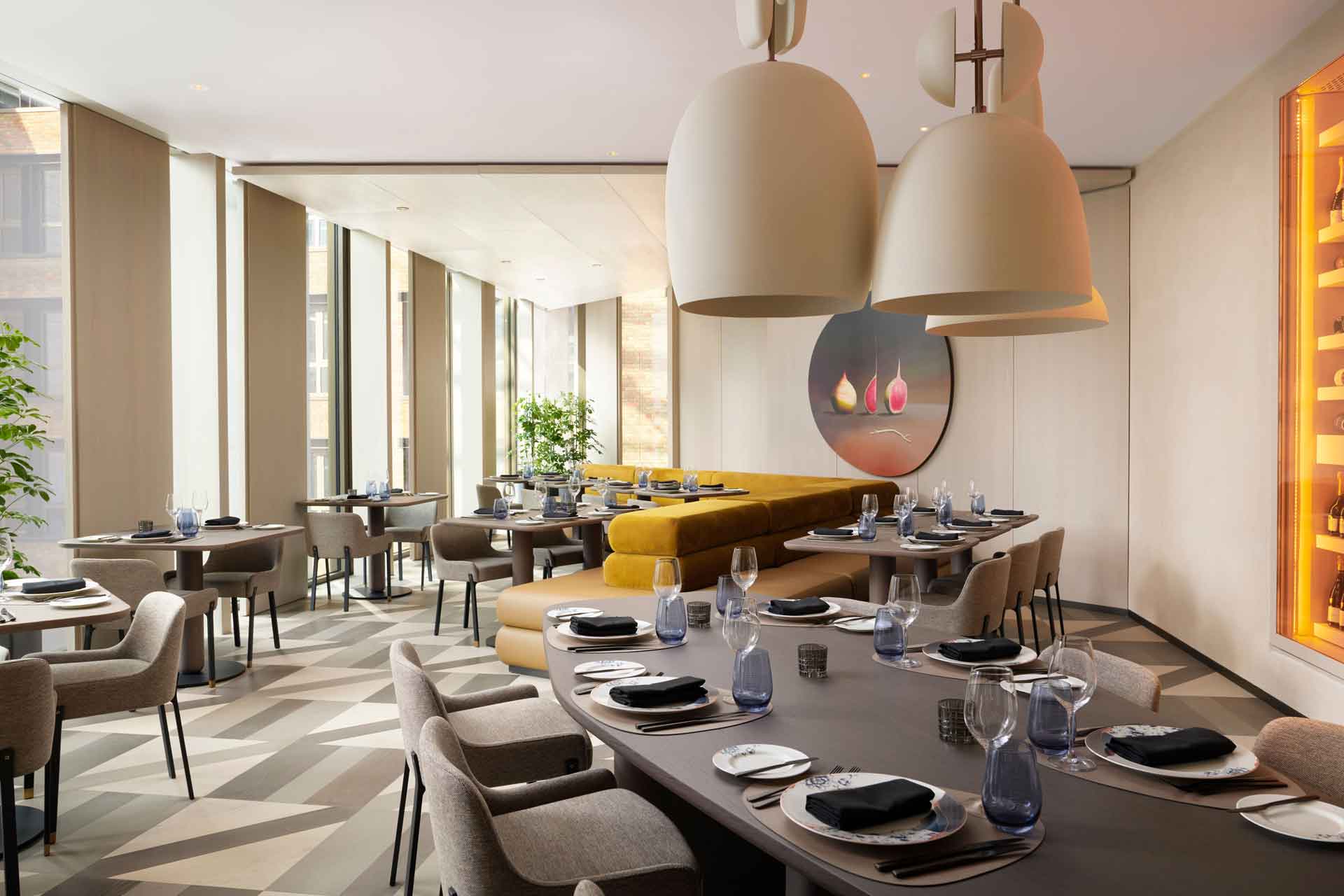 At Straits Kitchen, Pan Pacific's signature restaurant, menus have been carefully crafted by Sinclair – alongside Singaporean Group Executive Chef Tony Khoo and Head Chef Soon Wang – to reflect the wide range of cooking styles introduced to Singapore via the Straits of Malacca. "It's about being as authentic as we possibly can when it comes to our flavours and ingredients," explains Sinclair, who has been working closely with UK producers to bring genuine flavours to the table. "We're speaking with our suppliers to get specific products so we can make the food taste as it would if you were walking down Hawker Street in Singapore or Mongkok Market in Hong Kong," she notes.
Representing the multicultural culinary character of Singapore, the restaurant's à la carte menu features an array of flavour and texture combinations, with signature dishes including Wok Fry Singapore Chilli Mud Crab, Teapot Double Boiled Soup and a butter-aged 16oz sirloin with roasted black garlic and salted Himalayan salted chips. "The concept is very different to what it started as; it was going to be a Western-inspired restaurant, but that evolved once Cherish and I came on board with our experience in Asian cuisine," explains Sinclair.
Acclaimed pastry chef Cherish Finden, who has created the hotel's imaginative pastry collection, is perhaps best known in the UK for her role as a judge on Channel 4's Bake Off: The Professionals, but made her name in the luxury hospitality industry heading up the pastry offer at some of the world's most prestigious hotels, not least Raffles, Sheraton Tower Singapore and Langham London. Having begun her career in 1991 at Pan Pacific Singapore, her return brings her back to the Pan Pacific brand. "The reason I joined Pan Pacific London is because it is like coming back home and I want to make my country proud," says Finden. "Being Singaporean I want to showcase both Asian food and my heritage. I don't think people really understand what Asian food is, they might understand sweet and sour, but there is much more to it and I would like to introduce the beauty of Asia and Singapore to the hotel."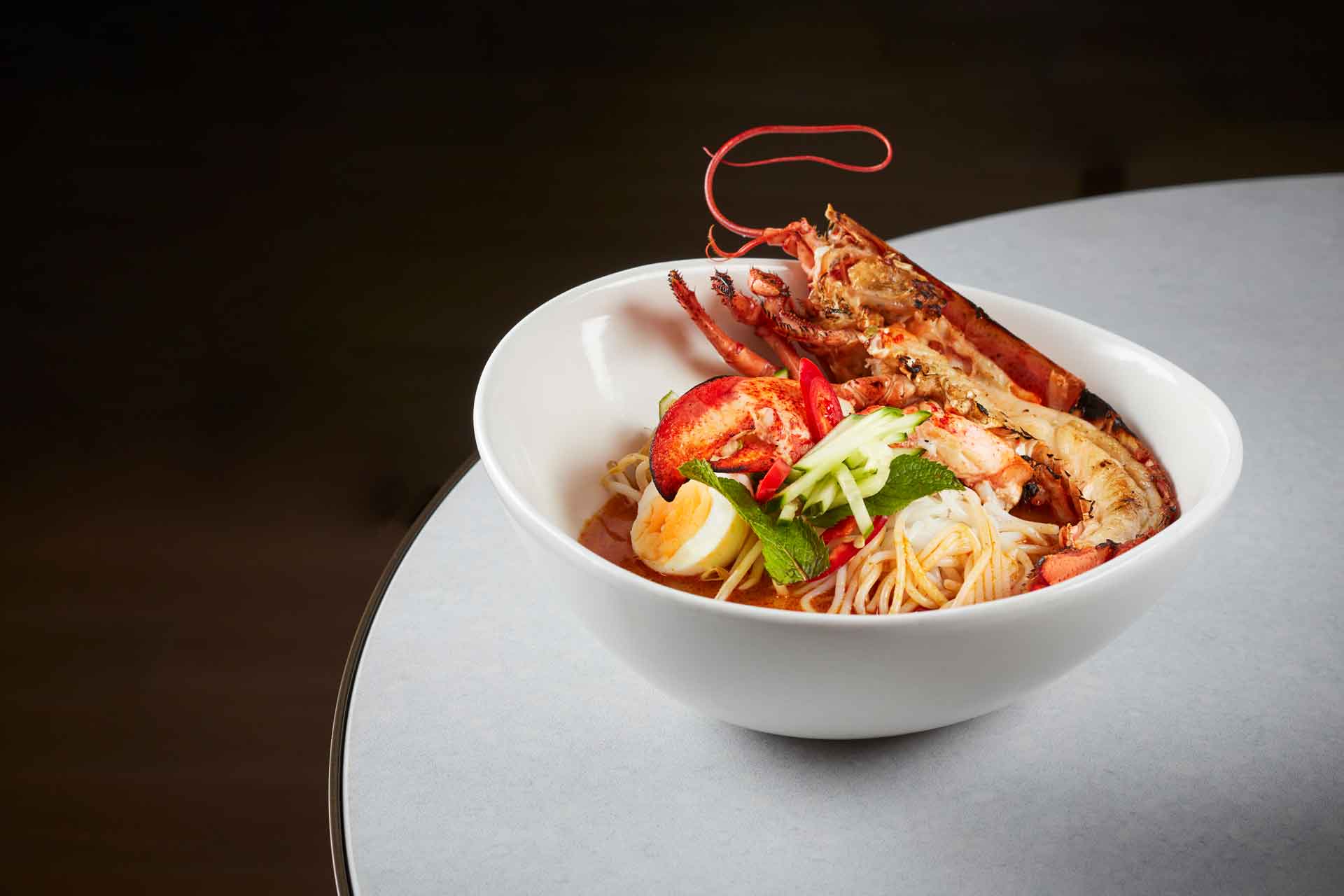 Finden's expertly crafted desserts at Straits Kitchen fuse classical pastry techniques with flavours inspired by Singapore. Starring dishes include a zingy Kaffir Lime Pavlova, creamy Yuzu Crémeux and perfectly set Mango Panna Cotta. "I have desserts encompassing Singapore, Thailand and Japan amongst others, and I present them in a way that is easy for people to recognise," explains Finden. "Of course, the presentation is very different, incorporating various ingredients and techniques to enhance the flavour, whether that's using spray or smoke. It's not a trick, rather a touch of playfulness because food isn't just about eating."
Working with former-chefs-turned-growers Allan and Sue Miller of Nurtured Norfolk, both Finden's and Sinclair's teams have been able to minimise the hotel's carbon footprint in line with Pan Pacific's wider sustainability ethos, working in collaboration with the supplier to grow many of the ingredients used in the dining venues. "In January, they sent me a pandan leaf and I thought, ok now we're talking," Finden says with a grin. "We really want to support the UK market and why should we go somewhere else when the UK produces the best?" It's a sentiment echoed by Sinclair. "Where we can support local, we 100% will and that comes from the top," adds the Executive Chef. "Even if we pay that little extra, that's what it's going take. We want to support the local businesses especially because of what we've been through over the last 18 months."
Finden's pièce de résistance at the hotel is afternoon tea served at The Orchid Lounge. Combining her unique flair for Asian flavours with traditional British tea, the Heritage Afternoon Tea – a Singaporean-inspired Kopi Tiam that plays on coffee shops found in Singapore – features some of the star pastry chef's favourite sweet treats from childhood including Peranakan Pineapple Tart, buttery pastry with pandan pineapple jam, and Kueh Lapis – a rich and moist cake baked layer by layer with mixed spices. "I'm particularly excited about the Kopi Tiam as it's like hawker food and that's what I want to bring into the Pan Pacific brand, to have a feel of my heritage and bring that into the pastry," notes Finden.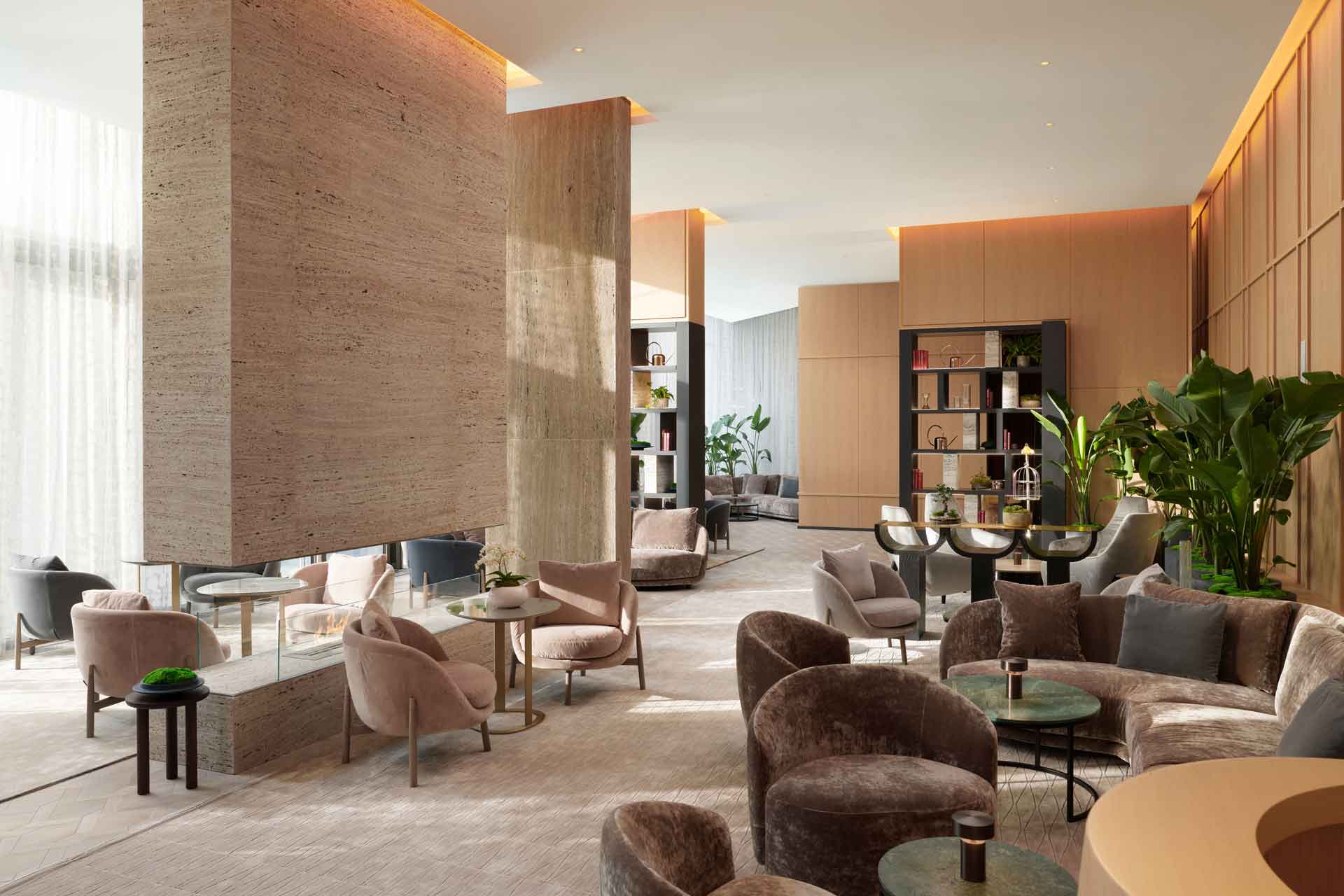 Though the two chefs agree that pastry is Finden's domain, when it comes to flying the flag for British afternoon tea, Sinclair is adamant about the presence of a certain menu staple, "I've got to have scones with cream and jam," she exclaims. "With the Kopi Tiam though, I think people will enjoy it because it hasn't been done properly in London before. A few people have tried to do Asian afternoon tea but have westernised it too much or steamed everything; and that's not how it should be done."
Demonstrating her ability to fuse Singaporean heritage with British culinary traditions, Finden also has plenty of other tricks up her sleeve, including a selection of Asian savouries. "A curry puff is a must for me," she asserts. "I've used my grandmother's recipe, which looks a bit like a Cornish pasty and then you bite in and it's moist and spicy – you can't help but crave for more. They're a big hit in Singapore, on every street corner you can buy a curry puff and it's a comfort food for me just like beans on toast."
A selection of handmade pastries including Coffee Tarik, a combination of coffee, creamy mascarpone and Kahlua, and Rose Bandung Bubble Tea with Light Rose and Lychee Choux also feature and are accompanied by teas from Rare Tea Company, as well as champagnes and world-renowned English sparkling wines from UK producers including Nyetimber and Gusbourne. Soon to open, a grab-and-go patisserie at the hotel will also provide locals and those on-the-go a chance to sample Finden's delicacies in a more informal setting.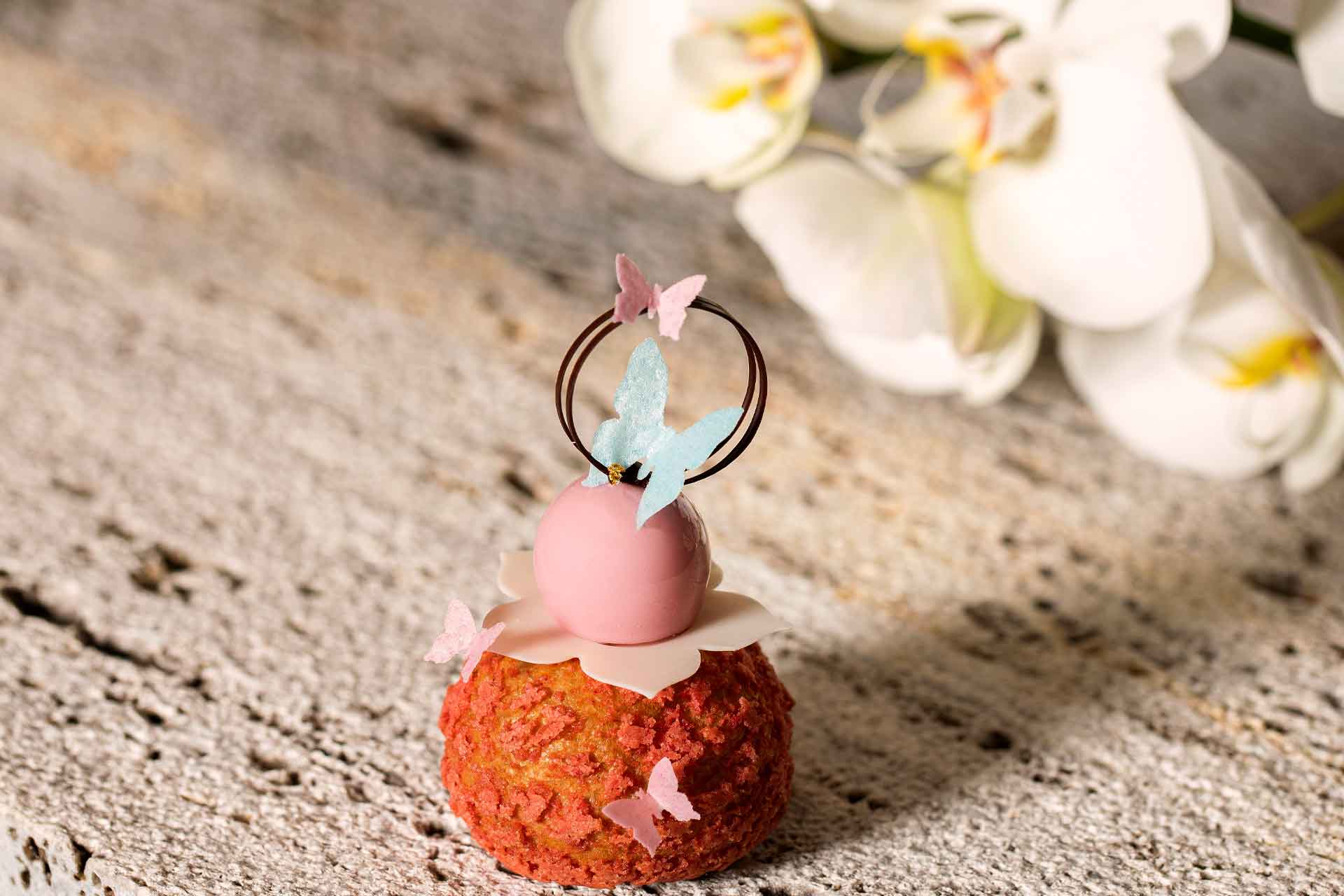 Alongside the hotel's culinary programme, Ginger Lily – featuring a curated champagne list from over 100 houses and a cocktail menu devised by Francesco Putignano, formerly of Seabird at The Hoxton Southwark – and Devonshire House Bar, designed by Tom Dixon's Design Research Studio, cement Pan Pacific's carefully curated approach to F&B. At the former, Sinclair has prepared a light menu to further enhance the premium drinking experience. "The champagne bar was always going to be about the fizz, so we had to come up with a food concept that complements that," explains the chef. "It couldn't be something too greasy because then you lose the bubbles within the champagne." Served in the evenings, signature cocktails include the Green Tea and Citrus Highball and Bourbon Bubbles, with both drawing on the extensive champagne inventory and the strong influence of Asian ingredients.
As far as the pair's ability to bring the London outpost's gastronomy vision to life is concerned, Finden and Sinclair, who have kept in close contact since working with Langham in the mid-2000s, share not only a strong friendship, but a passion for delivering a one-of-a-kind hospitality experience. "We're a bit yin and yang aren't we Cherish," jokes Sinclair. "We're more like family and while we've only worked together briefly in the past, we've always kept in touch. Even working together now there's not a power struggle between us. At the end of the day I run this side of the kitchen and Cherish will run the other. My knowledge of Asian cuisine is quite extensive but it's always nice to be able to ask someone else's opinion. So, if I have a question, I'll pick up the phone or shout down the corridor." And the feeling is mutual: "We understand the east and west," says Finden. "I think we complement each other very well."
---
CREDITS
Words: Jenna Campbell
Issue: 25