The team behind fine-dining concept Crockers 

bring unique culinary experiences to the picturesque surroundings of Henley-on-Thames, writes Jenna Campbell.
Venturing out of London and heading west along the river, passing through idyllic countryside, the charming market town of Henley-on-Thames is a world away from the bustling streets of the capital. Located at the foot of the Chiltern Hills in Oxfordshire, it is perhaps best known for its legendary regatta and laid-back riverside pubs, but thanks to the likes of Crockers – a new restaurant-with-rooms – it's fast becoming a must-visit dining destination.
Located within a Grade II-listed converted townhouse, Crockers Henley is the second outpost for Unique Dining, and follows the success of sister venue Crockers Tring in Hertfordshire, which opened in 2018. The brainchild of former chef Luke Garnsworthy, previously chef de partie at Dinner by Heston Blumenthal, the idea was founded on the premise of changing the way the hospitality industry works; offering employees a welcome alternative to the long working hours and high-intensity kitchens that the sector is commonly associated with.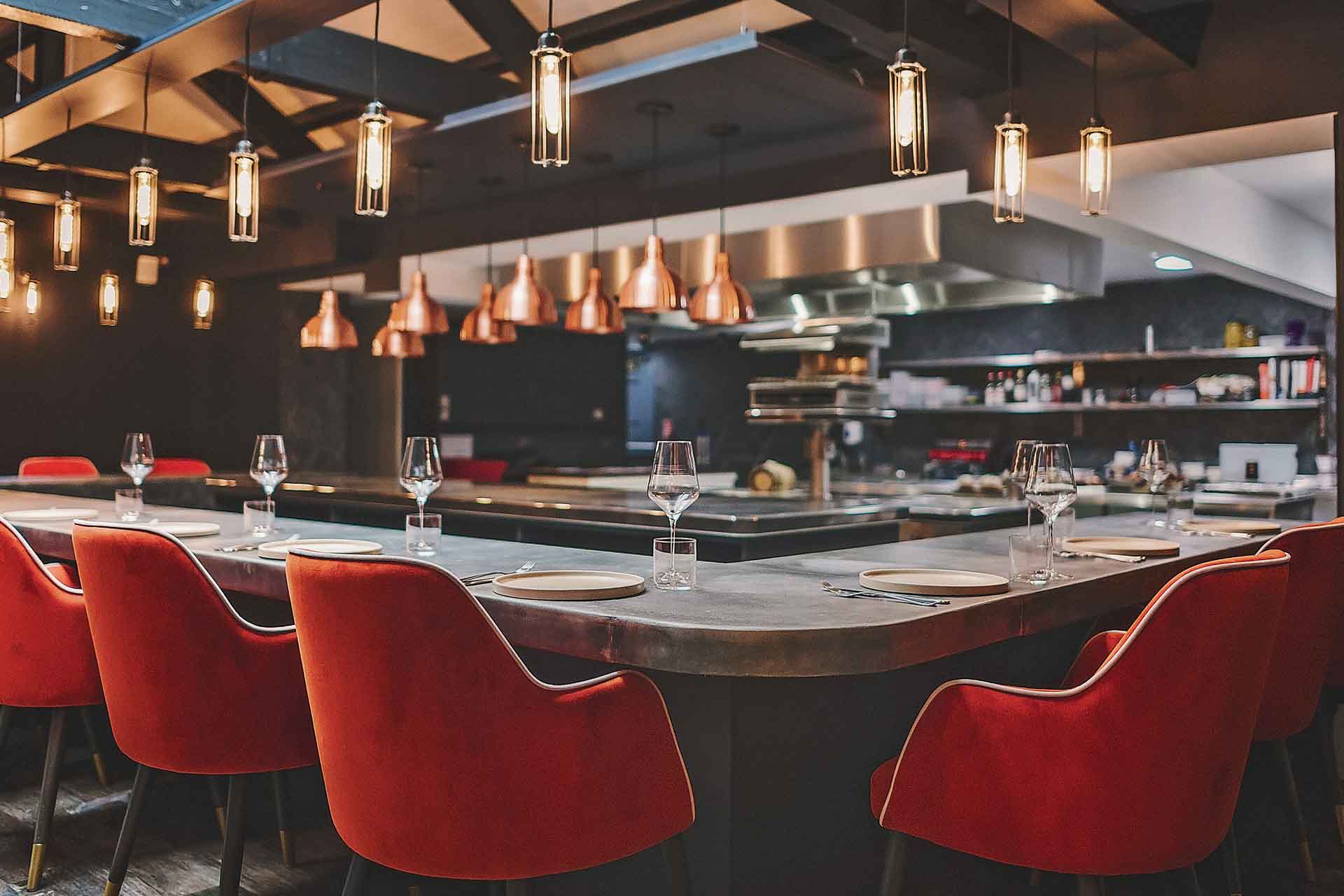 "We want our team members to love what they do and feel supported. I feel it's impossible to offer amazing hospitality if the people charged with doing so aren't having fun and don't feel valued," says Ian Churchill, Operations Director at Unique Dining. "For those who know Tring, Henley will feel both familiar and different. More of the same great food, wine and cocktails – all delivered through our signature style of relaxed but professional service."
The property's seven elegant bedrooms, two 16-seater chef's tables, robatayaki grill restaurant and bar, have been designed by Ali Hearn Interiors, who has looked to the property's Georgian heritage to create a warm welcome.
"From the moment you approach Crockers from Henley's market square, the soft ambient lighting and warm rich colour palette draws you in," enthuses Hearn. "I wanted it to feel like a beautiful home, a space you are instantly drawn to, comfortable in and wanted to stay in with little desire to leave."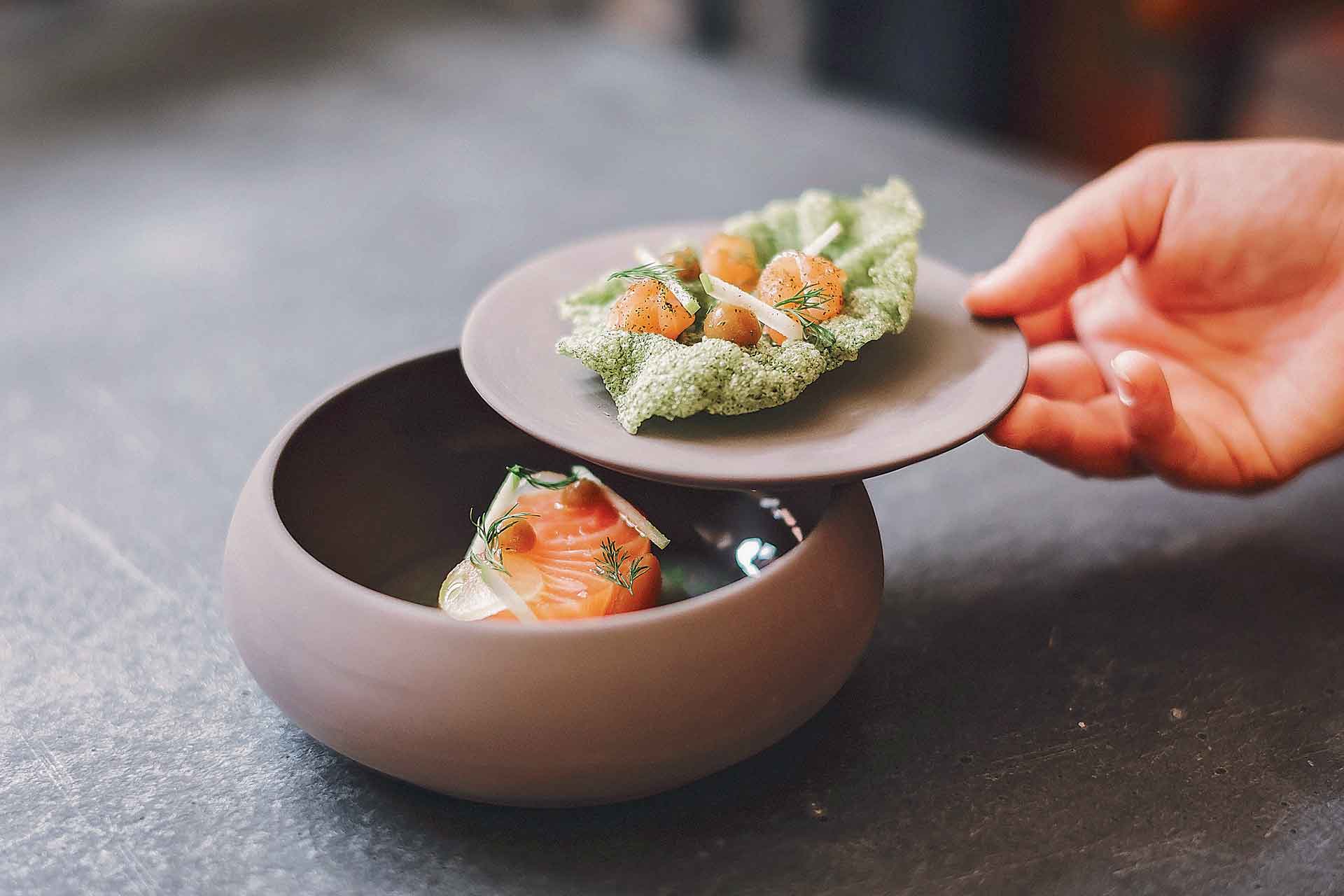 Beginning in the main quarters, the bedrooms are fresh and light to accentuate the property's character features, whilst Crockers' signature grey colour palette – familiar to those who have visited Tring – is the shade of choice for the timber panelling. Brass lighting fixtures and rich materials such as leather, zinc and copper add a touch of elegance and complement the rustic flooring and wooden beams, while four-poster beds and rolltop bathtubs endorse the sense of contemporary luxury.
Crockers is unique for having not one, but two chef's tables, which invite diners into the heart of the kitchen where specialist culinary techniques, provenance and storytelling make for an inspired series of dining experiences. Designed with this in mind, the chefs tables are connected by a classic, deeply saturated shade of navy blue along the corridors, whilst tableside, bold hues of orange and blue differentiate between the dining concepts. The Gardiner Table, a pan-Asian culinary experience led by chef Iain Dixon, previously of Foxhill Manor, features bright paprika orange chairs, a zinc patina table and pewter pendant lighting.
Led by his travels to Japan and love of the region's cuisine, the chef takes diners on an exciting culinary journey around Southeast Asia, with dishes showcasing elements of Japanese, Korean and Chinese cooking among others – each matched with a inspired variety of wines, sake and Shōchū.
"Being a pan-Asian focused restaurant we focus on dishes from a broad range of cuisines, doing our own take on regional dishes but also using my classical training and Asian ingredients to create new experiences," reflects Dixon. "We use a broad range of ingredients from hang-lair spice to three-year aged soy. Flavours will change depending on the region and the time of year from spice-led to umami-led."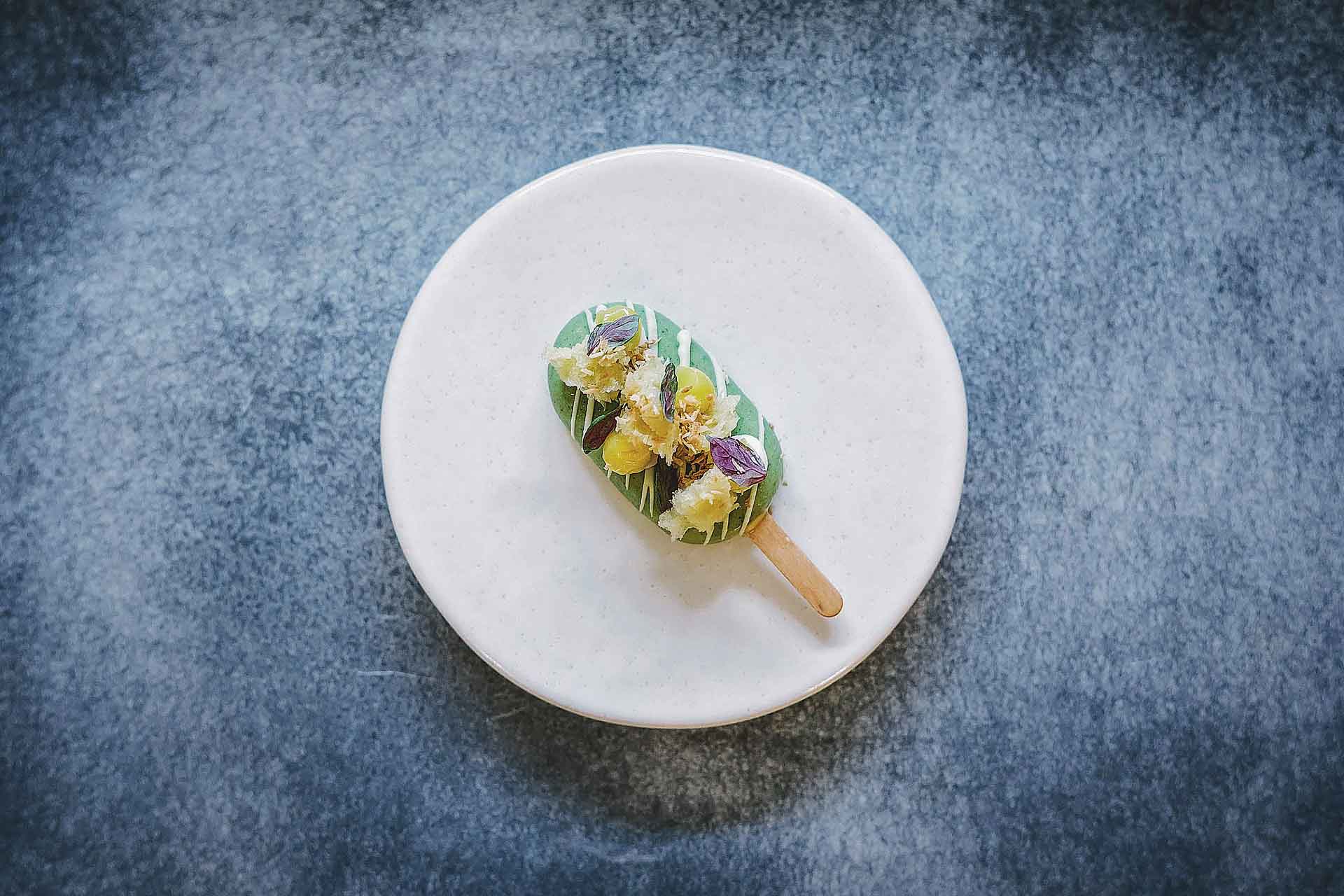 The tasting menu includes a number of fish courses including Octopus Takoyaki seasoned with kosho (a paste made from chilli peppers), yuzu peel and salt and Sea Trout with cucumber, gooseberry and Szechuan peppercorns, as well as lamb specialties such as Stone East Hogget Neck with aubergine, rice and mint.
"My favourite dishes at the moment are Singapore Crab, Octopus Takoyaki and our Sea Trout, because they all represent a region in Asia but are unique in the way that they are presented," explains Dixon. "In the case of the crab, it is traditionally served with mantou buns but we make it more relatable by stuffing the mantou with garlic chive cream – guests affectionately refer to it as a garlic dough ball."
Down the corridor, The Thames Table is dedicated to modern British flavours and helmed by Dean Westcar, who joins Crockers from Lucknam Park and was a finalist on BBC TV show MasterChef: The Professionals. Here, the design incorporates dark blue velvet chairs with pale grey piping detail, a bespoke-aged brass table and pendants. "I wanted guests to walk in and be drawn to sitting down in a comfortable, inviting chair, immediately feeling excited about the start of the show," says Hearn. "There's correlation between the two chef's tables, but distinct differences both aesthetically and in the cuisine."
For those dining with Westcar, the chef has created a menu of classic British dishes with a contemporary twist, accompanied by a carefully curated wine flight and selection of classic cocktails. "I source the best British produce available, then use various techniques and styles to get the best flavour out of it – flavour is the focus," he explains. "On my current tasting menu I'm using Godminster cheddar, Isle of White tomatoes, Loch Durant salmon, Wiltshire lamb and Oakchurch raspberries."
Starting off with snacks such as cheddar cheese and summer truffle – a play on savoury choux pastry and smoked eel with radish, lime and sesame – the menu progresses to incorporate a number of classic flavours such as lamb served with broccoli and broad beans, and salmon with apple and dill, before concluding with decadent desserts such as dark chocolate crémeux with raspberry granita, olive oil jelly and toasted hazelnuts.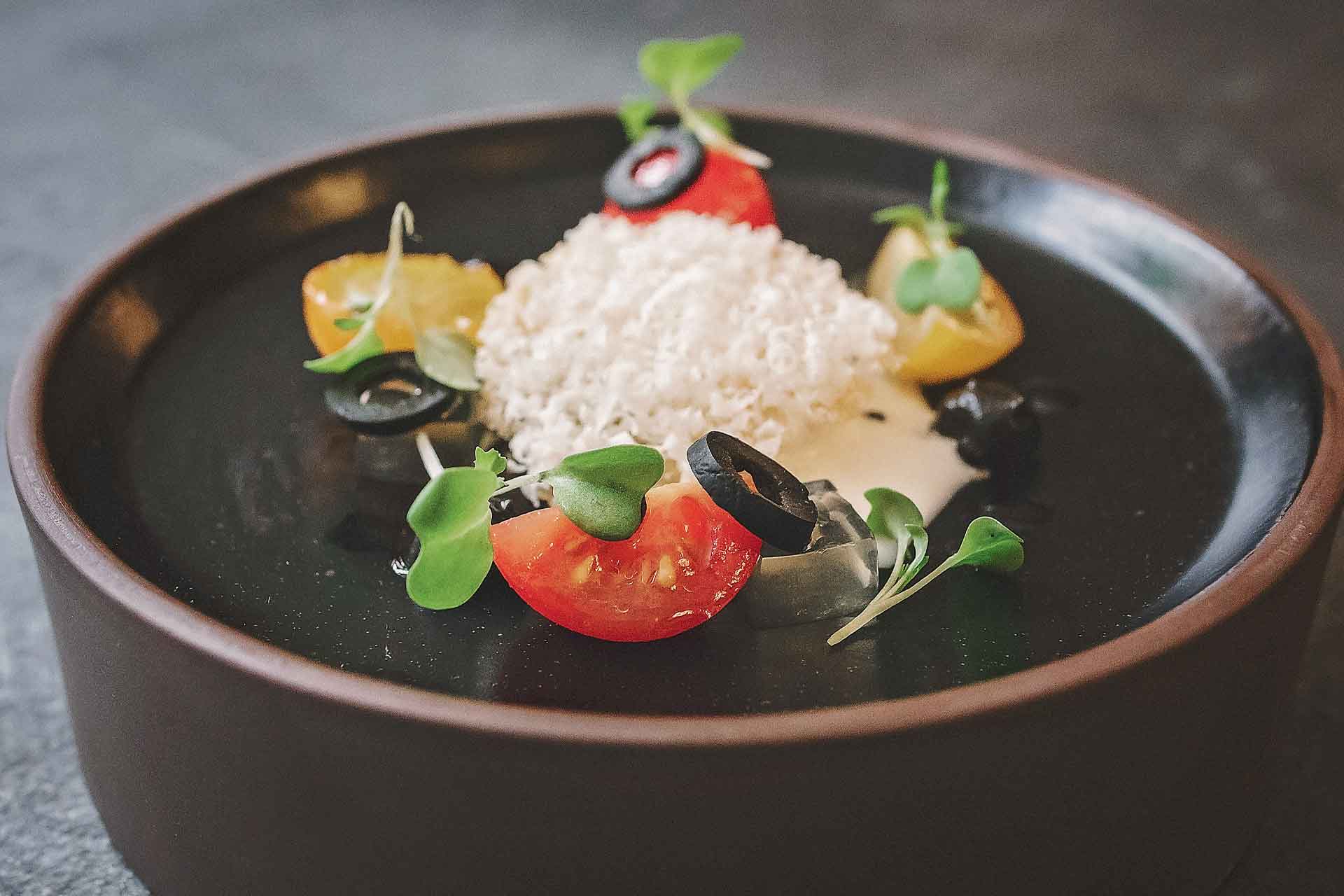 "I'm excited for people to try two of my dishes in particular," enthuses Westcar. "There's the seaweed, cod, avocado and lime, which is a snack of laverbread doughnut filled with smoked cod's roe and avocado and lime puree. And then there's the tomato, olive and parmesan dish made using Isle of White tomatoes in various textures, served with parmesan ice cream."
Working across the two rooms, Head of Wine Gemma Aldridge has collaborated with winemakers to ensure a varied offering across all of the property's F&B spaces with a programme that complements the cuisine. For example, English sparkling wine from the Ashford-based estate Gusbourne features prominently, along with Rheingau whites, Navarra reds and rosés from Verona.
"I work really closely with the head chefs to understand how each dish is prepared, their flavour profiles, textures and acidity levels," explains Aldridge. "I have created a bespoke matched wine package that complements certain dishes and provides a great experience for the guest, as we explore the reasoning behind the choices and the amazing winemakers."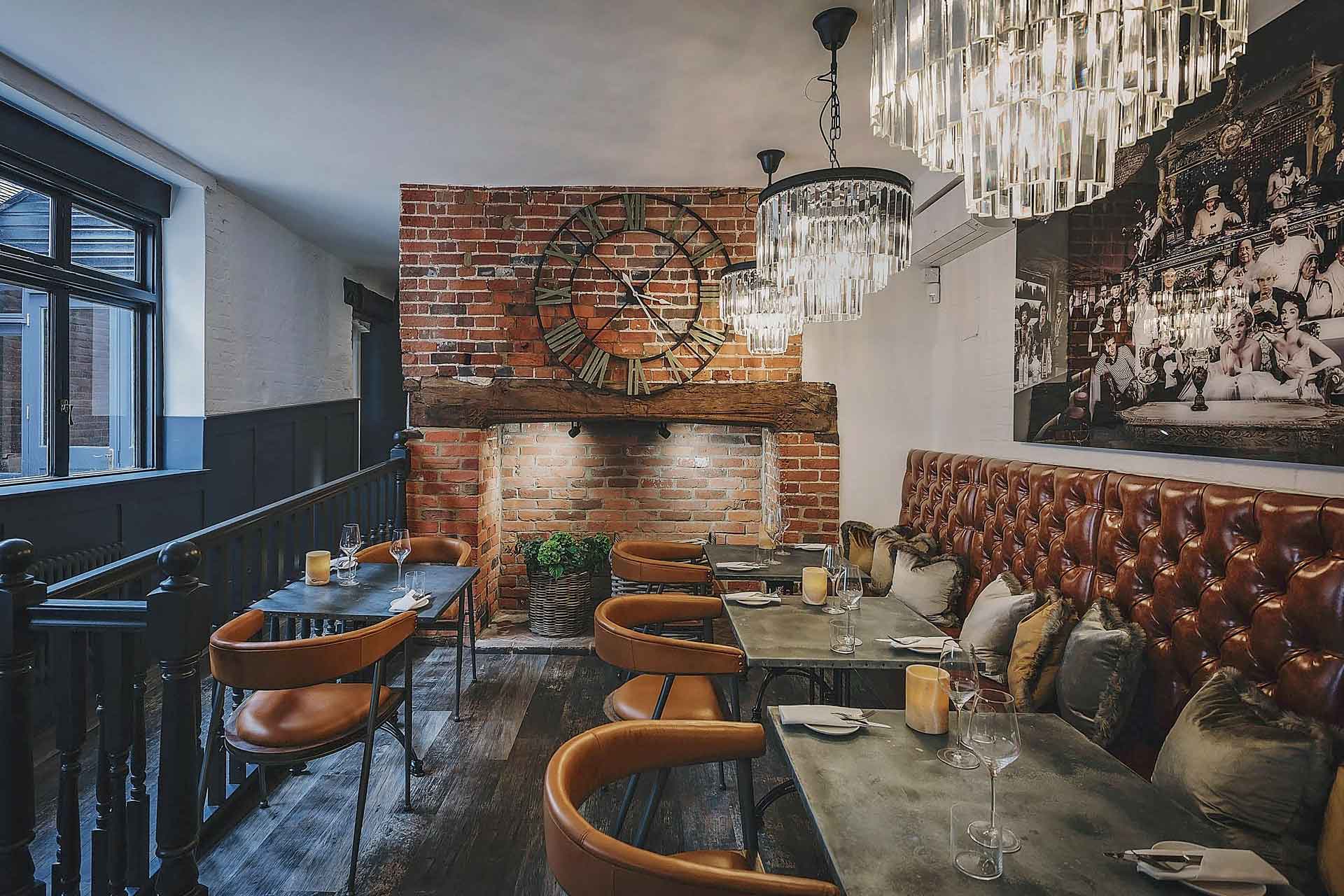 Following a similar design palette, the Bar & Grill, headed up by Wales' National Chef of the Year Tom Westerland and offering a seasonal menu based around its robatayaki charcoal grill, features chestnut-brown leather banquettes, dark grey tables, opulent glass chandeliers, soft bronze lights, deep high-backed stools and mushroom-style bar lamps to create a look and feel reminiscent of a traditional members' club. With many dishes cooked on a custom-made charcoal grill, the all-day dining venue serves up an enticing selection of plates, from Kentucky-fried octopus to the signature Crockers burger and Stokes Marsh Farm chateaubriand for two. Meanwhile, Head Mixologist Ryan Osnowski brings his flair and expertise to create an ever-changing list of drinks, which play on unusual flavour pairings. Highlights include the Sunday Vibes cocktail, a mixture of rhubarb cordial, fino sherry, pisco and tonic and PB & J Old Fashioned, a sweet tipple consisting of peanut butter washed Four Roses Bourbon, raspberry jam, oleo and aged bitters.
Extending beyond the bar, the F&B team have also launched Crockers at Home for those wanting to enjoy the beverage programme from the comfort of their own home; a venture that was already in planning but brought forward in response to the pandemic. Offering a diverse range of premixed cocktails based on recipes from the mixology teams at both Henley and Tring, the bespoke service confirms the team's passion for crafting unique and immersive experiences. From theatrical multi-course tastings and a carefully curated drinks offering, to its luxurious guestrooms, Crockers Henley is much more than a restaurant with rooms.
IN A BITE
Owner: Luke Garnsworthy
Operator: Unique Dining
Interior Design: Ali Hearn Interiors
Art Consultant: Informality
Head Chefs: Dean Westcar, Iain Dixon, Tom Westerland 
Head Bartender: Ryan Osnowski
Head Sommelier: Gemma Aldridge
Barware: Bar Stuff, Urban Bar
www.crockersuk.com 
CREDITS
Words: Jenna Campbell
Photography: © Matthew Bishop
Magazine: Supper 21