The husband-and-wife duo behind Jöro expand with a food-focused hotel complete with chef's table and calendar of culinary collaborations, writes Jenna Campbell.
Sheffield is not perhaps best known for its destination dining, but in the up-and-coming neighbourhood of Kelham Island, change is afoot thanks in no small part to chef Luke French, the man behind Jöro – Sheffield's first Michelin Bib restaurant.
With his maverick flavour combinations, creative use of ingredients and commitment to sustainability, French has quickly made his mark on the North of England's culinary landscape. Together with his wife and business partner Stacey Sherwood-French, he has successfully launched a string of celebrated food concepts across the region, debuting with Jöro in December 2016; followed by Konjö, a street food concept with sites in Sheffield's Cutlery Works and Liverpool's Metquarter; and Nama, an Izakaya-inspired kitchen counter in Liverpool's recently opened GPO Food Hall.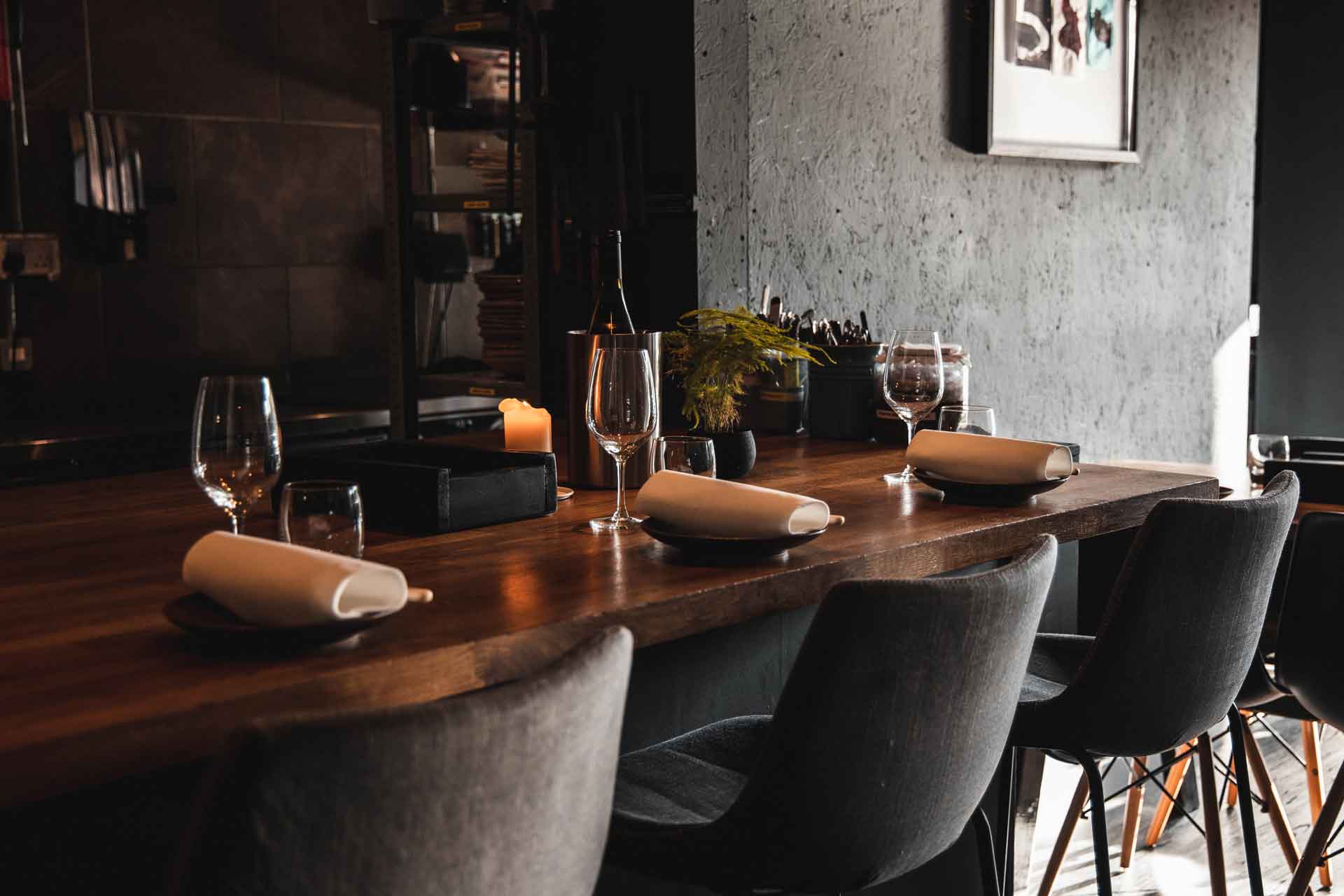 But it is Jöro where French's culinary ethos of combining local produce, classic training and ancient cooking techniques is best exemplified, with menus offering a fusion of Asian and Nordic flavours. Naturally, when the opportunity to expand their portfolio arose, the couple looked to the flagship, resulting in the creation of House of Jöro – a boutique hotel featuring four bedrooms and a 10-seater chef's table. "The opportunity came through David Cross, who designed and owns the Krynkl building where Jöro is located," explains French. "We were starting to see people travelling from across the country to dine with us and thought it would be great to have our guests enjoy a full 24-hour Jöro experience."
Located a stone's throw from the restaurant, the gastro-hotel offers visitors a food-driven escape, with the option to dine in the restaurant and stay the night or hire out the entire space. With architecture by David Cross' firm Coda Studios and interiors by Stacey Sherwood-French, the Scandi-inspired space is a natural continuation of the Jöro brand. "The entire concept is a product of our own personal preference to dining out and overnight stays, so both the culinary concept and property design are as one," says Sherwood-French. "We are drawn to the relaxing, acute attention-to-detail and minimalistic approach of both Nordic and Japanese cultures – simplistic design, natural and stylish."
Bedrooms, two of which feature freestanding bathtubs, have been carefully considered to create a calming ambience with dove-grey walls, statement lighting and plenty of biophilic details. On arrival, a chilled bottle of Nyetimber's Classic Cuvee and a plate of delicately made Bullion fine milk chocolate with yuzu cream petits fours await guests and sets the tone for things to come. 
Opening onto the central shared living space, a private's chef's table – which doubles as the breakfast area – and sleek kitchen space featuring polished metal counters and black fixtures mirrors the flagship restaurant's minimal style, while the addition of a flame-effect fire, contemporary prints nodding to Sheffield's lively music scene and a selection of coffee table books, creates a home-away-from-home ambiance. "Our communal kitchen and living area are the first things guests see when they arrive and we wanted people to feel welcomed into our home," reflects Sherwood-French. "The colours we used in the kitchen and on some of our walls match with the restaurant and focus on shades of grey, a subtle nod to the steel city. Our curtains, in particular the green ones in the living area, are matched to the signage on the Grade II*-listed building in front of the hotel."
With French and a roster of industry heavyweights on the stoves, guests can expect an intimate and carefully curated chef's table experience unlike anything seen in the city. "There is nothing like this currently, only the option to invite a private chef into your own home," says French. "Many of our friends are well-regarded chefs and will be coming to play with us here at House of Jöro to provide some very special culinary experiences."
An extension of Jöro's ethos, French wanted the menus offered at the chef's table to incorporate new dishes, opportunities for testing and some re-worked favourites that return each season. "Guest can expect local wagyu beef and Mangalitza pork, exceptional Scottish shellfish and much more," he explains. "We will focus very seasonally as always but continue to strive to find new and exciting produce at the very top if it's game."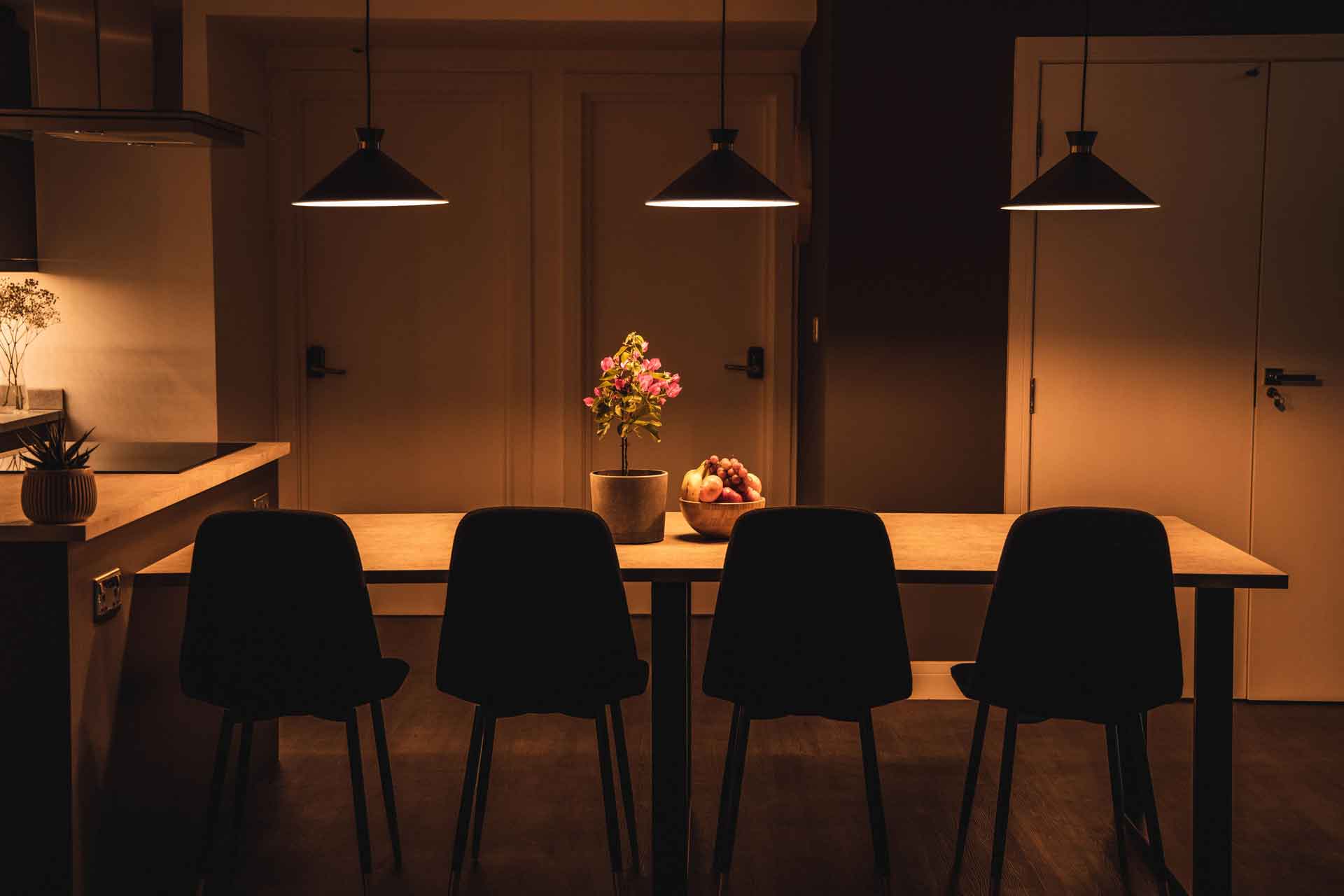 A short walk to Jöro, where the soft, Scandic interiors, though carefully curated – think timber floors and tables set against black walls, Oliver Harvey uniforms and shelves stocked with jars of homebrewed knotweed vodka and a summer edition of the restaurant's own natural gin – take a backseat, allowing French's famed tasting menus to take centre stage. Housing 12 tables, many looking on to the open kitchen where dishes combining Nordic and Asian flavours and inspirations are prepared, diners can expect a modern and fresh take on fine dining.
At the core of French's culinary philosophy is a commitment to sustainability, a theme reflected in his dishes. "It's a huge focus for us, so we work only with like-minded farmers, producers and fishermen and women who share the same ethos," notes French. "We also operate a no-waste policy, which means where possible we will use every part of the produce – whether that be on the bar or through preservation and fermentation. We are currently looking into composting too."
From Chawanmushi (steamed egg custard) with smoked eel and pancetta, to savoury porridge of spelt with comté and onions with chicken fat dressing, and Anjou pigeon cooked over fire and accompanied by fermented blackcurrant and smoked beetroots, the variety of dishes at Jöro demonstrate the diversity of ingredients and time-honed cooking techniques at play. Ending on a sweet note, desserts such as kombu (seaweed) ice-cream, which provides a taste reminiscent of burnt caramel and woodruff with whipped casa luker white chocolate with raspberry, accompanied by Amefa Stonewash cutlery, seals the deal on what can only be described as an expertly crafted dining experience.
Equally intriguing, the drinks offering, which ranges from biodynamic wines and seasonal cocktails served in Nude glassware, to low- and no-options, complements the kitchen's produce. "The drinks menu is always tailored to suit the food and the guest, very carefully sourced by our sommelier Tom, our restaurant team and ourselves," says French. We are currently working on expanding our low- and no-alcohol selections including pairings for tasting menus, as well as offering non-stereotypical options including our listed ciders, sakes and natural wines."
For overnight guests, the culinary journey comes to a triumphant close at breakfast with freshly-baked croissants, smoked salmon, Lishman's cured meats and a hearty wedge of Baron Bigod, served in the communal area or delivered in hamper for those who like to sleep in a little longer. Offering a foodie staycation in the steel city's industrial heart, the latest string in the bow of Luke and Stacey's hospitality portfolio not only builds on the success of the couple's flagship but bolsters the growing assertion that Sheffield and its flourishing food and drink scene is one-to-watch.
IN A BITE
Owner: Luke French, Stacey Sherwood-French, Crossbow Investments 
Architecture: Coda Studios
Interior Design: Stacey Sherwood-French
Head Chef: Luke French, Joe Bains
F&B Manager: Oliver Kaviani, Sarah Gibson 
Head Sommelier: Tom Claxton
Cutlery: Amefa
Glassware: Nude
Uniform Design: Oliver Harvey
www.jororestaurant.co.uk 
CREDITS:
Words: Jenna Campbell
Photography: Courtesy of Jöro and © Zachary Turner
Issue: Supper 25