Lighting up Morocco's dining scene with a plethora of new culinary options, the grand dame's redesign honours its past whilst enticing the next generation of visitors, writes Jenna Campbell.
"This is a wonderful place, and the hotel [is] one of the best I have ever used," wrote Sir Winston Churchill to his wife Clemmie during a stay at La Mamounia in December 1935. A regular haunt of his, it was here that he brought Franklin Roosevelt to admire the Moroccan sunset after the Casablanca Conference, declaring it to be "the most lovely spot in the whole world", and where he would regularly pitch up his easel, forever inspired by the citrus groves, rose bushes and snow-clad Atlas Mountains beyond.
Opened in 1923, the property was first envisaged by French architects Prost and Marchisio in a style that blends Moroccan architectural tradition with an Art Deco sentiment. Set within 17 acres of walled gardens, cocooning it from the hustle and bustle of the medina just outside, Marrakech's grand dame, with its ornate tiling, shaded courtyards and splashing fountains, has come to represent a point of refuge for many, from Hollywood royalty such as Alfred Hitchcock and Omar Sharif to political heavyweights including Charles de Gaulle and the Reagans.
Seeking to retain this magic whilst attracting a new generation of discerning travellers, La Mamounia has recently undergone a major renovation to its public spaces and F&B venues, led by Parisian design firm Jouin Manku.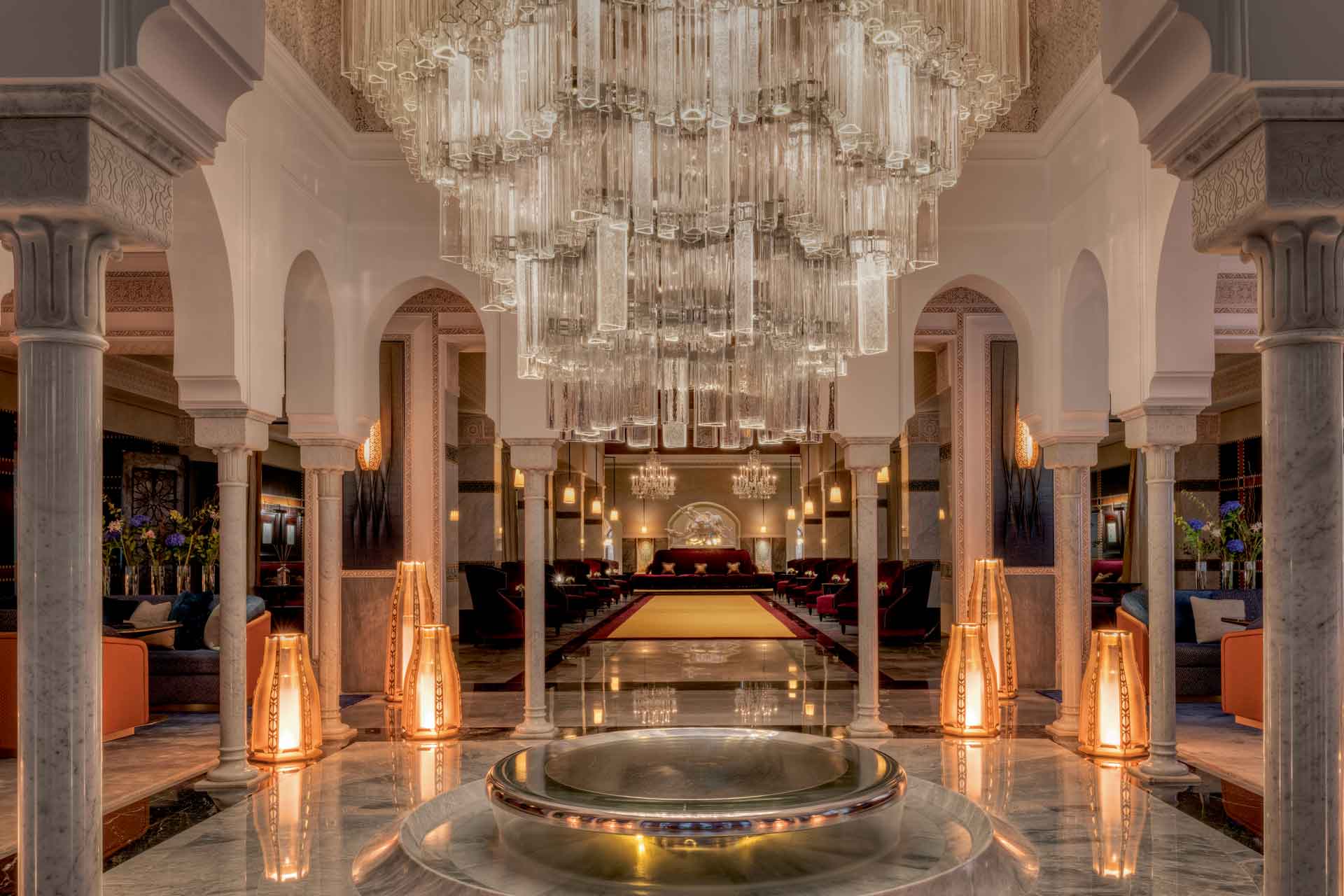 "The last refurbishment of La Mamounia was 11 years ago and Marrakech has changed a lot since then with a vast number of new concepts and restaurants. Our clientele has also changed, they are younger, well-travelled and are connoisseurs," says Pierre Jochem, General Manager of La Mamounia. "It was obvious that we had to change our food and beverage offering after such a period. The idea was to provide our guests with something unique and exclusive with a number of new dining experiences."
Now featuring an underground wine bar, two new restaurants helmed by three Michelin-starred chef Jean-Georges Vongerichten, a tea room and 'temple of sugar' fronted by world-renowned pastry chef Pierre Hermé, plus a more modern take on the hotel's existing Moroccan restaurant and a reconfigured Churchill Bar, the property is sure to delight.
Identifying a number of opportunities to elevate the hotel's different offerings in order to create a succession of unique experiences, Jouin Manku have created a number of concepts, such as The Salon de Thé, which draws on the design principles of Moroccan tea rooms with plush banquettes facing towards the centre of room to reinforce the calming qualities of the lobby. Featuring a fountain that erupts from the marble floor beneath and an impressive glass chandelier, the space has been crafted with the aim of mesmerising and enticing guests whilst also serving as a natural starting point for a journey through La Mamounia.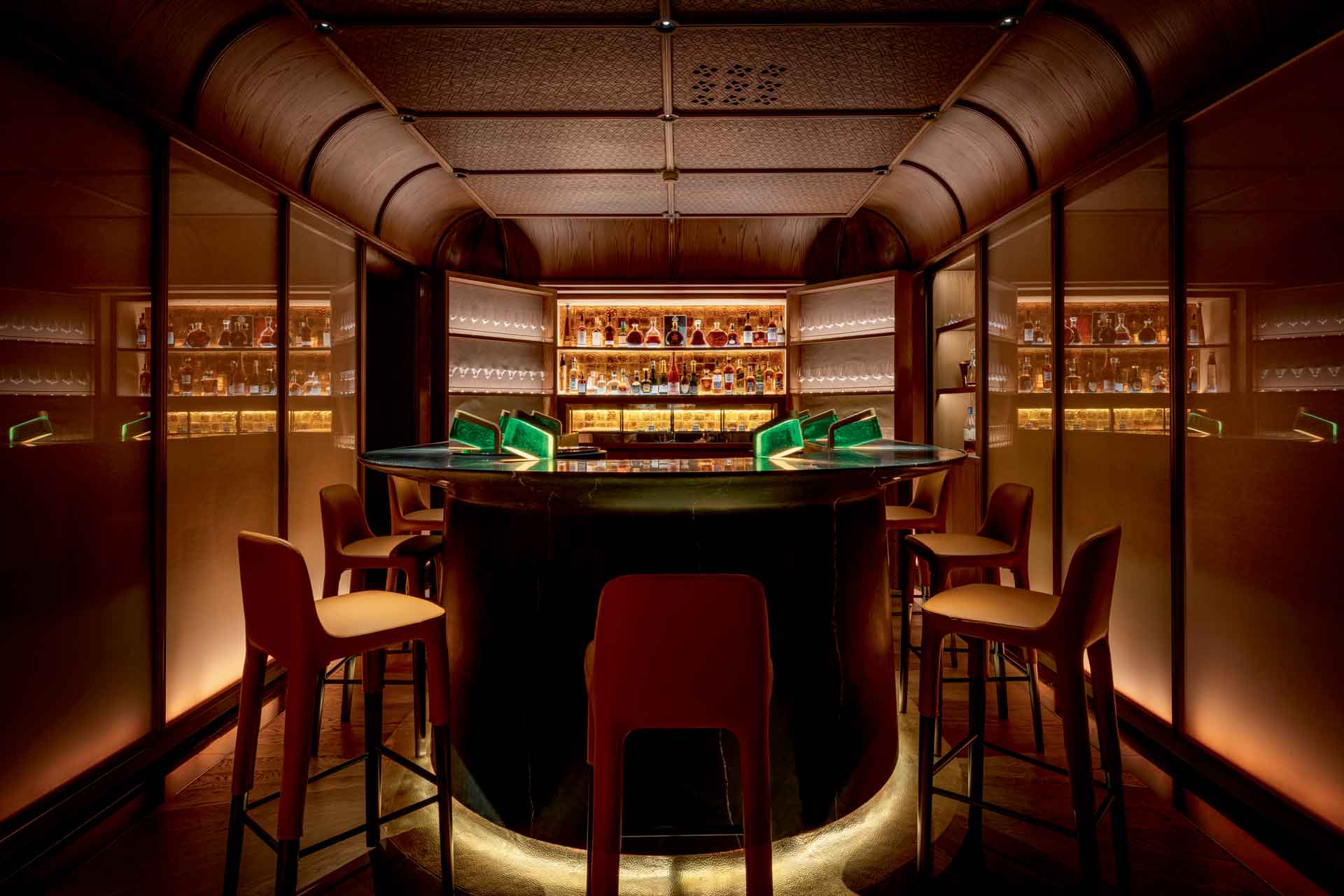 Channelling the same calming energy, the hotel's landmark drinking den, The Churchill Bar, has been completely transformed and now boasts a more refined aesthetic, with subtle nods to the hotel's past relationship with railways, as reflected in the proportions of the space that echo those of a Pullman carriage. Featuring black sculpted marble fixtures and smoked oak accents, the space – now intended for enjoying champagne and caviar – also includes a mini cinema, showing classics such as Hitchcock's The Man Who Knew Too Much, which was filmed within the grounds of the hotel.
"It's like a tiny chateau, a very small intimate bar where you can take over and it becomes yours," explains Sanjit Manku, Founding Partner at Jouin Manku. "It really works now that we have the tea salon in front because it becomes more of an active space with something accompanying it rather than a sole island."
Inspired by the convivial nature of village squares, Jouin Manku unified the remaining dining areas by installing three giant lanterned tents as a transition zone between the restaurants, or as a cabana for new offerings. Visible from the poolside, below the first lies the new enoteca, a space dedicated to the discovery of Moroccan wine, where up to 12 guests can convene around a lava stone table that sits beneath a large opening in the roof, from which light is diffused through a chandelier of chords crafted by local artisans.
Luminous fixtures have also been incorporated in the newly envisaged Le Pavillon de la Piscine, where a vast circular chandelier made from fabric and glass hangs above a central blue ceramic fountain with a curved lava stone bar. From here, guests are led into the 'temple of sweets', an Ali Baba cave of creations by Pierre Hermé, featuring a peach-coloured marble display with a hammered copper surface and a cupola in white wool.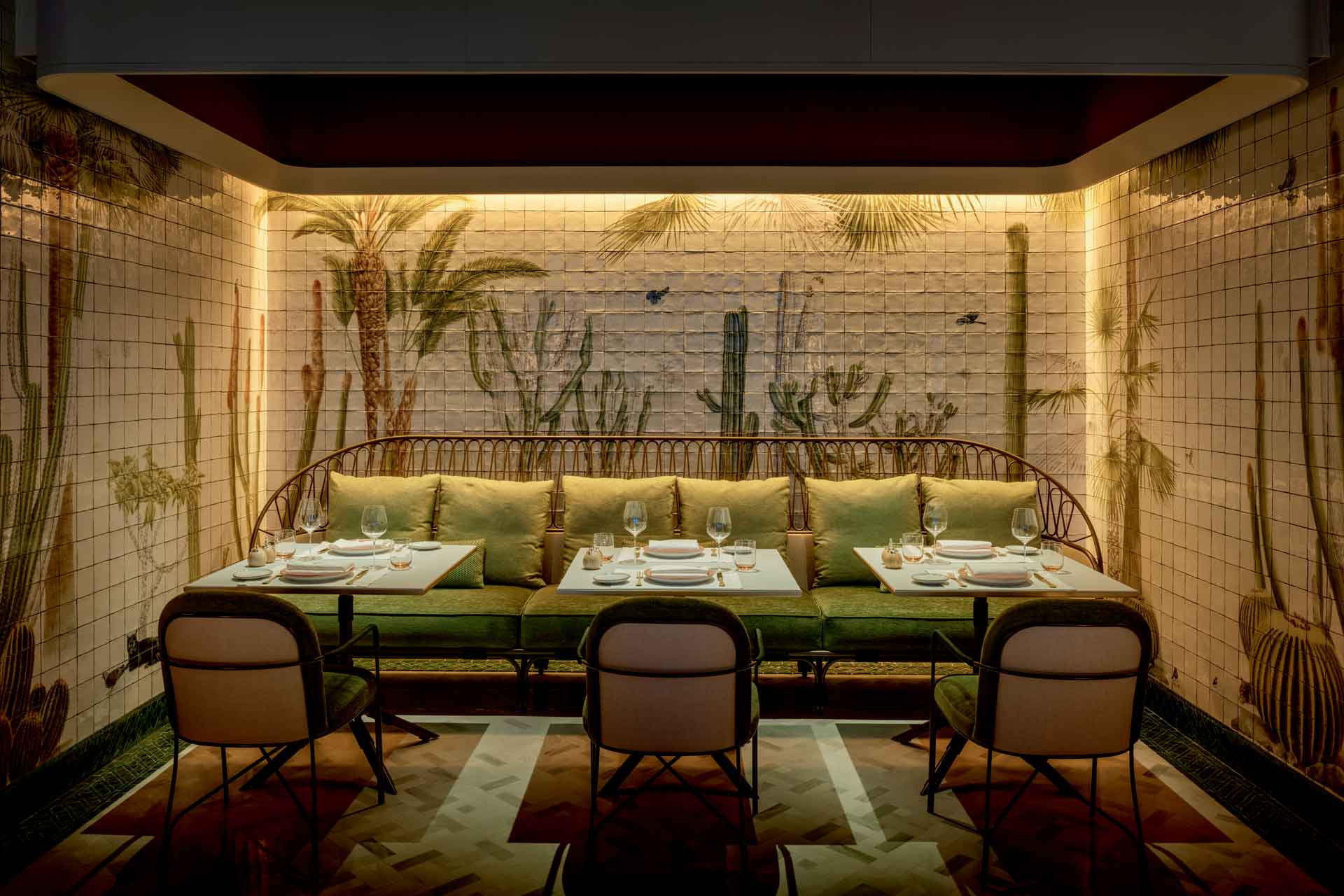 Across the way, former restaurant Le Français has become L'Italien and takes the form of a winter garden, encompassing an olive-green palette with terracotta details, framed by white warm timber and brass accents. Featuring a lush frieze by French artist Cedric Peltier – a pictorial representation of the life in the hotel's gardens – as well as large glazed windows and a Lasvit-designed glass installation floating above a white and gold Volakas stone bar, the intention here was to marry Italian refinement with the spirit of the hotel.
"We gave Jean-Georges a space that has two different aspects to it; there's an exterior covered terrace that is like a garden party, with wrappings of wicker and leather and then another part indoors that is an extension of the kitchen," says Manku. "It's really this idea of something that is more informal, it's a very new and a very strong evolution for La Mamounia, as people's culture changes it becomes a bit more casual but still a place of excellence."
For those dining at the luxury trattoria, a seasonally minded menu awaits, with dishes based around local ingredients and signature Italian plates. Appetisers of beef carpaccio with black truffle fritters and chargrilled octopus with caper garlic dressing, warm potato salad with green olives and fennel, sit alongside homemade pastas, speciality plates and indulgent pizzas tipped to be some of Marrakech's best.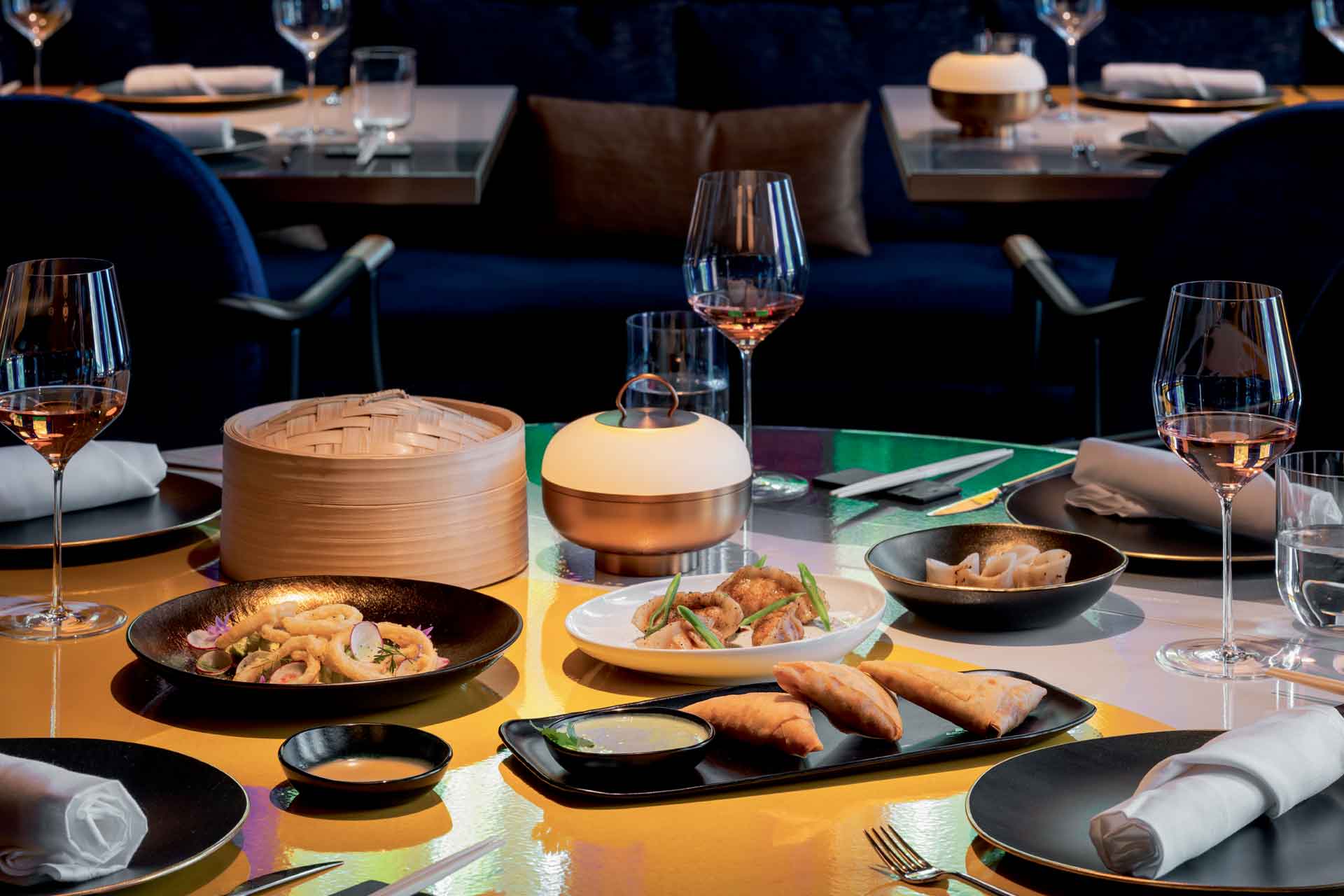 Meanwhile, Jean-Georges' second offering, L'Asiatique, takes the space of the former Italian restaurant and merges original Moroccan décor with the spirit of the chef's cuisine. A rich colour scheme of dark blue with accents of yellow, orange and brass, is offset by warm white and dark timber, whilst lighting designed by Stéphane Carratero ensures guests are in for a romantic and intimate occasion. Devised by Jean-Georges, the restaurant brings together the chef's love of Asian culture and cuisine – he currently runs five restaurants in Asia including Mercato in Shanghai and Dempsey Cookhouse in Singapore – and his desire to return to Morocco.
"The first time I visited Morocco was in 1976 with the French navy during one of our stops in Casablanca. During my week there, I took a day trip to Marrakech and fell in love with the spices, flavours and culture and always dreamed of returning," recalls the chef. "The menu will offer a selection of dishes from Japan and China to Southeast Asia. It will be a compilation of memories from my past and present travels through Asia, recalling food memories all the way back to my first trip to Bangkok."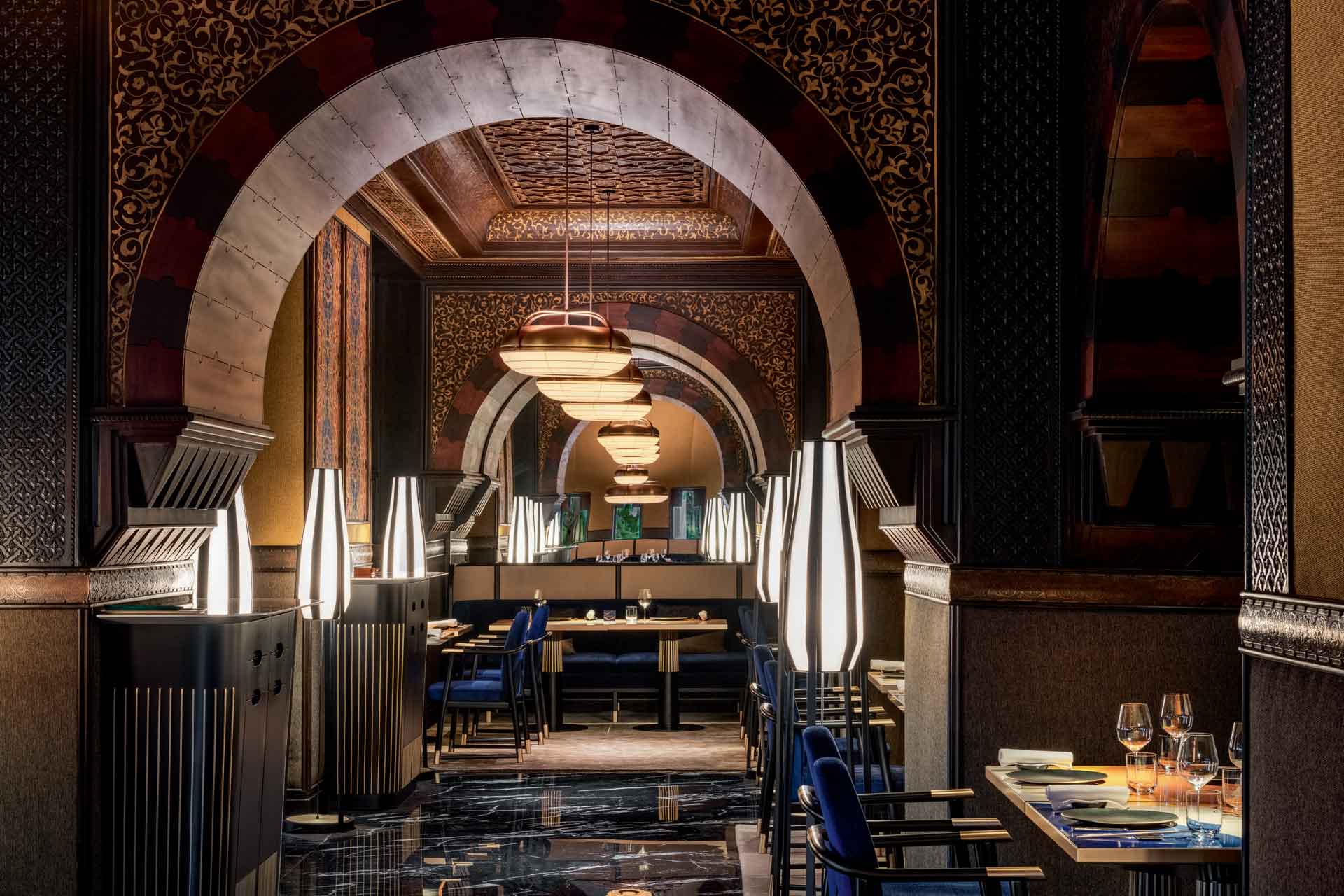 Orchestrating a menu using local seafood, garden herbs, vegetables sourced from nearby farms and citrus fruits grown in Fez, options range from black pepper prawn dumplings to Vietnamese spring rolls and plates of sashimi with white ponzu. Meanwhile, the chef's signature dishes such as seared John Dory with Malaysian chilli sauce, celery and Thai basil oil and marinated organic chicken with kumquat-lemongrass dressing, red chilli and cilantro, demonstrate his ability to blend a number of cuisines and take guests on a whistle-stop tour around the continent.
Having immersed themselves in its ornate, Moorish splendour, Jouin Manku have enriched the property's Moroccan roots whilst simultaneously incorporating striking modern elements that ensure the grand dame of Marrakech stands out as a living example of the continued reinvention of a city. Coupled with the addition of exceptional culinary talent and a plethora of enticing new dining options, the city's most historic and storied hotel continues to work its magic.
IN A BITE
Operator: La Mamounia
Interior Design: Jouin Manku
Executive Chef: Yoann Bernard
F&B Consultant: Jean-Georges Vongerichten, Pierre Hermé
F&B Director: Stephane Lafon
Head Sommelier: Michael Rodriguez
www.lamamounia.com 
CREDITS
Words: Jenna Campbell
Photography: © Alan Keohane
Magazine: Supper 22