From Barcelona with Love: an interview with Rafa Zafra
This article first appeared in print in issue 27 of Supper. Subscribe here.
_____________________________________________________________________________________________________________
Inspired by Spain's trailblazing modernist artists and a passion for the Mediterranean, chef Rafa Zafra is dazzling diners at his new restaurant Amar in Barcelona's historic El Palace hotel, Renate Ruge discovers.
You're familiar with the work of the great surrealist Catalan artist, Joan Miró, right?" asks Rafa Zafra, smoothing down his chef whites before taking a seat. All is calm before service in his new restaurant Amar Barcelona. He continues: "Miró wanted to portray nature as it would be depicted by a child – equipped with adult intelligence – in order to create with complete freedom, expressing a playfulness in his art. He inspired my approach to cook freely."
We're perched on stools at a long table in the glass-fronted private dining room tucked away by the entrance to Amar's grand salon in Barcelona's grande dame El Palace. This corridor, which leads diners to the restaurant, is tiled in golden mother of pearl and lined with gold refrigerated glass boxes displaying fresh fish hanging on hooks. It's perhaps not what you would expect to see at the entrance of a hotel that was once The Ritz, but it's delightfully surprising all the same. And that's the point. It's a nod to the fish counters at Zafra's other successful outposts, such as his first Barcelona restaurant Estimar, which he opened with his partner Anna Gotanegra in 2016. The couple met through a mutual passion for seafood; Anna's family has been in the fishing business for five generations, sourcing the best from the Costa Brava's Port of Roses.
A bijoux, buzzy fish restaurant hidden in an alleyway in the El Born district, Estimar garnered a cult-like following for its modern, simply-cooked seafood dishes, ranking number one for two consecutive years on the Top 100+ European Gourmet Casual Restaurants by OAD and winning two Repsol Suns. Repeating the successful formula, Zafra opened a sister restaurant in Madrid, and in 2020 he opened relaxed beachside eatery, Casa Jondal, in Ibiza. 
Zafra, the former Head Chef of El Bulli, also spearheaded the Adrià brothers' popular Heart Ibiza restaurant, and in 2008 became one of the youngest Spanish cooks to be awarded a Michelin star. Now, however, his focus has turned to Amar, which he runs in collaboration with his team, Gotanegra and Ricardo Acquista, channelling his passion for serving superb Mediterranean produce. 
 The Seville-born chef first realised he could cook at the age of 16, describing how his love of eating prompted his mother to teach him, and recalling how working in the kitchen of his grandmother's inn after school shaped his future. "My ethos is all about simple, honest cooking and treating ingredients with love and care; it comes from my mother," he says.
His resumé includes stints at some of Spain's top restaurants, where he trained with Juan Mari Arzak, Quique Dacosta and Dani García. Zafra was part of a creative culinary revolution, spending a good part of his career in the legendary El Bulli universe. "It was Albert and Ferran Adrià who showed me how to extract flavour, taking dishes to a whole other level of sophistication," he remembers. But like his mentors, Zafra keeps looking forward, knowing that the guest experience is king. "The happiness of our guests lies at the heart of everything we do," he says. 
At Amar, which is Spanish for 'to love', this translates to delectable seafood dishes like the signature starter (and El Bulli tribute) of sublime langoustine carpaccio, a spider crab salad served with zesty Romesco sauce and tarragon jelly, and a next-level seafood platter. Marenne Oléron oysters – Zafra's homage to Albert Adrià – are prepared in various clever ways, including with bloody Mary and ponzu sauces. The spider crab cannelloni with chicken broth and sea urchin is a standout main course, while a fruit dessert served over ice on a golden stand resembles a painting. 
"We want to ignite love for the Mediterranean Sea and evoke an emotional connection to Barcelona's rich culture and gastronomy through this collaboration – a fusion of my team's passion for cooking and El Palace's tradition of hospitality in a hotel that has been part of the city for 103 years," says Zafra. "We've become one big family. I opened Estimar seven years ago and the locals have embraced, supported and followed us ever since, so Amar is intended as a thank you, to give something back to Barcelona, a city we love, and of course is the inspiration for the name."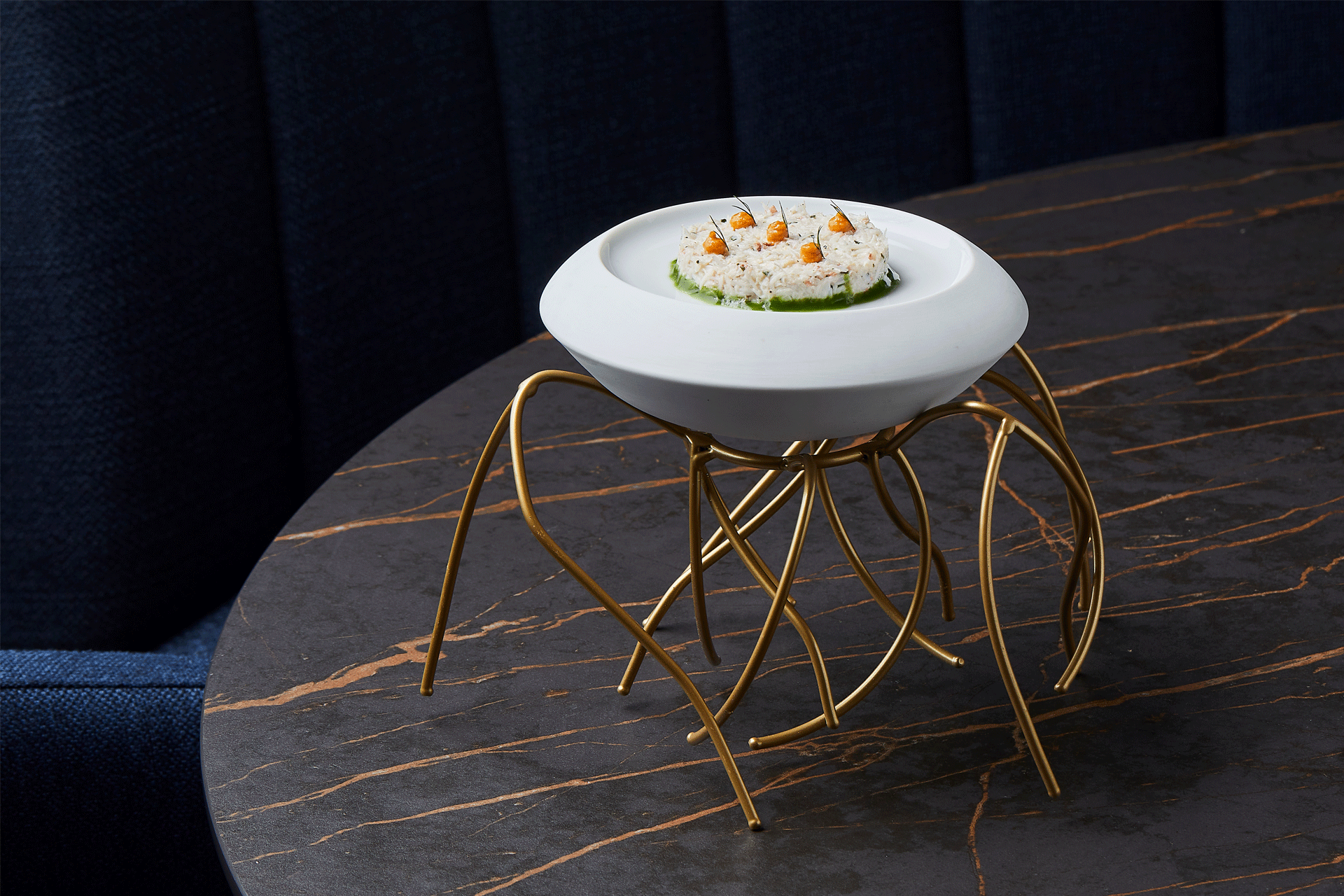 He also believes that it was the perfect time to open, thanks to El Palace's rooftop space. "People like to eat al fresco, by the beach on terraces and rooftops in summer," he says. "But when the season fades and they head indoors, we'll be ready for them. Barcelona has been through a tough time, and it's on us all to add our grain of salt to get things back on track."
General Manager Friedrich von Schönburg pops his head around the door to see if we would like a look in the kitchen, explaining as we go that he had been looking for the right chef to suit the concept and space, ever since he joined El Palace in 2020. Only Zafra matched his vision, and the two joke about how the chef originally turned the project down, only later signing up in the spring of 2021, leading to the development of a great friendship.
We cross the resplendent dining room, which was designed by Eva Pous and Elena Prats Rubies. The walls are painted in a custom blended hue of midnight blue: by day, light floods the room, and come dusk, the drapes are drawn so the salon becomes warm and inviting with cushioned banquettes. An original antique chandelier glitters at its centre and gold cornicing creates a soft glow. Framed paper artworks by Catalan artist Ana Paúl add texture and an inviting rectangular gold bar makes a glamorous statement. 
"I've got the luxury of space here," says Zafra, who has created an elevated food offering to suit the elegant surrounds. "Estimar is simply about the purity of ingredients with a maximum of three or four on the plate. At Amar, there's much more freedom to create dishes with historical references to El Palace's past." His classic sole meunière and fillet steak Rossini are among his tributes to the historic location, which first opened as a hotel in 1919.
Reflecting that the team's journey is only just beginning, Zafra says: "We're still developing the menu and blending two worlds, and while the creative fusion of past and present is not an easy mix, we've got it right so far, but we'll keep perfecting to achieve an innovative gastronomic experience where history and modernity evolve in parallel."
Celebrating the flavours of Spain on the plate is also a key focus area for him. "We're so fortunate, ours is a rich country," Zafra says. "Nowhere in the world rivals our offering – of seafood, meat, game and jamon, wine, vinegar, olives, olive oil – all of it. When my international chef friends come here from Japan, Peru, or even France, they can't believe how incredible Spanish produce is."
Zafra's star ingredient is la gamba – particularly the intensely flavoured red shrimps from Dénia – which he believes is best eaten solo, describing it as "a maiden of gastronomy". He also loves flavourful sea urchins and frequently enhances dishes with caviar. 
Travelling has expanded his culinary horizons. "Japan is so inspiring for the simplicity of its cuisine," he says. "There's a purity and freshness I admire, where just two ingredients are paired on a plate. It's wonderful. Mexico also has some of the best food in the world – after Spain, of course," he laughs.
Behind the scenes, the Amar team is preparing for service with a quiet focus, although the atmosphere is amiable. Zafra talks about the team's diligence and obsession with detail. "I am a perfectionist when it comes to sauces and the cooking itself, but there's also lots to consider in plating and presentation outside of the kitchen," he acknowledges. But he insists: "Everything starts with the food. There's little point in a place that's all about style, music and atmosphere without great food." Workplace wellbeing, nonetheless, clearly forms an important part of his recipe for success, and his warmth emanates. "While we encourage a professional atmosphere, we have fun and creating a new restaurant in itself has brought people together like a family at Amar," he says. Head Chef Gonzalo Hernández nods in agreement.
Tomorrow is Sunday and a rare day off, so Zafra will be visiting his mentors, Ferran and Albert Adriá. "I really admire the chefs of San Sebastian," he says, also citing the three-Michelin-starred Roca brothers from Girona's El Celler de Can Roca as being among his culinary heroes.
With an elegant dining space, close-knit team and showstopping menu, Amar is on course for great things, but is Zafra reaching for the stars? It would be a mistake to assume that accolades are important to the chef. "I simply want diners to feel comfortable and enjoy eating here," he says. "It's about satisfying guests, whether they pop in for a taster or are celebrating the full menu."
As the restaurant fills up, diners greet the Maître d' Pablo Wübbe and Zafra beams: "The greatest recognition for me is in the guests who love it so much they make their next reservation at the end of their meal." It appears several of them already have.
---
CREDITS
Words: Renate Ruge
Photography: © Carlos Garralaga
Issue: 28