12-14 March 2018
Dubai
The fifth edition of the Global Restaurant Investment Forum (GRIF) powered by Michelin brought together more than 320 investors, owners, franchisors and senior hospitality professionals in the opulent surroundings of Palazzo Versace Dubai to discuss issues such as investment, the casual dining crunch and how to develop strong F&B concepts.
This year's showpiece organised by Bench Events witnessed the introduction of an international members' network for the restaurant investment industry, GRIF Society, with a series of events planned in London, Dubai, Nairobi and Riyadh over the coming months. The Dubai Restaurant Industry Think Tank was also launched at GRIF. Incubated under the GRIF Society initiative, it is conceived as an independent members' forum to represent, support, educate and promote industry players and shape the agenda in the years ahead.
F&B pioneers
The three-day event featured an impressive array of high-profile F&B speakers. Hakkasan Group CEO Nick McCabe talked about how the company spent a full year conducting market research to understand consumer perceptions of the brand, which revealed that customers expected good food and service as standard at its restaurants, but what they valued most was the overall experience. Fast-forward to today and the phrase that best defines the brand is "cinematic energy", he explained, before adding that "we think about Hakkasan as being about all five senses, not just taste".
Elsewhere, hospitality entrepreneur Robin Rowland talked candidly about how private equity helped him grow YO! Sushi from three restaurants to almost 100 despite the occasional bump along the road, while Time Out Market CEO Didier Souillat discussed the revival of the food hall across Europe and the US, sharing the lessons learned from the first Time Out Market, which opened in Lisbon in 2014.
Hotel F&B under the microscope
The hotel sector was well-represented on panels such as 'Putting Gastronomy into your DNA', a fascinating session that featured Maarten Markus, NH Hotel Group Managing Director for Northern Europe, and Chris Naylor, Executive Chef of the Michelin-starred Restaurant Vermeer at NH Collection Amsterdam Barbizon Place. NH Hotel Group has no fewer than 13 Michelin stars and Markus admitted that  "sometimes it's hard to control the chefs and their expenses" but pointed out that if the group didn't splash out on creating Michelin-starred restaurants, it would have to spend much more on marketing and PR to achieve a similar effect.
There was also plenty of food for thought in the 'Business Models for Hotel F&B' panel, which explored partnership models between hotels, investors and operators. Christian Gradnitzer, Hilton's Senior Director of F&B Operations EMEA, stressed that different hotels have different requirements and there is no such thing as a one-size-fits-all approach, although as a rule "it takes commitment, time, money and effort to create your own concepts". And Ryan Hattingh, Partner of F&B consultancy Atelier EPJ, argued in favour of specialising, declaring: "Let hoteliers run hotels, I wouldn't know where to start – but I run good restaurants."
Other highlights included Ashley Palmer-Watts, Chef Director of Dinner by Heston Blumenthal, in conversation with Red Pie Consulting Principal Peter Moody in the week that the fine-dining brand announced its Middle East debut; Dinner will launch in Dubai's Royal Atlantis Resort & Residences on Palm Jumeirah in late 2019. The original Dinner opened in London in 2011 and quickly secured two Michelin stars before expanding to Melbourne in 2015 but Palmer-Watts promised that there would be no watering down of the concept in Dubai, explaining that "we want to hit the same level at every location".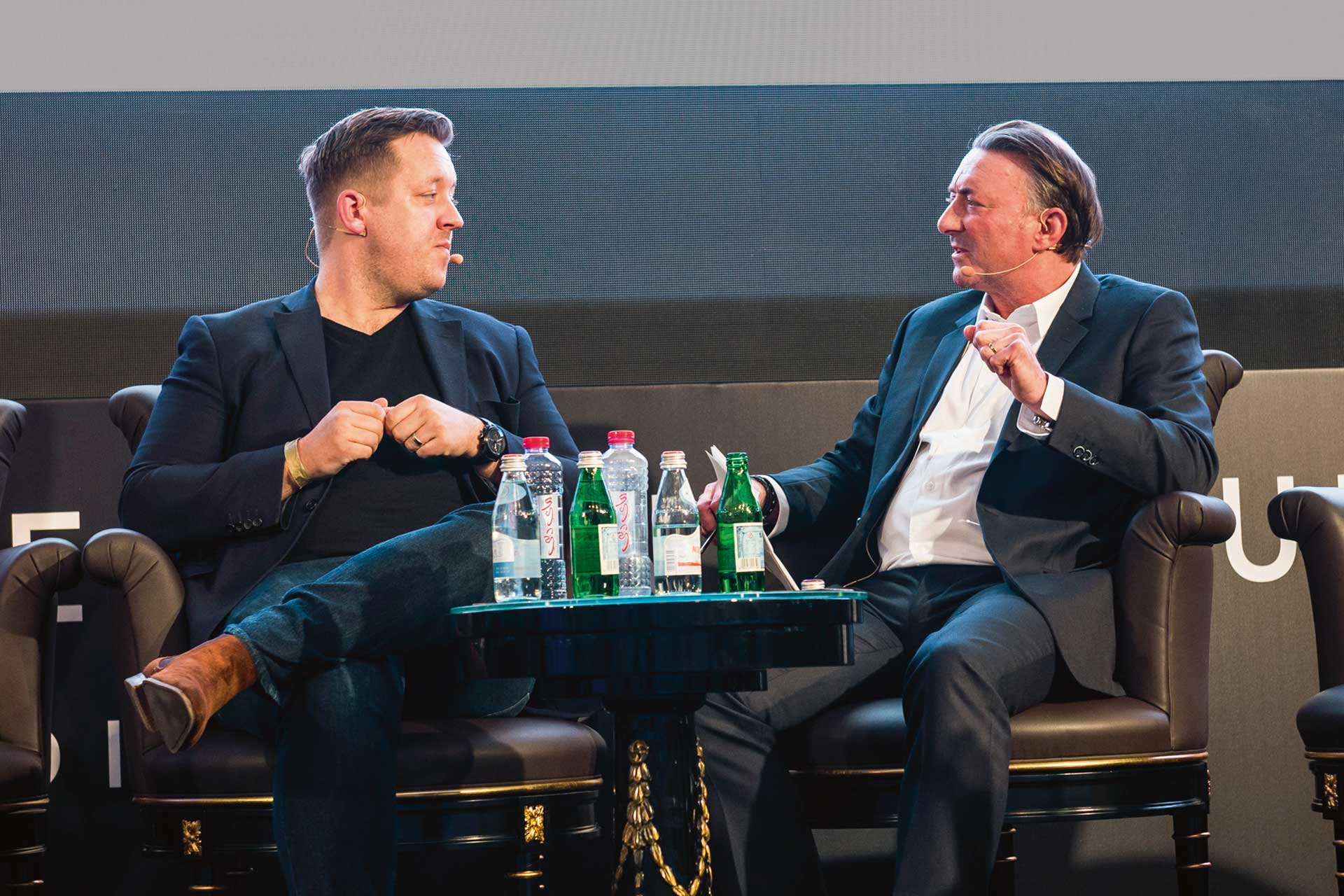 Doing deals
Plenty of business was done in Dubai over the course of the forum and nowhere was this more in evidence than in the GRIF Deal Den, where ambitious entrepreneurs pitched their concepts to a panel of dealmakers. Among the hopefuls getting the thumbs-up for their pitches were Ajay Kenth, Managing Director of street food restaurant Zindiya, and ChatFood co-founder and CEO Benjamin Mouflard whose software uses AI technology to help customers place orders via Facebook Messenger and WhatsApp.
Pizza company Freedom Pizza also joined in the deal-making by revealing that it would enter into a new joint venture with gourmet shawarma supplier Wild Peeta. And Ento Capital announced a total of five deals for its F&B Private Equity Fund, including Peach Retail, Delice and Louis Restaurant & Café.
GRIF on tour
Away from Palazzo Versace, delegates were given a taste of Dubai's vibrant F&B scene on the GRIF Culinary Tour, which took in Masti, Sean Connolly at Dubai Opera, BB Social, Larte and Molecule. Along the way they learned about Dubai's distinctive licensing laws – Masti for example is one of the city's only licensed units that isn't part of a hotel – and the unique challenges of running a brasserie in the cutting-edge Dubai Opera building.
In addition, Supper Consulting Editor Heleri Rande hosted the GRIF Nightlife Tour, which showed guests around Iris Dubai and Renaissance Downtown Hotel's extensive F&B offering before returning to Palazzo Versace for a live gig at Q's Bar and Lounge. The exclusive trip included a sneak-peak of the eagerly anticipated Morimoto Dubai restaurant, from Japanese Iron Chef Masahara Morimoto, which spans two floors and boasts four terraces, a bar, live teppanyaki and sushi counters.
Closing remarks
Summing up the key takeaways from GRIF 2018 in his closing remarks, Think Hospitality Managing Director James Hacon noted that parts of the restaurant sector in places such as the UAE, the US and the UK have endured a "tough time" of late, with many operators hit by a range of factors including higher prices for raw ingredients, rising staff costs and lower consumer spending. But he also saw reasons for optimism and challenged the industry to up its game by embracing technology, strategically developing brands, communicating better with frontline staff and focusing more on customers. "It's time for innovators and smaller brands to shine," he concluded.
Next year, GRIF swaps Dubai for Amsterdam. The forum's sixth edition will run from 25-27 February 2019 at the Grand Hotel Krasnapolsky in partnership with NH Hotel Group.
CREDITS
Words: Richard Frost
Photography: © Robert Wade
Magazine: Supper 10