German-born chef Heinz Beck talks to Richard Frost about his unique take on Italian cuisine and his building of a global restaurant empire.
Heinz Beck is animated and full of energy, living proof that his health-conscious culinary style combining Italian cuisine with nutritional awareness really does pay dividends. Here in his new restaurant at Brown's Hotel in London's Mayfair, the 55-year-old frequently breaks into a friendly smile as he discusses his lifelong passion for the kitchen, before leaning back contentedly as he reflects on a remarkable rise to the very top of the hospitality profession. Today he oversees a multi-faceted empire spanning almost a dozen Italian restaurants across Europe, the Middle East and Asia – including his triple-Michelin-starred flagship La Pergola in the Rome Cavalieri Waldorf Astoria – as well as a host of cookbooks and a range of sauces.
The common thread across Beck's many different business interests is, of course, his distinct approach to food. "The basis of my cooking is to create a healthy way of producing modern Italian dishes," he explains. "We are what we eat and I firmly believe that we can use nutrition to prevent disease."
If truth be told, the milieu of an international chef isn't always conducive to healthy living; Beck freely admits that much of his time is spent on the road, catching one plane after another, sleeping less than he should and abandoning all notion of a regular daily routine. Despite this, he states with pride that he hasn't needed any medicines for the last six years ("not even an aspirin") and he's certain about the reason for this impressive run of health – knowing how to eat properly.
"I don't have any pills at home," he says. "Two years ago, I took out the medicine box and looked at the expiry dates and they had all expired, so I threw them away. Now the box is completely empty." Then with a mischievous twinkle in his eye, he adds: "I'm a bad person to the pharmaceutical industry – they get nothing out of me."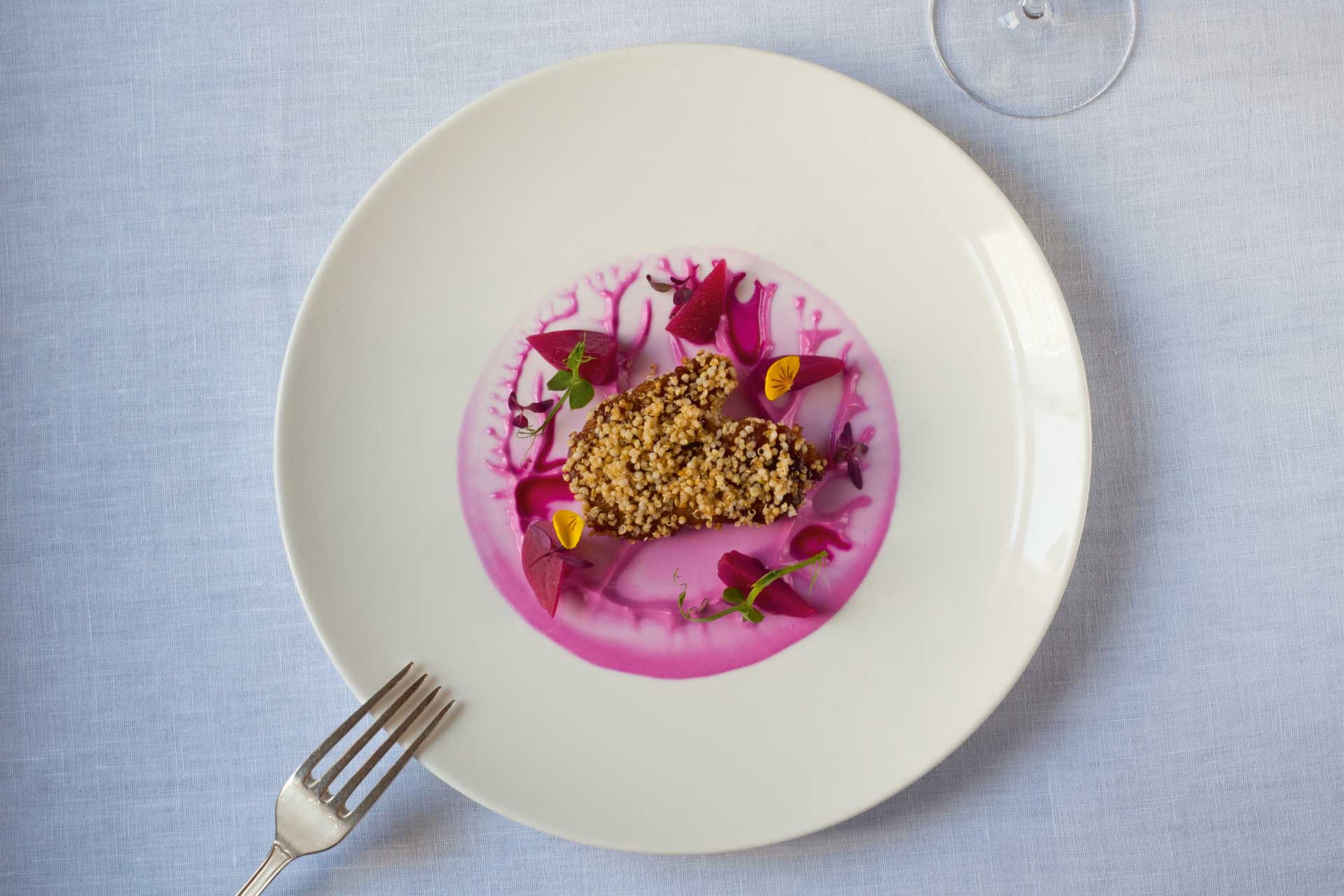 Beck is no stranger to working with academics and researchers on dietary matters and has written extensively about the subject in titles like 'Hypertension and Nutrition' and 'Feed the Heart', but he also puts what he's learnt into practice across his restaurants. Here at Brown's, purportedly London's oldest hotel, we find a restaurant boasting a very modern preoccupation with light and healthy cuisine. An extensive salad and appetiser menu includes a refreshing summer vegetable salad with avocado, mixed seeds and pistachio pesto; and pasta dishes such as linguine with salsify and summer truffle. Fish options include grilled Dover sole with baby carrots, lemon and capers sauce, where the delicious star ingredient is boned at the table before being carefully transferred to the plate; meanwhile, the relatively small meat section features roast veal with grilled aubergine, ricotta salad and passata; and the dessert menu boasts a delicate construction comprising blackberries, lemon curd and basil ice cream. "We wanted to create something that's light and easy to digest because this is what the modern clientele's looking for," says Beck. "It's not only a London thing either, I think the whole world is like this. People are seeking out healthy cooking more and more."
A few dishes, notably the chef's signature fagotelli alla carbonara and the grilled black cod with 'nduja crust, have come over from La Pergola but most have been developed especially for Brown's. "The dishes in Beck at Brown's are more traditional than La Pergola, where the food is much more sophisticated and technical," says Beck. This reflects the fact that the commercial proposition in London is very different to Rome; the restaurant at Brown's is a "casual dining concept", he explains, designed to attract regular customers rather than just the occasional anniversary or birthday crowd, whereas La Pergola is unapologetically "fine dining" and has long attracted one-off gourmet travellers from around the globe.
Beck's idea of casual dining shouldn't be taken too literally however – we're in one of London's wealthiest areas after all. The beautiful restaurant, designed in tandem with Olga Polizzi of Brown's owner Rocco Forte Hotels, has undergone a significant revamp since its days as Hix Mayfair but retains the original 1900s oak panelling, albeit complemented by specially commissioned botanical wallpaper. Bespoke chandeliers from Chelini in Florence, ornamental bronze screens, antiques from Martin Johnson and colossal heads from Emily Young (an alternative to full-length statues) further reinforce the sense of elegance.
Clearly, this stylish venue is no mere afterthought for Beck, but rather a carefully considered addition to his growing restaurant portfolio. It also provides further proof of the chef's enduring affinity for hotels; besides La Pergola and Beck at Brown's, there's also St. George Restaurant by Heinz Beck at The Ashbee Hotel in Sicily, Social by Heinz Beck at Waldorf Astoria Dubai Palm Jumeirah and the Michelin-starred Gusto by Heinz Beck at Quinta do Lago in Portugal. We should probably also include Beck's restaurant Apsley's at The Lanesborough in nearby Belgravia, which opened in September 2009 and rapidly won a Michelin star before closing its doors when the hotel shut for a major refurbishment in 2013; the space has since become Eric Frechon's Celeste restaurant. Beck displays a tinge of regret about the loss of Apsley's – "we did beautiful work there and it was very successful" – but also enough pragmatism to accept that the circumstances that first brought him to The Lanesborough had changed and it was time to move on.
The hotel restaurant count swells further when you take into account pop-ups. Beck at Brown's actually followed in the wake of Ora, a more explicitly fine-dining concept in the same space that gave London diners a taste of La Pergola throughout November and December 2017. Beck also created a pop-up at Hotel Metropole Monte-Carlo last summer after accepting an invitation from renowned French chefs Joël Robuchon and Christophe Cussac to bring his cuisine to Monaco.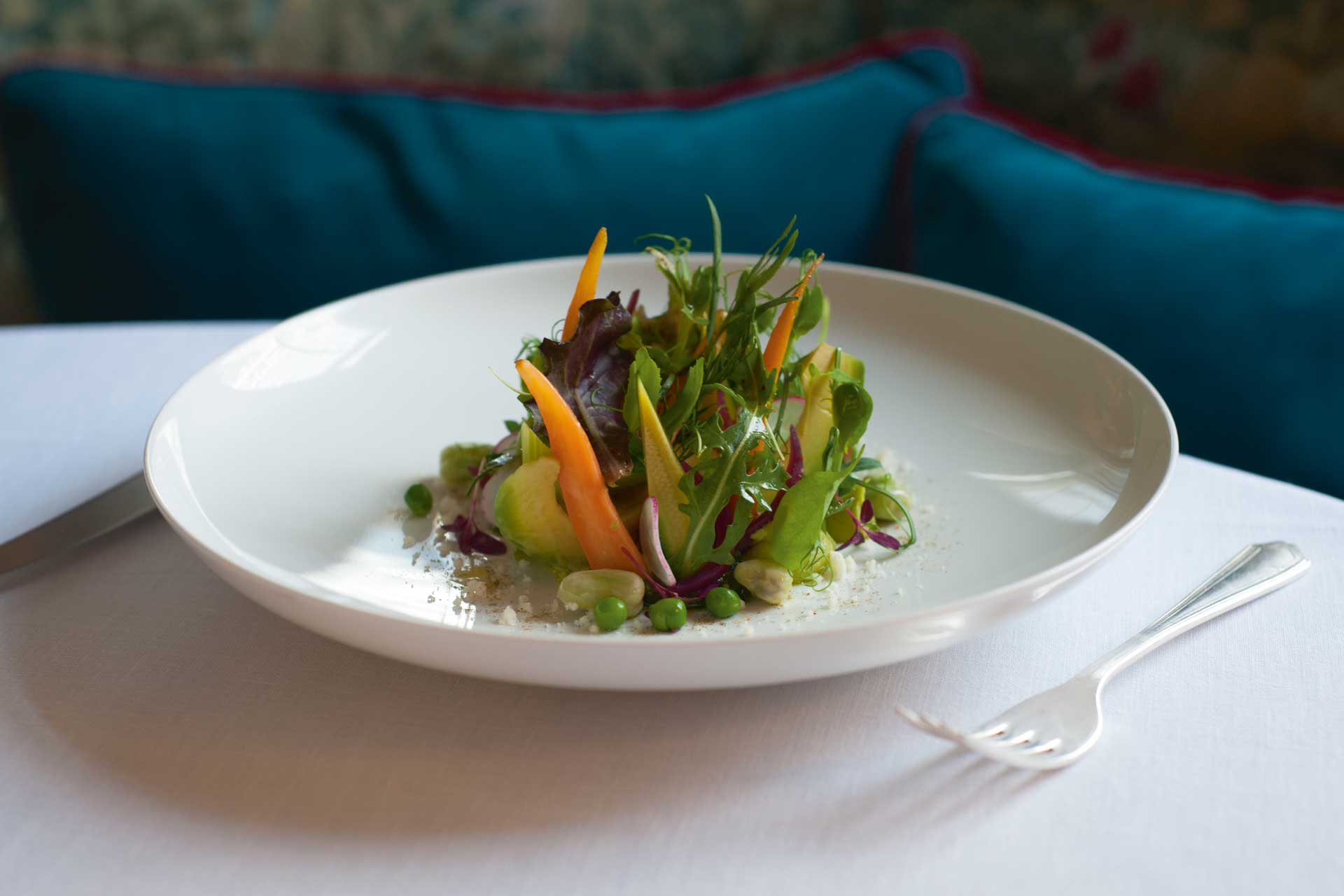 Special projects like these give Beck the chance to offer exciting new opportunities to his close-knit team. Alongside him today is Hero de Agostinos, for example, who first trained under Beck as an 18-year-old at La Pergola and was instrumental in ensuring that the pop-ups in Monte Carlo and London were successful; he's now Executive Chef of Beck at Brown's. "He gave me the chance to develop my skills," admits de Agostinos. "I'm a strong character but he's supported me for 22 years, which is fantastic." He's not the only one either, as Beck is only too happy to reel off the names of seven key members of staff who've worked with him for more than 20 years. Not bad when you consider how often top talent generally moves around in hospitality circles.
Beck has certainly come a long way since qualifying as a chef in Passau on the German-Austrian border in 1983. Stints in the highly regarded kitchens of Colombi Hotel in Freiburg, Residenz Heinz Winkler in Aschau, Tantris in Munich, Tristan in Mallorca and Grand Hotel Esplanade in Berlin broadened his repertoire, but it wasn't until Rome came calling in the mid '90s that Beck really cemented his reputation in the upper echelons of gastronomy. La Pergola opened in 1994 though its success was by no means a foregone conclusion; at the time, Beck didn't speak any Italian and he'd had precious little experience preparing Italian food. "I had to change my cooking style," he says matter of factly. "When I went to Italy, I didn't have a lot of Italian experiences."
Fortunately, Beck felt right at home with Italian cuisine from the very start. "Of course, it was a change but I adapted by studying, by learning and by understanding. If I'd gone to another country, perhaps I would've learnt a different way of producing my dishes. But for sure, my sensibility about ingredients, techniques and taste would have been the same because this is what's inside you. This is your talent, your passion, your way of thinking."
For Lydia Forte, the Group Director of Food & Beverage at Rocco Forte Hotels, who helped make Beck at Brown's happen, the huge impression he's made in Rome marks him out as a special chef. "The amazing thing about Heinz is that he's a German guy who made his name in Italian cuisine in Italy," she says. "The barriers that he must have had to overcome, can you imagine? Persuading Italian diners that a German chef was going to teach them about Italian food. But now he has lots of local customers and he's incredibly successful." Forte's clearly a fan of his food but she's equally effusive about the man, describing him in glowing terms as "a lovely, calm, amazingly humble chef" who "literally works all hours but somehow manages to keep his composure throughout", and in truth it's hard to imagine anything flustering such an amiable and positive personality either inside or outside the kitchen.
Indeed, you get the sense that Beck really can do anything he wants, whether that be launching more restaurants around the world or helping Rome's only triple-Michelin-starred restaurant to scale new heights. "I'm still developing every day," he says, another smile breaking across his face. "I'm not normally one to look back over what I've done, I prefer to look to the future and what I can do next." This is a chef who's clearly in a great place right now, both physically and mentally, and you certainly wouldn't bet against him teaching the world how Italian cuisine should be done for a good few years yet.
CREDITS
Words: Richard Frost
Photography: © Nicolas di Santo
Magazine: Supper 12