Irish whiskey, a category that nearly died out in the last century, is booming once more – with exciting expressions that appeal to casual drinkers and connoisseurs alike, writes Richard Frost.
Irish whiskey is currently in the midst of an extraordinary renaissance, which makes it all the more remarkable to think that the industry once came within a whisker of dying out completely.
One of Europe's oldest distilled drinks, Irish whiskey's heyday came in the mid-19th century when it ruled the roost as the single largest global spirits category, with more than 12 million nine-litre cases made every year according to the Alcohol Beverage Federation of Ireland. This success would prove to be short-lived, however, as business was decimated by a cocktail of damaging factors in the first half of the 20th century: two world wars, sharply deteriorating relations with the rest of the British Isles, and Prohibition in the US (leading to a flood of low-quality counterfeits from bootleggers). The last remaining producers gradually came to the conclusion that joining forces would benefit them all, paving the way for the creation of a new whiskey powerhouse called Irish Distillers in 1966.
Here at Irish Distillers' base in Midleton, County Cork, the history of both the company and the spirit itself is brought to life by the fabulous Irish Whiskey Archive. For archivist Carol Quinn, the watershed moment came in 1988 when Irish Distillers was acquired by drinks giant Pernod Ricard, giving it access to much-needed investment and global distribution channels. The deal clearly had an immense impact, with sales of flagship product Jameson soaring from 500,000 cases per year during the mid-1990s to 7.3 million cases by 2017/18. Nevertheless, the industry remained worryingly short of strength in depth for many years; it's sobering to reflect that, as recently as 2013, there were still only four distilleries producing and selling Irish whiskey. The transformation since then has been nothing short of astonishing, and there are now thought to be 21 distilleries operating in total.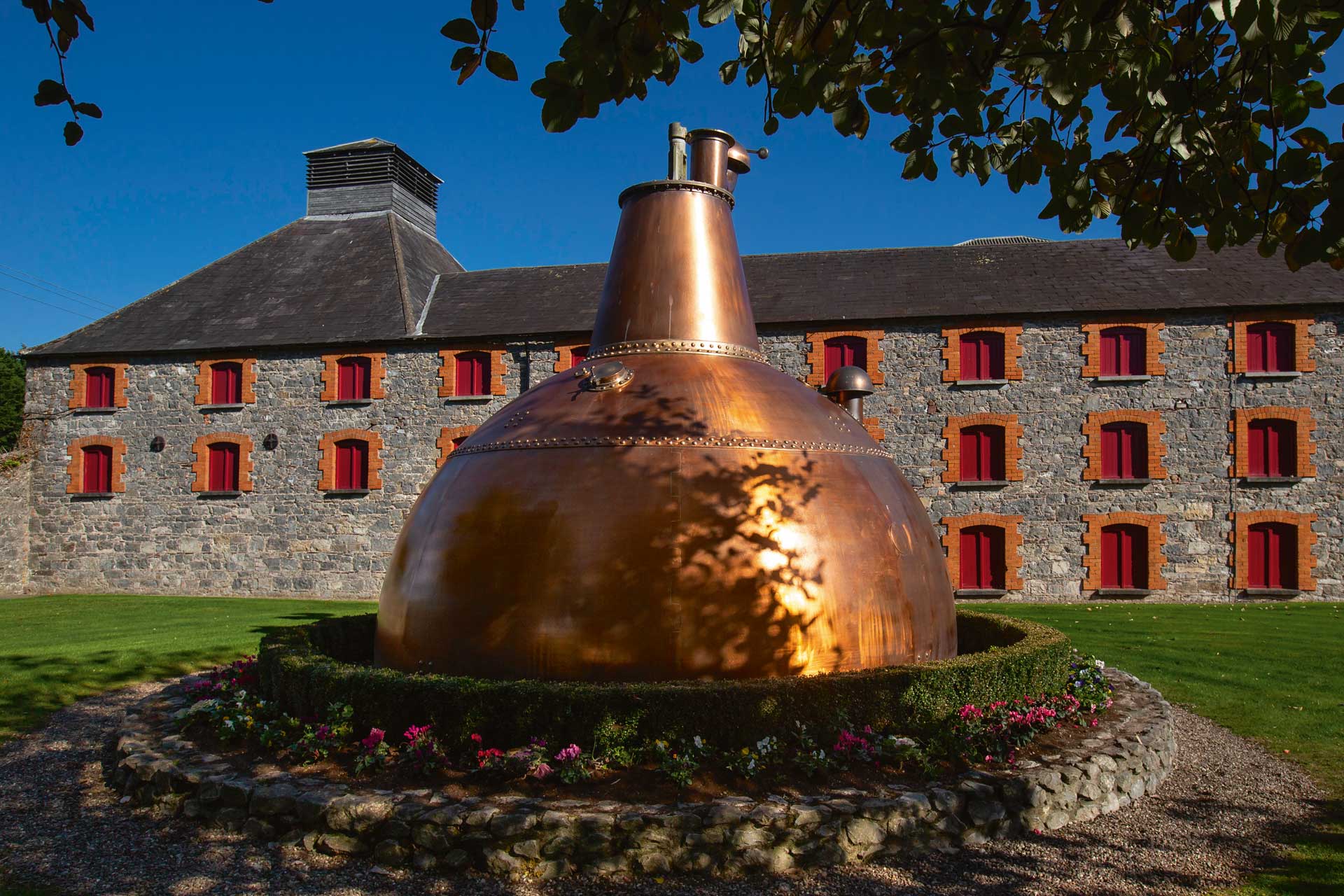 Before going any further, however, it may be useful to consider what exactly is meant by the term 'Irish whiskey'. To qualify, a spirit's production must take place somewhere on the island of Ireland, have a minimum ABV of 40%, and fall into one of four distinct categories: pot still, grain, malt or blended. Irish whiskey must also be matured in wooden casks for a minimum of three years although, contrary to popular belief, it does not have to be made exclusively from barley, free from the influence of peat, triple-distilled, or matured in sherry casks.
In fact, Irish distilleries enjoy a huge degree of flexibility when it comes to the processes allowed in crafting their whiskey – arguably much more than their counterparts working on scotch or bourbon (the Irish can age their spirit in any type of wood, for instance, whereas scotch producers must rely on oak, and those making bourbon have to use virgin oak). Even so, many Irish whiskeys still share several common properties in the glass: sweetness on the nose, a silky mouthfeel, upfront flavours of fruit and honey, and a relatively soft finish, resulting in a markedly easy-drinking style.
For countless consumers, Jameson Irish Whiskey is the first drink that springs to mind in this category; the world's best-selling version is a blend of pot still and fine grain whiskey aged in oak for a minimum of four years, producing an approachable spirit with a light floral fragrance and a delicate balance of spices, nuts and vanilla on the palate. Another stalwart of the scene, Bushmills Irish Whiskey, is a blend of triple-distilled malt and a lighter grain whiskey, characterised by a rich, smooth and gently warming taste. Meanwhile, the Spot Whiskeys range, named after the practice of daubing casks with different colours of paint according to the ageing potential of the whiskey within, has gained plenty of market traction in a trend likely to be boosted further by the revival of Red Spot Single Pot Still Irish Whiskey.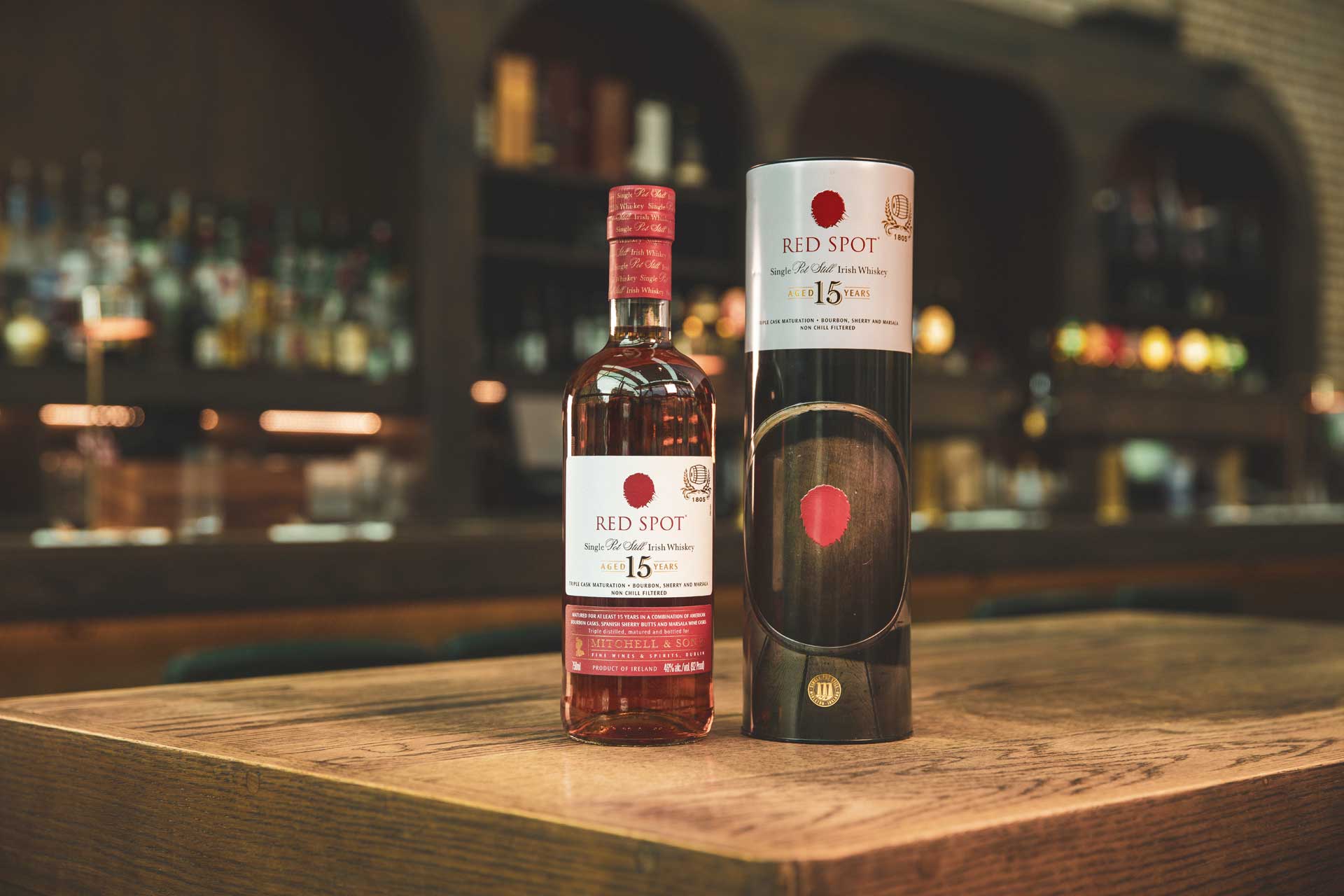 In November 2018, Irish Distillers finally put an end to feverish speculation when it announced that Red Spot, a whiskey last seen in the mid-1960s, would be making a comeback. The reimagined brand, which sits alongside the existing Green Spot and Yellow Spot, is a triple-distilled whiskey matured for a minimum of 15 years in a combination of casks pre-seasoned with bourbon, oloroso sherry and marsala fortified wine, and bottled at 46% ABV. "It has been 50 years since the world last saw Red Spot and whiskey enthusiasts have long awaited its return," says Kevin O'Gorman, Master of Maturation at Midleton Distillery. "This is a bold whiskey that packs a punch, has incredibly rich flavours and an extra-long infusion of fruits and spices on the finish that provides a truly unique and colourful ending."
Elsewhere, a host of up-and-coming distilleries are making a name for themselves by putting their own unique spin on the Irish whiskey category. Teeling is pushing the boundaries of what can be achieved through careful wood management, with its multi-layered Single Malt matured in no fewer than five different wine casks: port, sherry, madeira, white burgundy and cabernet sauvignon. At the same time, Dingle is successfully introducing the category to beer aficionados – the distillery was created by the team behind pioneering Irish craft brewery Porterhouse Brewing Company – and Echlinville is using barley grown in the surrounding fields to achieve its goal of 'producing spirit from field to glass'. Also worth noting is Connacht, which is celebrating the special relationship between Ireland and the US in products such as Brothership, a winning blend of smooth Irish malt whiskey and bold American whiskey.
Speaking of the US, the spiritual home of the cocktail, many Irish whiskeys are ideally suited to mixing because of their accessible flavour profiles, and this potential is not lost on Irish Distillers. In Midleton, the company offered a sneak preview of its latest innovation, Jameson Cold Brew. A combination of Jameson Irish Whiskey and cold-brew coffee extract crafted from 100% Fairtrade-certified Arabica beans, sweetened with a touch of sugar, Jameson Cold Brew offers a real caffeine hit with charred wood on the palate and a pleasantly warming finish. Bottled at 35% ABV, it promises to give a distinctive twist to the likes of Cold Fashioneds, Cold Brew Martinis and Espresso Martinis, as well as being highly refreshing served over ice.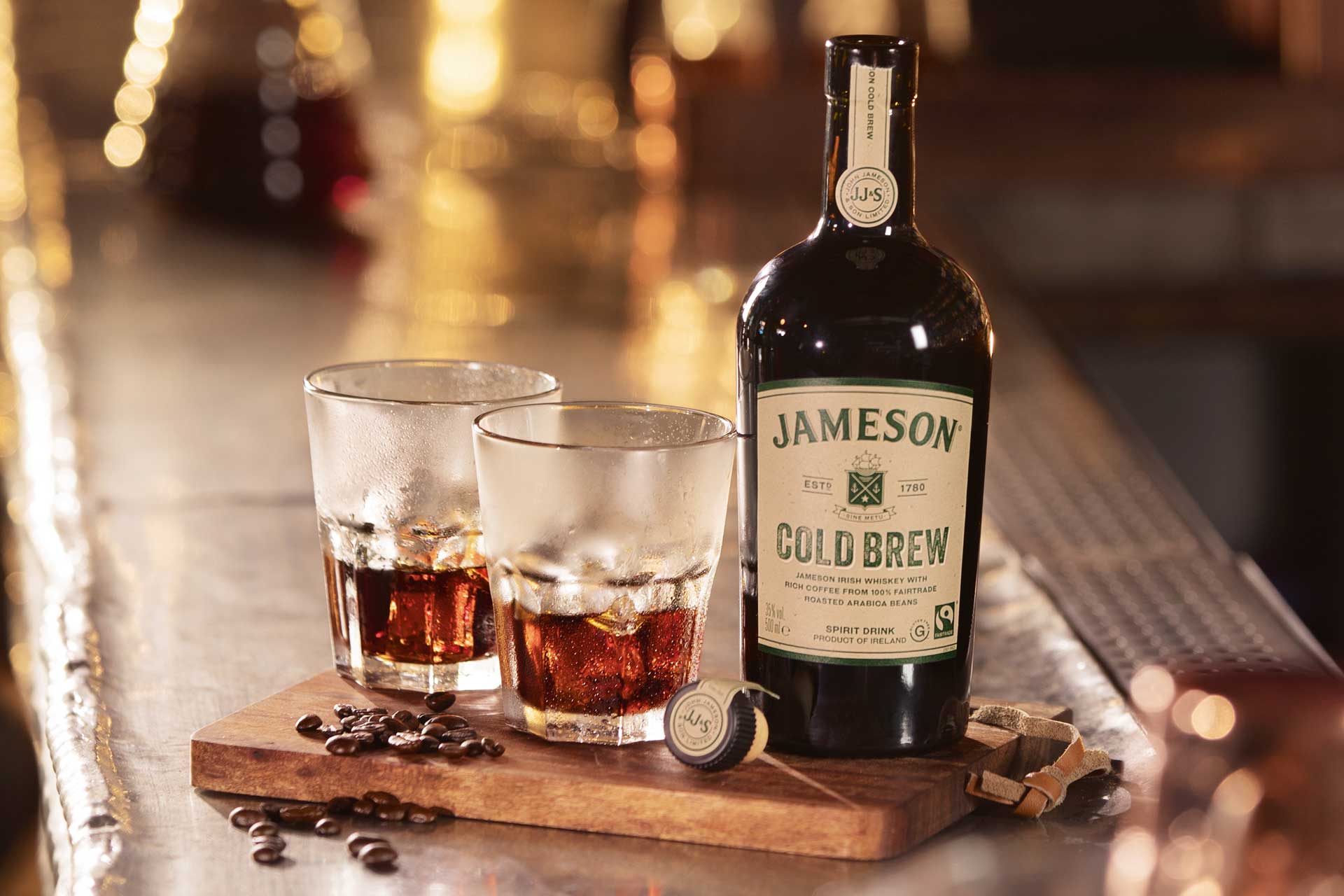 Irish whiskey's new-found confidence is clearly a boon for those working in the island's hospitality sector. At Restaurant Patrick Guilbaud, located in the heart of Dublin beside the 142-room Merrion Hotel, contemporary Irish cuisine with French classical influences is complemented by a whiskey collection that includes Jameson, Powers, Redbreast, Yellow Spot, Green Spot, Bushmills and Teeling. The island's only double-Michelin-starred restaurant has experienced a pick-up in Irish whiskey sales over the last couple of years, according to the Paris-born restaurateur whose name sits above the door, which he attributes in part to the proliferation of choice in the category. "I think there is more competition in this sector now, with a number of new distillers entering the market," says Guilbaud. "This has led to more awareness and interest as marketing spend and budgets increase." A strong increase in tourism to the Emerald Isle is also fuelling the sales rise, he adds, with visitors from the US (by far Irish whiskey's largest export market) especially interested in trying local produce during their stays.
Over in County Limerick, Adare Manor possesses an extensive whiskey collection comprising more than 100 rare bottles, mainly focused on Irish expressions – including a 1951 Knappogue Castle 36-Year-Old Cask 18 Private Collection; this remarkable variety behind the bar is one of the luxury hotel's unique selling points. "Many of our guests comment on the fact that they were aware of our collection prior to their arrival," notes Brian Lawlor, General Manager of onsite restaurant The Carriage House. Building on this expertise, the property decided to host a special whiskey evening in November at which attendees sampled rare expressions of Midleton, culminating in the launch of an exclusive single pot still Irish whiskey, the Adare Manor Midleton Very Rare. Tickets, priced at €2,000 per head, entitled guests to their very own bottle at the end of the night. "The evening was a huge success and thoroughly enjoyed by all who attended," says Lawlor. "It was a great gathering of guests with all levels of interest in whiskey: master distillers, collectors, investors and connoisseurs."
The future certainly looks promising for what is now one of the nation's calling cards. In October, Irish Distillers unveiled plans for a €150m investment into the company's sites in Cork and Dublin over the next two years in response to the growing international success of its whiskey portfolio. Earlier in the year, meanwhile, the Irish Whiskey Association (IWA) revealed that the industry was on track to sell 12 million nine-litre cases by 2020 – and laid down a target of doubling that figure by 2030. "Recently we increased sales across Europe and in emerging markets such as Canada, Mexico and Africa," says William Lavelle, Head of the IWA. "Going forward, Asia and the Far East is going to be a key focus for Irish whiskey export growth." Those dark days back in the last century, when Ireland's unique brand of whiskey was almost lost to the world, now seem a very long time ago indeed.
CREDITS
Words: Richard Frost
Headline Image: © Paul Lehane
Magazine: Supper 13