Tom Kerridge has come a long way since 2005 when the ambitious chef first decided to open his own place, taking over a rundown pub, The Hand & Flowers, in the small Buckinghamshire market town of Marlow. His kitchen quickly gained a reputation for serving refined versions of traditional British dishes in unpretentious surroundings, and accolades came flooding in, most notably in 2011 when it became the first to be pub awarded two Michelin stars.
Kerridge's profile was further boosted by appearances on BBC Two cooking competition Great British Menu, where he won the main course segment two years running (in 2010 and 2011), and penning a series of best-selling cookbooks. Expansion duly followed in the form of a second pub, The Coach, which opened in 2014 and collected a Michelin star in 2017, and The Butcher's Tap, a combined butcher's and pub that began trading in 2017; both are located in Marlow, within walking distance of his flagship. Now he has finally taken the plunge and launched his debut London restaurant, Kerridge's Bar & Grill at Corinthia Hotel London, with trusted lieutenant Nick Beardshaw leaving his post as Head Chef at The Coach to take up the same role here.
As the name suggests, the venue consists of two distinct parts: the bar is open to walk-ins throughout the day, serving up light snacks such as homemade scotch egg with mustard mayonnaise, and deep-fried baby squid with aioli; the grill, by contrast, operates a lunch and dinner service, and takes reservations – enabling the kitchen to deliver a much broader menu of reworked British classics. Many of the dishes on offer here possess a flavour intensity that can only come from spit-roasting, with the kitchen never missing an opportunity to cook meat, seafood and vegetables on the dining room's very own rotisserie, which comes complete with its own counter top and seating; Kerridge reckons that this rotisserie is the restaurant's standout feature. "It gives you an even cook from the edge to the centre of the meat, giving you consistency with every dish," he explains. "People also really enjoy sitting on the high stools by the grill, watching the chefs in action."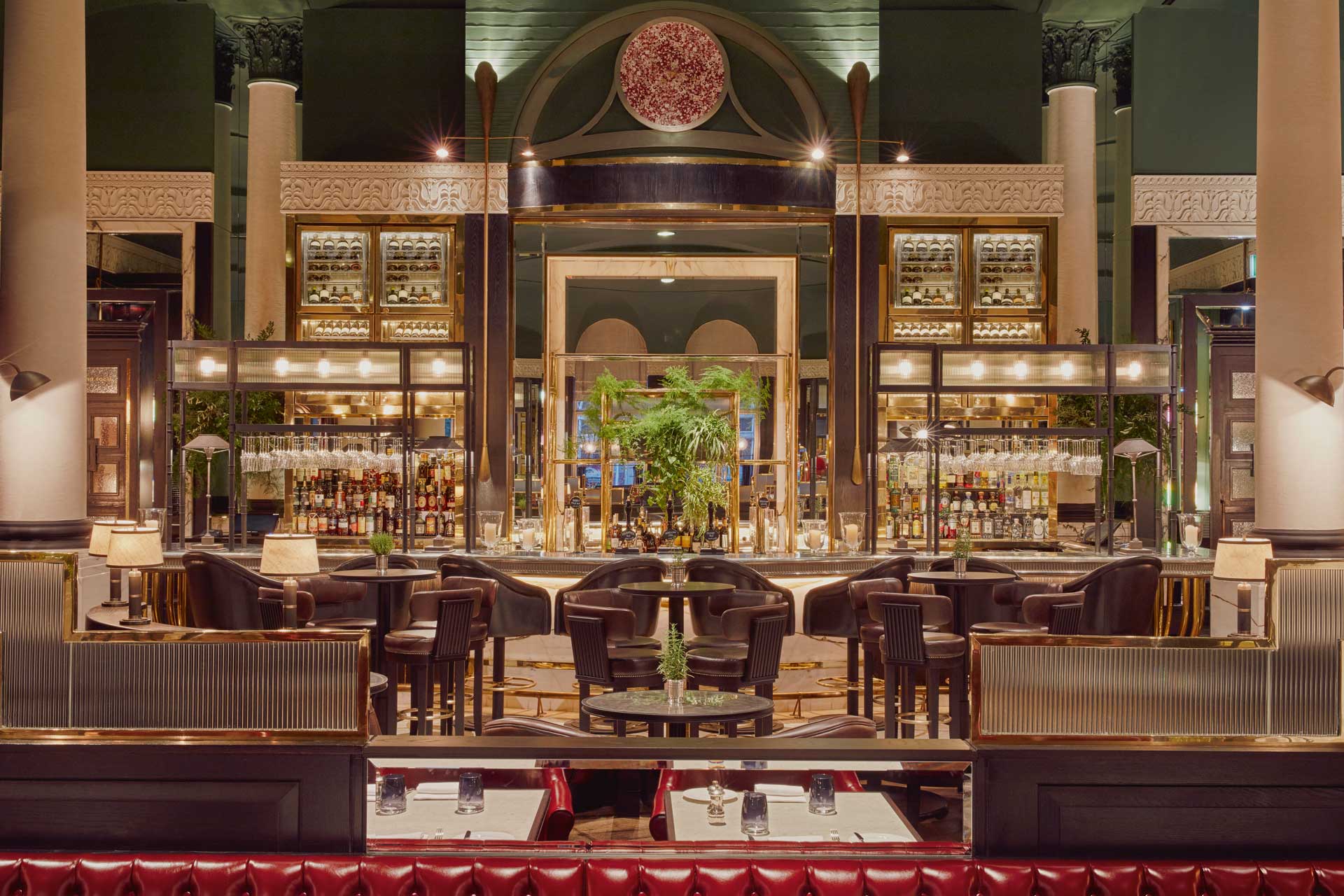 The rotisserie's influence is felt most strongly on the mains, not least in dishes such as the crowd-pleasing rib of beef with chips, bone-marrow sauce and gherkin ketchup; or the loin of tender Ramsbury Estates venison served with a melt-in-the-mouth carrot, slow-roasted for six hours just like at The Hand & Flowers, accompanied by a parsley emulsion and hearty cottage pie. Kerridge's signature dish, fish and chips with tartare, pease pudding and curry sauce, also makes an appearance, transforming the British seaside classic into something far more elegant by using premium fish encased in a light batter that allows the fillet to steam to perfection. A supremely delicate touch is also evident across the starters, which include the likes of Essex beetroot salad, Loch Duart salmon and a terrific Cornish crab vol-au-vent, where the well-seasoned crab meat is perfectly complemented by a creamy bisque served separately. Dishes are served on smart dinnerware by Goodfellows and William Edwards, accompanied by elegant Studio William cutlery; the high-quality tableware's visual appeal is further reinforced by the addition of luxury pewter candle holders from Cosi Tabellini, bathing the tabletop in a warm glow that shows everything in the best possible light.
Kerridge's obsession with provenance is apparent across the menu; the rib of beef, for example, comes from his own butcher, while he also draws heavily on produce from Flying Fish Seafoods in Cornwall. Several foodstuffs, including meats, cheeses and breads, are even presented as an attraction in their own right, displayed in feature fridges and cabinets lined up against the walls. It's a similar story on the drinks side, where the bar proudly serves up cask ales on draught from Marlow-based Rebellion Beer Co in a clear reference to Kerridge's pub background, while Head Sommelier Charles Beaini oversees a 600-strong wine list notable for including top English vineyards like Ridgeview, Nyetimber and Denbies.
The concept behind Kerridge's Bar & Grill is obviously a world away from that of Massimo, the previous restaurant here, which dished up sophisticated Italian cuisine in an Art Deco-influenced space dominated by statement globe lighting. "It became apparent that we needed to have a stronger identity within our food and beverage outlets, especially in the ever-more competitive London restaurant scene," says Benjamin Hofer, Director of F&B at Corinthia Hotel London. David Collins Studio, which actually designed Massimo in 2011, was brought back to help realise the team's vision. "The brief was to create a very welcoming space," recalls Simon Rawlings, the interior design studio's Creative Director. "A room that reflected Tom's personality and food, with a nod to The Hand & Flowers."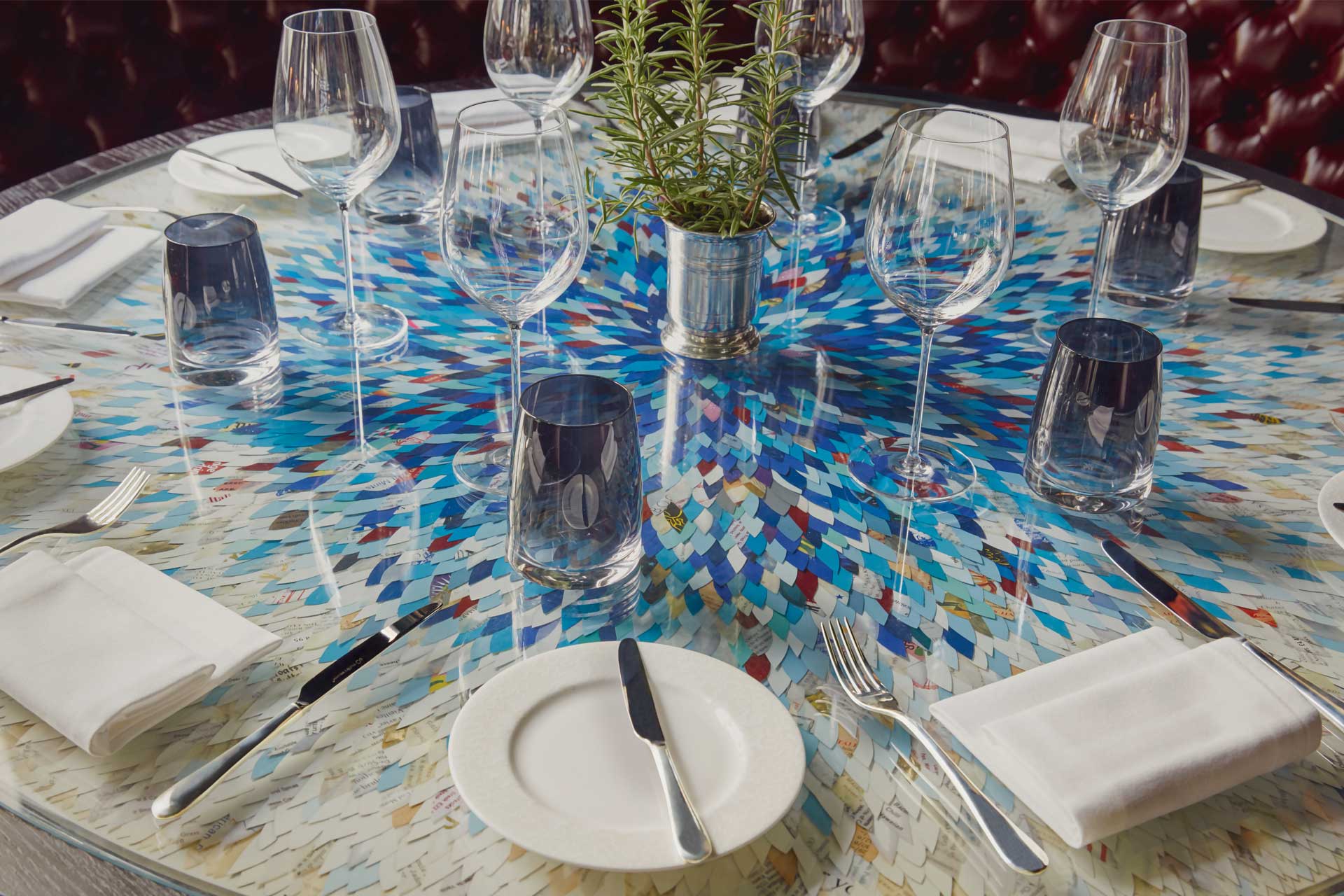 Following a total refurbishment, the new-look restaurant certainly feels more inviting, with a mix of curved leather banquettes, lounge seats, bar stools and dining chairs catering to casual bites as much as indulgent three-course meals. For Rawlings, the project's greatest success is the way in which it manages to create a sense of intimacy, even cosiness, in what remains a large space with unusually high ceilings; partly, this is down to the adoption of a warm colour palette in which the deep browns and burgundies of the furniture are offset by feature walls and ceilings painted a striking green hue. "The colouring of the ceiling made the room feel dramatic and also brought the focus down to the tables and the food," he reflects. "My wife suggested I look at Grand Central Station in New York to understand large spaces, and the inspiration and colouring came from there."
The restaurant's personality is also shaped by the artworks on show, carefully curated by Shoreditch-based gallery West Contemporary. Most compelling is a large bronze statue of a men's suit in the middle of the dining room by Beth Cullen-Kerridge, not only the chef's wife and business partner but a successful sculptor in her own right, while a dedicated art wall showcases pieces by Chris Moon, Jim Threapleton and Mark Beattie. Kerridge takes a personal interest in the art featured; a couple of years ago, he asked his social media followers to share their treasured food memories, and thousands responded, sending in menus they had collected from special occasions ranging from first dates to meals-of-a-lifetime. Mixed-media artist Robi Walters then painstakingly cut these mementoes into petal shapes to create two bespoke tabletops for the restaurant, which in pleasing symmetry diners can now use to create their own food memories.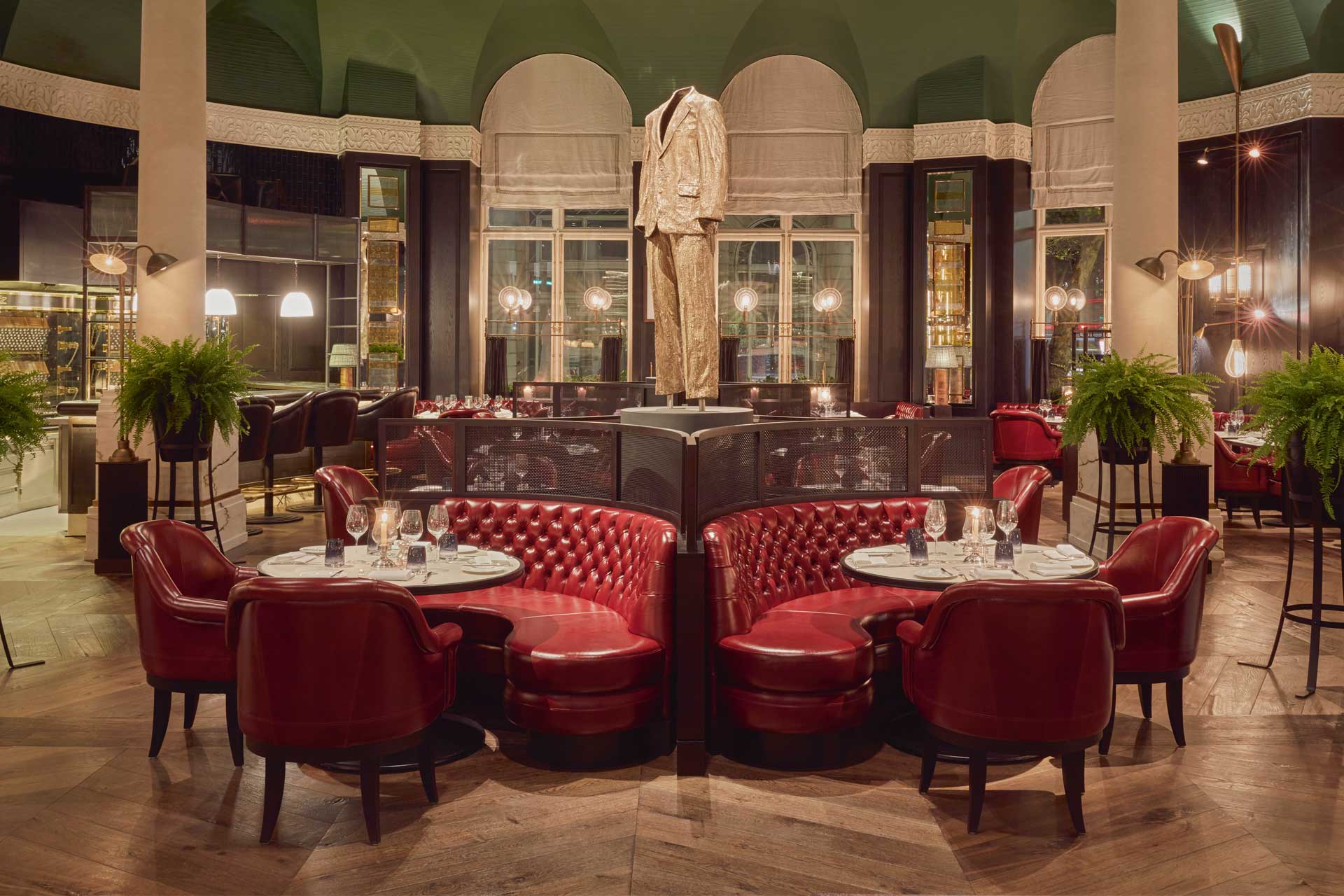 It's clear that locals and international guests alike have really taken to Kerridge's Bar & Grill, which manages to retain some of The Hand & Flower's informality while still fitting in with the opulence of Corinthia Hotel London. Hofer, assessing what has changed from the hotel's perspective, views the opening as a key part of management's efforts to elevate the whole F&B offering; a project that has also seen the launch of a new afternoon tea service in the Crystal Moon Lounge, the introduction of a innovative cocktail menu at Bassoon, and the appointment of André Garrett as the property's Executive Chef, overseeing a fresh direction for The Northall among other duties. As for Kerridge, he reveals that the restaurant has surpassed all of his expectations, adding: "The room is outstanding and the food has hit a rhythm and groove that we are comfortable with already, even though it's early doors."
This talented and likeable chef has come on leaps and bounds since the moment he first collected the keys to an unremarkable pub in Marlow 14 years ago. His first London restaurant, inside one of the UK's most prestigious hotels, will doubtless introduce a whole new audience to his winning take on traditional British cuisine.
IN A BITE
Covers: 90 (restaurant), 40 (bar), 16 (private dining)
Owner: Corinthia Hotel London, Tom Kerridge
Interior Design: David Collins Studio
Signature Chef: Tom Kerridge
Head Chef: Nick Beardshaw
Restaurant Director: Tomas Kubart
Head Sommelier: Charles Beaini
Dinnerware: Goodfellows, William Edwards
Cutlery: Studio William
Pewter Candle Holders: Cosi Tabellini
Art Consultant: West Contemporary
Lighting Design: DPA Lighting
Menu and Graphic Design: Gunter Piekarski
www.kerridgesbarandgrill.co.uk
CREDITS
Words: Richard Frost
Photography: © Kensington Leverne (unless otherwise stated)
Headline Image: © Cristian Barnett
Magazine: Supper 13