Ever since French wine merchant Daniel Nicholas Thévenon first opened a restaurant under the Café Royal name in 1865, this well-located site on London's Regent Street has been synonymous with quality food and drink. At one point, the venue was reputed to have the greatest wine cellar in the world, and welcomed a veritable who's who of celebrities from Rudyard Kipling, Arthur Conan Doyle and H.G. Wells to Winston Churchill, Muhammad Ali and Elizabeth Taylor. Café Royal closed its doors for the final time in 2008 but the name lives on thanks to The Set Hotels, which spared no expense transforming it into Hotel Café Royal, an impressive 160-room property that launched in 2012.
Given this enviable history, it should perhaps come as no surprise that the hotel is very much putting F&B centrestage with the launch of a new restaurant by Laurent Tourondel. The French-born chef actually worked at Café Royal in his formative years but is now best known in the US, where he has a string of venues across New York as well as in The Ritz-Carlton properties in Charlotte and San Juan, and The Betsy South Beach in Miami. Surprisingly, he has never before had a restaurant in Europe.
The new 110-cover venue, Laurent at Café Royal, is certainly a significant statement of intent and it's clear from the off that the partnership between the hotel, Tourondel and architect and designer Piero Lissoni of Lissoni Associati has gone out of its way to marry new and old.  "I tried to maintain an open dialogue between myself, a contemporary architect, and the historic building and cultures of the city," says Lissoni. "I endeavoured to avoid any conflict with the building's history but have instead sought a dialogue."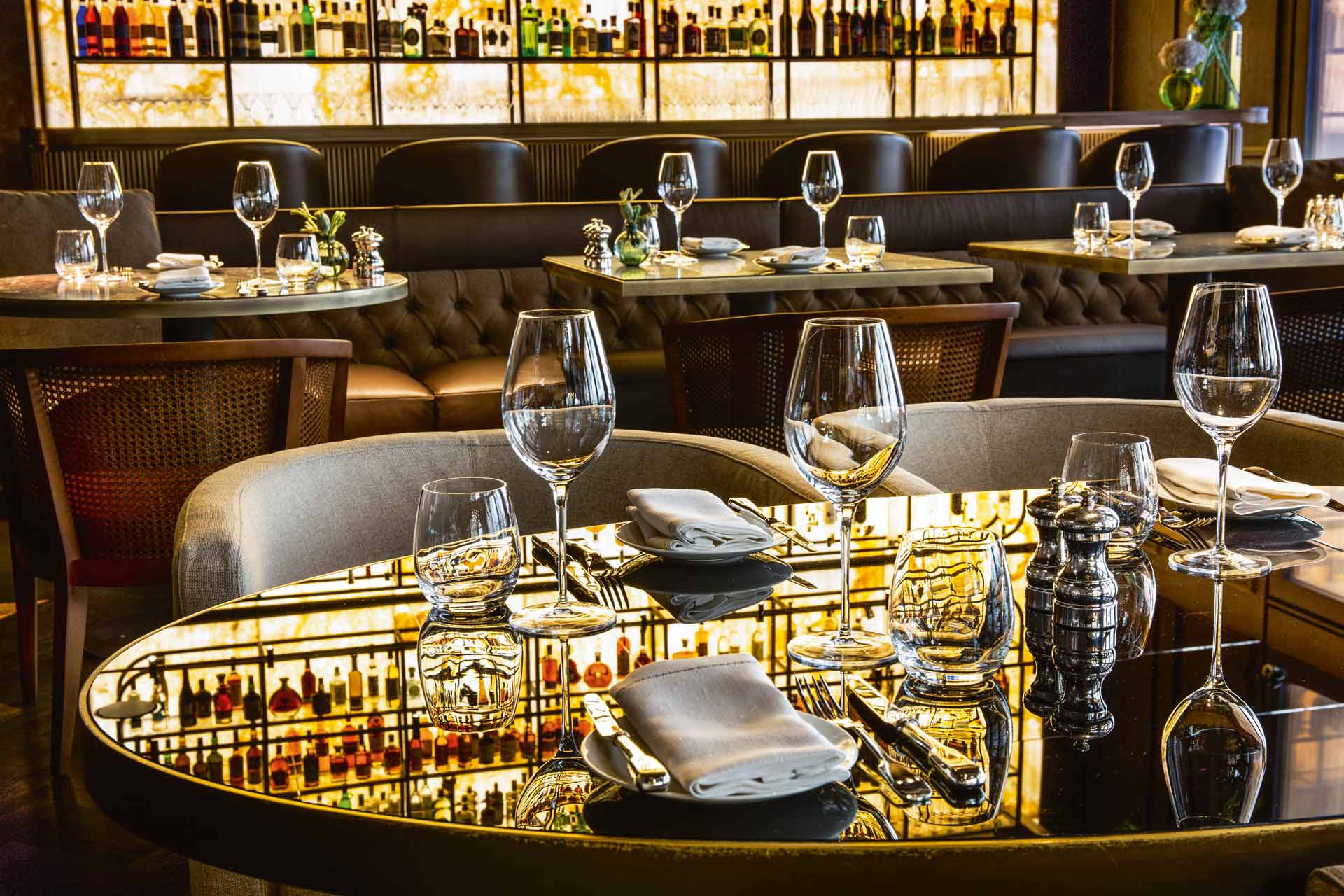 Upon entering the first-floor restaurant, guests are immediately presented with expansive views across the kitchen where they can watch a team led by Head Chef Gabriel Belmonte preparing meat, fish and vegetables on a traditional parrilla grill. Immediately on the left is a cosy sushi bar, while the kitchen sits between the two main dining spaces, both of which feature a restrained colour palette of dark brown, grey and bronze. The first is a self-contained room with a towering backbar at one end and a private dining table at the other; it's proving popular with breakfast and lunch guests in particular, helped no doubt by the natural light flooding in from Regent Street. The second, which welcomes plenty of dinner guests, overlooks the hotel's new ground-floor lobby, with seating around the outside and a 17-foot Murano glass chandelier weighing more than 350 kilogrammes by Vistosi in the centre. This chandelier is a key part of the overall design vision for Lissoni, who explains that the "minimalist yet opulent piece will give a sense of space and glamour that marries the building's gilded past with its patrons' contemporary lifestyles".
The parrilla grill exerts a strong influence over the lunch and dinner menus, with diners able to choose from umami-rich steaks and spatchcocked poussin 'diablo' (a real favourite of the chef, served with a vinegar-based sauce, juicy cherry peppers and tarragon leaves), as well as seafood dishes such as king prawns, Dover sole and swordfish, and vegetarian items like cauliflower couscous with za'atar-roasted carrots, charred aubergine purée, currants, almonds and harissa yoghurt. And in an interesting move inspired by Tourondel's New York experiences, the restaurant serves popovers (crispy on the outside, fluffy on the inside) at the beginning of lunches and dinners. "The popover is always one of my signature dishes given that it is present across my restaurants," says Tourondel. "It is my own version of a Yorkshire pudding. It is made with two different types of cheese – Cheddar and Gouda – and we serve it with warm butter in place of bread at the start of the meal."
The new sushi bar, meanwhile, adds a completely different element to the mix; diners can try lighter sashimi, sushi and raw fish dishes like Kamchatka king crab nigiri poached in lime butter with British wasabi and golden Oscietra caviar. The dessert menu continues the innovative theme with creations such as a rich milk chocolate peanut butter croquant with melt-in-the-mouth banana ice cream, and coconut meringue and wild strawberries with orange butter and passion fruit. Each menu item is presented on stylish dinnerware by Goodfellows, which worked closely with Tourondel to achieve the desired effect. Earthy tones of cream, charcoal and green were chosen to complement the dishes and interiors, including a combination of matte and glossy finishes alongside oak wooden boards with brass accent trims.
The food is supported by an extensive wine list overseen by Head Sommelier Sam Heathcote which, inspired by Café Royal's oenological history, has a particular emphasis on French producers. And the bar, headed up by Bar Manager Robert Judd, offers a range of classic cocktails as well as beer and sake options that pair well with Tourondel's cuisine.
As an all-day dining concept, Laurent at Café Royal aims to attract regular customers with an approach that is equal parts relaxed and refined. The kitchen is given all of the tools necessary in order to deliver a consistently excellent dining experience, not least because it works independently from the rest of the hotel, with staff not expected to participate in conference and banqueting or room service. This also creates a unique selling point, since gastronomes know that the only way to experience Tourondel's cuisine for themselves is by booking into the restaurant proper.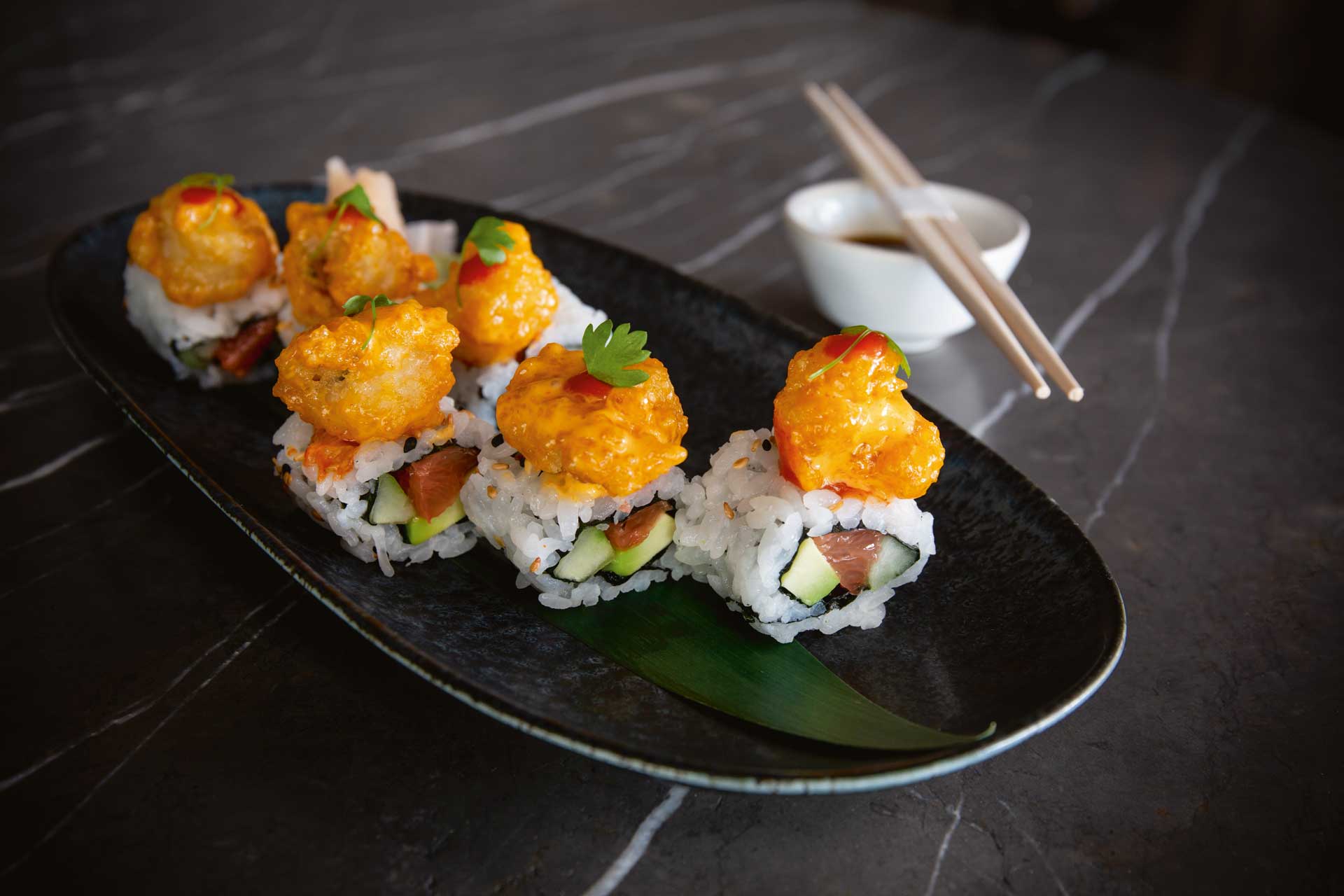 The total cost of developing Laurent at Café Royal and the lobby space – along with a new first-floor bar called Ziggy's that pays homage to former Café Royal patron David Bowie – was £5m, but the hotel is in no doubt that this is money well spent given the overwhelmingly positive feedback received from guests so far. For his part, Tourondel is delighted with the look and feel of the first European venue to bear his name. "The project has exceeded my expectations," he reveals. "The design, outstanding kitchen and front-of-house teams along with ownership have worked together to transform the space into a fantastic and unique dining destination."
However, Hotel Café Royal has no plans to rest on its laurels and is instead pressing ahead with another exciting F&B project. Pastry chef Albert Adrià, who helped turn Catalonia's El Bulli into the world's best restaurant in a legendary partnership with his brother Ferran and restaurateur Juli Soler, has chosen the hotel to host his first permanent site outside Spain. Cakes & Bubbles will replace European café Papillon with a concept built around selling desserts such as cheesecake, fruitcake and pastries, alongside sparkling wines from the Champagne region and beyond.
Due to open in November 2018, the new venture will further strengthen a hotel F&B offering that already includes Laurent at Café Royal, Ziggy's, the Green Bar and the Oscar Wilde Lounge – a plush afternoon tea destination named after the Irish playwright who regularly dined here. Each venue offers a unique experience to guests; taken together, they ensure Café Royal's reputation for quality food and drink will live on for many years to come.
IN A BITE
Covers: 110
Owner: The Set Hotels
Architecture / Interior Design: Lissoni Associati
Executive Chef: Laurent Tourondel
Head Chef: Gabriel Belmonte
F&B Manager: Kerry O'Connor
Head Bartender: Robert Judd
Head Sommelier: Sam Heathcote
Restaurant General Manager: Dinos Tagkalos
Dinnerware / Serveware: Goodfellows
Cutlery: Goodfellows, William Edwards, Merlin Buffet Systems, W. Wright, Heritage, Sambonet, La Tavola
Glassware: Luigi Bormioli, La Porcellana, Ce-Ces, John Jenkins, Urban Bar, Ascot Wholesale
Graphic Design / Branding: Zoo Communications
Uniform Design: HEMYCA
www.hotelcaferoyal.com
CREDITS
Words: Richard Frost
Photography: Courtesy of Hotel Café Royal
Magazine: Supper 12