Rooftop bars are ten-a-penny in New York these days with each new addition to the skyline bidding to outdo its competitors through the promise of spectacular views and creative cocktails.
There's one newcomer however that has undoubtedly captured the attention of the market, not only for its size, but for its playful concept. Located on the 18th floor of Moxy Times Square – the first of five Moxy hotels planned for New York City – Magic Hour Rooftop Bar & Lounge is designed to disrupt, provoke and entertain, and has already made waves having scooped an AHEAD award earlier this year, beating off stiff competition from popular nightspots across the Americas.
The hotel itself opened in September 2017 and comes from Lightstone, a privately held real estate firm with a portfolio of 3,800 keys. Having spent many years evaluating the New York market, the company identified a need for affordable, micro-format lifestyle hotels with smartly designed guestrooms coupled with socially activated public spaces, but didn't want to go it alone. "Knowing the business very well, we realise that distribution is critical," explains Mitchell Hochberg, President of Lightstone. "Getting people to come to a hotel is very competitive, especially in the lifestyle space, so we felt we needed a partner that had the ability to attract guests."
Lightstone had already partnered with Marriott International on a number of its other developments, and following initial discussions, set about bringing Moxy to the city. At the time, the brand portfolio didn't reach far beyond its inaugural property at Milan Malpensa Airport, and although the concept was a good fit for Lightstone, the consensus was that some components required further development. "It had the small rooms that were cleverly designed, but it didn't have the food and beverage and other amenities we were looking for," continues Hochberg. "So we said to them, if you let us work with the brand and develop it for a more urban environment, we think it could be very appealing."
And so they did. In bringing Moxy Times Square to life, Lightstone assembled a team of collaborators based on their areas of expertise: Stonehill Taylor relocated the entrance and added a double-height atrium for an enhanced sense of arrival; Yabu Pushelberg designed the 612 guestrooms and second-floor public spaces; Tao Group created the F&B programme; and Rockwell Group was brought in to design the restaurant and bar spaces.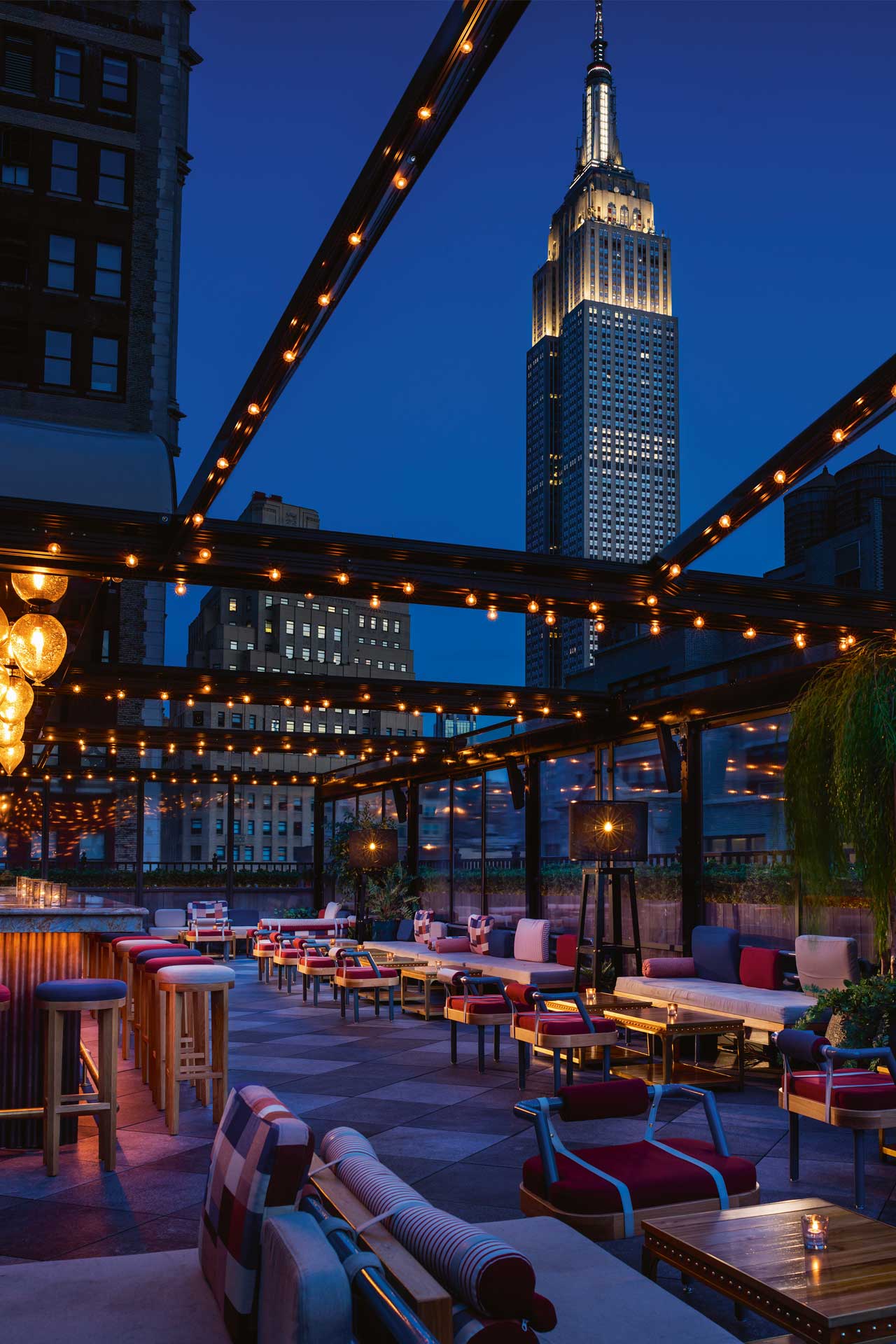 The F&B offer includes Legasea, a 185-seat seafood brasserie helmed by Executive Chef Jason Hall; Egghead, a street-side all-day breakfast spot; and Magic Hour Rooftop Bar & Lounge, the hotel's crowning glory. All are operated by Tao Group, which is behind some of the most successful food, beverage and nightlife entertainment venues in the US, including Marquee and Lavo.
At Moxy Times Square, Tao Group opted to establish an entirely new concept, seeking to capitalise on the energy of its location and create a true destination bar. Spanning 10,000ft2, Magic Hour is New York City's largest all-season hotel rooftop bar; almost within touching distance of the Empire State Building, it offers monumental views of the skyline, and the interiors – billed as an 'urban amusement park' – are equally eye-catching.
"The hotel is located in a lively area between Times Square and Madison Square Garden, so we wanted to create a destination that responds to the rhythm and flow of the neighbourhood," explains Shawn Sullivan, Partner, Rockwell Group. "It was a unique opportunity to design an array of spaces suitable for both the guests and the thousands of people walking by outside, anyone coming or going from a show and people who work in the area. We really feel like it's a unique experience that didn't exist before in the neighbourhood."
With its own separate street entrance, the journey to the rooftop is an experience in itself and typical of Rockwell's theatrical aesthetic. "We developed a labyrinth-inspired arrival experience that's dark and mysterious," Sullivan continues. "Guests enter through an overscaled wrought-iron entry gate with neon signage and then continue through a tent-like fabric tunnel animated by colourful marquee light bulbs with a hypnotic black-and-white swirl at the end. From there, they enter a small stage door, behind which is a ticketing area with mirror screens and vanity lights, evoking a backstage dressing room. A dedicated elevator then takes them to a dark lobby with a giant custom funhouse mirror."
Inside, the bar is split into five unique environments, each catering to a different clientele. "We worked with Tao Group and Lightstone to create a series of fun and coherent spaces, not just a sequence of formalised rituals," confirms Sullivan. "Ultimately, we conceived the rooftop as a modern reinterpretation of classic amusement parks. Magic Hour features multiple bars and seating areas, each with a distinct vibe and design sensibility. It really feels like a place of discovery."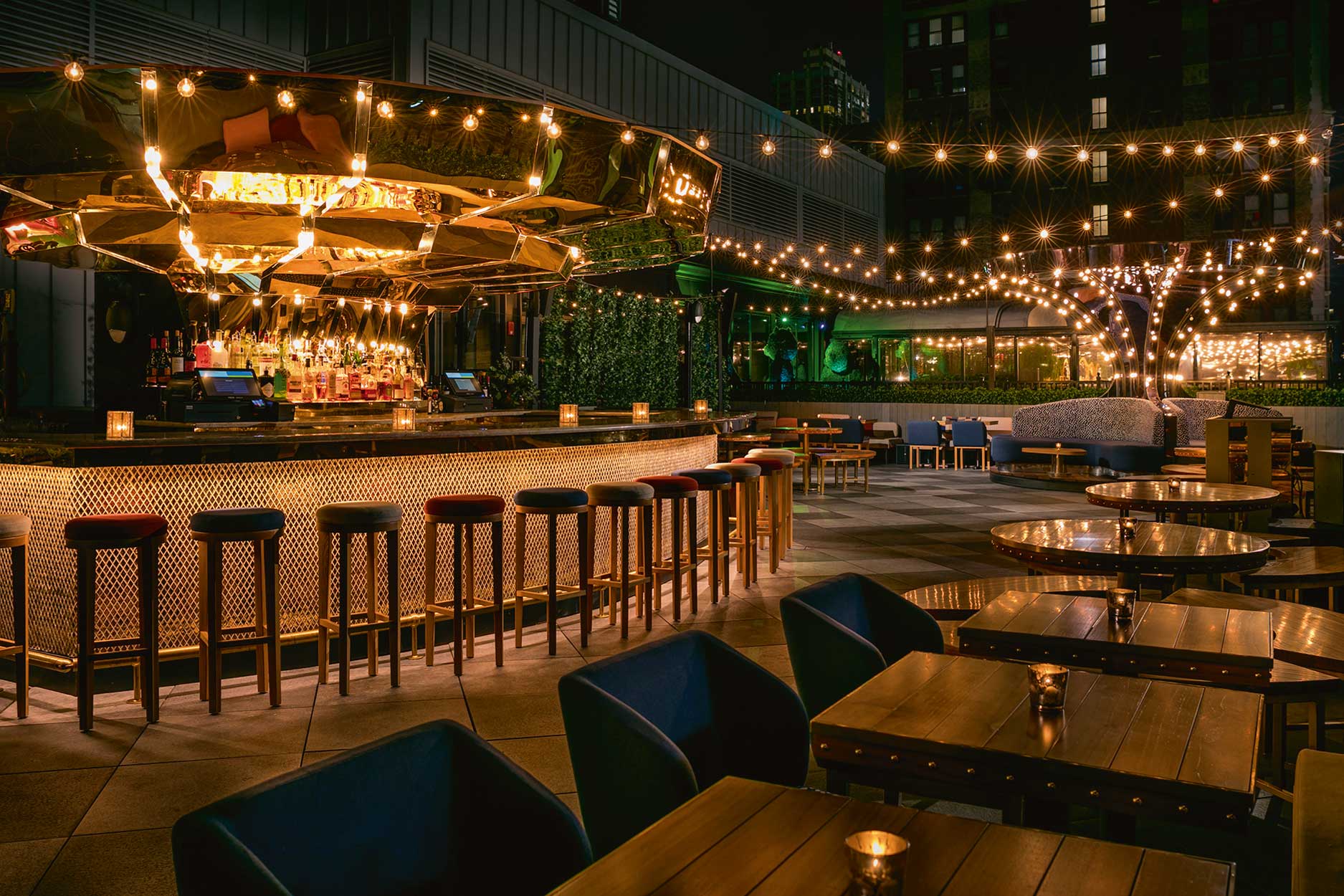 The two outdoor spaces, covered by a retractable roof in the cooler months, are markedly different. On the east side, overlooking the Empire State Building, Rockwell Group has opted for an elegant garden-party setting, with plush armchairs and festoon lighting. The west meanwhile, is overtly carnival-esque, featuring an antique rotating carousel and blown glass balloon pendants floating above the bar. Those who explore further are rewarded with the Elephant Room, a cosy lounge designed in an urban-industrial style, with wire mesh panels riveted to the ceiling and walls alongside materials such as wood, metal and leather.
Being Moxy – a brand that doesn't like to take itself too seriously – there are unexpected moments that have been a huge hit on social media. The gallery-like entrance hall features whimsical topiary animals in suggestive positions, and tucked into a corner is the hotel's most Instagrammed feature. Foreplay is a miniature putt-putt course designed by Tao Group, that, instead of windmills, has statuettes of animals in flirty poses, one blindfolded, another pole-dancing.
The menu is equally wondrous with modern takes on fairground classics such as Lobster Rolls, Disco Waffle Fries and Ice Cream Sandwiches, along with a list of decadent cocktails. And Tao has pulled out all the stops with its sharing cocktails, which include High Octane – a heady concoction of Don Julio Blanco Tequila, Caramelised Pineapple and Jalapeno Syrup served in a fanciful fuel pump; and the US$250 Disco Ball For All – a potent Absolut Elyx Bajan Punch that arrives at the table in a glittering cocktail ball.
Perhaps the cheekiest addition to the menu is the option to book one of the $99 Crashpads. It was decided that the hotel's smallest rooms were too miniscule to sell as standard, so they appear on Magic Hour's menu for those who have had a few too many rounds on the carousel.
IN A BITE
Owner: Lightstone
Operator: Marriott International (hotel), Tao Group (F&B)
Architecture: Stonehill Taylor
Interior Design: Rockwell Group (F&B), Yabu Pushelberg (guestrooms and public spaces)
Main Contractor: C&A Seneca Construction
Executive Chef: Jason Hall
Director of F&B: Evan Puchalsky
Beverage Manager: Nikki McCutcheon
Dinnerware: Robert Gordon, Serrax
Glassware: Serrax
Buffetware: Steelite
Menu Design: Gregory Homs
www.moxytimessquare.com
CREDITS
Words: Catherine Martin
Photography: © Warren Jagger
Magazine: Supper 12