Chef Martha Ortiz discusses her cultural influences, choosing InterContinental Park Lane London for her first restaurant outside Mexico, and inspiring women to pursue careers in F&B with Richard Frost.
You can tell a lot about a person from how they break the ice with someone new.
Some chefs suffer from tunnel vision, so focused on achieving culinary excellence that they can talk about little else. Martha Ortiz is different. After sweeping into Ella Canta, her new restaurant at InterContinental London Park Lane, the first thing she wants to chat about is not food or drink but rather her admiration for Mexican film director Guillermo del Toro. She is tickled by his recent answer to a journalist's question about how he balances exploring the darker side of human nature with being a joyful and loving person – "I'm Mexican" – and jokes that she uses the same answer at every opportunity.
It's not just film directors that inspire Ortiz, however, as her freewheeling conversation is full of anecdotes about famous novelists, poets, artists, scholars, opera singers, politicians, architects and designers from her native Mexico who have all played a part in shaping who she is today. "Food is fantastic but I think it needs to eat other things, cultural things, poetry, architecture, beauty," she says. "I'm not a chef that goes to the market just to buy the products, in my country I feel all this inspiration."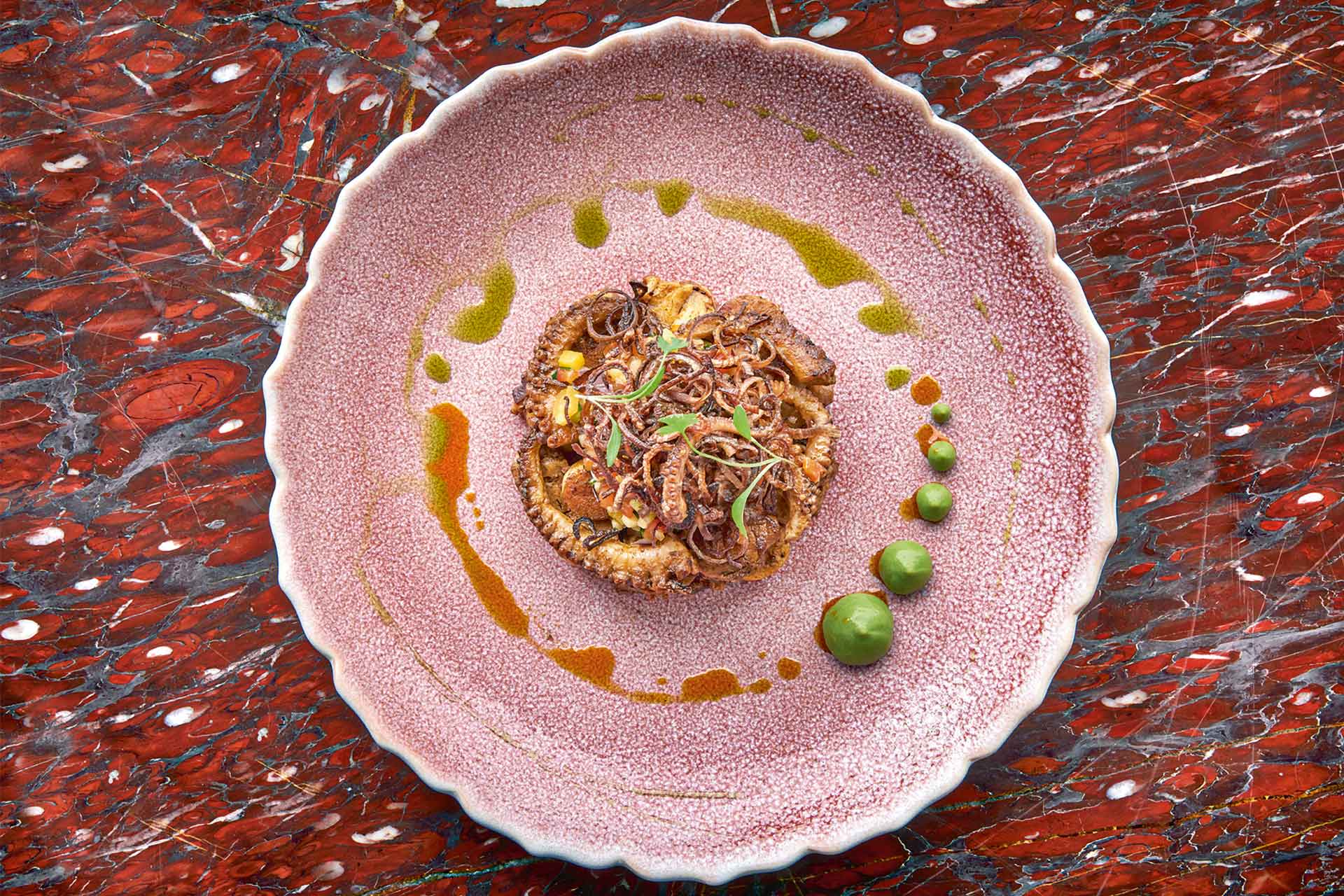 The restaurant we're currently sitting in, by interior design practice David Collins Studio and its Creative Director Simon Rawlings, brings Ortiz's broad range of cultural influences to life with warm colours and geometric shapes that celebrate the architecture of Ricardo Legoretta, the striking ceramics of Gustavo Perez and the textures of Ernesto Alva. Drawing together the whole space is a handcarved wall-to-ceiling walnut screen, inspired by the work of Mexican furniture designer Eugenio Escudero, whose organic form runs the full length of the restaurant partitioning off different sections while still being permeable enough to give a sense of openness; when I ask Ortiz to pick the design element that she's most proud of, it comes as no surprise when she singles this out.
Another characteristically bold design choice manifests itself in the serving uniforms of the waiting staff. Ortiz's conviction that "we need to look like Mexicans" meant that there was never any prospect of giving the front-of-house team generic uniforms, which she claims would have made her feel very sad. Instead, front-of-house staff are attired in distinctive waistcoats, elegant jumpsuits and flowing dresses designed by British label 1947 in shades of burnt orange, teal and powder blue, frequently accessorised with colourful floral headpieces.
It's all a far cry from the nondescript white-and-brown aesthetic of the Cookbook Café that previously occupied the site before Ella Canta opened its doors in September 2017. "I don't think it's changed," she says of the new-look space, "it's reborn."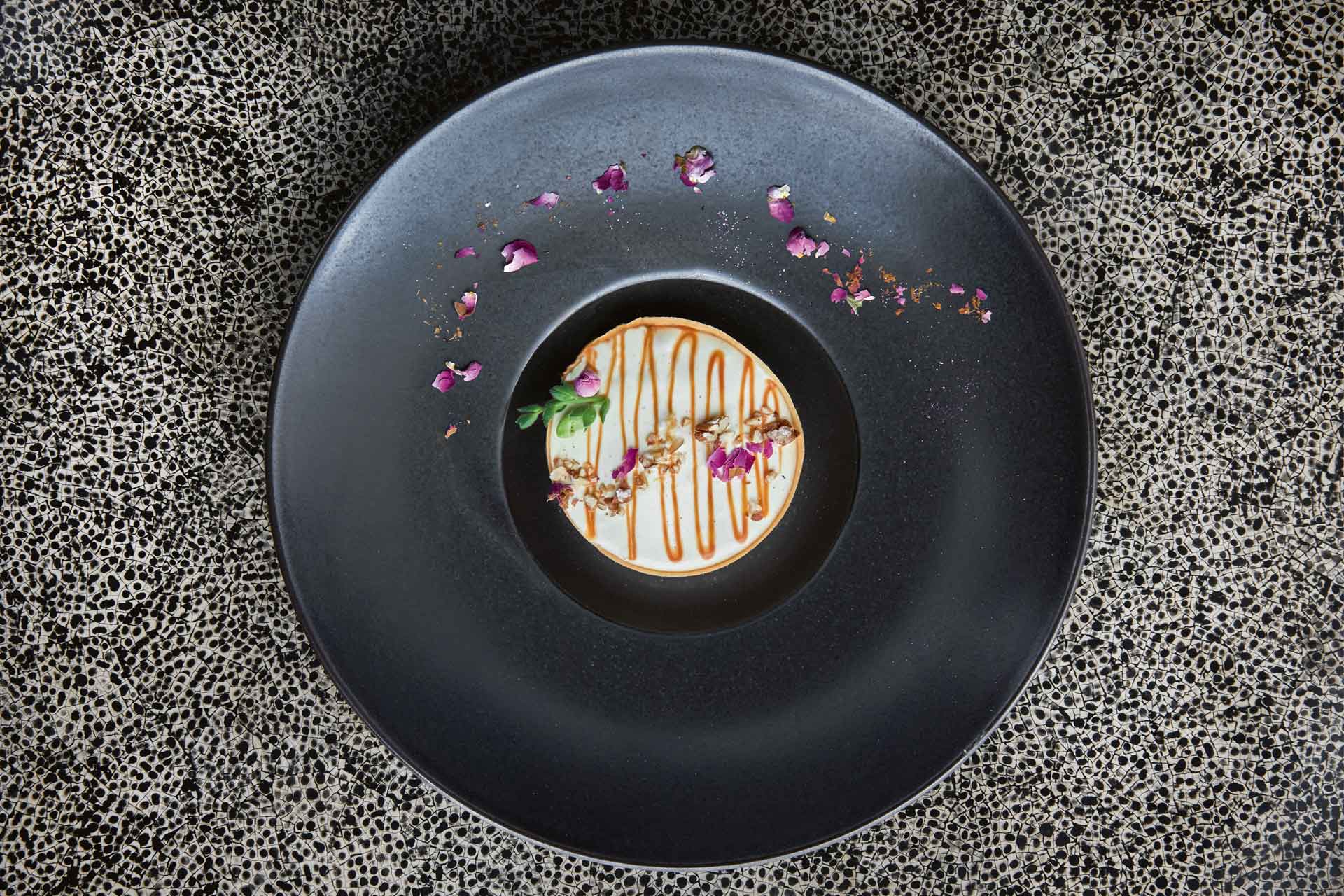 What quickly becomes clear upon visiting Ella Canta is that this is a kitchen determined to serve up authentic Mexican cuisine rather than a mere imitation toned down for European palates.
The flagship tasting menu celebrates Mexico's natural bounty with dishes such as Guacamole Nacionalista topped with a crunchy gold grasshopper, a delicate Mexican tamal and a rich black mole with duck. The à la carte menu includes a variety of ceviche starters such as the blood-red Vampiro Ceviche, where the zingy seabass is offset by a surprisingly sweet mango and sangrita sorbet served up confidently on a sky-blue plate reminiscent of a seashell. The mains, meanwhile, take dishes that will be familiar to UK diners such as lamb shank, chicken breast and Aberdeen Angus beef fillet but marry them to loud Mexican flavours such as chilli salsa, plantain purée, chipotle mayonnaise and even aubergine ashes. Desserts continue the patriotic theme with dishes like Mexican churros, corn and huitlachoche cake, and a mysterious offering entitled Maria, la Mexicana Llega a Londres (Maria the Mexican Arrives in London) that turns out to be something akin to an upmarket lime cheesecake.
"Mexican food is a profound food, a beautiful food… it's very sensual."
Across many of the savoury options, the star of the show is the mole, the term used for a range of powerful Mexican sauces with chilli peppers at their heart. On the Pato al Mole Negro, for example, the duck plays second fiddle to a rich, unctuous sauce that combines smokiness and sweetness with every bite.
"When you try a mole, it's like an ecstasy," gushes Ortiz before sighing slowly and deeply for dramatic effect. "You feel all of the power of the sweet and the sour and the salty and the colour."
When Ortiz talks about the cuisine she so passionately loves, she lingers over every word, emphasising and savouring each syllable to make you feel the same emotional connection as she does. Her favourite phrase, "I adore it", comes up again and again when talk turns to food and her already extravagant hand gestures are increasingly mirrored by the rest of her body even as she sits.
"Mexican food is a profound food, a beautiful food," she says. "In my point of view, Mexican food is very sensual."
Although she acknowledges that Mexican cuisine is very "on trend" in London at the moment, with new taquerias and burrito bars springing up on a weekly basis, Ortiz believes that her native food is largely misunderstood overseas. The dishes on offer at Ella Canta are very much pitched at the top end of Mexican cuisine, as you'd expect given the Mayfair location just a stone's throw from Buckingham Palace and Hyde Park.
"I eat tacos, I eat tortas, I eat all the street food that Mexicans love," she says. "But Mexican food can be very sophisticated. I think it's the best food in the world."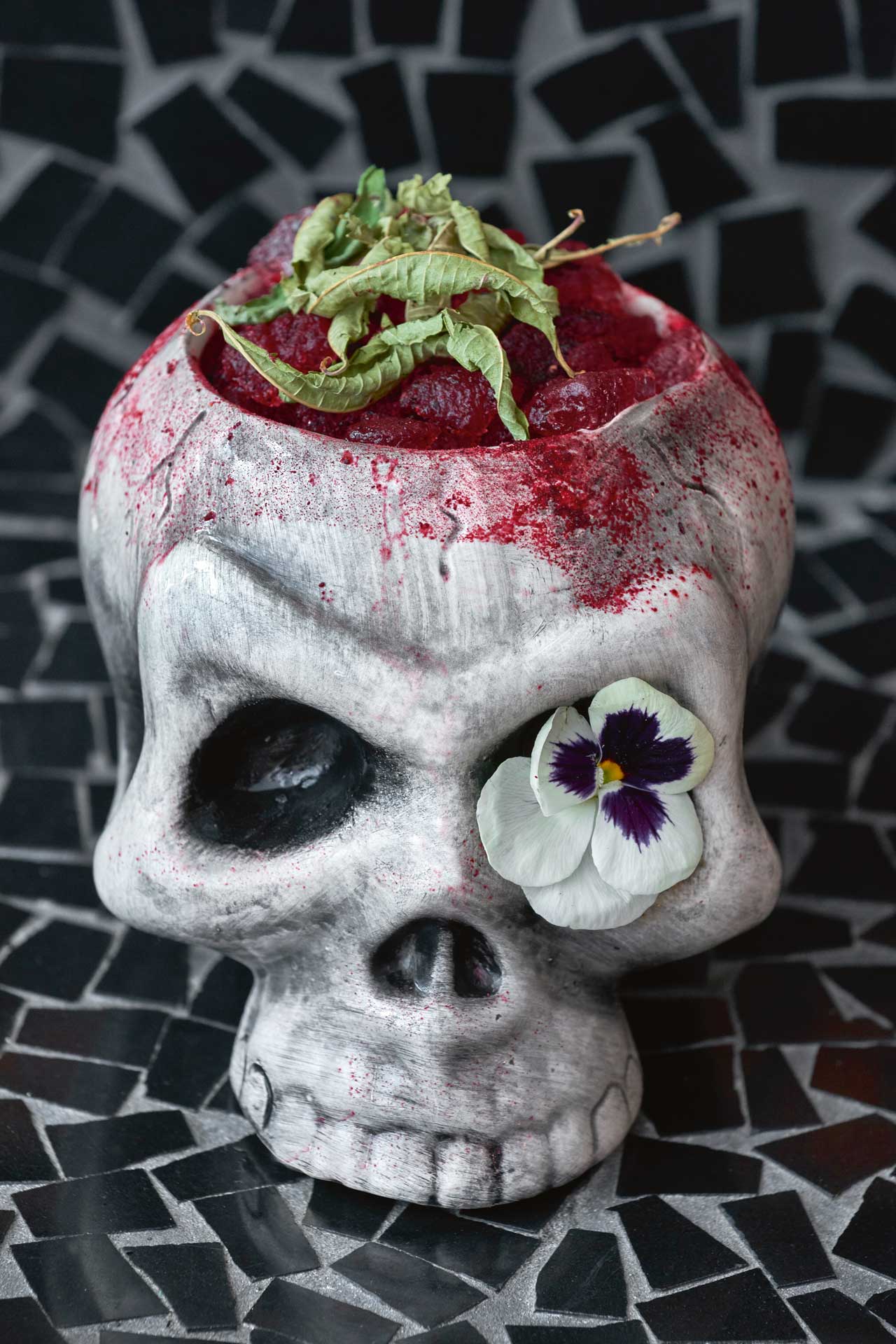 The drinks offering at Ella Canta also showcases a side of Mexican culture that is about as far removed from the tequila slammer stereotype as you can get.
Before dinner, customers are encouraged to try one of Ella Canta's signature cocktails, entitled Mexico's Gifts to the World, or one of its margaritas such as the punchy Calavera built around Patron Silver Tequila and served in a spectacular Day of the Dead-inspired open-topped skull that has proved a huge hit on Instagram. Beers are drawn from across Mexico while the wine list also has a strong Latin American focus, with for example wines from Hacienda La Lomita in northern Mexico's Valle de Guadalupe. After dinner, guests are invited to switch to the intimate bar area, slightly raised from the restaurant floor to give the impression of having arrived at a new destination, to pick a nightcap from one of the many rare mezcals and tequilas on the carefully curated back bar.
It comes as something of a surprise to find a little slice of Mexico within the environs of the 447-room InterContinental London Park Lane, which describes itself as "the epitome of modern luxury". The five-star hotel, designed by Sir Frederick Gibberd and opened on the site of the Queen's former childhood residence in 1975, was bought by Middle Eastern private investment group Constellation Hotels for US$457 million in March 2013.
"The people from Constellation went to Mexico and saw the work of different chefs," explains Ortiz, "and they chose me because I think I have one ingredient that is important for London, and that is imagination. When I was a little girl, my parents took me to London and to Europe. I really adore London, I have this attachment. I love this city. And I love that they have a Queen, a woman.
"When I came here, I saw that you have all this history with great women, this beautiful city with this kind of order that can be so traditional and so modern. You can see it as a contradiction but I see it as the perfect recipe."
Food has played a major part in Ortiz's life since childhood, when her mother tasked her with helping to prepare the family's regular dinner parties. Her father, a renowned surgeon who completed the first kidney transplant in Mexico, and her mother, a famous artist, often invited the great and the good of Mexican society into their home, which Ortiz credits with opening her eyes to culture and the arts. She was less keen on preparing the food however."My mother always put me cooking – at the beginning, I hated it," she recalls. "She put me to work chopping the onion, peeling the potatoes, washing the chicken because we were going to have another dinner."
"I feel a big mission in my life – I'm a feminist, I love to educate women, I love to inspire women and I love to be inspired by women."
The turning point came when Ortiz watched Como Agua Para Chocolate (Like Water for Chocolate), a 1992 magical realist film based on the novel of the same name by Mexican author Laura Esquivel who she now counts as a close personal friend. "I saw this female character," remembers Ortiz. "Her name was Tita and she was a rebel and when she cooks and she cries, everybody cries.
"The way that woman can see food. I said, 'I want to be like Tita, I want to be a rebel'. And I thought kitchens are a space of freedom for women, so I decided to become a chef in that moment."
Ortiz opened her first restaurant, a standalone in Mexico City called Águila y Sol, in 2003 when she was in her mid-twenties. The fine-dining establishment, replete with Mexican Aztec signs, jade flooring and golden walls, was critically acclaimed and rapidly made Ortiz's name as a chef, but was forced to close after just five years – an experience that clearly still hurts.
"The restaurant was so successful, so beautiful, that they [the government] shut it down," she says. "They told me that I needed one more parking space. Of course not. I was very successful, I was a woman, I was very young, and I think they were not comfortable with that together.
"Once a man came to my restaurant and said, 'it's a lot of success for a young woman in Mexico, be careful'. And I didn't understand. Three months later, I have this letter that they're going to shut down this restaurant.
"And I suffered a lot because really it was my life, more than my business it was my life. I remember that I cried and cried. And this extraordinary friend came into my house and told me, 'why are you crying Martha?', and I said, 'I lost everything'. And she responded to me in that moment, 'you don't lose anything, you have it in your heart so let's start over again'."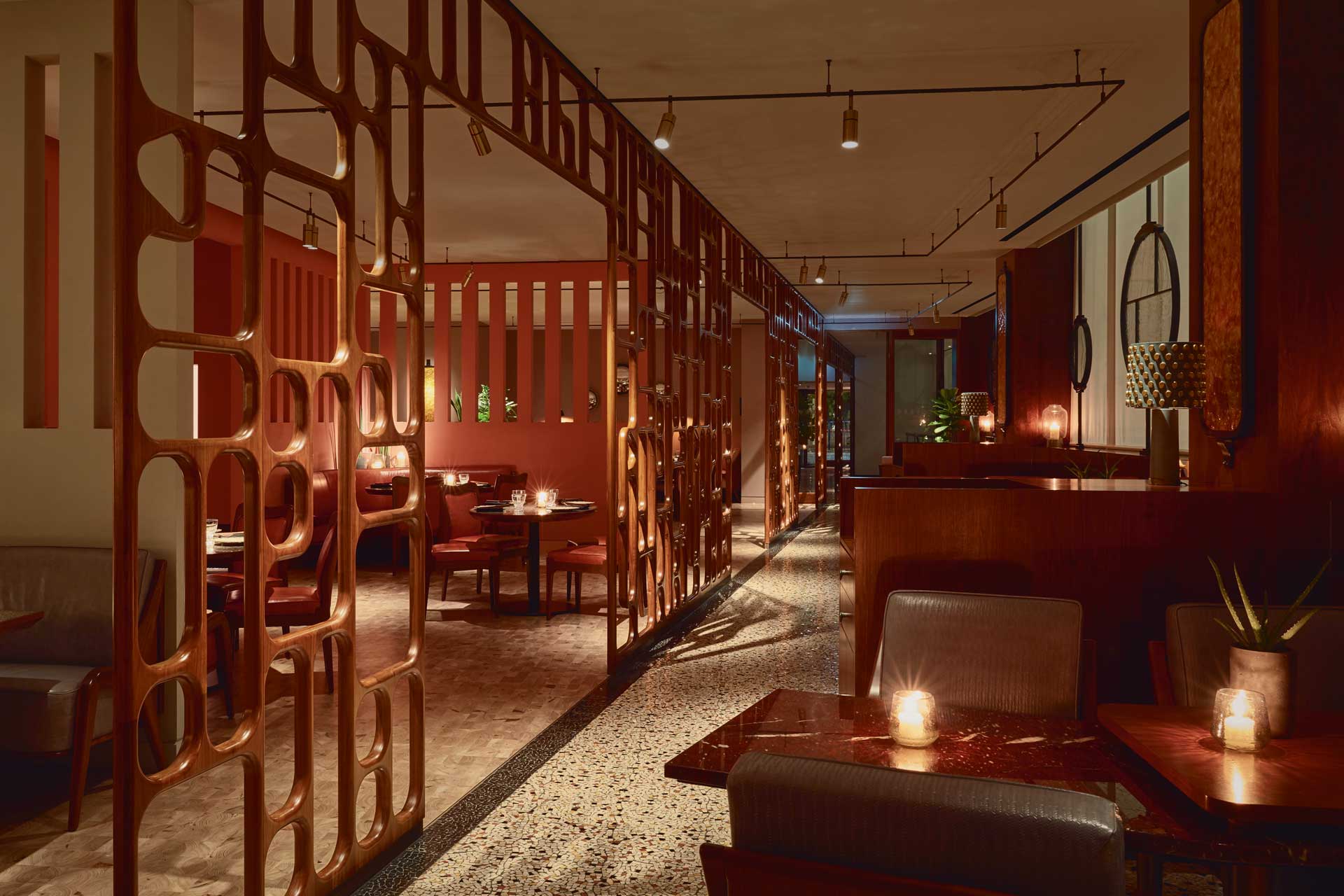 Ortiz did indeed start over again, opening Dulce Patria in the Las Alcobas boutique hotel in Mexico City in 2010. The fine-dining restaurant has gone on to win countless awards as much for its avant-garde interior design as for its food, and was recently named Latin America's 48th best restaurant. Ortiz likes to refer to her restaurants as women and says that Dulce Patria has a "different personality" to Ella Canta with striking gold, pink and black colours in a more sensual, intimate space.
One area that Ortiz is particularly passionate about is women's rights, and she is full of praise for her father for encouraging a sense of equality among all of his children – boys and girls – while they grew up in Mexico. "I'm a very proud Mexican and a very proud woman," she says. "We need to be 50/50 in the kitchen and in the world… I will never pay less to a woman than a man, I will give her the same opportunities. And to tell you the truth, when I buy products in Mexico, if they come from a woman producer I'll buy them first.
"I feel a big mission in my life – I'm a feminist, I love to educate women, I love to inspire women and I love to be inspired by women."
There can be little doubt that Ortiz has already inspired countless women to break what she calls the "caramel ceiling", the glass ceiling preventing women from entering and getting ahead in the traditionally male-dominated F&B world. She is a breath of fresh air in Mexico's macho chef culture, somehow finding time to balance her commitments at Ella Canta and Dulce Patria on opposite sides of the world with penning eight cookbooks on regional cuisine, contributing her thoughts on the latest culinary trends, and appearing as a judge on reality TV series Top Chef México.
Ortiz has no plans to slow down, and is currently in the process of building a new standalone restaurant in the La Roma district of Mexico City that is scheduled to open in January 2019. The new venue is as yet unnamed – she jokes that she has around ten names already – but the theme is clear.
"It's not a restaurant, it's a theatre with flavours and I'm going to write the plays," she says. "You will buy your ticket, you will have your play with the flavours. It's another way of seeing cuisine. It's going to be something very strange and beautiful."
For a woman with such a broad range of influences, it seems only fitting that Ortiz's next act will draw on another cultural reference point – her long-held passion for opera. This is a chef whose star is clearly on the rise, with no sign of the curtain falling anytime soon.
CREDITS
Words: Richard Frost
Headline Image: © Pepe Molina
Magazine: Supper 10