Matt Worswick talks to Richard Frost about winning over diners and Michelin inspectors since succeeding Michael Wignall as Head Chef of The Latymer at Pennyhill Park, part of Exclusive Hotels and Venues.
It's a topic that comes up again and again in conversation with Matt Worswick, Head Chef of The Latymer in Surrey: realising your potential. Worswick cut his teeth at a host of Michelin-starred kitchens before taking over from Michael Wignall as the man in charge of the fine-dining restaurant within country-house hotel Pennyhill Park in March 2016. It's certainly a big step up; his predecessor transformed The Latymer's reputation during nearly a decade at the helm, winning a Michelin star in 2009 and adding a second four years later, before taking most of his top team with him when succeeding Michael Caines at Devon's Gidleigh Park in January 2016. Worswick was still reshaping the restaurant when the 2017 Michelin Guide was announced, so it came as little surprise to learn that both stars had gone.
Undaunted, the chef maintained focus on the bigger picture and specifically the opportunity that The Latymer offered to push himself to new heights. Initial reviews for Worswick's seasonal, ingredient-led and flavour-rich taster menus were favourable, bookings flooded in, and the icing on the cake came when The Latymer regained a Michelin star in this year's guide.
We meet Worswick outside The Latymer in the hotel's herb garden, appropriately enough; his immaculate chef whites resplendent in the brilliant sunshine. A tall and imposing figure with a well-built physique and heavily tattooed arms, in truth Worswick wouldn't look out of place on the England rugby team, which has used Pennyhill Park as its training base for almost 20 years. This hotel, set within 123 acres of beautiful woodland, is no stranger to wealthy clientele with guests parking up their Porsches en masse to indulge in its 45,000ft2 spa or attend its many functions (a JPMorgan conference is winding up today, and a wedding follows tomorrow).
Such affluence feels a world away from Worswick's early years in Merseyside. "I had a normal upbringing in a terraced house up in Liverpool with plenty of basic but good homemade food," he begins. "I suppose I enjoyed eating food before I learned to love cooking. I didn't have a natural passion to come and cook, I sort of fell into it when I needed a job." His first taste of a professional kitchen came at the tender age of 17 when answering an ad for a no-experience-required Apprentice Chef at The Crofters Hotel in nearby Lancashire. "When I started cooking, I loved everything about it; the creativity, the interaction, the fact that every day's different."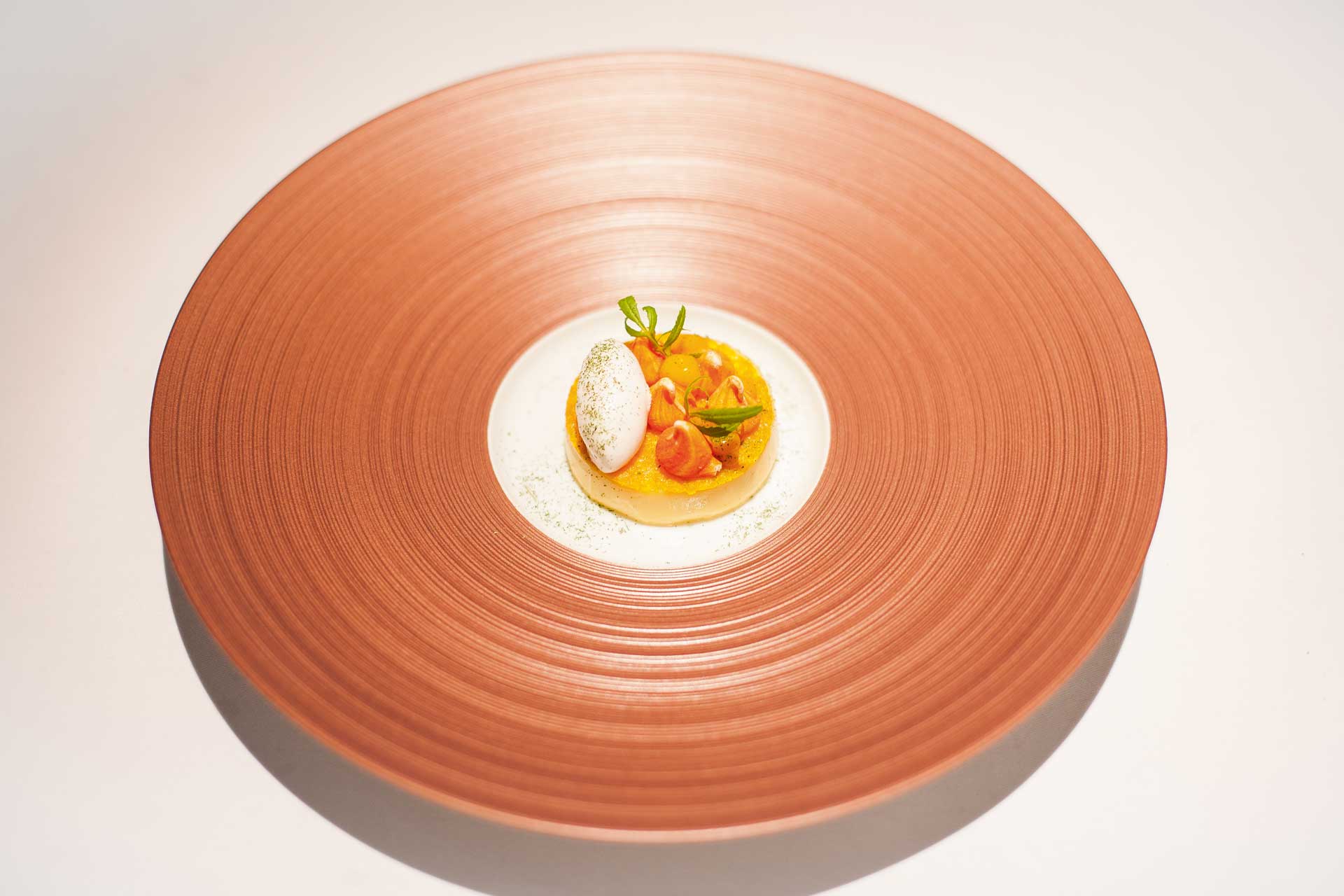 By the time he was 19, Worswick had already made the switch to fine dining, landing a job in the kitchen of the St. Martin's on the Isle hotel in the Isles of Scilly, 28 miles off the British mainland. "It was a culture shock to be honest with you, but it was also really nice because you could just concentrate on work," he confesses. "We did six days a week, it was hard work but I suppose that's where you learn your craft." He spent more than three years there under Head Chef Kenny Atkinson, starting as Commis Chef and working his way up to Sous Chef. "My first season was when Kenny started and the following year we got a Michelin star, which was great. Kenny was a good teacher and he really looked after us."
At the age of 23, Worswick joined the Michelin-starred country-house hotel Gravetye Manor in West Sussex as Sous Chef, gaining valuable experience of working within a large team. The following year, he switched to double-Michelin-starred standalone restaurant Le Champignon Sauvage in Gloucestershire and quickly rose to become Sous Chef under revered Chef-Patron David Everitt-Matthias, who became a mentor to the ambitious young Liverpudlian. "That really opened my eyes, it was like a finishing school," he recalls. "The ethos and the way David worked was different to anything else I'd ever seen before. A lot of emphasis on foraged ingredients, cheaper cuts and making something really special. It's one of the best moves I've ever made."
He was just 26 when an opportunity came along that was too good to ignore: the chance to be Head Chef, and run a Michelin-starred kitchen no less. But his time at luxury hotel Glenapp Castle in southwest Scotland, a location that Worswick neatly summarises as "the middle of nowhere", was far from plain sailing. "We only had three chefs if we were fully staffed, and we weren't fully staffed that often," he jokes. "It was hard work but we maintained the Michelin star. Looking back, would I say that I was ready to be Head Chef then? No, I wasn't. But sometimes you've got to bite the bullet."
If anything, the experience merely served to highlight areas that he still needed to work on. "When you're a Sous Chef, you're a cook," he ponders. "But when you're a Head Chef, you need to manage people. It's not just about putting food on the plate, that's the easy part. You've got to balance the books, you've got to liaise with suppliers, you've got to be polite even when you're stressed out."
Worswick left Glenapp Castle after less than a year – "where it was didn't suit what me and my wife needed at the time" – and he returned home to Merseyside, with the 27-year-old securing the position of Executive Head Chef at Thornton Hall Hotel in the Wirral. Here he was tasked with overseeing all of the hotel's F&B, including the fine-dining restaurant, brasserie and banqueting. "Managing 24 chefs and three kitchens, it was pretty full on," he reflects. "If Glenapp Castle was a big lesson, Thornton Hall was all about scaling up. Another thing I learnt is that it's harder to manage a team of three if someone's phoned in sick and there's only two of you left, whereas if you've got a bigger team you've got more freedom to delegate." He stayed there for 18 months until, at the age of 28, the challenge of putting his stamp on The Latymer proved irresistible.
One of the most striking features of Worswick's career is how he's gravitated time after time towards hotel restaurants. What is it about this particular environment that appeals? "Infrastructure," he says without hesitation. "Here at The Latymer, for example, we're not expected to be a cash cow for the hotel. If we were an independent restaurant, we wouldn't be able to put on most of the ingredients because we would have hard margins to hit and we'd have to think more about the bottom line. We've got a robust team here – ten in the kitchen and ten front of house – and we get support from the hotel to do the best food that we can."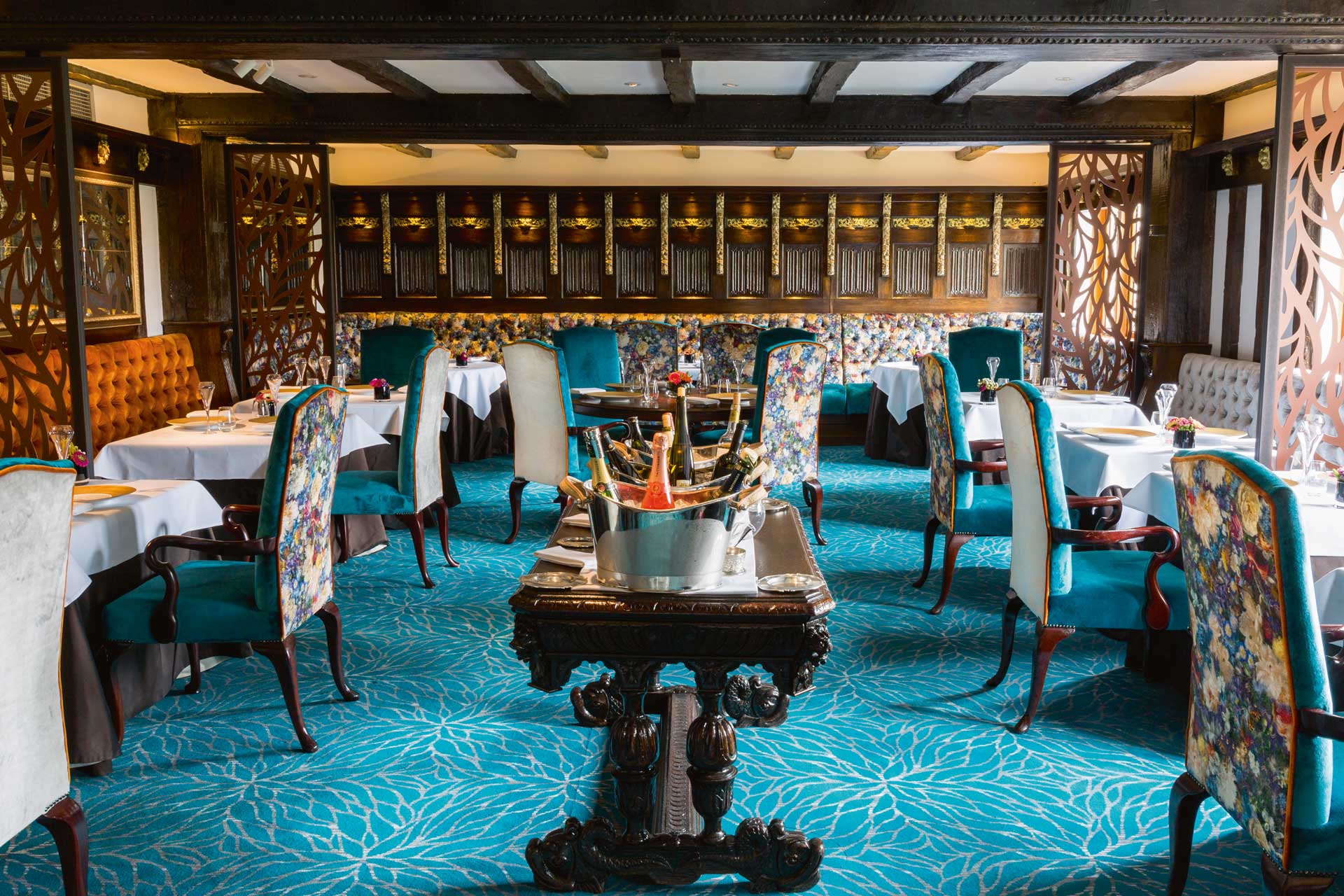 To this end, Worswick just focuses on The Latymer rather than having to spread himself across the entire hotel; he's not required to work on Pennyhill Park's other F&B offerings: The Brasserie, Ascot Bar, spa restaurant Themis, or conference and banqueting. This leaves the chef able to concentrate on building up The Latymer's credentials as a true destination restaurant. "It's very rare to find a hotel in which you can just do the restaurant and they'll let you get on with it," he notes with obvious relish.
On the taster menu, refined dishes such as a Colchester oyster starter with cured sea trout and a wonderfully refreshing sorrel granite (showcasing sorrel grown in the kitchen garden) immediately show the chef's capabilities. It's followed by a beautifully presented salt-baked celeriac topped with lovage and generous shavings of umami-rich Australian truffle – the latter ingredient perhaps somewhat surprising for a restaurant ostensibly serving up modern European cuisine, but then Worswick isn't the sort of chef to be bound by convention. "I don't like to be pigeonholed on style because then we can use what we want," he explains. "I get my truffles from Australia, for example, but I think they're the best product in the world. I try to keep it local where I can but only if the quality warrants it, I'm not going to say, 'here's your dish, it's local but it's crap'."
Desserts are anything but disappointing, with a memorably zingy passion-fruit cream accompanied by coconut ice cream, mango gel and crunchy meringues; and a surprisingly rich chocolate délice offset by a tangy yoghurt sorbet atop a milk crumble. "The chocolate délice has been on since day one," he says proudly. "I think that's one of the most sophisticated dishes I've ever produced, it's so well-rounded."
Worswick's confident demeanour gives the impression of someone who feels completely at home in his surroundings. Pennyhill Park is part of Exclusive Hotels and Venues, a family-owned group of four country-house hotels that also comprises Lainston House in Hampshire, South Lodge in West Sussex and The Manor House in Wiltshire. Lainston House hosts the Season cookery school in which attendees are taught culinary skills by chefs from across the group and beyond, while The Manor House also boasts a Michelin-starred restaurant (The Bybrook). All of which serves to back up Exclusive's bold declaration that "food is the heartbeat of our hotels and venues".
"Exclusive are very food-led and that's why the group's got such a great reputation," affirms Worswick. Interestingly, the chef revealed that when he was originally in talks with management about taking over The Latymer, there was no mention of winning Michelin stars or any other accolades for that matter; what they discussed instead was the chef's desire to cook to the very best of his abilities. "The management are just as big foodies as me. They give us all the tools for everybody to reach our full potential and you can't put a price on that."
Those tools include supporting Worswick in revamping The Latymer in January 2017. In came bolder colours across the 45-cover main dining area (there's also an eight-cover chef's table accessed through the kitchen) along with new carpets, seating and lighting. Post-makeover, the restaurant remains fairly traditional in style – it's situated within one of the oldest parts of the original house after all in a space dominated by dark-wood panels, beams and latticed windows – but the venue also nods to more contemporary design trends with bright turquoise and floral patterns across the carpet, chairs and banquettes. "The restaurant still needed to be fairly classical but we've made it a bit more vibrant than before, more funky to reflect what we're doing," he explains. "You can't lose sight of the fact that we're a fine-dining restaurant within a country-house hotel. I think the refurbishment's worked well."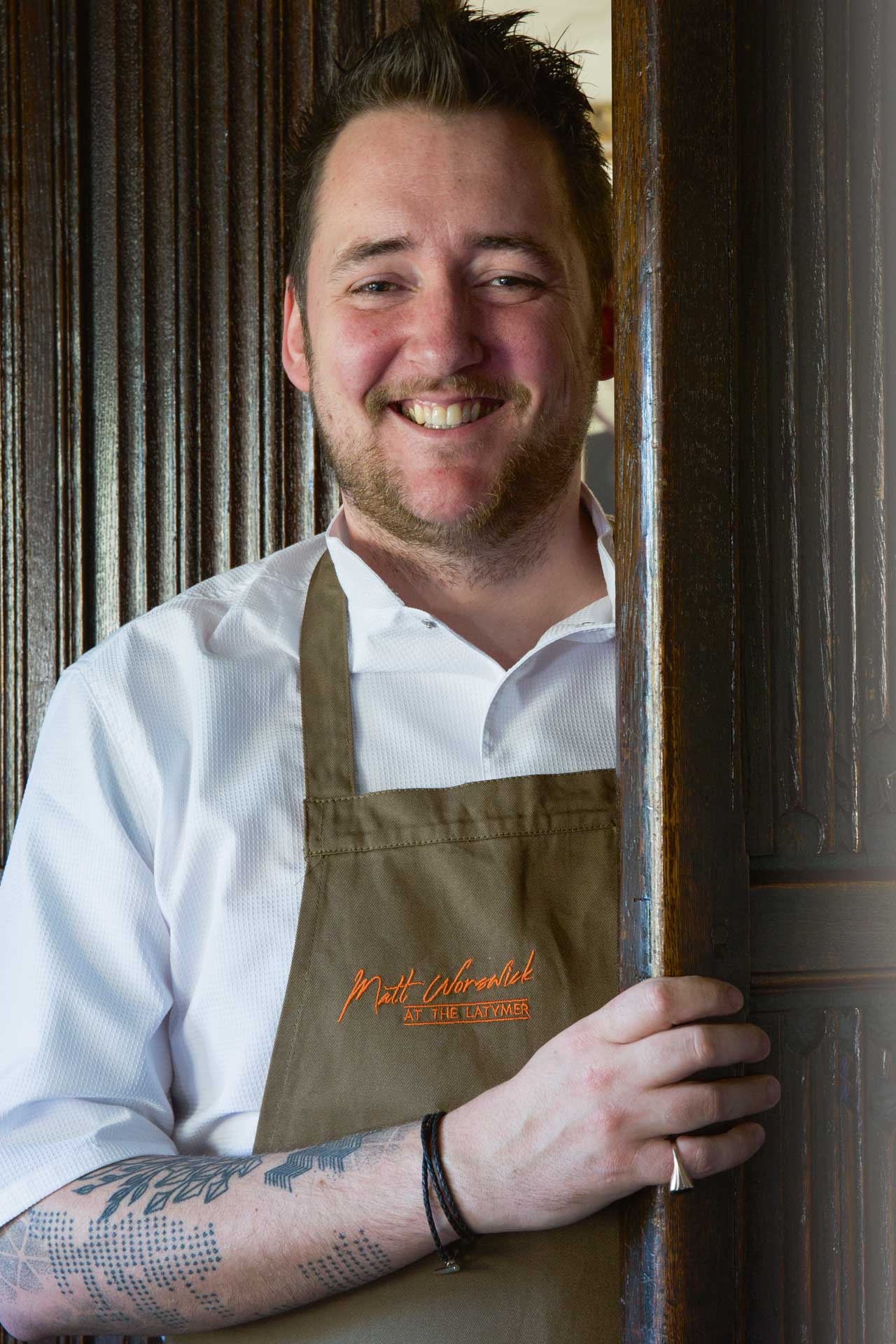 Another sign of the group's commitment to F&B is the Exclusive Chef's Academy, a wide-ranging career development programme for its commis chefs. Members of the voluntary two-year programme get to work in Exclusive's fine-dining restaurants such as The Latymer but they also visit suppliers and undertake classroom-based learning sessions, giving them a mix of practical and academic skills that stand them in good stead for the future. Worswick is a huge fan and you can really hear the passion in his voice when discussing it; he loves the programme's emphasis on providing on-the-job training, which he feels is sorely lacking in some catering colleges where graduates can emerge lacking any experience in professional kitchens. "It's sad to see people come out of college and be told, 'forget everything you've been taught, this is how it's done'," he says.
His only regret is that something like the Exclusive Chef's Academy wasn't around when he started out. "For me, on-the-job training is the way forward. If we're ever going to get ourselves out of the hole that we're in as an industry, I think more exposure to real-life kitchens on a day-to-day basis is essential." This hole, as Worswick sees it, involves restaurants suffering from chronic understaffing as a result of new recruits being put off by the sector's reputation for overbearing chefs, low pay and long hours. "It's really refreshing to work for somewhere that's doing something about the problem, rather than just moaning."
The prospects for Exclusive's commis chefs look bright then, but what does the future hold for Worswick himself? The Liverpudlian is no stranger to life in front of the camera – he was a semi-finalist on the UK version of MasterChef: The Professionals in 2010, won the North West heat of Great British Menu in 2015 and lost out to Adam Reid in the same heat a year later – and readily admits that he loved "going on TV and representing the industry", even if each programme required an enormous amount of preparation beforehand. There are no further TV appearances in the pipeline, but he doesn't rule anything out. "If the offer comes, it's the right time within the business and I'm able to do it, then sure," he reveals. "It's a great piece of PR and you can't turn it down, you'd be crazy."
For now though, his focus is very much on the food and putting into practice the lessons learnt from all those top kitchens on his CV. "I've moved about during my career, but just so that I can fulfil my potential," he says. "The thing that's really struck me with Exclusive is the support that you're given to be the best that you can be. There's no target pointing me towards one or two stars, it's not like that. I'm just trying to get better all the time." Like many young chefs, Worswick's had a nomadic existence for much of his 20s but, here at The Latymer, he's finally found a place that can help him realise that potential. "These are the best years of my life," he reflects. "And honestly, I'm the luckiest guy in the world to know that now."
CREDITS
Words: Richard Frost
Photography: Courtesy of Exclusive Hotels and Venues (unless otherwise stated)
Headline Image: © Adrian Franklin
Magazine: Supper 11