Chef Jun Tanaka overcomes the challenges of opening a restaurant in the midst of a pandemic to introduce his Mediterranean cuisine to Hong Kong's The Upper House, writes Heleri Rande.
I like food that reminds me of being on holiday," begins Jun Tanaka as we take a seat at his London flagship, The Ninth on Charlotte Street, just a few days after indoor hospitality venues were permitted to reopen in England. His words hint to the Mediterranean style that has become his specialty, but also serve as a timely reminder of the power dining experiences can have in transporting us around the world – particularly at a time when travel isn't possible.
The current climate has had a major impact on hospitality, and as countries impose restrictions faster than the industry can react, the pains of cancelling and postponing plans not only affects the paying customer, but the engine that keeps a restaurant operational. Chef Tanaka is no stranger to this new world order, having had to open Salisterra – his first endeavour outside London – via Zoom calls, video presentations and WhatsApp chats. "It has been a lot of work, but shows that it is possible to do it all remotely," he says. "Being closed for business in London, I was able to direct more time to the development of Salisterra and training the kitchen team."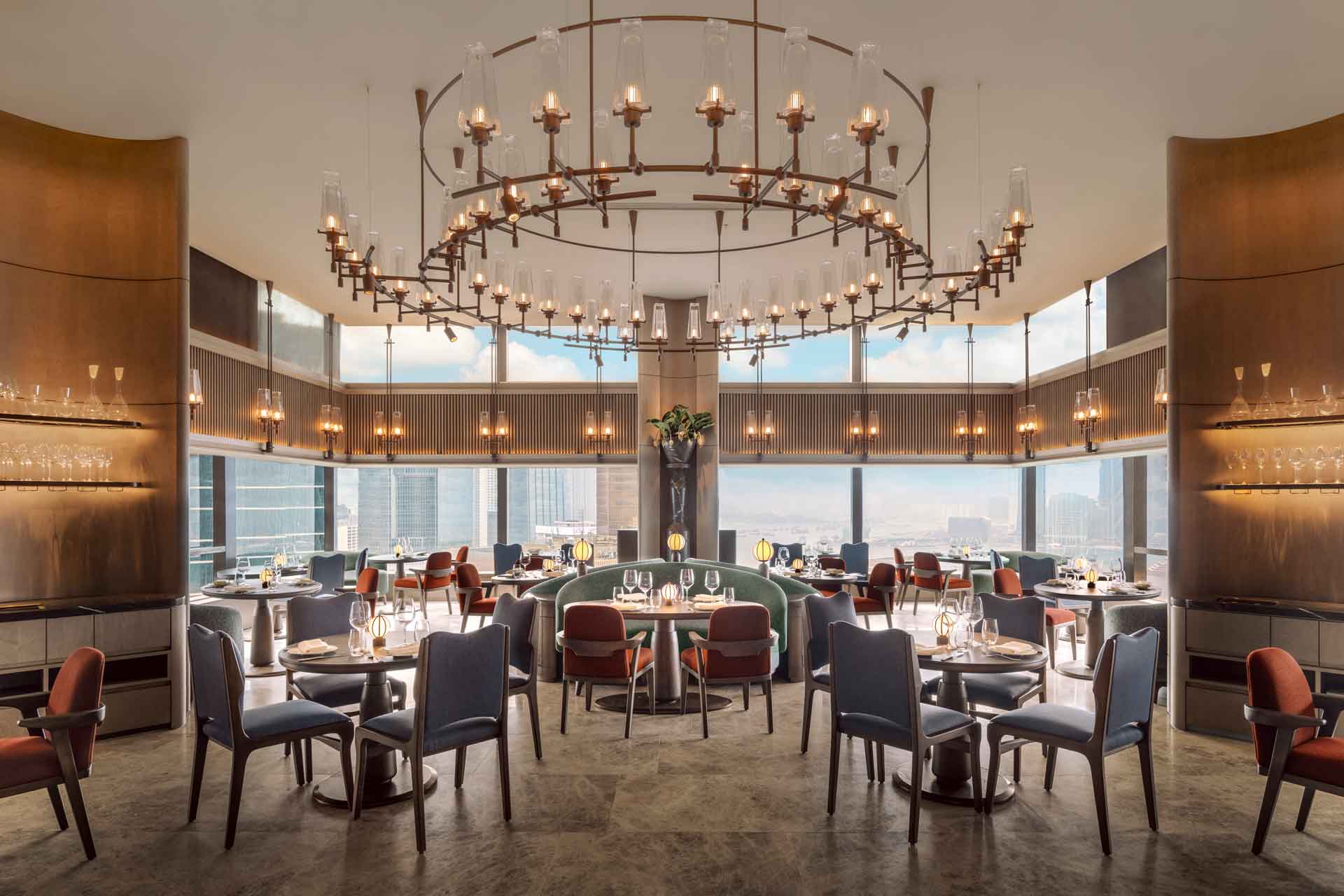 Crowning The Upper House in Hong Kong, Salisterra – formed from the Latin words 'salis' for salt and 'terra' for earth – captures the richness of the Mediterranean in both its cuisine and interiors. Designed by André Fu, who has been working through a series of upgrades at the property, the new concept draws on the colours and flavours of the Mediterranean for an elegant addition to the city's dining scene.
Despite having not yet been able to set his foot in the newly opened restaurant, Tanaka is focused on the positives of the entire experience. No stranger to TV appearances – the likes of BBC One's Saturday Kitchen and Chopped Champions decorate his resumé – Tanaka used his on-camera presenting skills to create step-by-step guides for more than one-hundred dishes to train the team in Hong Kong. "The camera work was a little rough-around-the-edges," he quips, "but this was the best way to convey technical recipes."
One thing that can't be conveyed through a screen however, is the sense of taste, and this has proved a major challenge in creating culinary experiences remotely. "Everyone's flavour profile is different and our language is not precise enough to convey the accurate flavours," he explains. "But I was able to explain the experience behind the dish, rather than just reading the recipe, which can be a little flat. We spent time talking it through to ensure we got it right."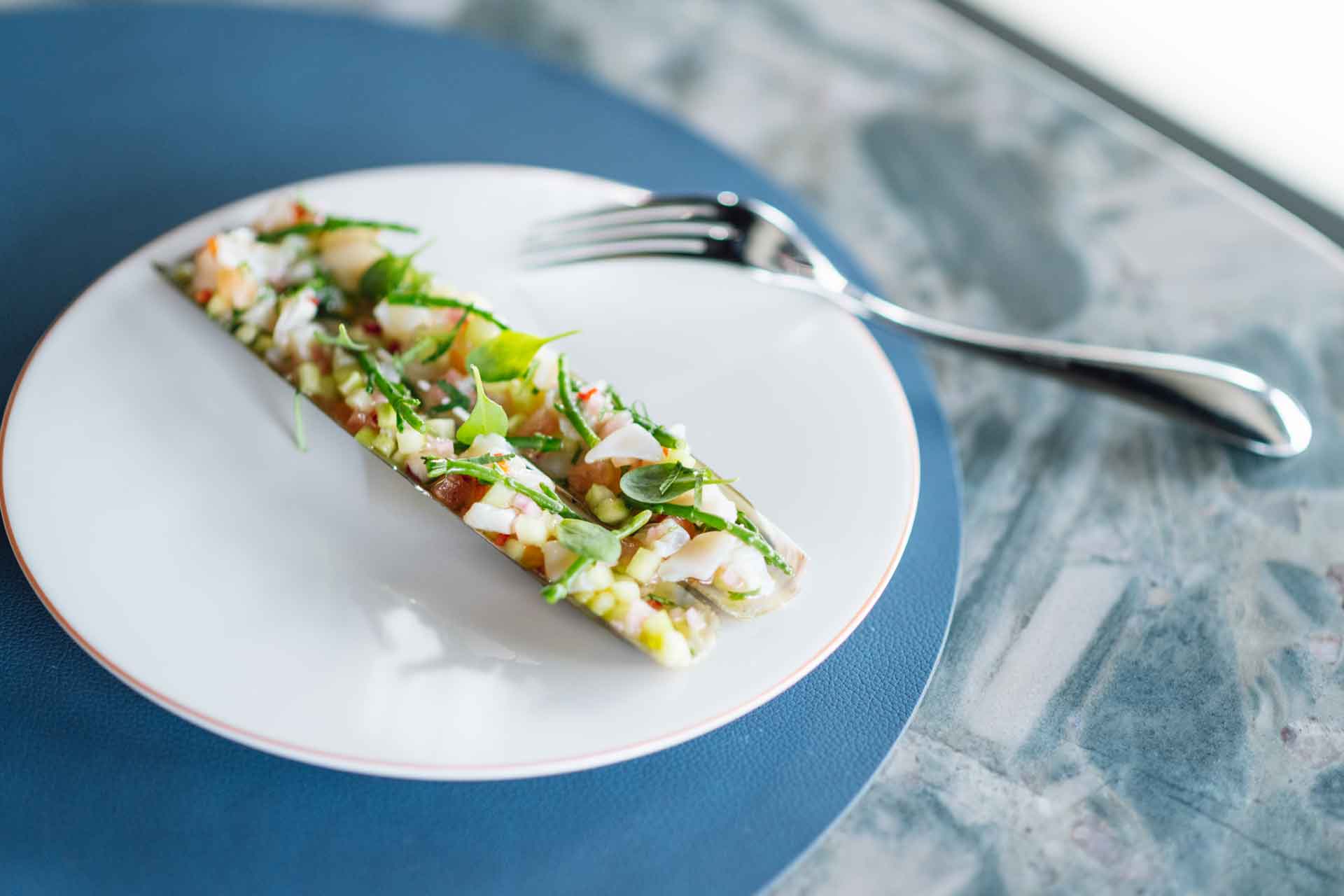 The team at Salisterra is helmed by Chef de Cuisine Krzysztof Czerwinski, who previously ran the hotel's Café Gray Deluxe, which closed to make way for the new venture. True to Tanaka's word, the dishes really do make you feel like you're on holiday, with the menu characterised by fresh, vibrant flavours that draw inspiration from the coastal cuisines of France and Italy. Designed for sharing, the menu focuses on simple, sophisticated and sustainable creations, highlighting handcrafted pastas, chargrilled meat and fish, and bold vegetable dishes.
To start, small plates include burrata served with green gazpacho and sourdough, and flamed saba mackerel with pickled cucumber and sea purslane. From the pasta section, Langoustine Ravioli and Osso Buco Tortellini have proved popular, while mains range from Salt Crust Patagonian Toothfish to Grilled Te Mana Lamb Cutlets. The vegetable dishes are worth a special mention too, winning praise for their adventurous flavour combinations. Green asparagus comes with a miso dressing for example, while the pickled carrots are topped with coconut yoghurt and cashew nuts. Desserts also take inspiration from the Mediterranean, with the line up including a rich tiramisu and a Brillat-Savarin cheesecake accompanied by Sicilian pistachio.
Even once the restaurant opened, Tanaka has been hands-on. "We would catch up on FaceTime every day before service," he explains "I would ask them to take me through fridges, see the larder and the drawers, inspect the mise en place. If something wasn't right, such as the way the vegetables were chopped or the consistency of a sauce, then this was an opportunity to fix it. We would then catch up after service every day to talk through any issues."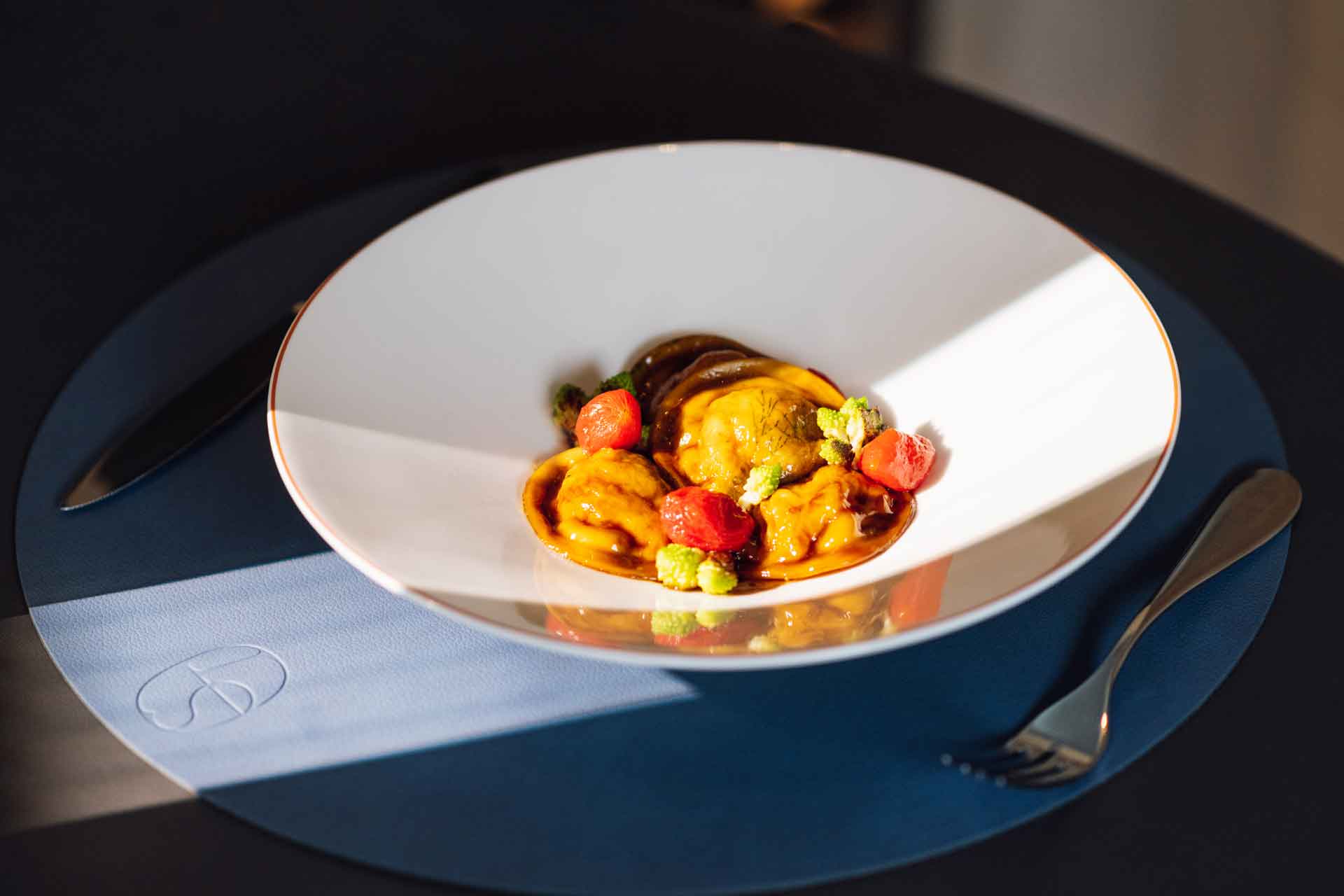 This attention to detail has served Tanaka well through his career. Classically trained in French cooking, the US-born, UK-raised chef has worked with the Roux brothers at Le Gavroche, and with Nico Ladenis, Marco Pierre White and Phil Howard. He attributes his time with Eric Chavote, a protégé of Pierre Koffmann, as being crucial to developing his own style of cooking. Working as sous chef at the two-Michelin starred restaurant The Capital, Tanaka was able to learn from Chavot's discipline and consistency. "He was obsessed with flavour," Tanaka recalls. "When I created a dish, I was equally focused on presentation and flavour, whilst with him flavour always came first. I once presented a dish to him and he was throwing things off the plate asking, why do you need this or that? He told me to focus on the taste, that's what matters; that was a valuable lesson."
Tanaka's time at Marco Pierre White's three-starred eponymous restaurant also had a lasting impression. "I was very proud working there. If you worked for Marco Pierre White, you got an immediate approval in the industry as it was the hardest kitchen to work in," he explains. "It was fascinating to watch his obsession with perfection."
Having started his culinary career at the age of 19 at Le Gavroche, it is little wonder that classical French cooking is so central to Tanaka's ethos. "It is the foundation of everything I do – the sauces, the pastry, the marinades," he notes. "It is classic French based but I prefer food that is lighter with fresh and vibrant flavours, which is why I bring in the Mediterranean aspect." Italy's Ligurian coast and the French Riviera are extremely rich on this front, lending the perfect opportunity for a lively menu creation that does not require constant reinvention.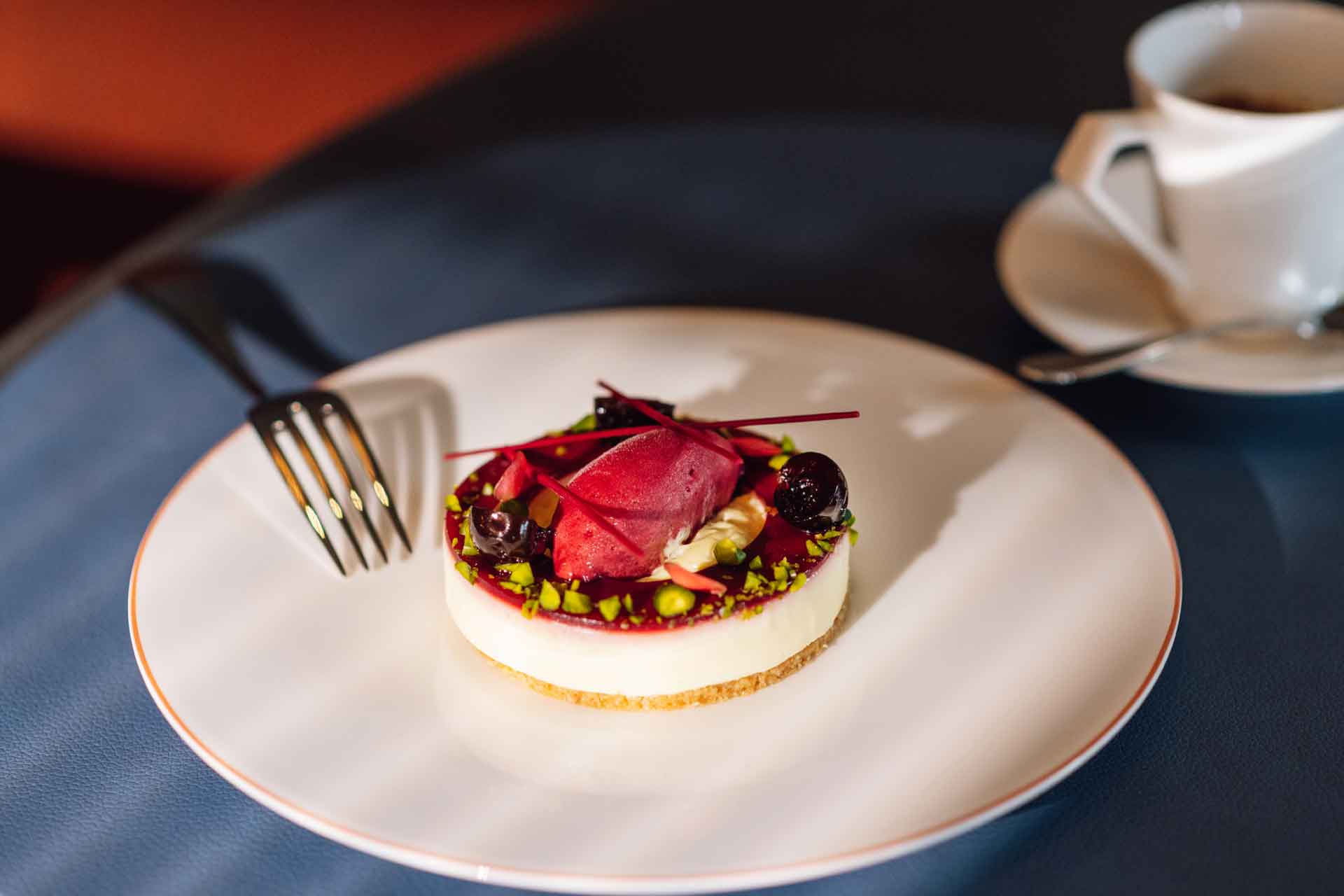 Having worked under so many decorated chefs, Tanaka dreamt of his own restaurant where his Mediterranean flair could fully flourish. The Ninth, his first solo venture, was a labour of love that took three painful years to materialise. "I wrote the business plan and was able to raise funds in ten months, but finding the site was a nightmare. There were times when I wanted to give up. Since I did not have an existing restaurant, I got outbid multiple times by others, or the landlords just went for the safer option," recalls the chef. "Only after I had made a decision to give myself another week to look before putting this dream to bed did this current space become available. The landlord picked me and within three months we were serving guests."
The Ninth, so named as it is the ninth establishment on the chef's resumé, became an instant hit when it opened in 2015. A neighbourhood restaurant serving French cuisine in a casual setting didn't go unnoticed by Michelin, with inspectors awarding it a star in 2016. A career highlight for the chef, the accolade proved that tenacity and vigour pay off. Furthermore, the fact that it was completely unexpected made it even more special for the entire team.
Having built a loyal following in London, international expansion came calling. "It wasn't something I actively pursued, and I was even a little sceptical when the opportunity was presented to me," explains Tanaka, adding that it was The Upper House name that eventually won him over. He flew to Hong Kong for an overnight visit whilst on holiday in Bangkok and was in awe. "The whole experience was amazing. I knew it would be a lot of work, but if I missed the opportunity, I wouldn't be able to forgive myself."
With two kitchens to run on opposite sides of the world, not to mention a global pandemic, the challenges are far from over. Our interview takes place between a packed lunch service and a full house for dinner, and despite the long hours of working across multiple time zones, the excitement is clear to see. Chef Tanaka is proof that the most agile will succeed, and while he makes the best of virtual operations at Salisterra for now, when the time comes, Hong Kong will welcome him with open arms.
---
CREDITS
Words: Heleri Rande
Issue: Supper 24