Tailoring its latest hospitality offering to a new generation of London professionals, The Arts Club solidifies its legacy as a hub of creative and cultural activity, writes Jenna Campbell.
Dating back to the 17th century, London's private members' clubs, although famously difficult to access, have long provided a point of refuge for the city's most influential personalities. Often found in the affluent Mayfair district – their indisputable heartland – these cultural institutions historically served as social spaces where leading diplomats and wealthy businessmen could come together to discuss the most pressing matters of the day. Dignitaries, for example, would typically flock to St. James's, while politicians could be found brokering a gentleman's agreement at Reform Club, and those looking for a creative outlet would be most at home within the luxurious surroundings of The Arts Club.
In recent years, as the purpose of members' clubs has been reconsidered and contemporary interpretations like Soho House, The Wing and The Conduit have entered the fray, longstanding establishments have sought to modernise their offerings. Founded in 1863, The Arts Club, whose past members include luminaries such as Charles Dickens and Wilkie Collins, has retained its original mission – to facilitate social interaction between those connected with art, literature and science – while also evolving with the tastes of its current patrons. Although a world-class art collection remains at its core, The Arts Club has expanded since 2015 to include hotel suites, a cutting-edge health and fitness centre, and now a significantly enhanced F&B offering in the form of two newly designed luxury hospitality spaces.
After enlisting acclaimed designer Joyce Wang and her internationally minded team to oversee both F&B renovations, The Arts Club's existing Japanese restaurant Kyubi has been upgraded and moved to the third floor, while an eclectically designed cigar lounge, Oscuro, now occupies Kyubi's former footprint on the mezzanine level. The latter, which opened in November 2019, has been fitted with a bespoke humidor crafted by Italian specialist DeART, and showcases an unparalleled selection of cigars – sure to be popular with specialist collectors around the world.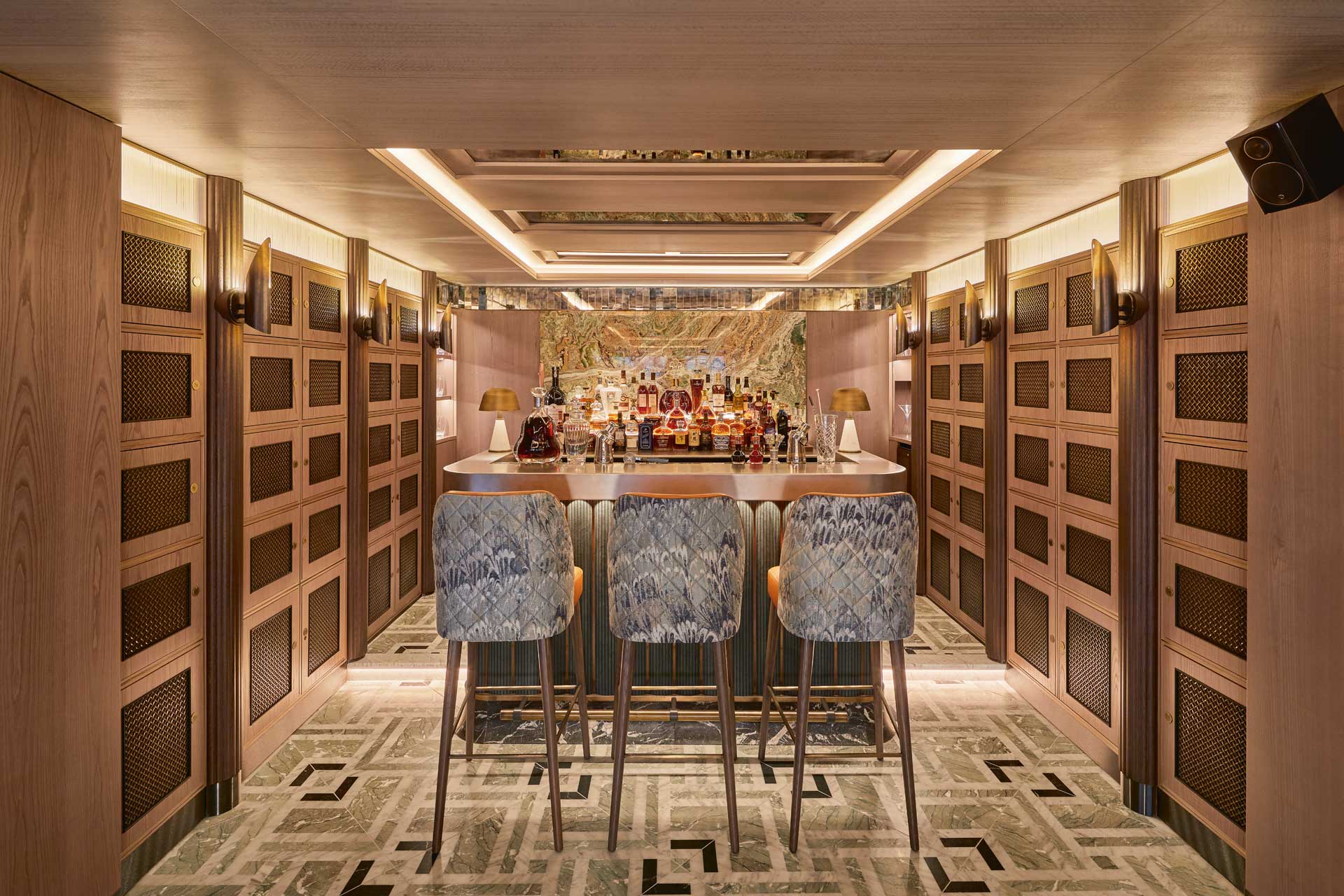 Oscuro, which takes its name from the Spanish word for dark, is inspired by Cuba, a concept which is skilfully referenced throughout by Wang; her signature use of narrative, refined materials and aesthetic flair makes for a sophisticated salon space. Tropical design features including bold florals and tobacco-hued wood create a relaxed ambience, while cleverly integrated nooks – incorporating stools positioned around a pewter and scallop leather-fronted bar, along with generous banquettes finished with cocooned armchairs – frame the space and provide an element of luxurious intimacy. "No matter the style, or the era that it tries to represent and celebrate, there needs to be a layer and depth to the design," reflects Wang, whose previous projects – including Mott32 in Las Vegas and Jin Gui in Hamburg – share Oscuro's cinematic qualities.
Leading onto the outdoor terrace, which showcases a living wall, retractable glass ceiling and fireplace, guests are able to enjoy this urban oasis all year round, while repeat design features, including foliage-inspired fabrics and geometric-tiled flooring, help to establish common threads between the interior and exterior environments. "We were given the terrace which was previously underrepresented, and we wanted to start from there and make it very green and fresh," notes Wang. Thoughtful details, including quirky limited-edition Maitland Smith light fixtures and bespoke temperature-controlled lockers – for guests to store their own cigar collection if they wish – further solidify the storied design aesthetic.
Central to the concept is the humidor positioned at the heart of the lounge. Displaying an impressive array of cigars, including Montecristo, Hoyo de Monterrey and The Arts Club's own blend, along with a number of New World variations, Oscuro's carefully curated selection marries perfectly with the Cuban-themed hospitality concept.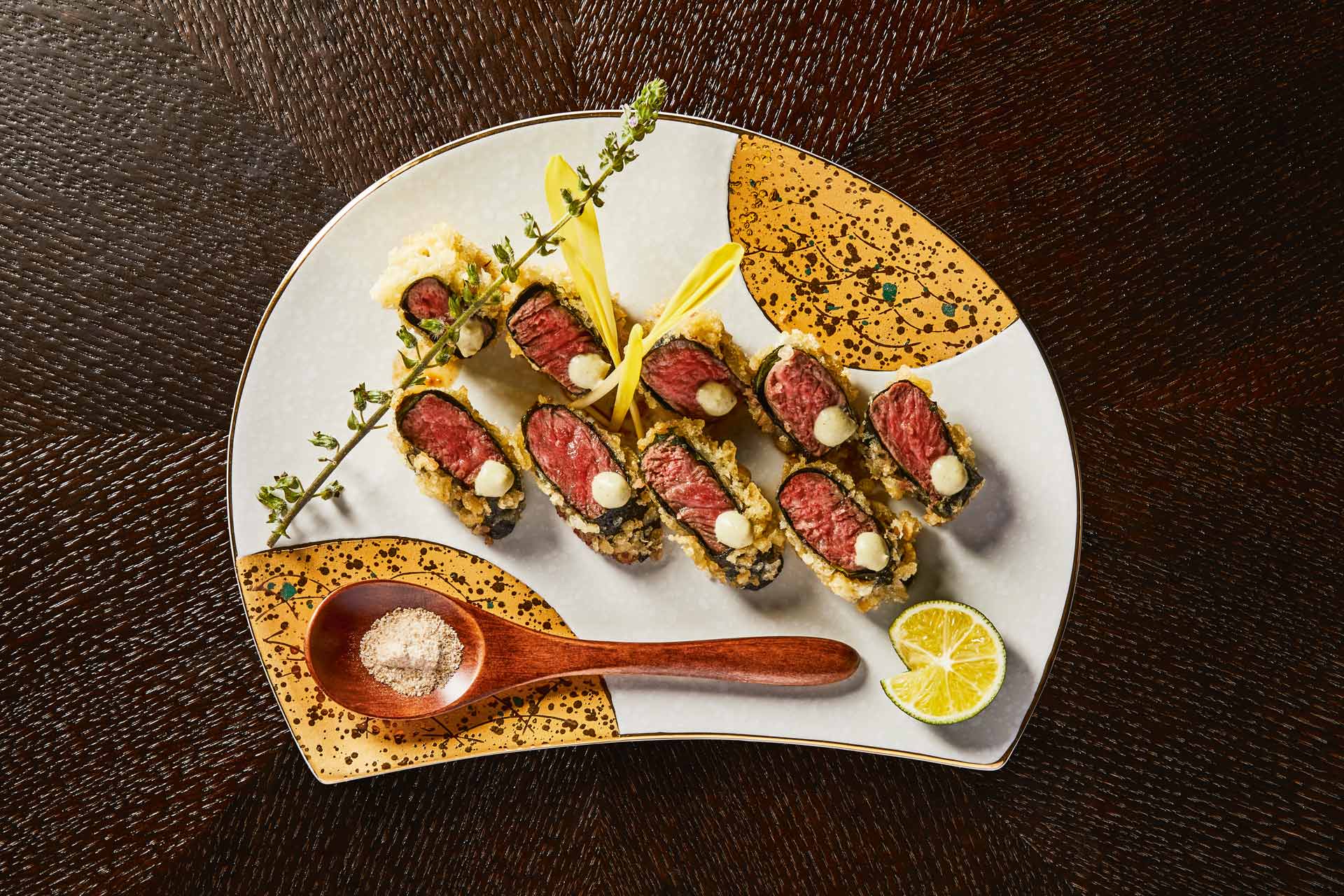 Meanwhile, The Arts Club's F&B options have been thoughtfully conceptualised. At Oscuro, the overarching vision was to blend together the food and cigar experience, while encouraging guests to be as comfortable as possible. Food choices focus on light bites including steak sandwiches, truffle scrambled eggs and a selection of 'Kyubites', while the intimate bar area serves classic cocktails, carefully selected wines, vintage champagnes and rare spirits.
Upstairs, Kyubi, which reopened in June, has been significantly expanded; the new look fuses Mid-Century contemporary design with opulent Meiji-period visuals to create an immersive interior. The 90-cover restaurant opens up onto a lively sushi counter where the venue's Executive Head Chef Soon Li Ong theatrically prepares dishes including wagyu beef sirloin served with yuzu kosho ponzu, and grilled bass with wakame sauce and Madagascan jumbo prawns with shiokji nankoubai ume dressing. "Kyubi is not just a Japanese restaurant in The Arts Club," professes Li Ong. "We aspire to provide the best Japanese restaurant there is for our members." Similarly ambitious in its endeavour to provide a world-class service, a purpose-built whisky bar featuring a handpainted Imari porcelain sake tap – the first of its kind in the UK – elevates the drinks offer.
With the same attention to detail shared by both of The Arts Club's innovative hospitality concepts, the ongoing transformation of this Mayfair institution promises to uphold the artistic principles upon which it was founded, while enabling it to reclaim its place at the heart of contemporary cultural life.
IN A BITE
Covers: 45
Owner-Operator: The Arts Club
Interior Design: Joyce Wang Studio
Lighting Design: Firefly
Bars Manager: Robert Rodier-Gaggl
Head Sommelier: David Vareille
Cigar Humidor and Locker Cabinetry: DeART
www.theartsclub.co.uk
CREDITS
Words: Jenna Campbell
Photography: © Martin Morrell
Magazine: Supper 18