NoMad London's debut sees Executive Chef Ashley Abodeely pair local inspiration with Californian influence and a nod to the brand's New York origin, writes Lauren Jade Hill.
An artfully lived life is the vision that defines NoMad Hotels. Each property of this ultra-fashionable brand aims to emanate a storied home that's animated by the people passing through, with vibrant restaurants and bars that strike the balance between grand and intimate. This overall philosophy epitomises the new London outpost, tying it to its sister properties in New York, Los Angeles and Las Vegas.
Marking NoMad Hotels' international debut, this 91-key property from New York hospitality company Sydell Group takes up a prime location in Covent Garden's former magistrates' court. Following a transformation by EPR Architects and New York-based design studio Roman and Williams, the historic Bow Street location is now the setting for a collection of chic rooms centred around NoMad's famously buzzy dining and drinking venues.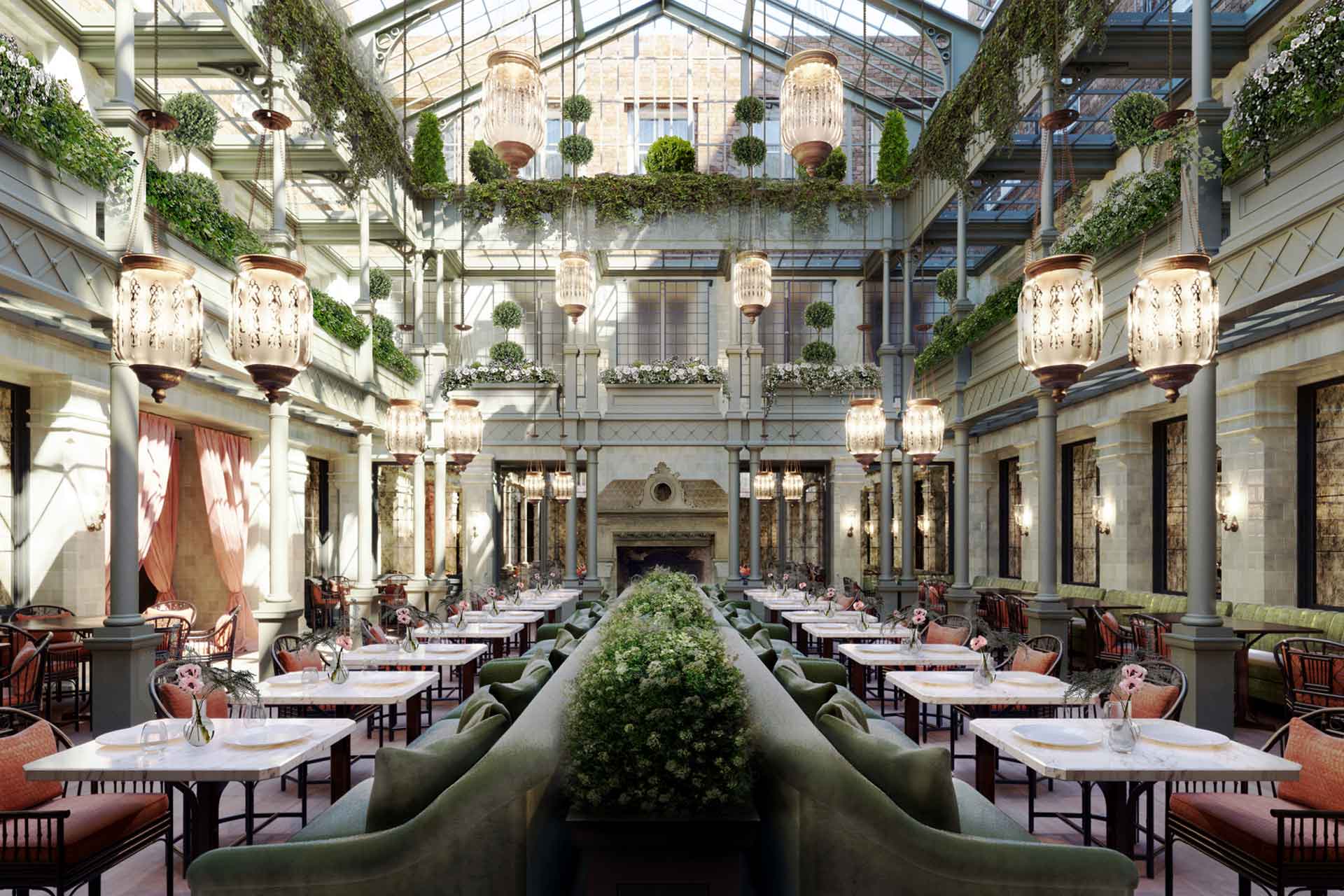 The hotel's Executive Chef Ashley Abodeely says it's the intimacy of each space that sets the restaurants in NoMad apart. "I've worked in small restaurants before and always told myself I would never work in a hotel," she says. "But NoMad strikes a balance between the hotel and its restaurant, so we still manage to make it feel small and part of the community. We use seasonal ingredients and local products, making sure we commit to everything we stand for."
This philosophy is perhaps a part of the reason behind the resounding success of NoMad's restaurants, which have proven to be a key part of the overall NoMad Hotel experience. Abodeely has been with the brand for almost a decade, giving her first-hand insight into its evolution from when it first launched in New York in 2012. She created the culinary vision for the New York NoMad Bar before moving on to become chef de cuisine in Los Angeles, and now leads the culinary team in London. "I've been with the company since the beginning," she says. "I love being part of a place that welcomes, encourages and challenges you. Seeing how the brand has developed and every stage of the evolution has really opened my eyes to an endless-possibilities environment; each NoMad hotel I've worked at has taught me something different and shown me how to build a team that believes in the brand and where we're going."
In London, Abodeely is working alongside Food & Beverage Director Chris Perone – also part of the original NoMad New York team. Another veteran, Pietro Collina, is overseeing the bar programme as Bar Director, while Leo Robitschek provides the London team with leadership and experience as the creator of the original NoMad Bar in New York and author of the NoMad Cocktail book. And finally Guy Palmer-Brown has curated the wine list, introducing new varietals and shining a light on England's viticulture.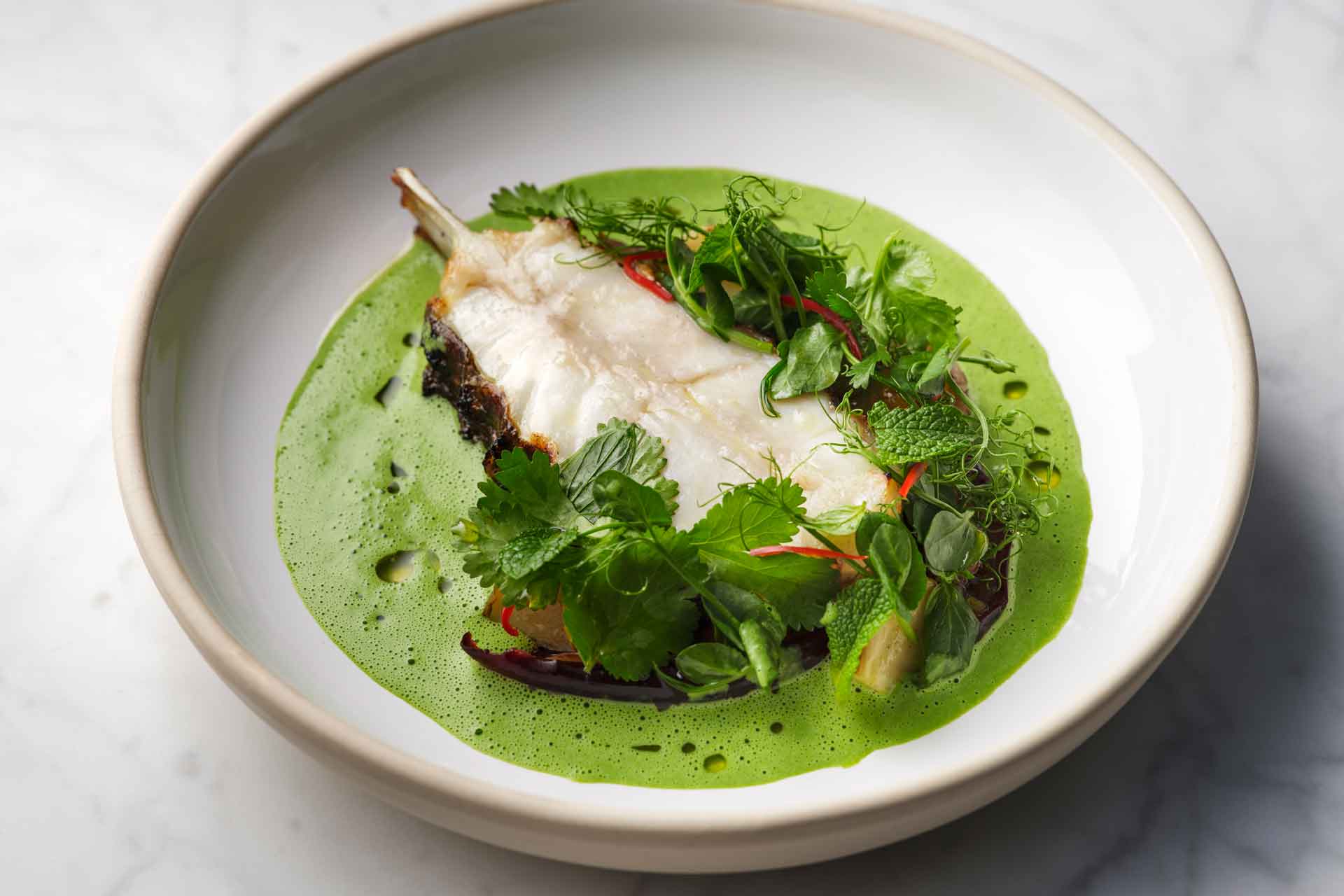 The three-storey glass atrium housing NoMad Restaurant is the focal point of the hotel and this is complemented by the pub-like Mexican-inspired drinking and dining venue Side Hustle, and The Library for light fare, coffee and cocktails. Later in the year, the F&B offer will also be joined by the first ever NoMad lounge known as Common Decency; the subterranean space will be transformed into an East London-style cocktail bar, with former coal stores becoming semi-private dens.
The NoMad Restaurant is evocative of an Edwardian greenhouse with lush greenery and an abundance of natural light. Like the rest of the hotel, Roman and Williams designed this light-filled enclave to honour the building's history and reflect its Covent Garden location, while also exploring the artistic and cultural connection between London and New York. Guests can expect glamour and cosmopolitan spirit in interiors, integrating richly textured fabrics, woodwork and murals. "The atrium is the heart and soul of the hotel," says Abodeely. "For me, this space resembles the atrium in our original property in New York, so it ties the properties together while also providing a space where you feel like you're sitting outside with the light shining in and the smell of smoke from the wood-burning grill."
Opening initially for dinner before progressing into serving lunch later in the year, NoMad Restaurant will offer a seasonally changing menu with many of the dishes touched on the wood-burning grill for added smokiness. Specialities include a large format lamb barbacoa as an interactive meal for two people to share, along with Le Grand Plateau Fruits de Mer seafood tower, suckling pig and the famous NoMad Chicken Dinner, which celebrates the poultry from the egg to the wings with different preparations of the meat and seasonal garnishes.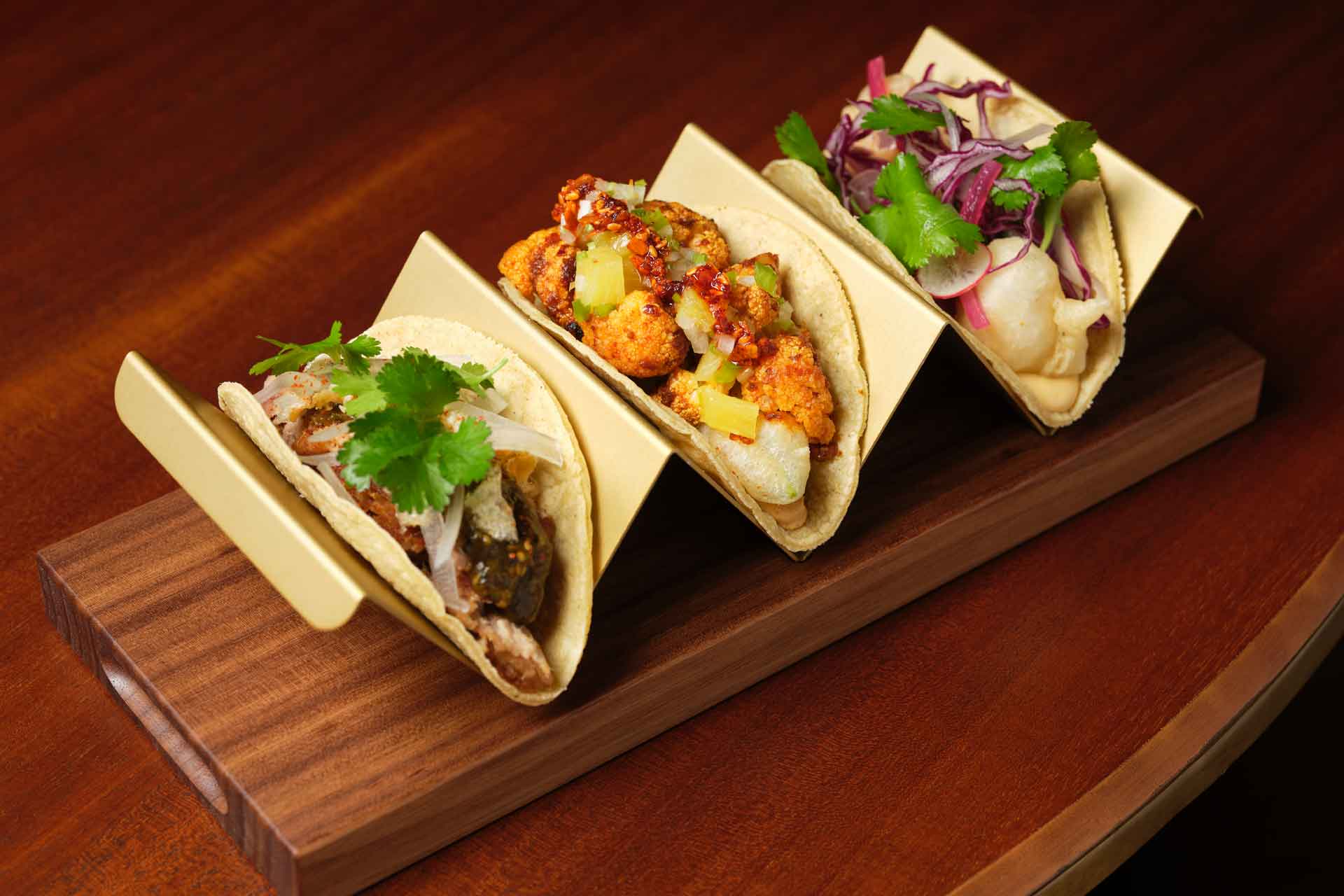 "One thing I'm really excited about that we've done in every NoMad Hotel is the Fruits de Mer tower," says Abodeely. "I know the seafood is going to be very fresh and prevalent here, so I'm excited to highlight our concept comprising a selection of five different seafoods, each composed in its own way. I'm really appreciating the langoustines right now too, as well as fresh scallops, mussels and oysters, so we're going to stay true to that and keep it simple. If you haven't been to a NoMad Restaurant before, the seafood tower is definitely one to try."
The menu also features several small plates including sea bream with radishes, mint and pickled strawberries, and avocado soup with crab and lime granita, along with fresh salads and comforting pasta dishes. "The pastas are incredible," she enthuses. "We have a classic king crab tagliatelle, which is very simply prepared with lemon and pepper, and there's a seasonal rigatoni. All our pastas are made in-house, so they're very special."
The chef describes Side Hustle, which is set in the building's former police station, as Mexican-inspired with a Southern California feel and more hustle-bustle bar vibes. The food here is snacky and shareable but well-rounded with large format entrees to suit everyone's appetite and palate. "Side Hustle is something new we've decided to do at NoMad London," she explains. "Normally we have the NoMad Bar, which is very classic, but here we wanted to have a twist on what we're known for. It also gives me a creative outlet to do something fun that's different to the main restaurant. Coming from Southern California and spending time there over the last six years has inspired me to create that style of casual street food, like tacos, and here I can really showcase that."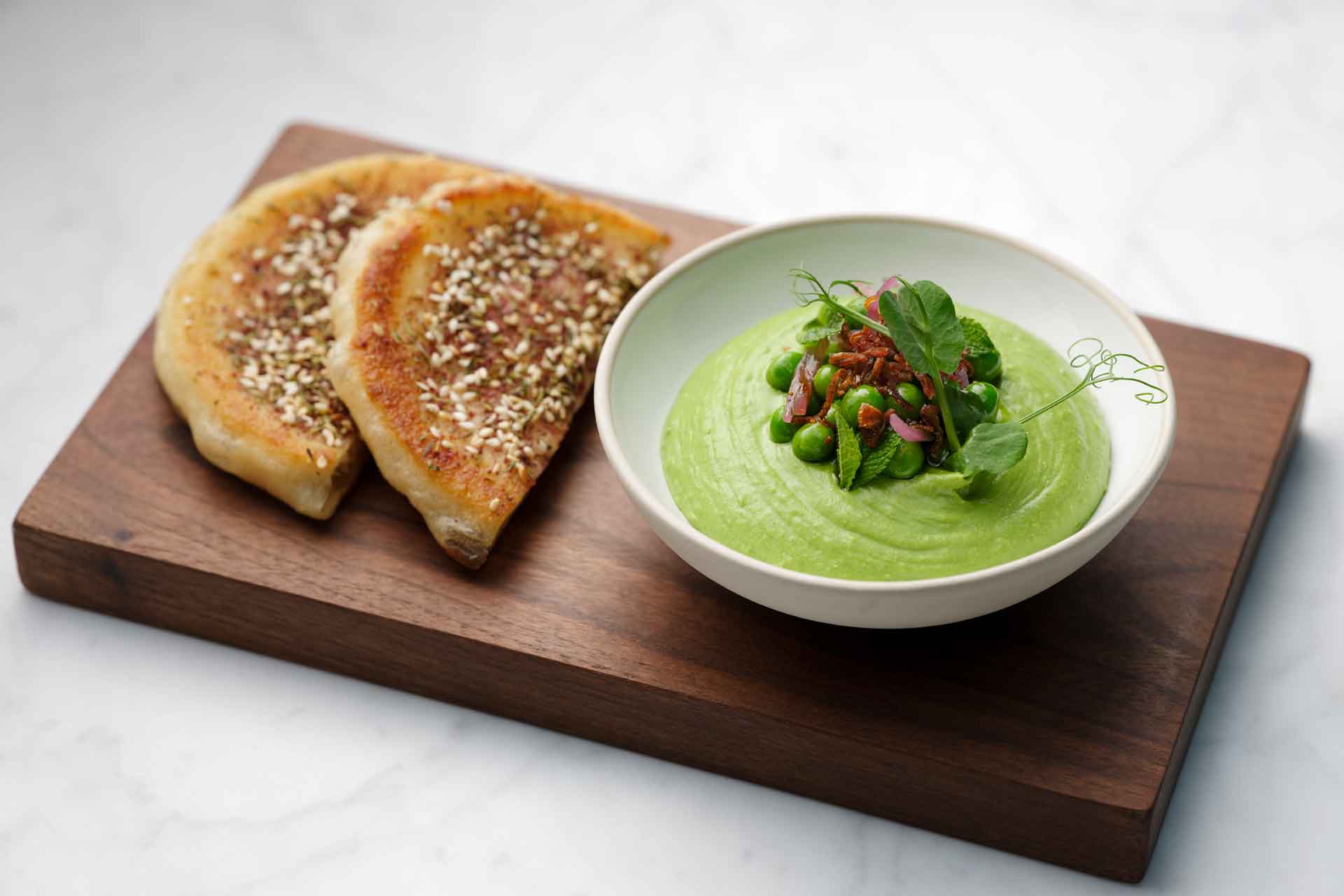 Diners can sample tacos filled with cauliflower, avocado, pineapple and salsa, or snack on guacamole with English peas and warm tortilla chips washed down with a Mexican-inspired cocktails. "The NoMad style has always been simplicity on the plate, although technically challenging, so not something you can make at home, which is the exciting thing about eating out. I personally like to stay true to seasonality. I love clean and simple food, using the products a city has and highlighting them."
Since arriving in London, the chef has been connecting with purveyors who source ingredients from local farms and sampling the products to ensure she gets the best. The kitchen is getting its oysters from Scotland, utilising the farms in Cornwall for beef and delving into the offering at Bethnal Green fish market. "Bringing the NoMad brand to a new city is exciting because we get to think about the unique challenges of the city, think about what people here want, and discover the different ingredients," she explains. "In California, the farmers markets really touched me, so I want to make sure wherever I go I am aware of what is available; I want to taste and share the best products of that season. Here, we're really utilising the produce of local farms to evolve each menu through the seasons."
At each of the restaurants, the drinks offering is curated to match this locally inspired food. Pietro Collina and Leo Robitschek oversee the cocktail programme of the Atrium Bar, highlighting NoMad favourites and classic drinks alongside new creations, which, like the food focus on the seasonality of London. By working closely with the kitchen to share ingredients, the bar team has come up with a series of drinks that work with the food as well as on their own. Collina is also leading the curation of the cocktail programme at Side Hustle, using a wide range of agave-based spirits to highlight the flavours of Mexico alongside both classic and contemporary British and American drinks.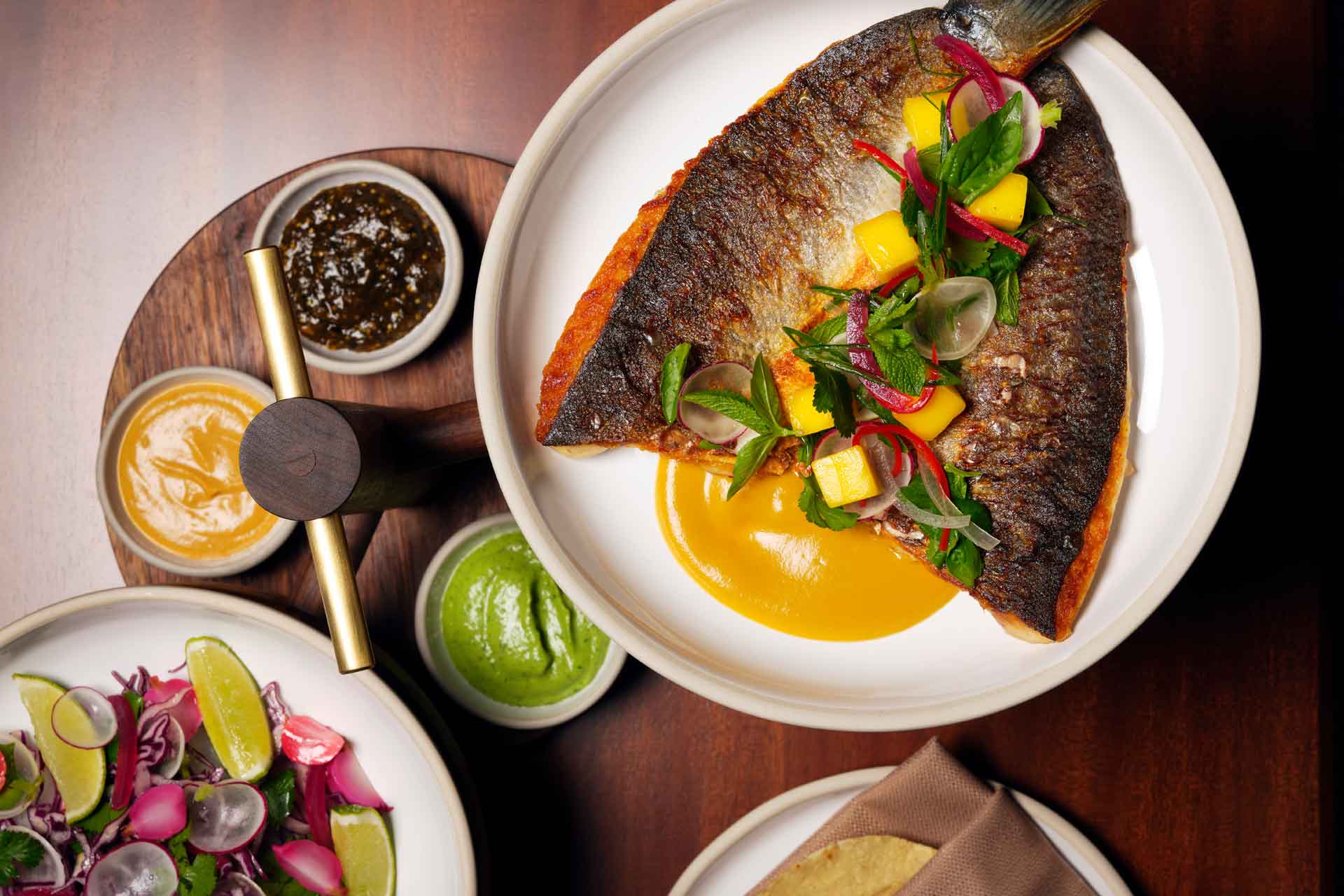 At breakfast, guests can tuck-in to house-baked pastries and bread, and eggs that have been selected through taste-testing. Inspired by her time in Los Angeles, Abodeely plans to add a breakfast burrito to the menu too, with the restaurant eventually open to outside diners.
The chef explains how the philosophy behind the hotel's restaurants will be seen in the food and drinks served to guests throughout the rest of the property. "We don't want to have any separation between the hotel menus and that of the restaurants," she says. "It should feel 100% like NoMad food."
Elsewhere in the hotel, private dining will be offered in the 9,000ft2 events space, which includes the courtroom-turned-Magistrates' Ballroom with two adjacent dining rooms, a separate bar and dedicated entrance from the street. Wherever guests choose to dine, Abodeely wants people coming here to sit back and relax, enjoy the music, enjoy the vibe and leave happy and full. "Having separate dining areas in the building, each with its own unique atmosphere, allows people to have a range of different experiences in one place," she concludes. "Now that we're open, I couldn't be more excited to show everyone what we've created."
---
CREDITS:
Words: Lauren Jade Hill
Photography: Courtesy of Sydell Group
Issue: Supper 24