A lot of hotel restaurants are too formal," says Michel Roux Jr. "This is luxurious informality in one of the most beautiful dining rooms in London." Here inside the new-look Roux at The Landau, the TV chef has overseen a revamp of The Langham's elegant restaurant focused on creating "a more convivial atmosphere" in line with the city's broader shift towards offering high-end cuisine without the traditional trappings of fine dining.
The influence of restaurants like Pollen Street Social, The Clove Club and Barrafina, all renowned for their welcoming atmosphere as much as their Michelin-starred menus, is evident at every turn. That this famed culinary dynasty – Roux at The Landau is actually a partnership between Roux Jr and his father Albert Roux, who are best known for running temples of haute gastronomy such as Le Gavroche and The Waterside Inn – is also now going down the informal route speaks volumes.
It's an interesting move and one that was clear to everyone involved from the outset when interior designers David Collins Studio was tasked with "creating a slightly more relaxed and informal dining space", according to Design Director Lewis Taylor. "The brief was to add another dimension that would bring about an evolution of the dining concept and celebrate the provenance and quality of the ingredients."
The most striking element of the redesign is the move to replace some of the formal table seating with a new curved counter that anchors the dining room space, creating a clear focal point for guests upon entering the restaurant. "The front of the bar is elegantly layered with materials, being clad with a pale blue leather, which is set within a dark timber frame and finished with stud detailing and a crackle glaze surface," says Taylor. "Flanking each end of the bar is a showcase of British produce, including charcuterie and a display of cheeses, shellfish and champagne." It's surrounded by stools upholstered in lilac leather, which offer a more casual seating option at the bar, and illuminated by low-level aged brass lighting that complements the décor.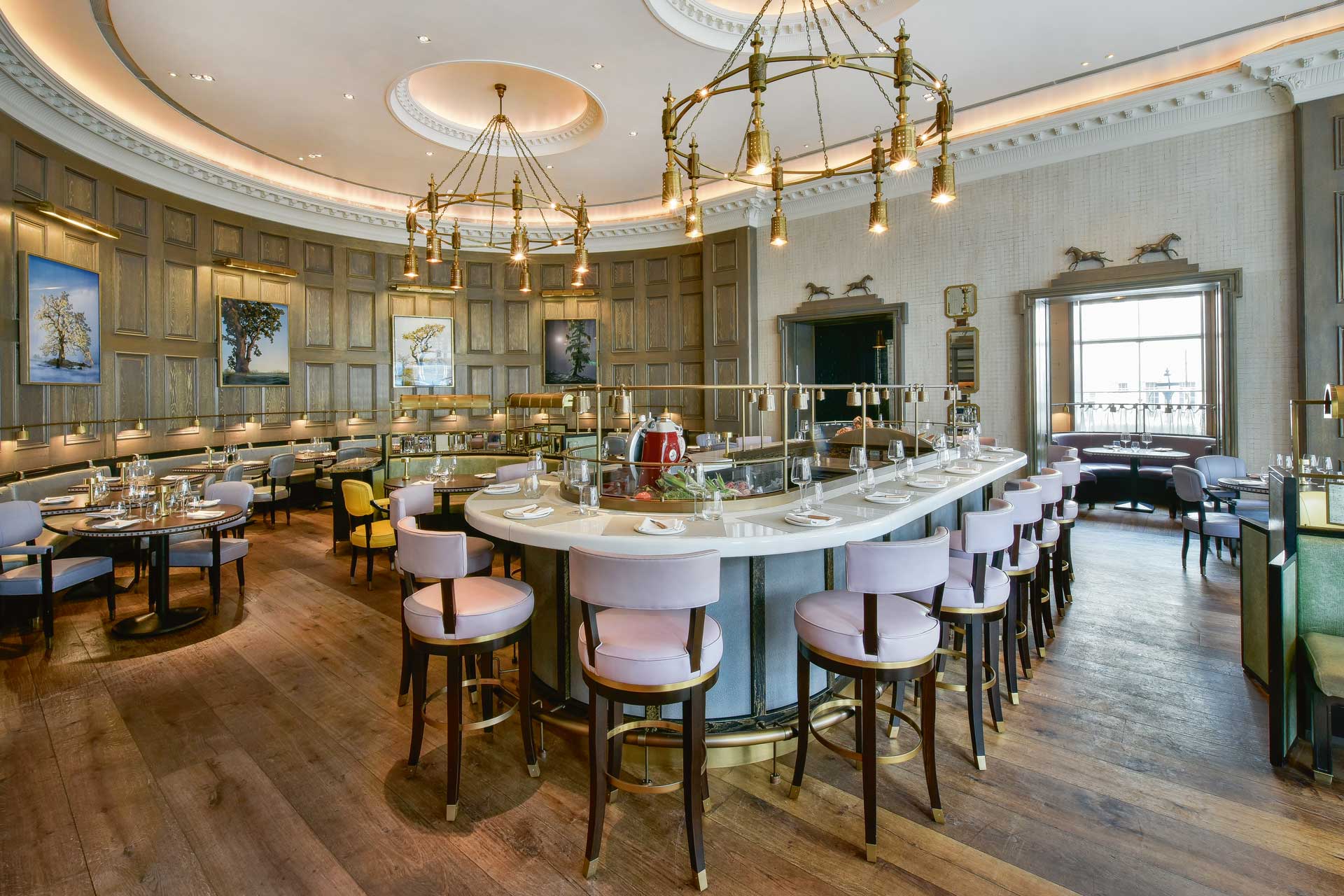 Guests can choose to take a range of starters or light meals at this counter rather than sitting at one of the many smart tables dotted around the dining space. Roux Jr has already eaten at the counter himself and firmly believes that it brings a "personal touch" to the restaurant, as well as being "a great way to show off the amazing produce, provide interaction with the chefs, and attract solo diners and those who haven't made a booking".
Roux at The Landau's cuisine has also undergone something of a makeover – Head Chef Nicolas Pasquier has worked closely with the Roux family to develop a menu that's marginally smaller than previously, but one that simultaneously adds more snacks and lighter dishes suited to both counter and table settings. "The menu is now much more flexible," explains Pasquier. "If you simply want a choice of snacks or some great cheese with a glass of wine that's absolutely fine, but if you want a full five-course tasting menu with paired wines that option is of course available."
There's now a greater emphasis on provenance and seasonality too, all while retaining the restaurant's concept of serving contemporary European cuisine inspired by classical French technique with a clean and uncluttered presentation. Intricate dishes such as braised turbot with Chateau-Chalon sauce and native lobster ravioli sit easily alongside Pasquier's two favourites from the new menu, Cornish crab salad with brown crab crackers, and San Daniele prosciutto with grissini and Kalamata olives. "I think I like them best because they exemplify our new ingredient-led approach," he says. "They are simply presented, but creative and just delicious."
Fittingly, provenance plays an equally important role in Roux at The Landau's enhanced cheese and wine offering. A new custom-made cheese cabinet has been introduced to showcase products from artisanal British and French suppliers and diners are encouraged to browse what's on display with a member of the team, while the vastly extended wine lists spans a remarkable 525 bottles from around the world. Moreover, the sommeliers can offer every single wine by the glass thanks to the restaurant's use of the Coravin Wine System.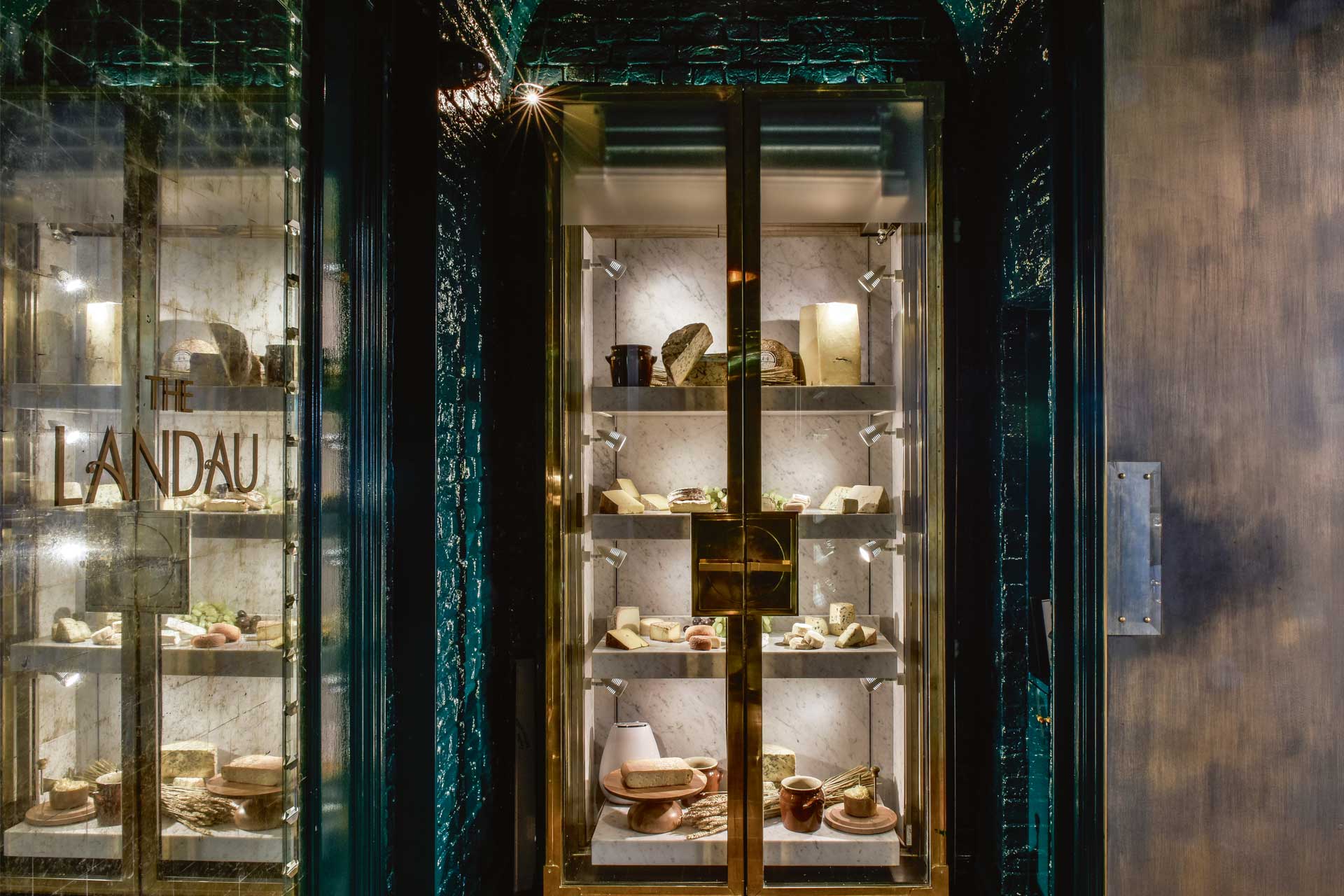 The beautiful new tables are another aspect of the revamp that really catch the eye. David Collins Studio has brought in custom-designed oak tables with leather and bronze details that mirror the timber of the counter; they're no longer covered by tablecloths either, creating a more informal feel. Last but not least, front-of-house staff have been given new uniforms that, in Roux Jr's words, are both "smart and casual" to reflect his belief that happy staff are better at serving customers.
The project represents a homecoming of sorts for London-headquartered interior architecture practice David Collins Studio, which designed the original space for Roux at The Landau ten years ago. The fact that the team previously worked on the same restaurant is very helpful from a design perspective, Taylor admits. "It is easier as we of course know the space and client very well and the team have an excellent understanding of the original design, layout and materials. All very useful when you want to evolve a space and refer back to the original design, yet bring something new."
Already, the switch towards "luxurious informality" appears to be paying dividends for the restaurant, with The Langham, Roux Jr and Pasquier each expressing delight at the end result. As Pasquier puts it: "This new space offers a social experience, one that can be explored and shared with your fellow guests. The atmosphere is vibrant and diners and staff alike seem really happy."
IN A BITE
Covers: 90
Operator: Langham Hospitality Group
Interior Design: David Collins Studio
Head Chef: Nicolas Pasquier
Tableware: Koom, Pieter Stockmans, Wedgwood, Bernardaud
Glassware: Italesse, Schott Zwiesel
Cutlery: Opinel, Gainsborough, Famous Sheffield Shop
Table Decoration: Neoz
Uniform Design: Jalin Design
www.rouxatthelandau.com
CREDITS
Words: Richard Frost
Photography: Courtesy of The Langham
Magazine: Supper 11