Legendary bartender
Salvatore Calabrese

talks to Richard Frost about his extraordinary career during an exclusive tasting of his new cocktail menu at Donovan Bar in London.

The phrase 'living legend' gets bandied around a lot in bartending circles, but there can be little doubt that master mixologist Salvatore Calabrese is fully deserving of such a lofty title. The Maestro, as he is affectionately known by colleagues and customers alike, has been mixing drinks for more than 50 years, worked his magic on a string of the world's top bars, penned cocktail-making books that have sold in their millions, and famously raised the Martini to dazzling new levels of sophistication.

Today, he is welcoming us to the luxurious surroundings of Donovan Bar at Brown's Hotel in London's Mayfair, so that we can be the first to try his new Swinging Sixties-inspired cocktail menu, Our Generation. As ever, the affable Italian is impeccably turned out, dressed in a sharp suit and crisply ironed shirt, complete with natty martini cufflinks, which peek out from under his jacket sleeves whenever he gestures excitedly to emphasise a particularly important point. Alongside him are two trusted lieutenants who helped craft this ambitious list; Bar Manager Maurizio Palermo, a convivial figure with a ready wit and a mischievous twinkle in his eye, and Assistant Bar Manager Federico Pavan, an urbane character who loves using cutting-edge techniques to deliver unexpected flavour combinations.

Of course, the grandeur of Mayfair is a world away from Calabrese's introduction to F&B back in the '60s, when his father found him an entry-level job at Reginna Palace Hotel in the small Amalfi Coast resort of Maiori; here he made his first ever cocktail, an Americano, and developed some fundamental skills that would stand him in good stead for the future. "When I was 11, my very first duty before I went down to clean the bar was to slice the bread served at breakfast, and every slice had to be exactly the same thickness," he recalls. "So even at that early age, I learnt how to be very particular and precise." Calabrese's keen eye for detail quickly marked him out as one to watch, and after stints working both behind the bar and in the kitchen, he was made Maître D' at nearby Hotel Panorama. "At 21, I was the youngest Maître D' in the whole of the Amalfi Coast, with 27 people working for me," he remembers, an achievement that evidently still fills him with pride to this day.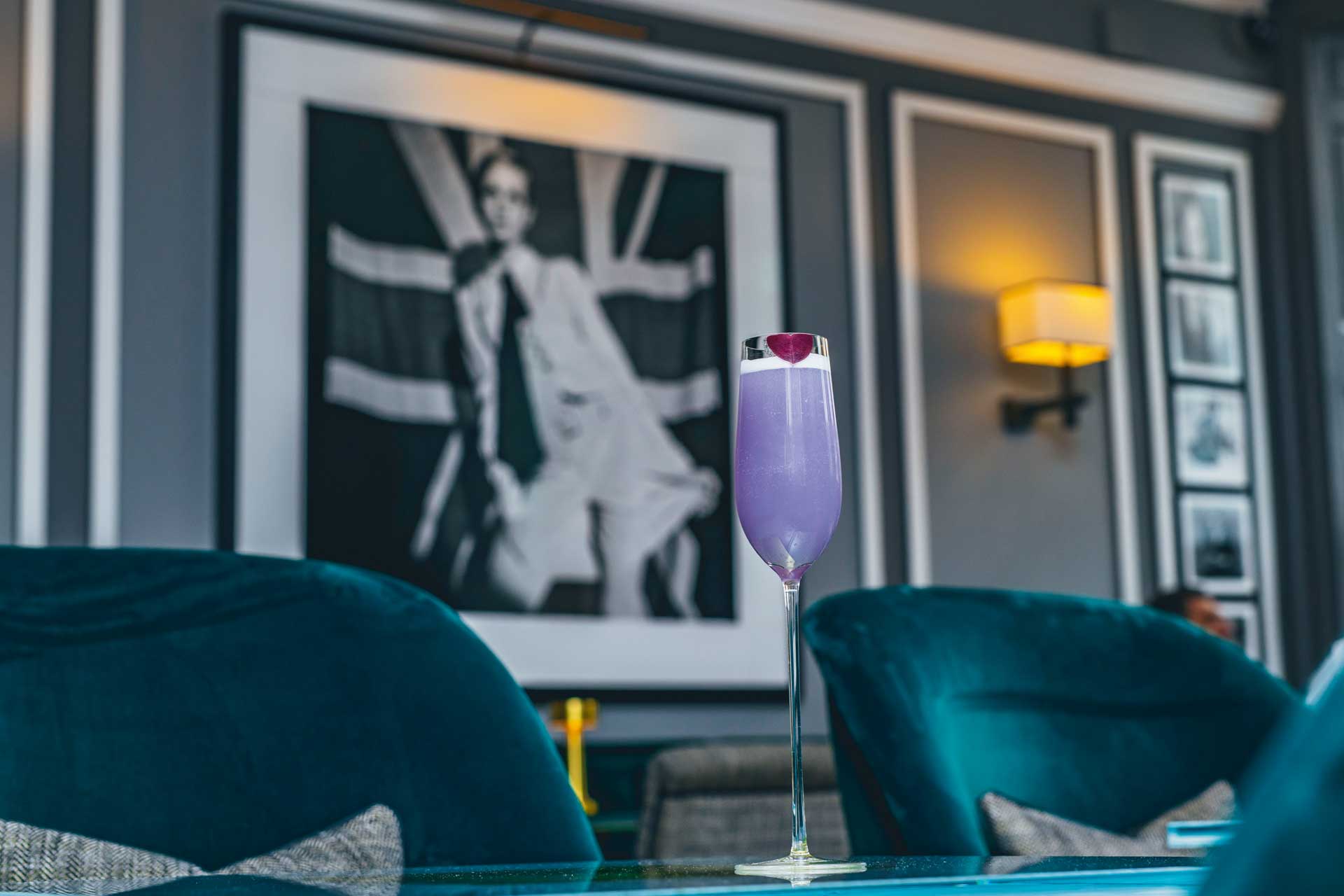 Then in 1980, he made the life-changing decision to move to London, and took up the challenge of transforming the fortunes of the little-known bar at Dukes Hotel in St. James's. To help put his new home on the map, he hit upon the idea of not just offering customers rare spirits, but selling them 'liquid history'; patrons might be invited to try a vintage cognac from the year Lord Nelson lost his life at Trafalgar (1805), for instance, or one from the year Napoleon invaded Russia (1812). "I always associate the age of the spirit with something happening in the world," he explains. "This was when I became the crazy bartender selling 'liquid history', and the bar went from making £400-£500 a week to bringing in up to £10,000 a night."
At Dukes, Calabrese also achieved fame for creating a Direct Martini so good that Stanton Delaplane (the legendary American travel writer credited with introducing Irish Coffee to the US) called it "the best Martini in England", and novelist Kingsley Amis declared there was no better barman in the whole of London. With his reputation skyrocketing, Calabrese opted to move on from Dukes in the early '90s to strut his stuff over at The Lanesborough in Knightsbridge. It was here that he created the Breakfast Martini, a deliciously bittersweet combination of gin, Cointreau, lemon juice and thin-cut orange marmalade served in a chilled cocktail glass, which the story goes was inspired by his dutiful wife urging him to eat breakfast before heading off to work.
Fast-forward to 2004 and Calabrese decided to leave The Lanesborough to launch his very own bar, Salvatore at Fifty in the Fifty St. James private members' club, where he created the sweet-and-sour Spicy Fifty cocktail (vodka, elderflower cordial, lime juice, honey and chilli pepper), before repeating the trick in 2010 with the opening of Salvatore at Playboy in Playboy Club London, which he only stepped back from in 2016. But this is not to say that his most famous cocktails have now been consigned to the history books; today, Calabrese focuses on consultancy for clients such as Brown's owner Rocco Forte Hotels, and signature serves such as the Breakfast Martini and Spicy Fifty have duly been added to the menu at Donovan Bar. "I believe that if a cocktail becomes iconic, there's no point losing it," he says. "After all, what's the biggest dream of any bartender? It's to immortalise yourself in a great cocktail that people still drink in a hundred years' time."
"I believe if a cocktail becomes iconic, there's no point losing it. After all, what's the biggest dream of any bartender?"
The centrepiece of Donovan Bar's new drinks list, however, is a selection of 20 never-before-seen cocktails curated by Calabrese. The Our Generation menu plays on his childhood memories of growing up in the Swinging Sixties, while also honouring the bar's namesake Terence Donovan, the celebrated photographer whose intimate and irreverent portraits of stars like Jimi Hendrix, Celia Hammond and Sophia Loren helped define the era. Cocktails are split into four groups of five: those in Portrait are soft and mellow, while Fashion is for fresh and vibrant serves, Music comprises playful and delicate drinks, and Screen contains strong and bold creations.
A perfect case in point is Black Trinity in the Portrait category, which pays tribute to the work of Donovan and fellow photographers David Bailey and Brian Duffy by mixing together Hennessy cognac, Martini Riserva Speciale Rubino vermouth, port and Disaronno liqueur in a tumbler; the drink is topped with an aromatic cantaloupe melon foam, and accompanied by a cube of melon on a cocktail stick. One might naturally assume that a cocktail built around cognac and port would be intense and powerful on the palate, but in Calabrese's hands, the result is surprisingly easy to drink. "It's intriguing because what should be strong and bold is actually soft and mellow," asserts Calabrese, who was inspired by memories of seeing cantaloupe melon with port on countless menus in the '60s.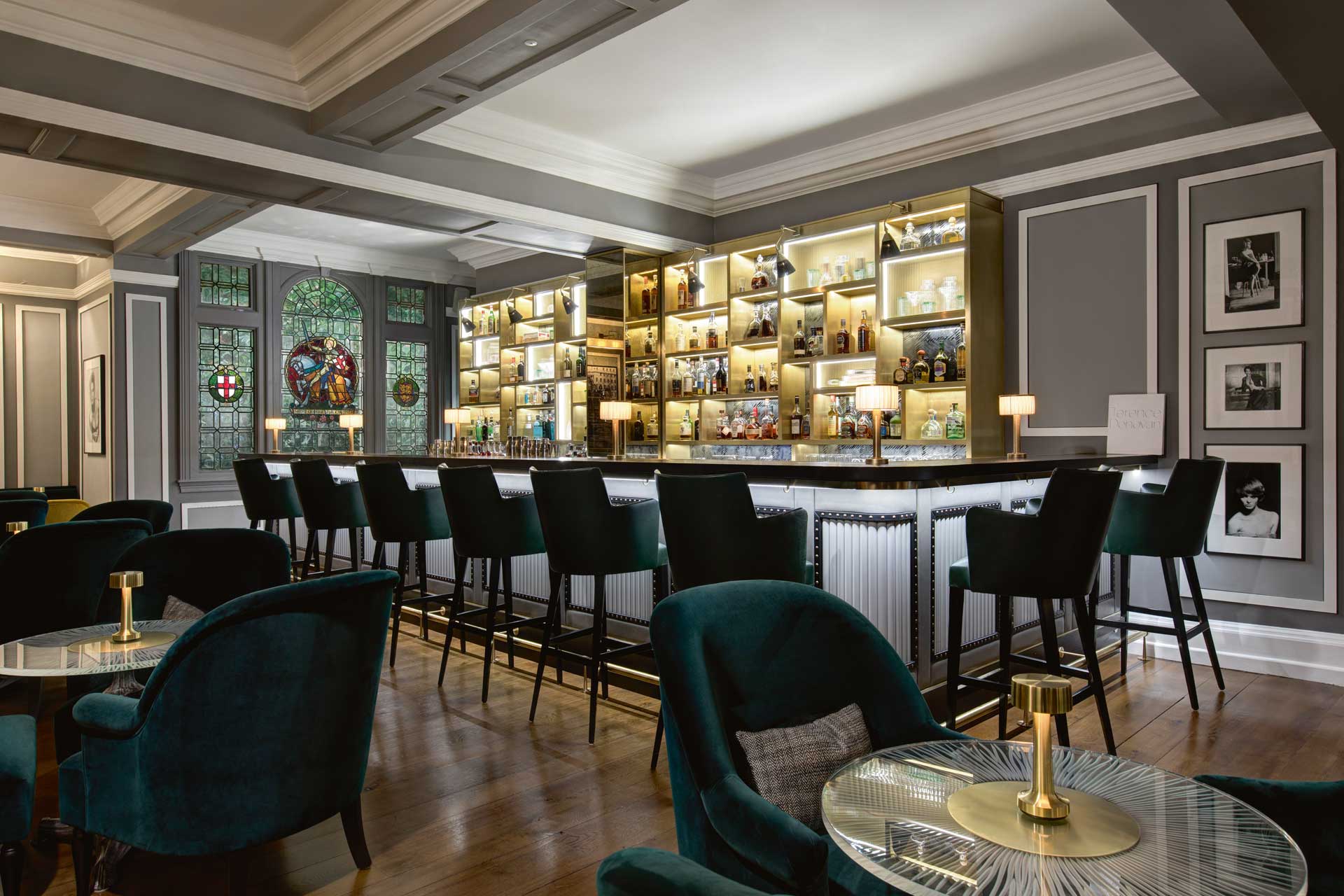 Another mixological highlight is The Twiggy, part of the Fashion collection; it takes its cue from an iconic photo of the eponymous supermodel by Donovan, which hangs in the bar. This fun tipple features Grey Goose vodka, passion fruit syrup, coffee beans, vanilla essence and champagne, all served in an elegant thin-stemmed flute. "Here we have something very vibrant and refreshing with a beautiful sensual colour, almost purple or lilac," says Calabrese. However, the most visually arresting element is the garnish, which takes the form of an edible flower shaped to resemble a lipstick mark. "It looks like Twiggy herself had a sip from this glass," jokes Palermo.
At the opposite end of the spectrum, Not Shaken, Not Stirred sits in the Screen section, and harks back to Donovan's famed shots of Sean Connery in the same year the James Bond franchise debuted in cinemas. It comprises Cîroc vodka or Tanqueray No. Ten gin distilled with coffee liqueur and ginseng, along with a few dashes of homemade green mint liqueur and dandelion bitters, served in a martini glass. "This is our way of honouring Salvatore Calabrese by serving a Martini direct like he does," explains Pavan. Of course, Martinis are traditionally accompanied by either an olive or a twist, but here customers are invited to try homemade 'coffee caviar' instead, tiny coffee-flavoured spheres dropped directly into the cocktail or served on the side according to customer preference. Not only does this enable the bar team to reference Calabrese's Italian roots, and specifically his love of coffee, it also gives the drink a pleasingly bitter aftertaste that contrasts nicely with the initial sweetness of the mint.
"Each cocktail is very different," reflects Calabrese, who spent six months developing Our Generation alongside the bar team. "A great menu is one in which you cater to a range of tastes. Far too many lists today are all about offering drinks with a strong character, but it shouldn't just be about that."
Interestingly, Rocco Forte Hotels did not just bring in Calabrese for his cocktail-making skills, it also worked with him to redesign the venue itself. Among the changes that he instigated was a comprehensive overhaul of the back bar, transforming it into the perfect environment for mixologists. "I want to make sure that a bartender is able to do everything necessary to make the cocktail list in three steps," he declares. "How many times have you had to wait 20 minutes to get served in a bar because everything is so complex and complicated? I want you to have your drink in five minutes." Innovative features such as the Calabrese Sink have been introduced to help achieve this admirable goal; named after its creator, the sink reduces turnaround times by letting bartenders quickly wash away perishables like fruit and vegetable peel without having to worry about blockages or breakdowns, all while keeping pesky flies at bay.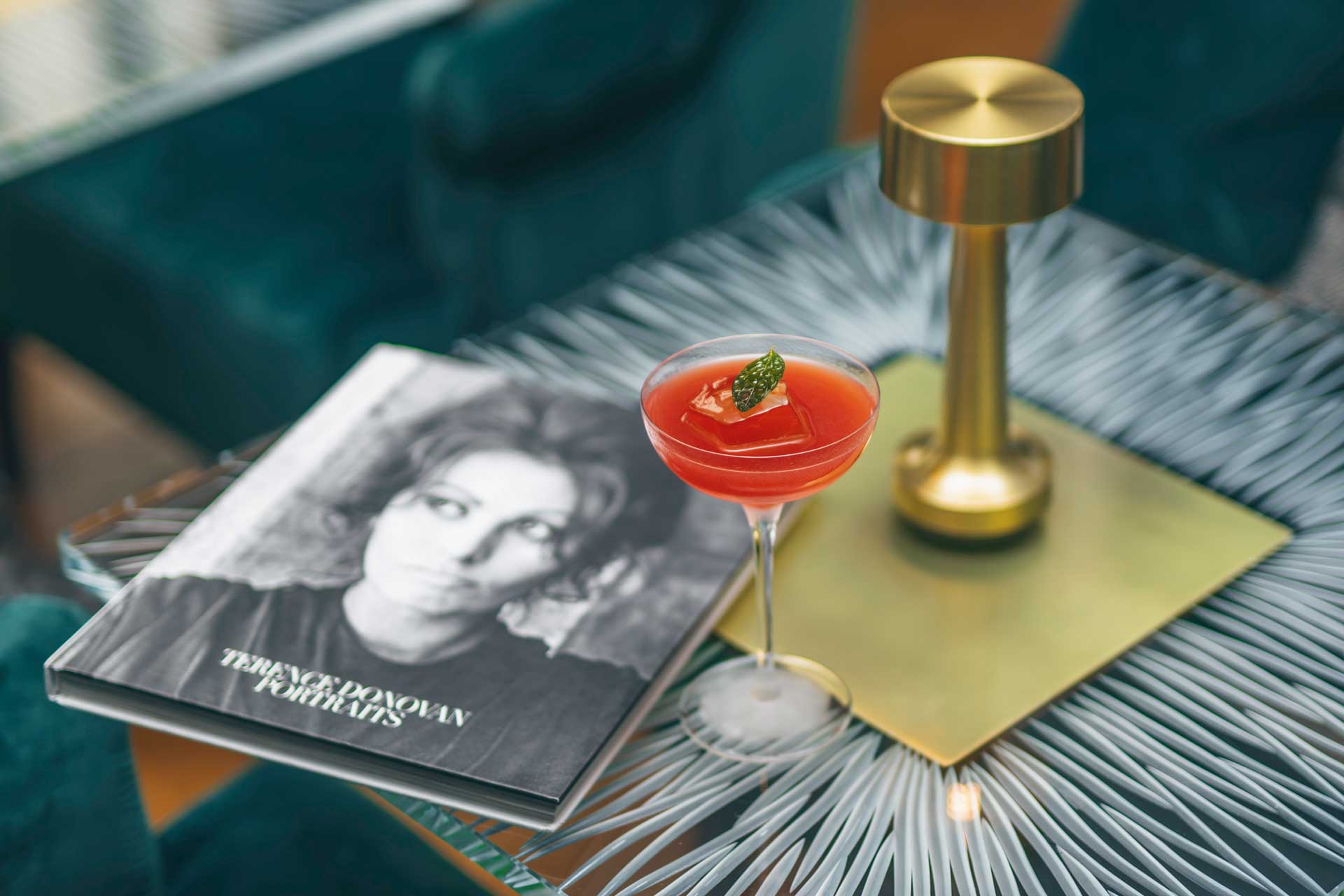 Unsurprisingly, Calabrese's experience of what really matters in mixology has made him something of a go-to figure for hospitality professionals looking to improve their beverage offering. Besides Donovan Bar, he has also consulted on a host of other venues down the years, including Mixology 101 in LA, Bound by Salvatore at The Cromwell Hotel in Las Vegas and Salvatore at Maison Eight in Hong Kong. "One of the things I focus on a lot as a consultant is how to make people feel special," he reveals. "Customers won't come to a bar if it's just about the drinks. Beverages are one element of what we provide, but we must also offer good service and really care for our guests."
Calabrese, a former President of the UK Bartenders Guild, is certainly no stranger to sharing his passion for the art of mixology with the world. The irrepressible Italian has written no fewer than 13 drinks-related tomes to date – his first book, Classic Cocktails, sold over 1.5 million copies – and developed a range of barware carrying his name in collaboration with Urban Bar. As if that wasn't enough, he also fronts his own bartending competition, The Maestro Challenge, in his hometown of Maiori, has his own lemon liqueur, and has served everyone from Mick Jagger and Maurizio Gucci to Stevie Wonder and the Queen.
The 64-year-old's achievements feel all the more impressive if you consider quite how far he has come since first learning the ropes in the Swinging Sixties, though perhaps one can still see glimpses even today of the same attention to detail that served him so well on the bread station five decades ago. A prime example of this comes when Palermo and Pavan unveil Not Shaken, Not Stirred, their tribute to The Maestro, at the end of our tasting; it is fascinating to see Calabrese instantly single out what would make the cocktail even better. He has noticed the homemade 'coffee caviar' is clumping together after being dropped into the glass, and so quietly, understatedly and with the bare minimum of fuss, he urges them to gently stir the drink in future, ensuring this modern take on the Martini looks every bit as good as it tastes. A small detail, perhaps, but one that neatly illustrates how this living legend's relentless focus on achieving perfection remains undiminished even after all these years.
CREDITS
Words: Richard Frost
Headline Image: © Janos Grapow
Magazine: Supper 16