Nobody could accuse Ryan Chetiyawardana, better known as Mr Lyan, of playing it safe. After seeing Dandelyan at Sea Containers London (formerly Mondrian London) top the World's 50 Best Bars list in 2018 – a year after being named World's Best Cocktail Bar at Tales of the Cocktail in 2017 – he promptly closed it down to make way for a new concept, Lyaness, which opened earlier this year. At the exact same time, he decided to relocate another cocktail den, Super Lyan, from a small basement in Hoxton to a far larger space in the centre of Amsterdam, despite having never run a bar outside London before.
For Chetiyawardana, the lure of the Dutch capital was impossible to resist after he "totally fell in love with Amsterdam" upon visiting the Netherlands, with the 35-year-old fascinated by the city's UNESCO-listed canal district and beautiful Golden Age mansions as well as its residents' famously progressive values. As luck would have it, the 274-room Kimpton de Witt – an imaginative fusion of three Golden Age buildings and two 20th-century counterparts that forms part of Lore Group's expanding portfolio – was keen to ramp up its F&B offering, and the master mixologist was invited to replace its existing House Bar with something befitting its historic setting.
Not for the first time, Chetiyawardana turned to Jacu Strauss, Creative Director at Lore Group and founder of its in-house design practice Lore Studio, to help realise his vision. The bartender and designer originally teamed up on Dandelyan, back when Strauss worked at Tom Dixon's Design Research Studio, and also collaborated on its successor, Lyaness. "The constant communication between me and Jacu, as well as our rapport, is what enables us to fully integrate how we work," says Chetiyawardana, explaining why he jumped at the chance to join forces with Strauss again. "Far too often, design is shoehorned in during the later stages of a project, so you don't get an opportunity for it to become one with the concept." This is certainly not an accusation you could level at Super Lyan, where, as Strauss points out, "the bar's offering is really ingrained in the interior design, and vice versa".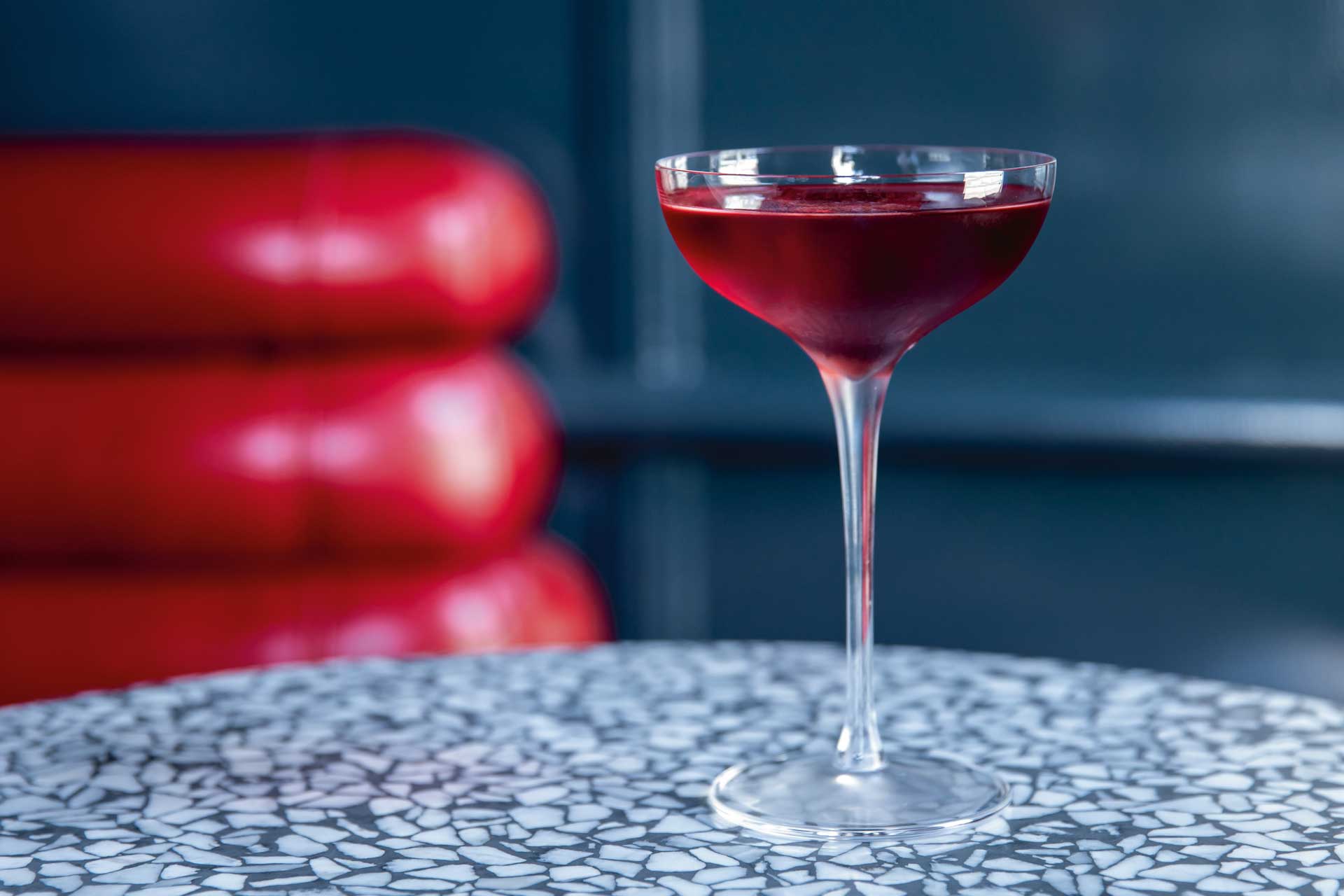 Super Lyan's concept revolves around the idea of playful nostalgia, with an all-day neighbourhood cocktail bar celebrating the optimism of the 1950s. The venue actually comprises three distinct parts: an atmospheric main bar with a retro American-diner vibe and bold neon lighting, a cosy lounge area reminiscent of a private living room from the mid-20th century, and a casual indoor courtyard where the newly installed skylight introduces a palpable sense of space. The first two only open in the evenings, and utilise hero pieces such as a spectacular curving bar counter ("it's almost like a spaceship from The Jetsons", jokes Strauss) and an authentic vintage minibar, accompanied by brightly coloured banquettes and stools; by contrast, the latter operates right through from 7am till midnight daily, and employs a classic blue-and-white colour palette to evoke a calm, welcoming atmosphere whatever the hour.
Strauss freely admits that the project was not without its challenges, from the radical overhaul required to deliver an "all-day mini-Super Lyan experience" in the courtyard, which was previously just a thoroughfare between the hotel's lobby and its American-inspired restaurant, Wyers, to the transformation of the lounge. "The living room was the space I was most nervous about because it's isolated from everything else, but it's turned out to be really special," he reflects. "I'm proud of how we've managed to turn a dead space into something people want to experience."
Of course, stylish interiors can only take a bar so far – the quality of the drinks offering is the key to ensuring customers return again and again. To ensure service never dips below his own impeccable standards, Chetiyawardana is putting his faith in trusted lieutenant Alex Lawrence, former Head Bartender of Dandelyan and now Head of Bars for the Mr Lyan group, alongside Bar Manager Thomas Datema (co-founder of local cocktail bar Rosalia's Menagerie) and Head Bartender Dan Garnell, another Dandelyan alumnus.
They will oversee a constantly changing drinks menu that caters to drop-ins as much as connoisseurs. "Super Lyan's a democratic bar – we want to make cocktails that appeal to everybody across all times of day," explains Chetiyawardana. To this end, customers can order a selection of breakfast cocktails like the Lyan Mary (Ketel One Botanical vodka, miso, tomato, passata and lemon), alcohol-free creations, and signature serve Panacea (Johnnie Walker Black Label, lavender and honey shrub, lemon and sage dust), which comes on draught. They could also sip tea and coffee in the courtyard, or splash out on vegan shakes such as the aromatic Halo Hi Ball Float (Karma Cola and orange blossom coconut 'cream'), which can be turned into a hardshake by adding Bacardí Quatro and Angostura bitters for a €2 supplement. "Shakes help us reflect the garden feel and fit into the fifties theme," he adds. "Most shakes tend to be heavy, but we've done a lot of R&D to develop rich flavours without using dairy."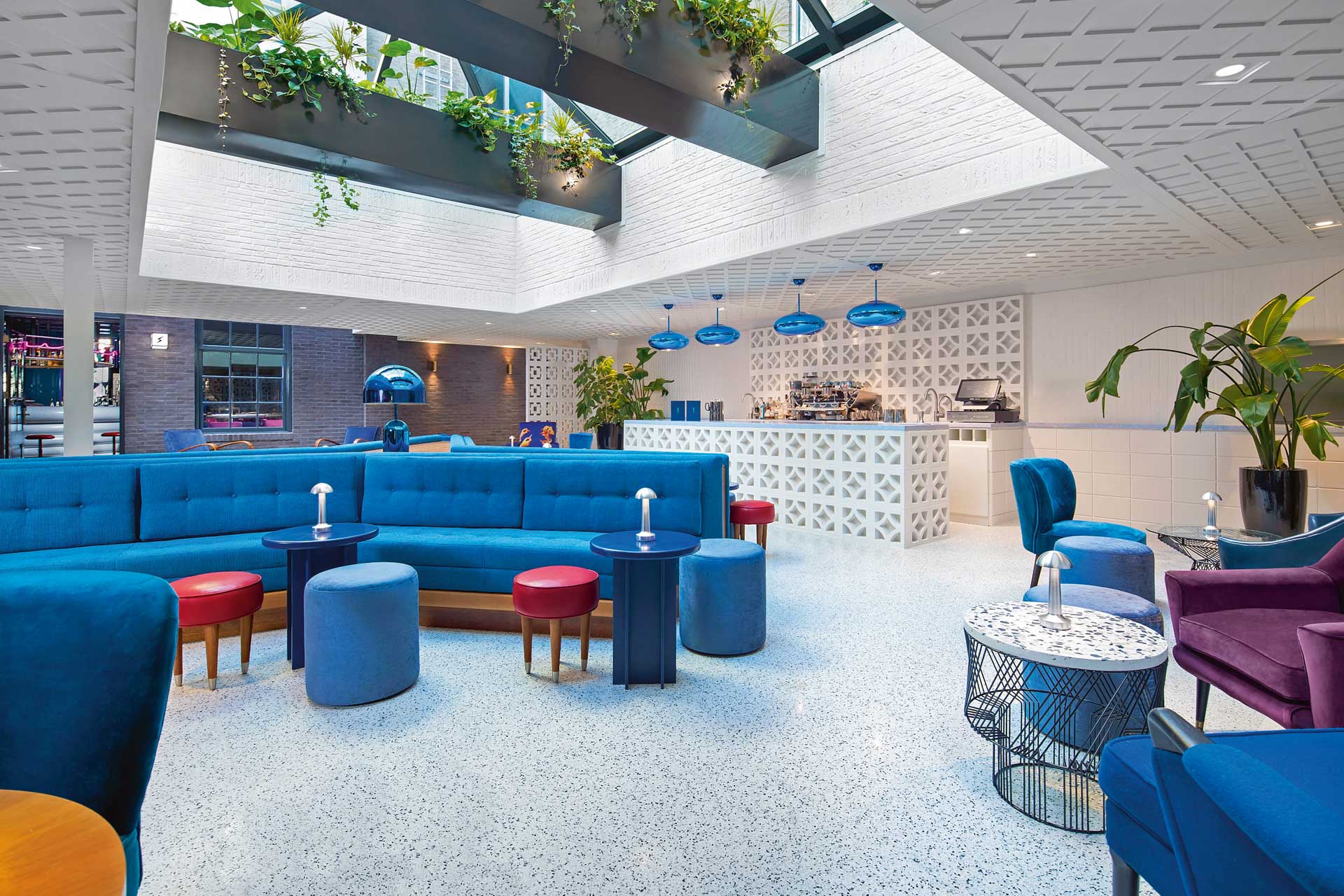 Chetiyawardana's training as a chef (lest we forget, he also heads up London's Cub restaurant) is evident, meanwhile, in the unusually adventurous bar snacks menu. Among its highlights are the Amsterdam-inspired trio of fresh stroopwafel (waffles with a sweet caramel syrup filling), beef bitterballen (fried balls of beef ragout) with beer mustard, and fries with deep-fried mayo, while the more-ish vegan donuts (raspberry with miso caramel, almond butter with banana, or dark chocolate with speculaas) are perfect for those with a sweet tooth.
Billed as the playful sibling in the Mr Lyan group, Super Lyan's fun approach will undoubtedly shake up Amsterdam's traditional cocktail scene, and feels a world away from the high-concept ethos of Lyaness (where guests choose from a list of ingredients instead of a drinks menu) and Cub (which champions sustainable eating). Later this year, Chetiyawardana also plans to open another bar, Silver Lyan, in Washington D.C., although the details of this particular venture are still being kept firmly under wraps.
For now though, Chetiyawardana can bask in the positive reception for Super Lyan, a venue that amply demonstrates the London-based bartender has what it takes to succeed outside of his home city. Far from playing it safe, the brains behind the World's Best Bar is clearly seizing his time in the spotlight, and his proven flair for mixology looks set to win over a whole new legion of fans, both in the Netherlands and beyond.
IN A BITE
Covers: 65 (main bar and lounge), 45 (indoor courtyard)
Investor: Lore Group
Interior Design: Lore Studio
F&B Consultant: Mr Lyan
F&B Director: Jos van Hunen
Interim Head Chef: Bas Verheul
Bar Manager: Thomas Datema
Head Bartender: Dan Garnell
Head Waiter: Laurens Keg
Dinnerware: Tovari, Villeroy & Boch
Cutlery: APS
Glassware: Tovari, APS
Barware: APS, Cocktail Kingdom
Buffetware: Tovari
Menu and Graphic Design: Magpie Studio
Uniform Design: Pakkend
www.superlyan.com
CREDITS
Words: Richard Frost
Magazine: Supper 15