Tales of Provence: An interview with Arnaud Donckele
This article first appeared in print in issue 28 of Supper. Subscribe here.
_____________________________________________________________________________________________________________
From Paris to Provence, Arnaud Donckele's multi-Michelin-starred cuisine tells the story of the land that bore its ingredients and the people who cultivated them, in a Proustian quest to evoke memory and emotion, discovers Shanna McGoldrick.
As restaurant settings go, it would be difficult to conjure up a more serene tableau than La Vague d'Or. Planted in the heart of the chic LVMH-owned hotel Le Cheval Blanc St-Tropez, Chef Arnaud Donckele's shrine to fine dining stretches languorously across a terrace shaded by lofty pine trees, their green needles drifting down onto the white tablecloths whose linen folds puff up gently in the breeze. Waiters weave through the furniture that extends down to a slip of golden beach and beyond it the Mediterranean Sea, shimmering with the same magnetic luminescence that has been drawing artists to the French Riviera for centuries. 
It seems a long way from Donckele's childhood surroundings in the agricultural heartlands of Normandy, where he lived with his family on an entirely self-sufficient farm in the village of Catenay until the age of 11. "Honestly, my dream would have been to be a farmer," he says of his early career aspirations. "It was fantastic." 
Donckele, alas, was not in his family's line of succession for the farm – but agriculture's loss was gastronomy's gain. Today, he is one of France's most elite chefs, having utilised his early training in self-sufficiency to carve out an extraordinary career in the upper echelons of its culinary sector. He first took the reins at La Vague d'Or in 2004 (which at the time was part of Résidence de la Pinede, a Riviera institution), at the prodigious age of 27, after being recommended by Alain Ducasse. By 2013, the restaurant had three Michelin stars, which it has retained ever since. This March, he confirmed his status as a culinary firebrand when his second venue Plénitude, a 26-cover restaurant within Cheval Blanc's flagship Paris hotel, scored its own Michelin star hat-trick barely six months after opening, making him the second chef in 30 years to accomplish such a feat. 
His connection to the land also remains resolute. At La Vague d'Or, he is famed for his hands-on method of working with local agriculturalists and growers to champion regional produce – an approach that, he says jokingly, he adopted "before it was fashionable". He might hail from Normandy, but his unwavering commitment to exploring and experimenting with the district's ingredients means that when he's in the South he can often be found picking fig leaves from the restaurant's offsite vegetable garden, Jardin de la Piboule, or stepping off a fishing boat brandishing freshly-caught lobster. "I am an autodidact when it comes to Provence," he says. The restaurant's cuisine is just as rooted in this sense of place, notably in the way that it elevates local species such as leerfish, which are native to Meditarranean waters, to the level of haute cuisine. "It is a true representation of the soul of the people here, and the environment," he asserts.
As such, dinner at La Vague d'Or might start with crispy, melt-in-the-mouth courgette flowers pressed into delicate, parmesan-tinged wafers that act as a tribute to the homegrown artistic legend Cézanne. A potager dubbed 'Calin de la Piboule' features a composition of texturised and colourful vegetables served with flowery black olive velours, its sunbursts of sweet, vine-ripened tomatoes an homage to the region of Le Var. A dish of roasted John Dory with marine plankton sees violin and ball courgettes steamed with sea plankton, oyster steam, seared clams and haliotis in lemon olive oil broth, creating a symphony of flavours and consistencies that elicit the crossover between land and sea. A zitone pasta dish features silky parcels delicately filled with full-bodied black truffle and foie gras, while the desserts spotlight the acidic sharpness or sun-soaked sweetness of the province's fruits, from fragrant elderberries to tart rhubarb.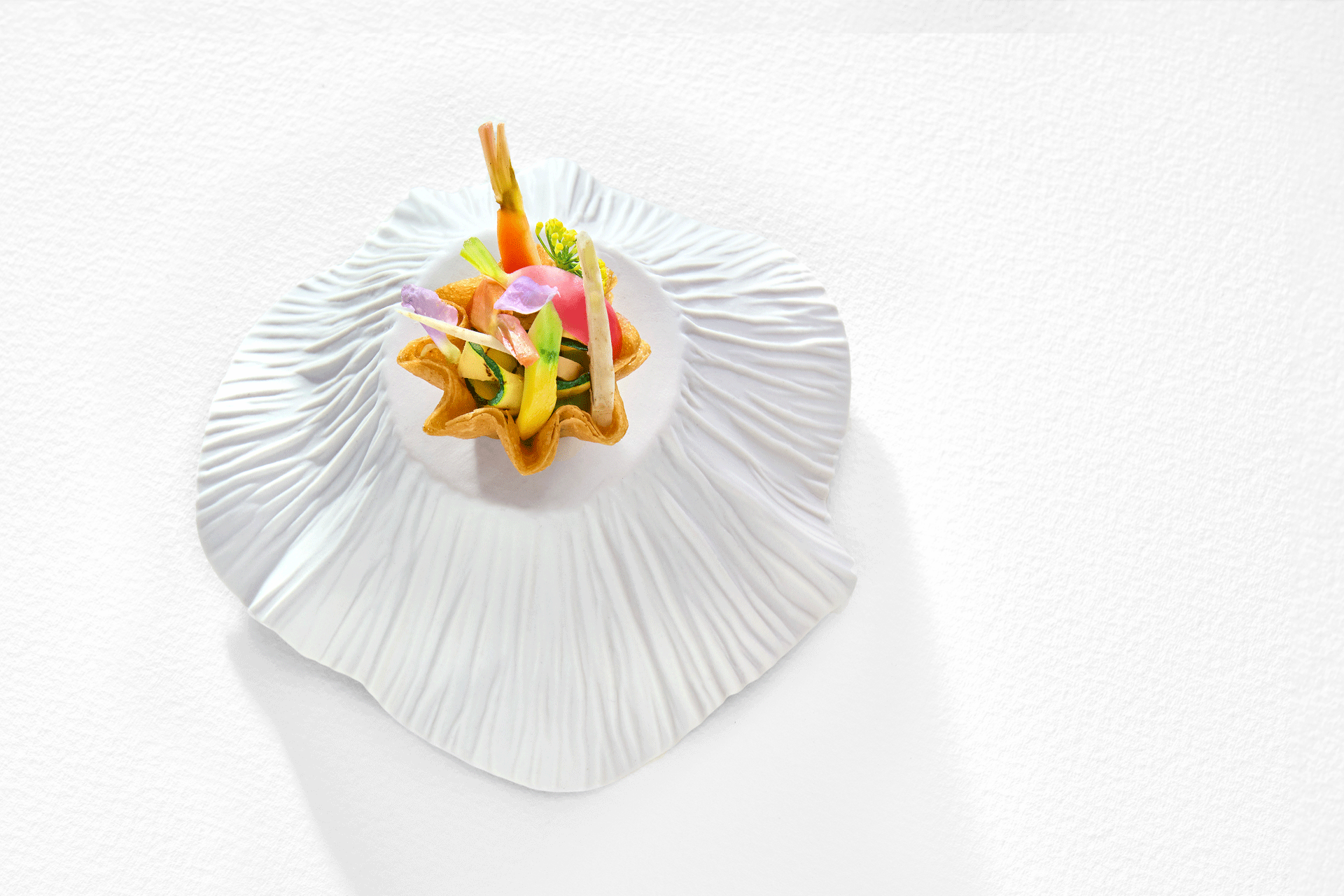 This layered, deliberately alchemic approach has brought Donckele a success that he seems to have spent years trying to make sense of. "When I got three Michelin stars I understood that everything I had done, I had done to try to capture my father's attention," he says. It seems like a demandingly high bar to set; did it work? "Yes, I think so!" he laughs. "Beyond what he could have imagined, even."
Perhaps he has also achieved more than he himself might once have imagined. Although Donckele saw the great potential in La Vague d'Or when he arrived at the restaurant 18 years ago, its journey to international acclaim wasn't without its practical obstacles. "The setting was exceptional, but when we got two stars we did it with six dishes on the menu, including a bread dish," he recollects of the adventure, which saw the first star awarded in 2008 and the second in 2010. "The dining room hadn't been redone in 16 years; the kitchen in more than 20 years. By the time we got three stars, we had a bit more money behind us, but the dining room was still just as old, and the kitchen just as old-fashioned." What he and his team did have, he recalls, was a common drive to make guests happy; to stir emotions and create lasting memories. "I think we really had an obsession with wanting to offer people something great, something sincere," he says. 
This collective pursuit of excellence resulted in a surprise third star, which put the hotel firmly on the map and, the chef says, changed everything. "I didn't believe it; we weren't expecting it at all," he asserts. "It took us two or three years to absorb it." The subsequent financial boost had a stabilising effect, and today the venue, which was moved under the LVMH umbrella when the luxury conglomerate bought the hotel in 2016, is as comfortable as they come, its discreetly plush surroundings corresponding perfectly to the understated yet opulent aesthetic of the property as a whole.
Asked what he is trying to express through his food, Donckele says: "Something that kindles memory – what interests me is finding memories. All the planets have to be aligned for it to work." This Proustian quest to evoke nostalgia and emotion is pushed even further at Plénitude, the Parisian restaurant he opened last September. "I called it Plénitude because I myself am more fulfilled than I was," he reveals of the moniker, a French word that translates to something between 'satisfaction' and 'fulfilment'. "I'm more comfortable in my art than I was before; I had a bit of imposter syndrome when I got my three stars, but now I'm more comfortable in who I am. I'm in a place of personal fulfilment." 
The venue's audacious concept is centred on its sauces, with Donckele styling himself as a saucier-chef, almost in the manner of a master perfumer. Although the menu changes seasonally, the essential philosophy isn't dissimilar to that of La Vague d'Or, demonstrating a penchant for seafood, and a single-minded dedication to composing local fruits, vegetables and other produce with poetic élan. But it is the sauces – elaborate, layered and complex – that take centre stage. "I compare sauce to a person's soul," says the chef, explaining that in the modern world, which is increasingly visual, society has a tendency to overlook what's on the inside, in the same way that a sauce might not be considered as a thing of beauty at first glance. "And it is uncopyable," he adds. "When you make a dish and take a photo of it, it can be copied. A sauce is uncopyable; it's alive. You can't cheat with a sauce – in fact, you have to give it everything, you have to be sincere." So invested has he become in the concept, that he says: "I now consider myself more of a saucer than a cook."
It would be easy, listening to the talk of planets, memories and souls, to categorise Donckele as an idealist – but that would belie the relentless dedication and conviction to that has led him to where he is today. "I don't put my name to mid-range restaurants; that's not really my thing," he explains in a modestly matter-of-fact way. "I love gastronomic restaurants; that's something that pleases me enormously. What makes me happy is encountering people who are passionate and engaging." 
Quick to credit his team, Donckele clearly values the concept of working as part of a spirited collective, which might also go some way to explaining why both of his restaurants are located in hotels. "I think that I've mastered hotel cooking – that is to say, I'm able to have an opinion on many things," he reflects of the 24/7 nature of life in the kitchen at Cheval Blanc St-Tropez, where the teams work at all hours to provide guests with fresh baguettes, flaky croissants and gourmet salads throughout the day, in addition to the elaborate tasting menus of La Vague d'Or that come to the fore once the sun goes down. "I'm not only good at gastronomic cuisine; I can get involved with the brasserie, I can get involved when it comes to room service, I have this savoir-faire." He credits Bernard Arnaud, the CEO of LVMH, with supporting the artistic visions of those who work for him, but also welcomes the occasional constraints of modern business and the creative challenges they can pose. "What is interesting about hotels is that you never have carte blanche," he concedes. "At some point you'll be required to create things according to guests' requests. It keeps things interesting." 
He credits his success to an innate perfectionism and deep-seated sense of responsibility towards his colleagues, business associates, family and guests, admitting: "My secret, I think, is always having the impression that I'm not any good, and being afraid of disappointing people, because that's a constant source of anxiety for me: I'm afraid of letting people down." 
Not to mention an intrinsic creative obsession that so often comes with the territory. "I think creativity is a muscle," he says. "You just have to train it, you just have to be in that mindset." And how does he achieve that? "By thinking about nothing else!" comes the answer.
---
CREDITS
Words: Shanna McGoldrick
Photography: © Richard Haughton
Issue: 28