A leading authority in French cuisine, Daniel Boulud reflects on more than fifty years of service, his culinary empire and the future of fine dining.
In his 2003 book 'Letters to a Young Chef', Daniel Boulud wrote: "I loved restaurant work from the moment I tried on a crisp blue apron (only the chefs wore white). It didn't take long to decide three things: I knew I loved to cook, I knew that I wanted to learn from the masters and I knew being a chef was the only thing I wanted to be." That passion has continued to inform Boulud's entire career, and is evident as we chat on Zoom, where he speaks from New York about his culinary career, all the while keeping one eye on his eponymous two-star restaurant below.
Since opening in 1993 in Manhattan's Upper East Side, Daniel has continued to stand out for its dedication to French gastronomic excellence. Located on Park Avenue – the original site of Le Cirque – the highly garlanded restaurant is a favourite among critics, food connoisseurs and locals, and serves as the headquarters from which Boulud oversees his culinary empire.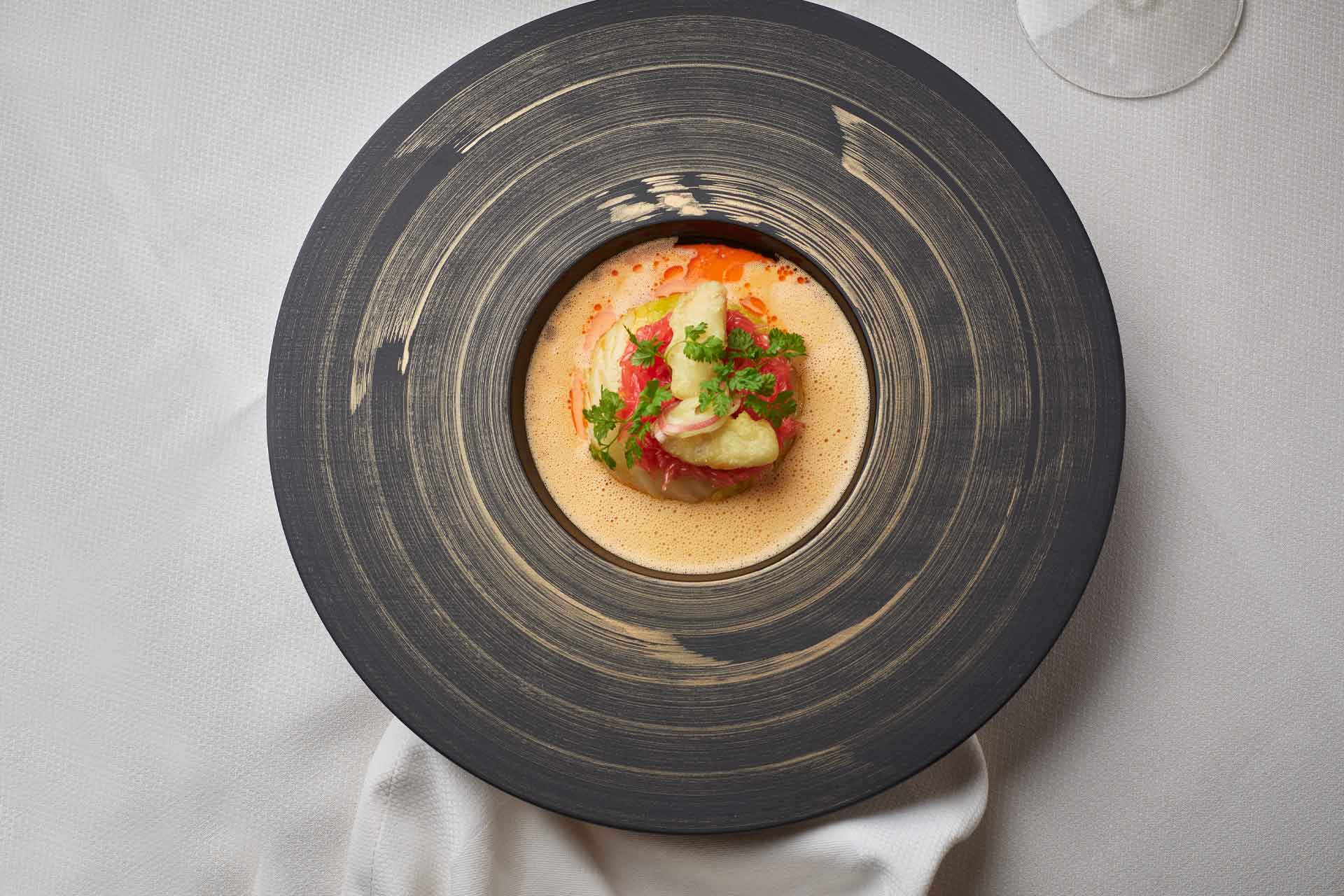 With a career spanning more than five decades, the acclaimed chef and restauranteur, who was raised on his family's farm in Saint-Pierre-de-Chandieu just outside Lyon, is a leading authority of French cooking and one of the most respected chefs in New York City – the place he has called home since the early eighties.
Boulud's first steps towards being a chef began at the tender age of 14 as an apprentice at Nandron, a two-star restaurant in Lyon where he was nominated as France's best culinary apprentice. From there he moved on to Le Mere Blanc in Vonnas and Le Moulin de Mougins in the South of France, under the influence of leading culinary figures such as Georges Blanc, Roger Vergé and Paul Bocuse. Boulud immersed himself in the traditions of Burgundian and Lyonnais cuisine, developing skills and cooking techniques, whilst always staying true to the art of French gastronomy.
"In Lyon I would see all of the greatest chefs in city going to the market as I picked up ingredients for my boss," recalls Boulud. "I was very close to Paul Bocuse throughout my career and my life; I don't know if I would have become the chef I am if I hadn't been from Lyon and had chefs like him on my doorstep from a young age."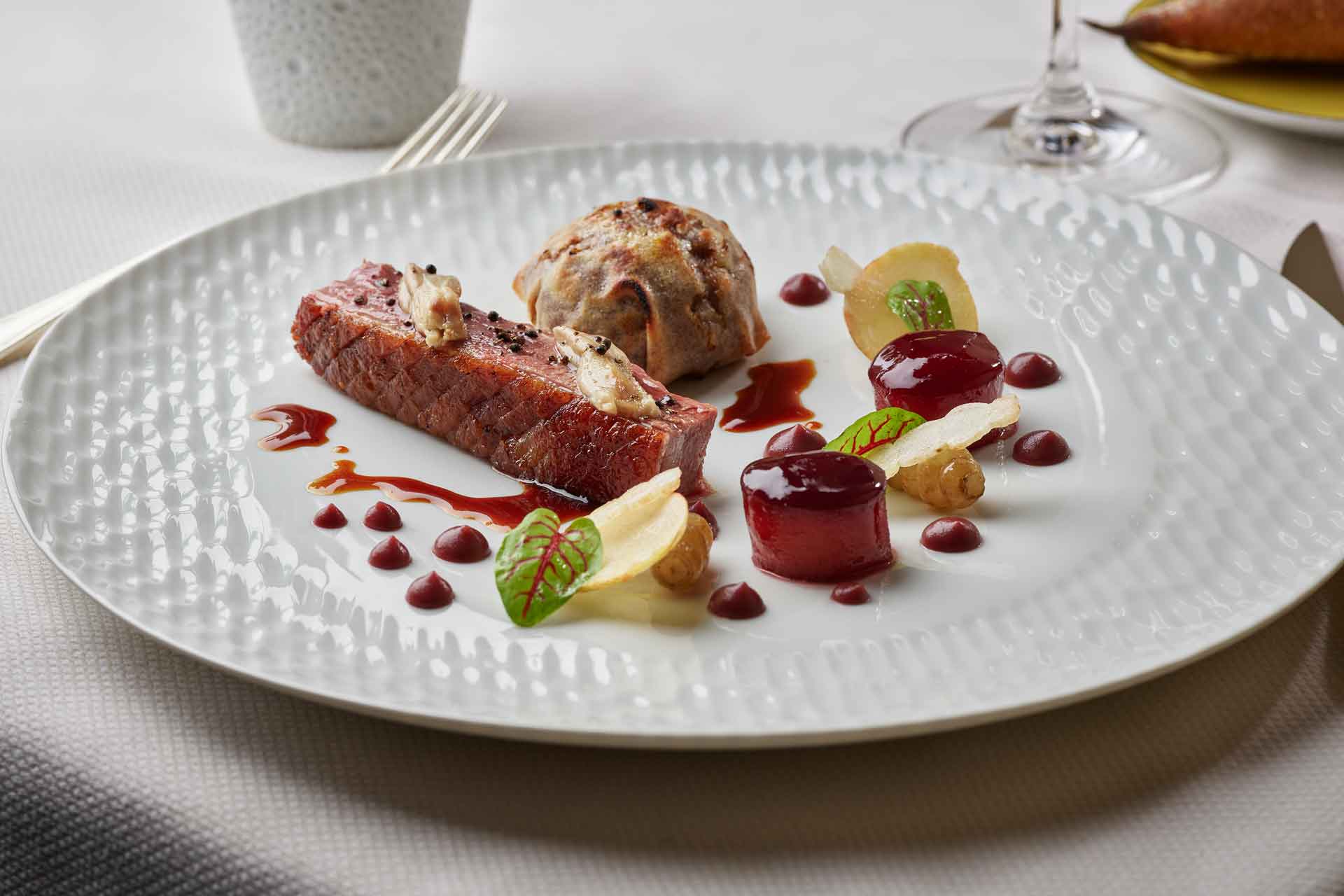 Having gained experience in his home country's most decorated establishments, Boulud moved to Denmark and spent time working at The Plaza Hotel in Copenhagen. "Roger Vergé sent me there because they needed a young chef who could train the Danish chefs and contribute to the menus," he explains. "It was fantastic to be in charge and be the only chef translating the cuisine of Roger there, but at the same time I was a still just a junior sous chef learning the ropes."
Soon after, he was offered the opportunity to work as the private chef to the Ambassador of the European Commission in Washington DC – a turning point for an ambitious young chef who was hungry for his next challenge and eager to make his mark on America. "I wanted to go to New York and be a chef, coming here was a big goal for me, it was a rite of passage." Arriving in New York in 1982,  Boulud made a name for himself working as the Chef-Adjoint at the Polo Lounge in The Westbury Hotel, but it was his next role – a six-year stint as Executive Chef of Le Cirque – where he really demonstrated his flair for French cuisine, developing a signature cooking style guided by seasonality, terroir and Gallic culinary tradition.
"I created many classics in the early stage of Le Cirque and they have become a benchmark and a reference for many of my chefs; some of these dishes haven't left the menu for 30 years."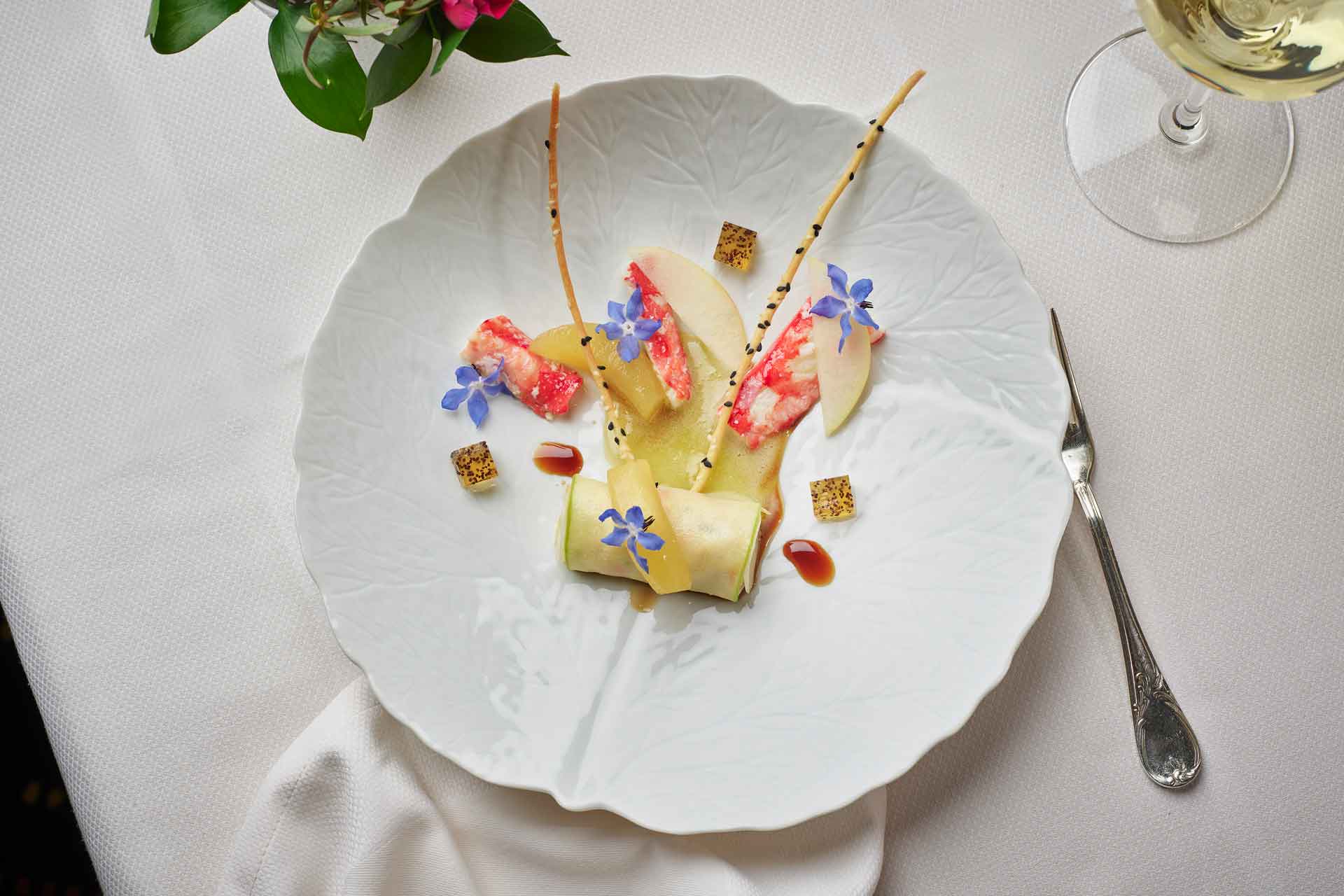 While seasonality has become a buzzword in kitchens and restaurants around the world, Boulud has long been guided by this approach to ingredients and produce. "My entire life I have cooked seasonally, this has always been the driving force for my menus," explains the chef. "When I was offered the job at two top restaurants in New York, I chose Le Cirque because I knew I would get the opportunity to do what I wanted with the concept."
During his time at Le Cirque, Boulud sought to modernise and evolve, but was mindful of striking the right balance between contemporary dining and traditional French cooking. "They always had pot-au-feu [French beef stew] on the menu and whilst it was very well done, it was made for a bistro. I elevated the dish to be a feast, where we would bring out a platter and carve it in front of the guests with a tray of 12 different condiments, from pickles and mustards to flavoured oils and butters," recalls the chef, lighting up at the memory of his famous dish. "I created many classics in the early stage of Le Cirque and they have become a benchmark and a reference for many of my chefs; some of these dishes haven't left the menu for 30 years."
It is this palpable desire to constantly elevate French fare that has led Boulud to where he is today. At present, the chef's portfolio encompasses fifteen restaurants in locations across the globe, from Boulud Sur situated in Miami's JW Marriott Marquis, to Café Boulud at Four Seasons Hotels in Toronto and most recently, Brasserie Boulud, a more casual approach to French dining within Sofitel Obelisk Dubai, which opened at the end of last year.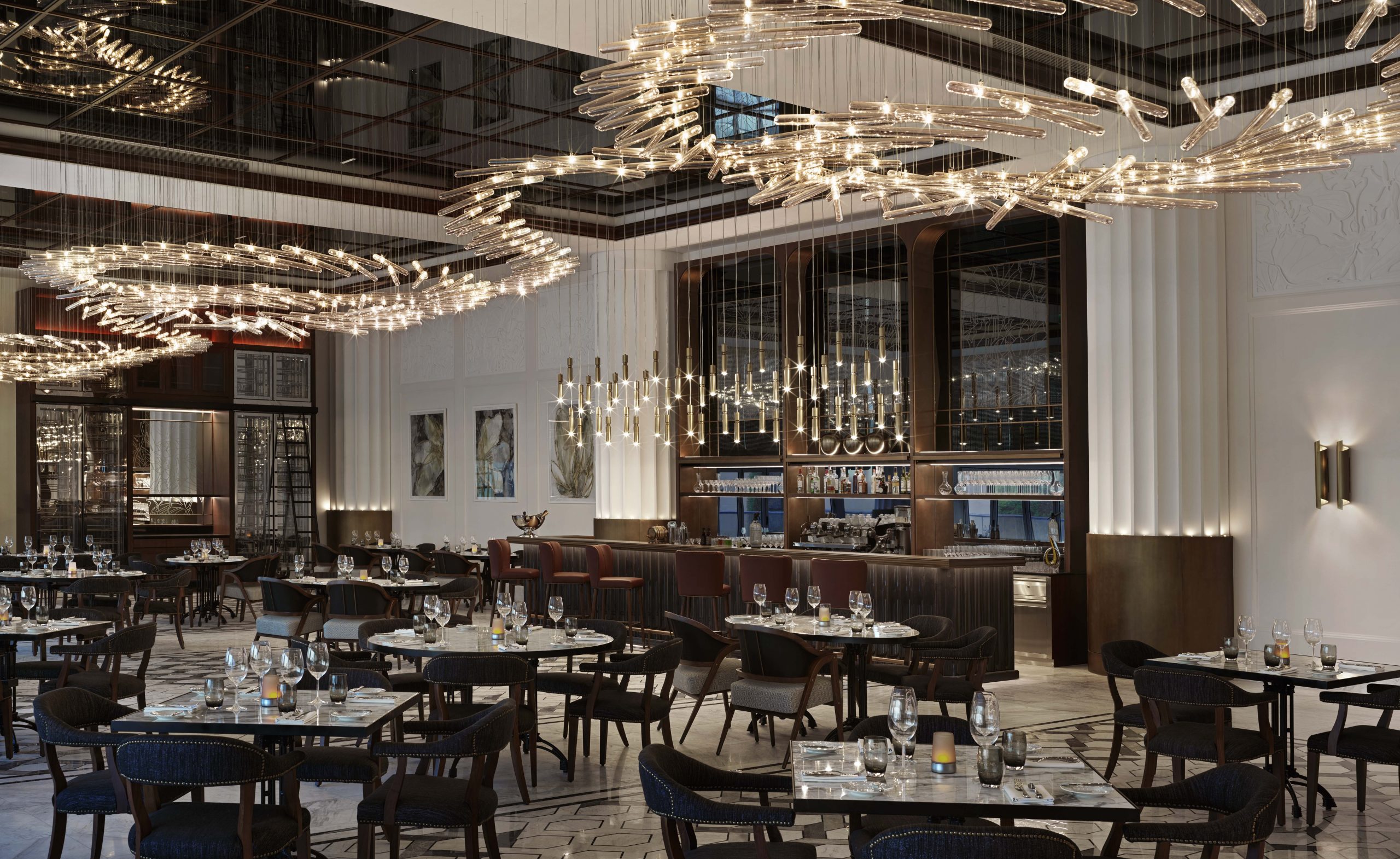 As we speak, the chef, now 65, is winding down after a particularly busy Thanksgiving weekend, a military-style operation catering to both indoor and outdoor dining in accordance with New York City's regulations on restaurant capacity in response to the pandemic. Despite overseeing the roasting of more than 230 turkeys, Boulud, who is always happy to go the extra mile in the name of great service, created a special pie for the occasion – an extravagant take on much-loved American classic. "I made a super pie with layers of pumpkin, apple and pecan, it was very popular – definitely something to repeat next year," he smiles.
Boulud is all for pushing the boundaries. In 2001, his db Burger, an indulgent assembly of sirloin beef stuffed with braised shorts ribs, foie gras and black truffles, served at db Bistro Moderne in New York, set in motion a craze for gourmet burgers, with many others seeking to emulate his success. And now, as the hospitality industry grapples with the ongoing impact of the pandemic, the chef continues to pull out all the stops, adapting menus for delivery and opening up a pop-up dining experience, as he looks to translate the art of fine dining in the age of Coronavirus.
In May last year, with the city's restaurants and bars shuttered, Daniel Boulud Kitchen, a new delivery concept designed to bring a taste of Daniel to those at home was launched. The service, which features a weekly changing menu of French classics including Provençal-style roast chicken and bouillabaisse, enabled Boulud to bring back some of his brigade and front-of-house staff. Not long after, Daniel Boulud Kitchen on the Terrace was born, a timely pivot towards outdoor dining in the form of a sidewalk café at his namesake restaurant. A more laid-back affair catering to a range of price points, the chef wanted to recreate his flagship's dining experience but with a distinctively more casual feel. "We knew we couldn't serve the usual restaurant Daniel food and provide the same service with all the bells and whistles of a premium restaurant," says the chef.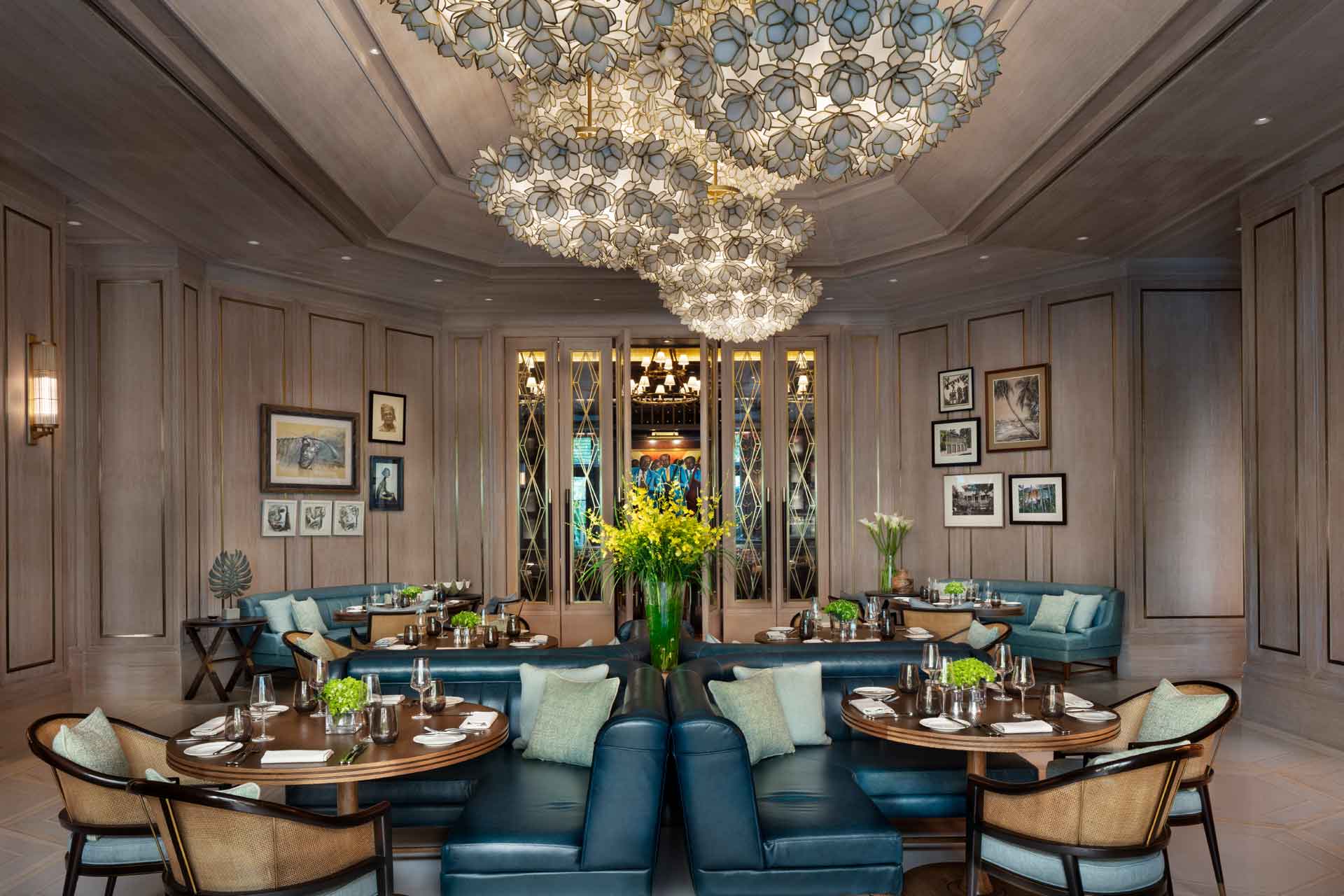 "Every restaurant is in the same situation and has to operate at lower capacity with adapted menus. But I don't think anyone has lost their appetite for fine dining; they may not want to eat out right now but they will in time."
As restaurants in New York were given the green light to reopen indoors in September, the chef, in collaboration with designer Stephanie Goto, set about temporarily converting his flagship into Boulud Sur Mer – a pop-up homage to the South of France. Working with Ode & Bastille and ShowMotion to capture the spirit of the region, guests were transported across the Atlantic through the use of fabric screens evoking a seaside sentiment, while in the main dining room, walls adorned with Hermes Feuillage wallpaper and an orb-like lighting installation outfitted with lush greenery reflected the ambience. "I love Provençal and Mediterranean cuisine; we have dishes that are quintessential to the South of France like black seabass on a bed of rice braised with thyme, which are comforting and make people happy," explains Boulud.
With his prix-fixe menus and pop-up dining concepts expected to be temporary, the chef is optimistic about to the future of fine dining, whatever form that may take. "Every restaurant is in the same situation and has to operate at lower capacity with adapted menus," he explains. "But I don't think anyone has lost their appetite for fine dining; they may not want to eat out right now but they will in time."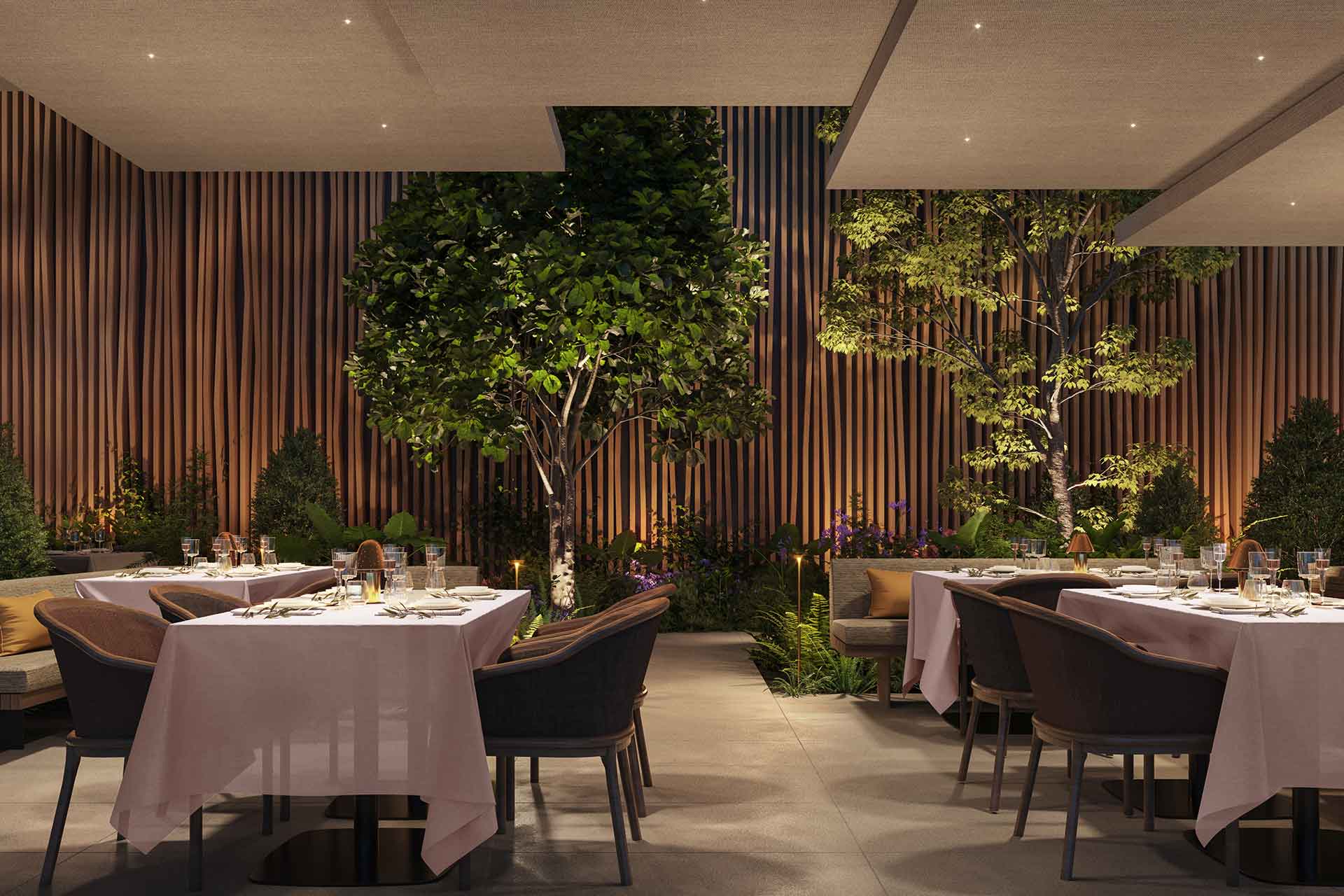 Whilst dealing with the present situation in New York, late last year, the chef launched Brasserie Boulud, at Sofitel Obelisk Dubai. "It's a sister restaurant to Bar Boulud, Café Boulud and db Bistro and it has the DNA of Daniel Boulud in a beautiful setting with a large open kitchen at the centre of the space," explains the chef. Designed by WA International, the Art Deco-inspired restaurant, featuring soaring mirrored ceilings, marble floors and eye-catching glass chandeliers is being overseen by chef de cuisine Nicholas Lemoyne, who has worked for both Boulud and the Paul Bocuse group in the past, and is well placed to bring the chef's vision to life. Drawing on number of influences, dishes range from traditional French bistro classics like duck leg confit with green lentils to Middle Eastern-inspired lamb shank with turnips, carrots and lemon confit, as well as a number of Mediterranean-led accompaniments such as patatas bravas and parmesan-garlic polenta.
Back in the Big Apple, the chef is forging ahead with his next project, Le Pavillon at One Vanderbilt – a newly opened Midtown skyscraper by Grand Central Station. "It will be a majestic restaurant, a sister of Daniel in a way. I don't want to say it will be a one-star or a two-or three-star, but it will be fine-dining and certainly something of a destination," says Boulud. The seafood-centric concept is expected to open this spring and will be designed by Isay Weinfeld. Featuring several private dining rooms, an indoor garden with a chef's table and a bar with soaring ceilings, the concept will blend nature and architecture and serve as a sanctuary for locals and visitors alike. "It's going to be quite striking, the infrastructure has very high ceilings with lots of natural light, real trees and bushes," beams the chef. "The dining area will be by the windows with a floating ceiling above and the bar area will be quite romantic. While the restaurant wasn't built for Covid it can adapt very well – you almost feel like you're outdoors."
With more in the works including Café Boulud at Rosewood Baha Mar in The Bahamas, and almost twenty years after he penned 'Letters to a Young Chef', Boulud has more than surpassed his own expectations. While his career has brought him many accolades and won him a devoted following both back in his home country and his adopted one, underpinning his success is a commitment to technique, seasonality and innovation. Moreover, his creative flair and ability to move with the times has enabled him to craft soulful and imaginative dishes that offer contemporary appeal, whilst always staying grounded in the art of French culinary tradition.
---
CREDITS
Words: Jenna Campbell
Food Photography: © Bill Milne (unless otherwise stated)
Portrait Image: Thomas Schauer
Issue: Supper 23