There is a sentiment among a subsection of New York natives that Times Square isn't actually in New York – not anymore anyway. Like Vatican City isn't technically in Rome, and Monaco borders France but keeps its procedural distance, the gleaming billboards and monolith flagships of Times Square are enjoyed by the intersection's tourist class, and closer to tolerated or humoured by locals.
It wasn't always like this though; the area's place in New York lore as a proving ground for stars and criminals alike through the 20th century remains, but with its modern-day positioning as heart of the city for everyone but locals came creeping sterility, and a loss of any discernible character untethered from heavyweight commerce. In business terms, there is a tried and tested formula for hospitality success in today's Times Square, and if you have the money to build it then they will most likely come. So why take risks?
Ian Schrager – hotelier, developer and New York veteran – knows a thing or two about risks. He took one back in 1977 when crafting the decadent Studio 54 a few blocks away, and revolutionised nightlife culture in the process. Then another came in the eighties when he stripped back the traditional hotel model under the Morgans Hotel Group banner to find something more intimate and stylish, introducing the world to the boutique sector.
Whilst his latest venture in the Marriott International-partnered Edition Hotels sees the risks less pronounced – toned down in favour of a lifestyle offer in line with more comfortable times – in returning to his old stomping ground with The Times Square Edition in tow, Schrager demonstrates by way of its three distinct F&B spaces that he still has a few tricks up his sleeves for guests, and surprises for New Yorkers – just passing through or otherwise. Reunited following their work on the brand's stately London outpost, Schrager, Edition and designers Yabu Pushelberg have sought to counteract the chains and nondescript cast of venues below with notes of drama, history and the natural world.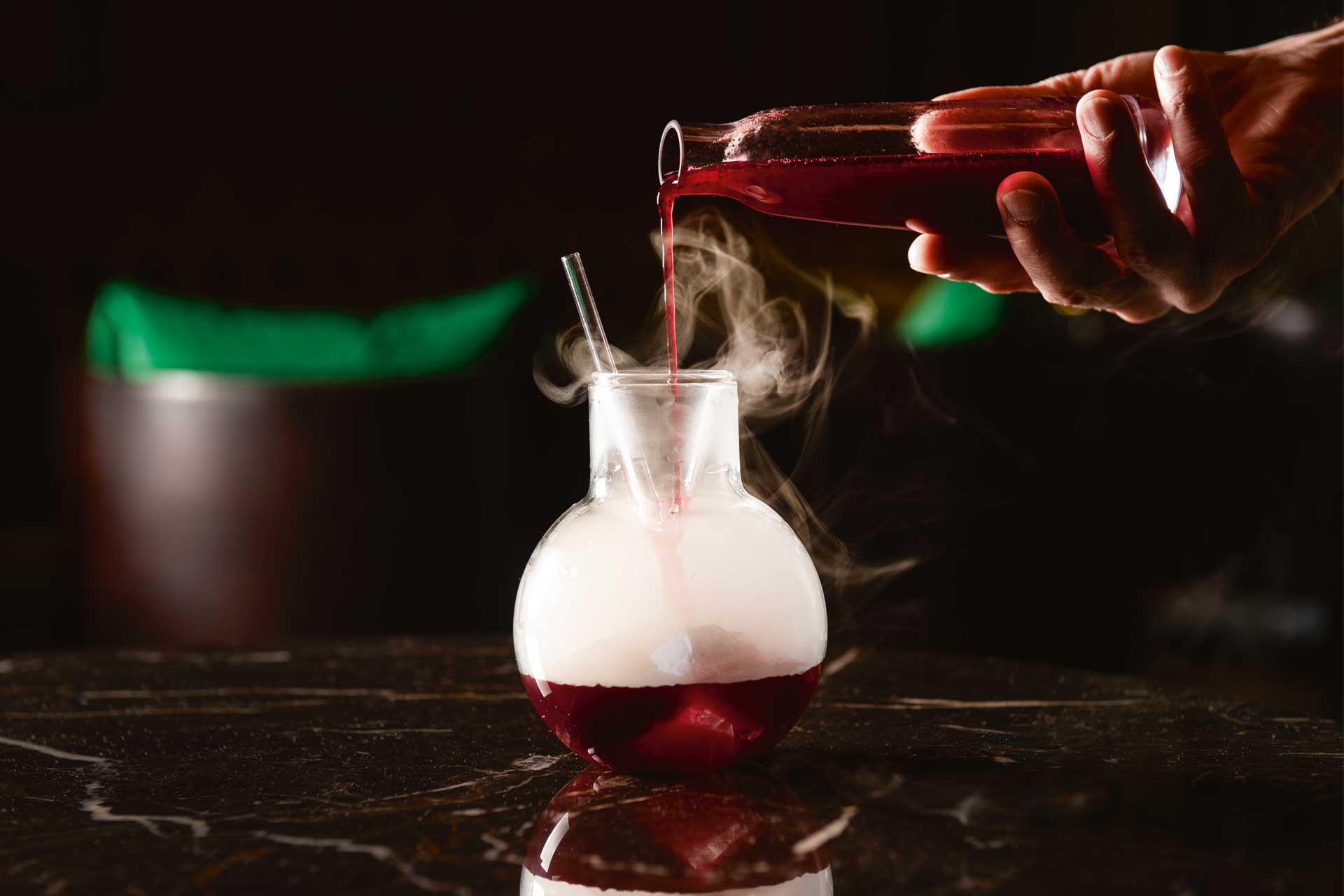 "The F&B spaces go hand-in-hand with the hotel's overall direction," says Glenn Pushelberg, the eponymous studio's co-founder. "When we thought about how we wanted to approach the project, we asked ourselves what would be an unexpected move for Times Square. We were inspired by Ian's first venture in hospitality, the Morgans Hotel with Andree Putman, but added a modern, Yabu Pushelberg twist. The outcome is a complete counterpoint to the area."
The surprises begin as early as the Lobby Bar, where, with delicate beige drapes closed, guests are cocooned within a residential-style space and immediate respite from the neon chaos beyond the window. All-white accent furnishings, custom bleached leather armchairs and ivory hand-tufted silk area rugs make for a suitably elegant scene for elevated bar fare including shiitake, sweet potato and hoisin glaze skewers and homemade croissants, generating something closer to a living room than a bar at the western world's busiest intersection. A darker counterpoint adjacent sets a circular brass table amongst a pack of black leather armchairs and matching wood panels, lampshades and carpet – the gold hue of the table echoed by the orange and gold of a fireplace and flanking candles.
This refined styling carries through to 701West, the hotel's signature fine-dining option, with pops of colour brought into the fold by way of chartreuse and electric blue velvet banquettes – the space's white marble mosaic floors and amber mahogany wood panels hinting at the old-world glamour of its wine list.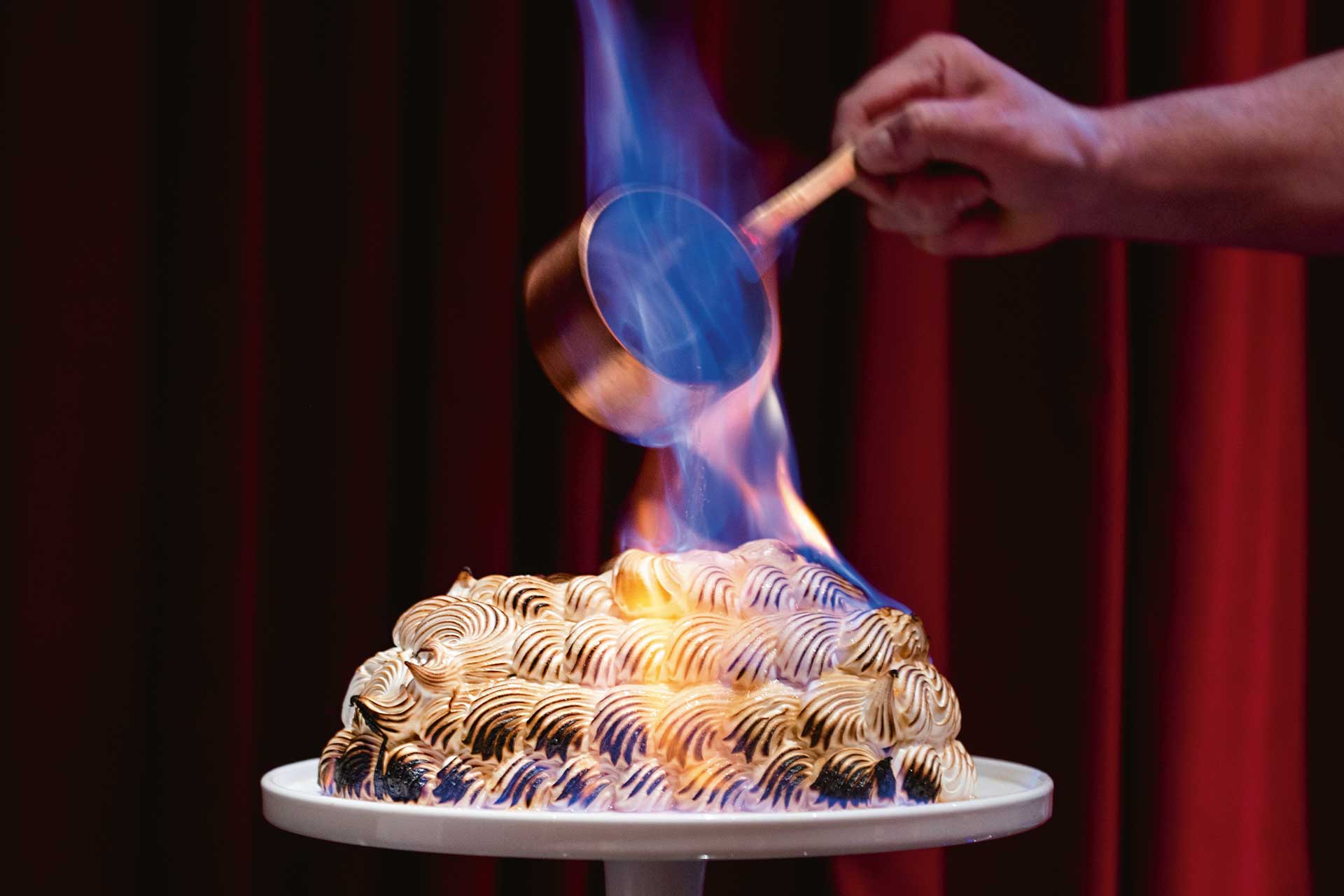 Meanwhile, a cocktail programme curated by Bar Director Salvatore Tafuri features avant-garde mixtures and presentations, including Bali Ha'i – a rum punch made with mango noodles – alongside an Old Fashioned with shiitake-infused bourbon and a truffled peach garnish. "We wanted to repackage the liveliness Times Square has to offer in a subtle, pared-back way," says Pushelberg. "The F&B environments do just that, we take the kinetic energy from below to act as a parallel to the way wining, dining and entertainment can be done. The hotel challenges what the area can be, and to us, that is invigorating."
George Yabu, the studio's other co-founder, agrees completely: "Each F&B space is an extension of the hotel's vision. We used public spaces to explore how Times Square can be experienced in a new, contemporary way. To counteract the surroundings, we incorporated lush greenery, serene outdoor terraces, and created a genuine respite to a location that has historically embodied everything The Times Square Edition is not. Each of the venues tells this story through their different offerings and sense of place."
Stepping out at the 9th floor, guests are ushered into the programme's next serving – a leafy oasis with the line between outdoor terrace and indoor restaurant blurred by a canopy of plant life flowing throughout. Inspired by the French brasseries and American chophouses Executive Chef John Fraser once worked at – Fraser oversees the hotel's entire F&B programme for a coherent progression of culinary drama and experimentation – Yabu Pushelberg's ensemble cast of potted trees, hanging ferns and climbing ivy not only give the space its breezy, refreshing ambience, but smartly divide it into sections, echo the wall of greenery behind the reception desk, and transport guests far away from their Times Square location if they so desire – the bustle and traffic only visible if you stand to look over the terrace's walls, and the glow of billboards faded from this vantage point.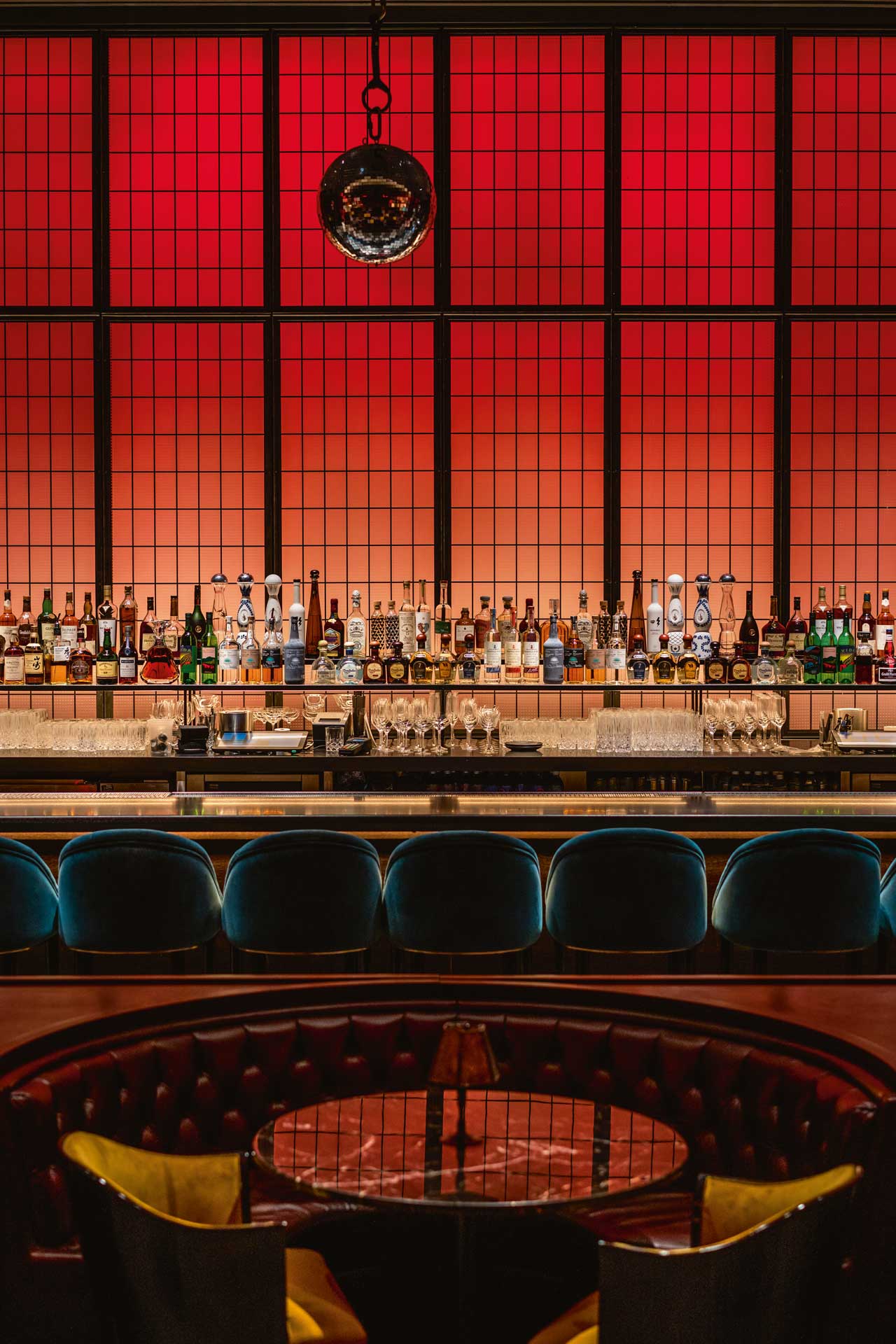 Where designers often draw inspiration from their surroundings, it is almost as if the space is designed as an antithesis to the Times Square experience, a natural remedy for the acceleration and perpetual motion of the scene below. A menu of natural ingredients – think tuna crudo with pickled kohlrabi and Fresno chillies, and an entire section dedicated to lettuces – sees the loose theme translated into the culinary realm.
"Of all the things Times Square is known for, nature is not one of them," Pushelberg laughs. "We used greenery as a mechanism to contrast the hotel from the neighbourhood by creating a botanical boundary between the two environments."
"Botanicals allowed us to transport guests into a calm, tranquil environment, away from the lights and intersections below," Yabu adds. "Greenery also brought other aspects of the design to life, such as light oak wood finishes and charcoal and cream walls."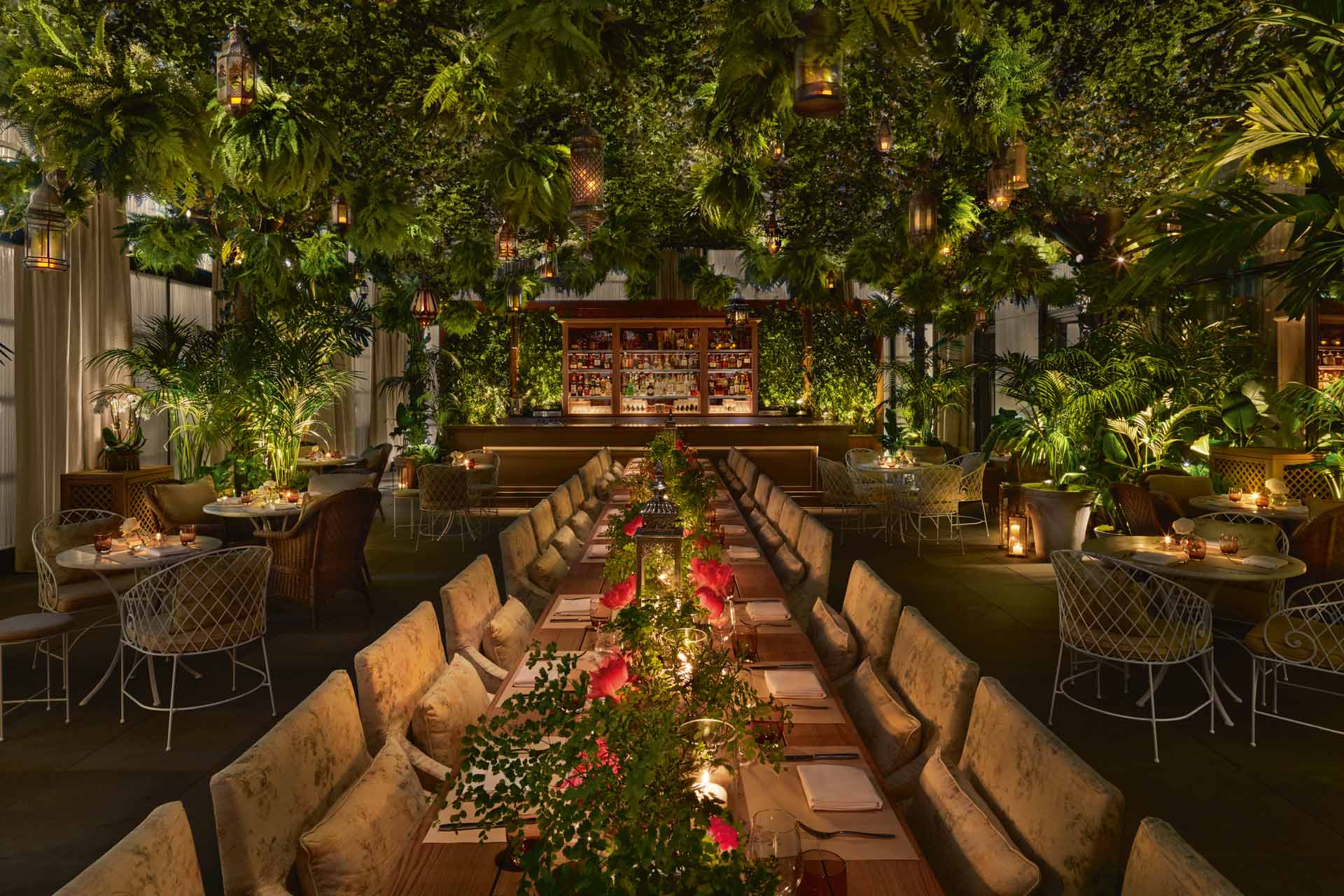 Tying an elaborate red bow atop the hotel's F&B offer is Paradise, the most dramatic of The Times Square Edition's venues, marrying the decadence of Schrager's Studio 54 with the visual styling of burlesque and cabaret. Chaotic, high energy and risqué, the concept is a hybrid performance-gastronomy experience, which sees productions by Brooklyn collective House of Yes unfold alongside complementary menus of imaginative dishes linked with the show's narrative. Provocative and uncompromising in its vision, the deep red palette spreads across flared banquettes, a roof of programmable LEDs, a boudoir-like glow behind the bar, and the scene of a Renaissance-styled mural depicting hedonism the likes of which has not been seen in Times Square for a long while.
Supper was in the Paradise audience for The Devouring; a 360-degree performance that saw ariel acrobatics, ballet and breakdancing paired with a menu of 'Drowning Octopus', caviar and red eggs, and 'Asparagus in Bondage', the latter requiring diners to crack into a not-so-allegorical runny egg with not-so-metaphorical vegetable spears. Programming throughout the hotel is being overseen by Schrager, with the venue set to introduce a variety of shows and paired menus once word spreads.
"When designing the Paradise Club, we put ourselves in the shoes of the guest, thinking about how they would experience the stimulation of flavour, sights, and sounds in one place through the progression of an evening," Yabu explains. "This is our fifth collaboration with Ian and the fourth Edition hotel we've designed," Pushelberg adds. "We understand Ian and the brand's story, and knew the fusion of food, performance, and style was bound to merge within the Times Square Edition."
Whilst risk-taking and breaking the mould sits somewhere towards the bottom of most operators' Times Square check lists – F&B industry or otherwise – the efforts of Schrager and Yabu Pushelberg to differentiate the property within several blocks of others playing it safe are rooted in both a close reading of the current landscape – and how best to counter it – as well as Schrager's intimate knowledge of the city and its guests.
Times Square might never again have the edge, infamy or place in the hearts of New Yorkers it once did, but for those seeking a vision of the neighbourhood beyond tourist traps and fast-food flagships, Times Square Edition is a welcome anomaly.
IN A BITE
Owner: Maefield Development; Mark Siffin
Operator: Marriott International
Interior Design: Yabu Pushelberg, ISC Design Studio
Architecture: PBDW Architects
Project Manager: Ian Schrager
Head Chef: John Fraser
Head Bartender: Salvatore Tafuri
Head Sommelier: Amy Racine
Lighting Design: Isometrix
Glassware: Schott Zwiesel
www.editionhotels.com
CREDITS
Words: Kristofer Thomas
Photography: © Nikolas Koenig (unless stated)
Magazine: Supper 15