During an exclusive tour of his Marlow outposts, British chef Tom Kerridge talks to Ben Thomas about humble beginnings, Michelin stars and expanding to Manchester.
"It was an accident! I went into a kitchen as an 18-year-old needing a job and just started washing up," says chef Tom Kerridge, sipping a freshly made brew as he welcomes us to The Shed, his dedicated private dining room in the centre of Marlow, Buckinghamshire. "It was the space, the people and the industry that I fell in love with straight away. Chefs are like naughty boys – I was with people who I knew from school, except there was fire and knives, so it was cool."
Since his first stint behind the stoves as Commis Chef at Calcot Manor in Gloucestershire, Kerridge has enjoyed an impressive career, working with the likes of Stephen Bull and Gary Rhodes, and producing a number of TV programmes and cookbooks. Inspired to take on the culinary world by fellow British chef Marco Pierre White, who he claims blew him away by "changing the way the industry was perceived and making it a cool space to be in", the Wiltshire-born cook learnt his craft at Odette's in Primrose Hill, Monsieur Max in Hampton Hill and Adlards in Norwich, before deciding it was time to open his own place in 2005, launching The Hand & Flowers in Marlow with the help of his wife Beth.
"I didn't move around too much as a chef," he continues. "For me, a year is never long enough, you can learn recipes and a dish, but being a chef is about much more than just cooking. It's having an understanding of people management, costs and control, but more importantly your guest. You learn more about those aspects by being in a place for longer."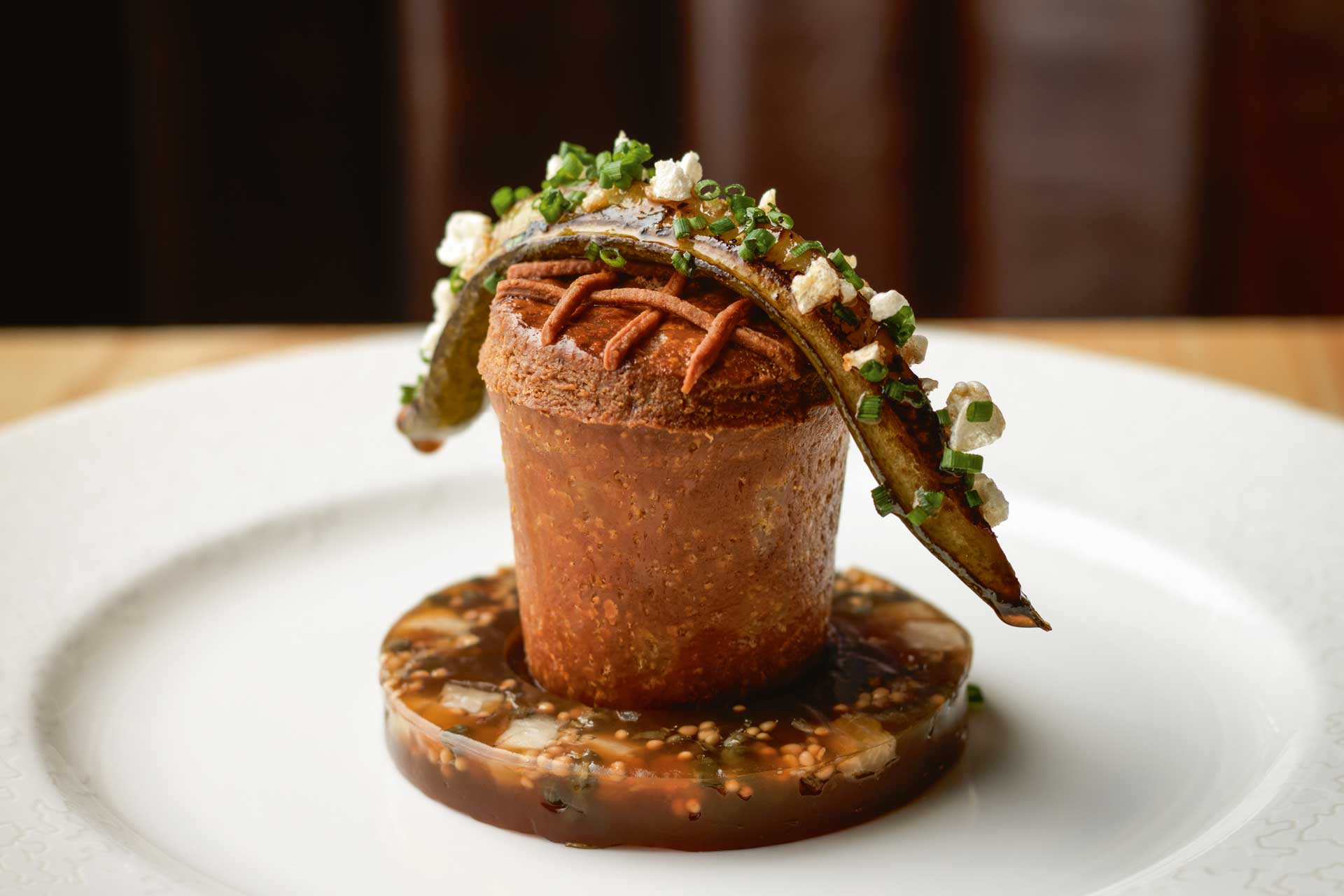 To revive The Hand & Flowers, Kerridge enlisted the help of two other chefs in the kitchen, his wife Beth (who would be in charge of running front of house), his best friend (behind the bar) and one part-time waitress. A small team, perhaps, but that did not get in the way of his ambitions for the project: "From the outset, we aimed to cook great food at an accessible price point that meant that it was comfortable for people to come in," he reflects. And come they did. The venue quickly gained a reputation for its bold yet unpretentious dishes, receiving a Michelin star just ten months after opening its doors, before going on to gain a second in 2011 – the only pub in the UK operating at this level. "I wanted to take away the idea that Michelin stars were all about French waiters and tablecloths, and create somewhere warm and comfortable," Kerridge adds. "For many of our guests, it's their first experience of a Michelin-starred restaurant, so it takes away people's fear because they understand pubs. That warmth of hospitality is key to everything that we do."
With Head Chef Jamie May now running the kitchen day-to-day and 65 employees on the payroll, as well as 11 individually designed bedrooms across three cottages in the centre of Marlow, The Hand & Flowers' reputation continues to grow and grow. And he has even managed to repeat the trick, launching The Coach in 2014 – a relaxed pub where a long steel-topped bar and comfortable leather seating overlook a large open kitchen to create greater interaction between chef and guest. Led by Tom De Keyser, the pub became an instant success for its menu of refined dishes and refreshments – signatures include The Coach burger with pulled pork and dill pickle; smoked haddock and Ogleshield tart with Autumn truffle; and The Coach profiteroles with soured vanilla cream – taking home three AA Rosettes within its first year of trading, before following in the footsteps of The Hand & Flowers by gaining a Michelin star in 2017.
"Every project we've ever done has always had a foundation, a history and a heritage."
In the same year, Kerridge further expanded his Marlow portfolio with the launch of The Butcher's Tap, which operates as a butchers and bar during the day, and offers a simple meat-led menu alongside beers, wines and spirits come evening. Here, he partners with friend Andy Cook, who has been providing The Hand & Flowers with first-class produce for nearly ten years.
Next up, Kerridge tasked Nick Beardshaw – a colleague for many years, initially as Sous Chef at The Hand & Flowers, and more recently as Head Chef of The Coach – with overseeing the menu at Kerridge's Bar & Grill, which became his first London outpost when it opened in September 2018. Located in the heart of Corinthia Hotel, the restaurant adopts the same signature style that brought the chef a wealth of success in Marlow, serving refined takes on classic British dishes, albeit within a grand, high-ceilinged space seating 90 covers. Taking cues from the menu at The Coach, Kerridge's Bar & Grill uses a striking rotisserie to roast large joints of meat, fish and root vegetables in front of diners, while a number of the main restaurant's walls feature fridges showcasing hanging meat supplied by The Butcher's Tap, as well as personal touches in the form of curated artworks from his wife.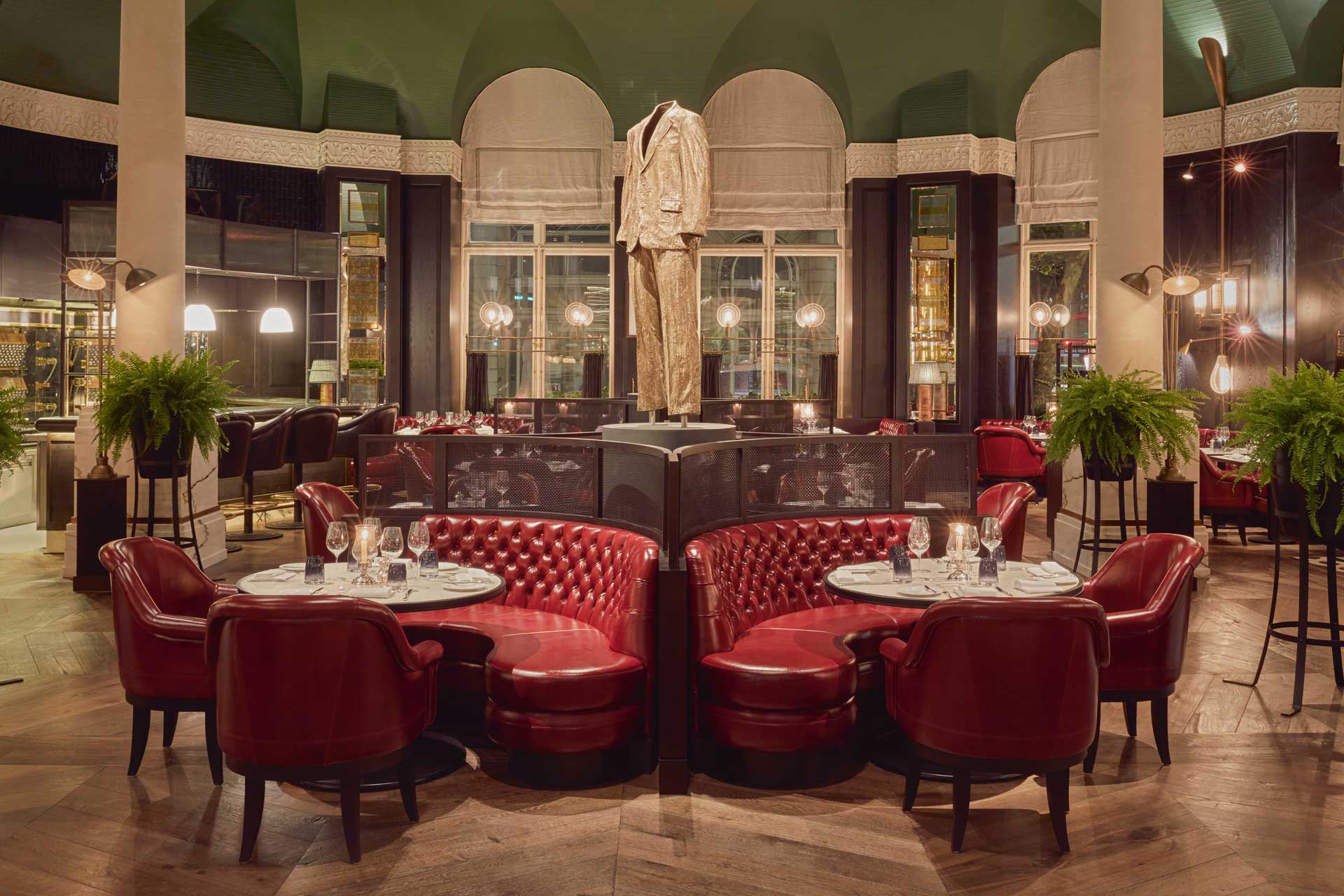 And it's these sorts of flourishes that first caught the eye of Gary Neville, the former professional footballer-turned-hotelier, who spotted the opportunity to collaborate with Kerridge when planning a new boutique hotel in Manchester. Fast-forward a matter of months and the chef himself was stood in the city's former Stock Exchange building, awe-inspired by its potential: "We walked into the building and immediately fell in love with the space," he admits. "Every project we've ever done has always had a foundation, a history and a heritage, whether that be pubs, people, suppliers, producers. When you walk into the Stock Exchange, it's exactly the same."
Not long after, it was announced that Kerridge would partner with Neville, former teammate Ryan Giggs and hotelier Winston Zahra to operate the F&B spaces within the 40-key property, which is set to open in November as a Relais & Châteaux member. Suitably placed within the hotel's grand domed dining room – previously used as the trading floor of the Stock Exchange – The Bull & Bear lends its name to the building it occupies, which witnessed the ups and downs of bull and bear markets in its previous life. Headed up by Executive Chef Dan Scott, the space is expected to blur the boundaries between elegance and informality with a menu reflecting Kerridge's distinctive culinary ethos.
"The Manchester food scene is incredible and growing, it's probably one of the most talked-about in the UK right now because of its vibrancy and warmth."
Divided into three stages: 'First', 'Second' and 'Third', with the team recommending four to five plates per person, the restaurant will serve favourites such as mushroom risotto Claude Bosi; The Coach burger with smoked brisket and dill pickle; and chicken Kiev with cauliflower cheese, together with a mouth-watering selection of signatures like smoked chicken and ham hock terrine with piccalilli; crispy pig's head with celeriac rémoulade and spiced date sauce; and hot chocolate tart with hazelnut ice cream.
Meanwhile, those looking for an after-work cocktail can tip their hat to Antony Peart, Bar Manager at The Hand & Flowers, who has designed a drinks menu honouring British distilleries and Manchester's local brewing scene – though Kerridge insists that Marlow-based brands will also be present: "We want to bring a part of that Marlow soul to Manchester with Rebellion Brewery, but also use as many of the small craft brewers in the city as possible," he says. "For me, real ale is as exciting as wine. The people who brew ale have the same attitude towards brewing as winemakers, they're all artisanal. So, we'll be looking at every opportunity for small British producers that do great stuff to be showcased."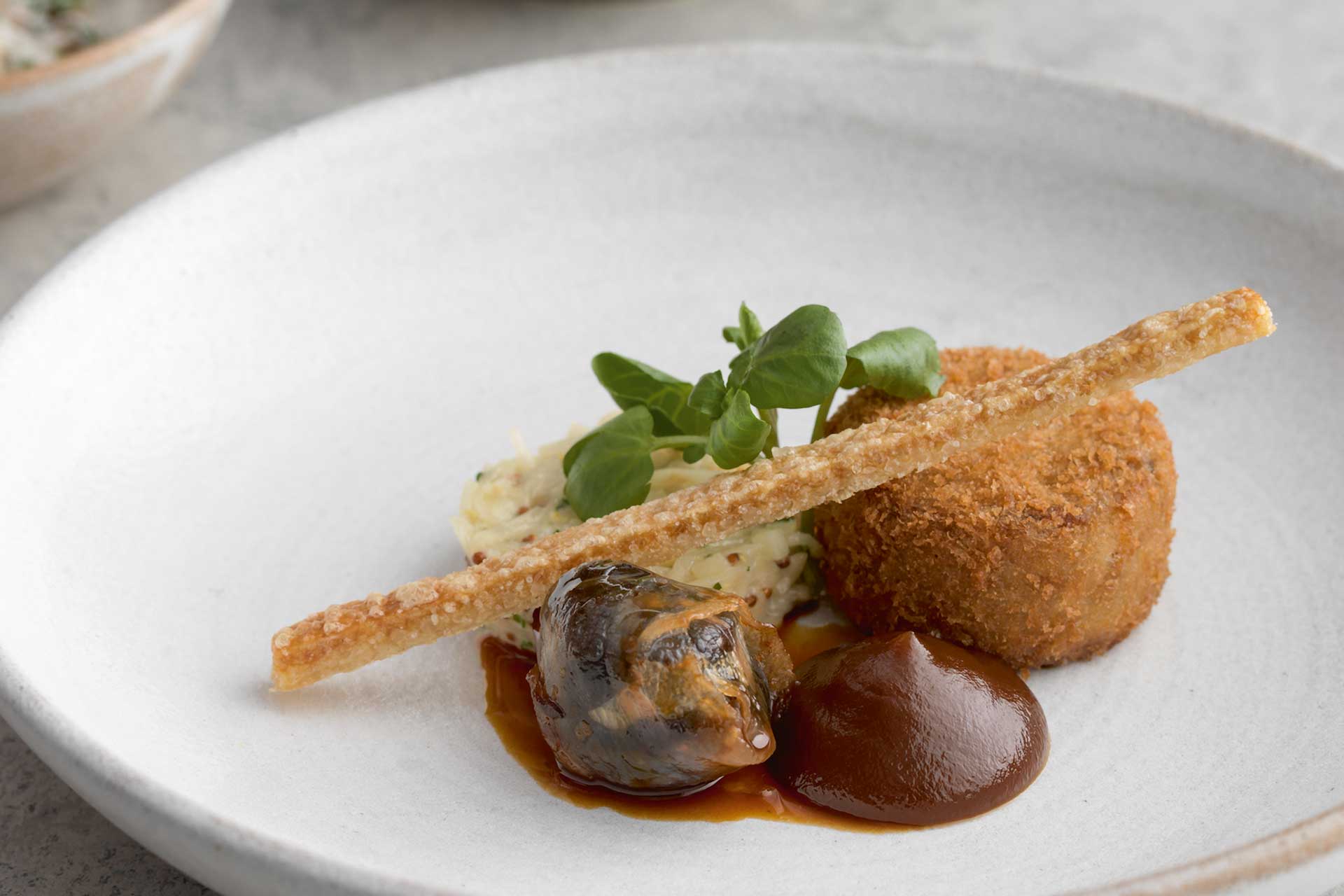 Locally inspired details will also be evident in a refined colour palette taking its cue from Manchester's iconic worker bee, complementing the restaurant's striking Edwardian architecture, elegant green curved banquettes and comfortable leather armchairs. Plus, the menus and beer mats will be illustrated with hand-drawn sketches of the people who make it unique – suppliers, chefs, servers and punters – all of whom are a big part of the overall story. Although Kerridge is quick to quash any suggestion of running themed dishes or events.
"You can rest assured that there will be no Hacienda, Happy Mondays or Stone Roses themes, it's just going to be more of what we do best," he laughs. "We've tried really hard to make sure we can provide exceptionally good food at an accessible price point. We're not aiming at being Manchester's most expensive restaurant, but also not the cheapest. It's going to be the right price for the space within that beautiful hotel."
"Irrespective of where you are in the country, hospitality is all about providing value for money, working hard and being nice."
On top of operating The Bull & Bear, Kerridge's team will also oversee The Bank, offering private dining experiences for up to 14 guests, and The Vault, catering for private events of up to 120 covers. The former will host culinary masterclasses and boast its own wine cellar, which he believes will set the hotel apart in the city: "The wine list is going to be very diverse and eclectic," he says. "Charles and Oliver, my main sommeliers at Kerridge's, along with Gavin who works at The Hand & Flowers, were all involved in putting together the list for Manchester, which will feature new and small-scale producers, as well as the people we've already built relationships with."
Such relationships within the industry stood Kerridge in good stead when first developing his vision for The Bull & Bear; the chef consulted established names like Gary Usher, Will Beckett and Simon Rimmer before deciding to make the move up north, allowing him to paint a picture of the kind of venue Manchester's city dwellers have been craving. "There were absolutely zero negatives at all from Gary, Will or Simon," he reveals, praising the trio's continued work in and around the city. "The Manchester food scene is incredible and growing, it's probably one of the most talked-about in the UK right now because of its vibrancy and warmth. That being said, its guests are far more interested in whether new restaurants are actually enjoyable places to eat."
Given his record with the Michelin Guide in the past, might Kerridge be hoping to replicate the success of Mana – which has just secured Manchester its first Michelin star in more than 40 years – by adding yet another star to his collection? Actually, no. Instead, the chef explains that he is more worried about portraying the former Stock Exchange in the best possible light, as well as developing his staff, and providing diners with a memorable experience: "Simple things in hospitality are sometimes forgotten," he muses, before assuring us that in his eyes every guest is equally important. "Irrespective of where you are in the country, hospitality is all about providing value for money, working hard and being nice. It's not about the ego of the chef or the menu, it's about the guest. The guidebook writes the guidebook for the guest to read, not the chef."
The customer is king, as they say, and while Kerridge insists he isn't looking to build a culinary empire – claiming that Manchester will be his final venture into the realm of pubs and restaurants – he admits in the same breath that it is hard to ignore the city's flourishing F&B sector, perhaps evident in his recently announced collaboration with boyhood club Manchester United to take over Old Trafford's food offering on matchdays: "Ten years ago, not just Manchester but the whole of the country thought somewhere was only good if it was featured in the Michelin guidebooks," he reflects. "But over the last ten years, the understanding of what makes great food has completely changed. Great food is about the produce being looked after and cooked properly. That softening of the British food scene, making sure it's seen as an exciting place, means that the market in cities like Manchester, Nottingham, Liverpool or Bristol is bubbling away, and isn't just led by country-house hotels – there's so much more to it."
CREDITS
Words: Ben Thomas
Magazine: Supper 17