Interview: 45 Park Lane's Elliott Grover on catering the Oscars with Wolfgang Puck
Elliott Grover is known for his position as Executive Chef at Cut, 45 Park Lane, but this month he's swapping the Big Smoke for La La Land as he teams up with celebrity chef Wolfgang Puck to cater the most famous awards ceremony in the world, The Oscars.
Supper caught up with Grover to talk about bringing a taste of England to Hollywood, letting produce do the talking and working with Wolfgang Puck.
---
When did you first fall in love with cooking?
I just sort of fell into it really. I was 14 and had no idea what I wanted to do, until I saw someone on TV who had cooked for the Queen that worked at the Ivy. I applied to work there with zero experience, and that's when it all started for me really.
How would you describe your culinary style?
Traditional British. I like simple, well-cooked meals where I can let the produce do all the talking. None of that fancy stuff, just really good quality ingredients that come together in a balanced and tasteful way.
How did you become involved with the Oscars menu?
Wolfgang [Puck] has been catering for the Oscars for over 30 years and after a few months at 45 Park Lane, I just happened to ask him if I could help. He asked me to do the chicken pot pie, which then turned into adding fish and chips and a trifle! Simple as that really, I wasn't expecting he would agree let alone ask me to prepare dishes for the event but it paid off to put myself out there. Of course I'm really excited to be showcasing my food and taking on such a great responsibility.
What was your culinary vision for the Oscars menu at 45 Park Lane?
To bring a taste of England to the Oscars. Wolfgang wanted a menu representing the UK, and I agreed. I wanted to show my own personality and culinary style, as well as showing what CUT has to offer. I feel privileged to be representing traditional British cuisine at such an iconic event.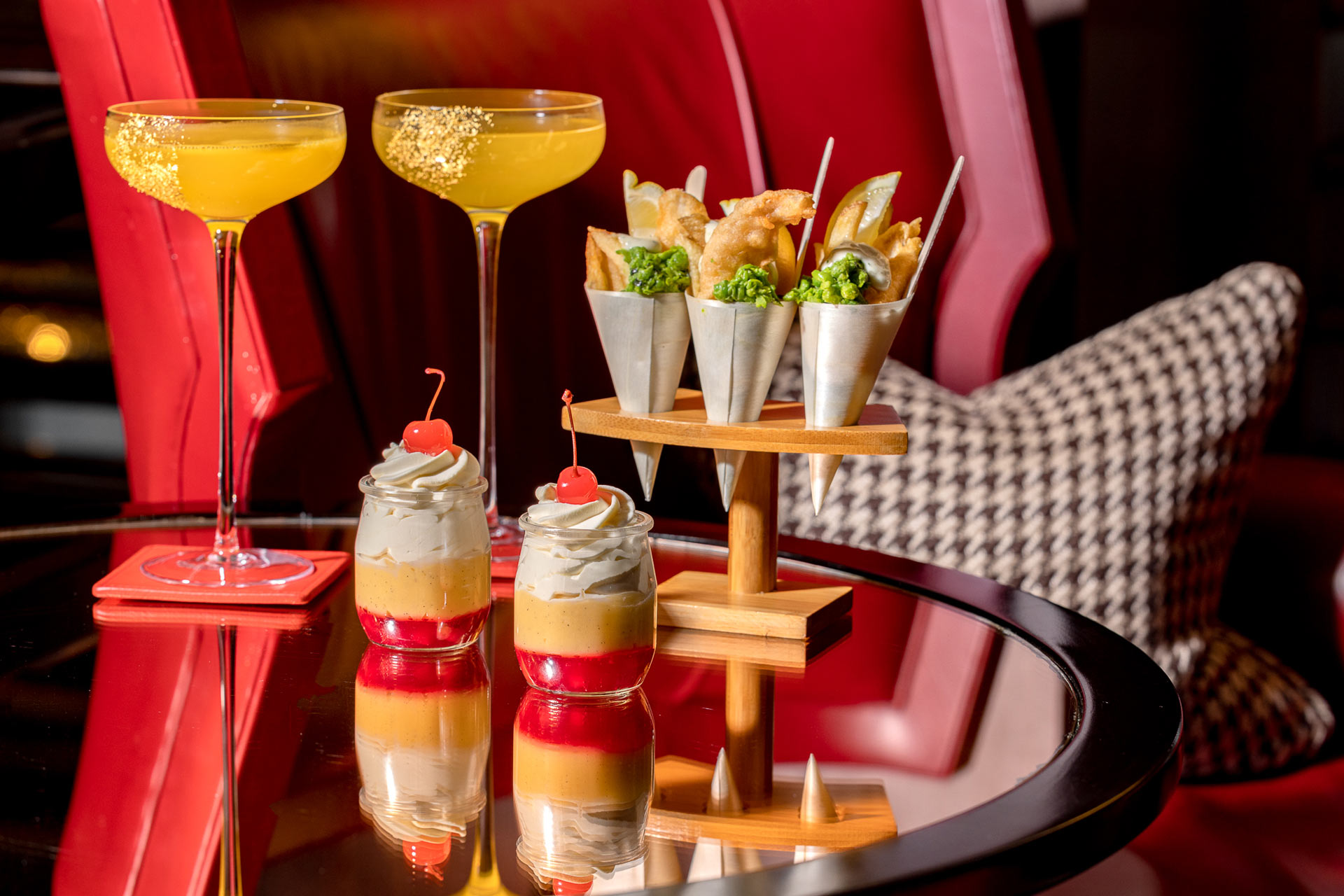 Do you have a favourite dish on the menu?
The chicken pot pie with shaved black truffle, one of my favourite ingredients. A really special recipe and a great example of delicious British food. One of my goals in my career is to bring the showmanship back to cooking, and this dish does that. At CUT, we peel off the top layer of the pie table-side and mix in the truffle shavings – a true display of luxury.
What are you most looking forward to cooking at the Oscars?
I think probably the Fish and chips – it's actually very hard to make the perfect chip, it takes real skill and a lot of patience to ensure that they are crispy on the outside but fluffy on the inside. It's only a small, bite-size cone, but I want it to be done really well with a great piece of fish and all the add-ons including mushy peas and a tartare sauce.
What is the most important lesson you've learned during your career?
Be nice to everyone. You can learn so much from the people you work with, older or younger. I didn't have a typical cookery school education and learnt everything on the job so I find I'm constantly learning, especially from the younger generation who share their knowledge with me when they make the transition from school to the kitchen. It's so important to respect everyone as we work so closely together in a fast-paced environment.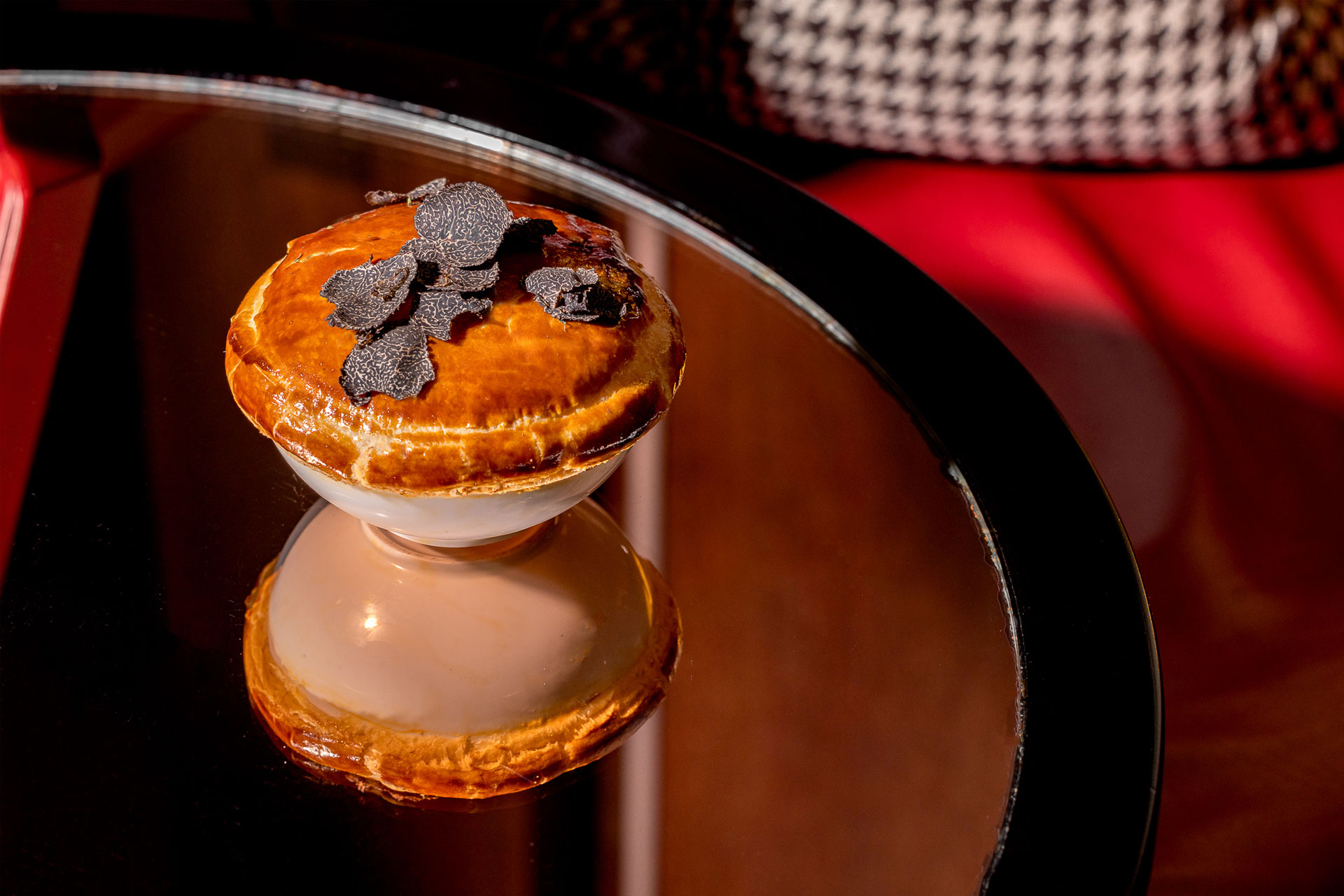 What are the biggest challenges faced by the hospitality sector at the moment, and how are you tackling them?
The staff shortages is a big issue at the moment within the hospitality sector which I believe stems from the negative perception there is of the industry and the long hours that come from working in a kitchen. The expectation that someone should be working 60 hours a week to become successful is not tenable. Films like Boiling Point continue to portray the negative aspects of the hospitality sector and turn people away from a job that is very rewarding for those who show passion for it. It's important to bring humanity and compassion into the kitchen so that the passion for top quality food and service shines. In the long-term, I also hope that this change of perception will bring more women into the industry as they bring an element of serenity into the kitchen.
Which chefs have inspired you?
Wolfgang is a big inspiration, I really look up to him and admire all the work he's done. He's taught me so much over the last year and for that, I am grateful. Tim Hughes from Caprice Holdings is great too.
What is your approach to sustainability in your cooking?
I like to put a real emphasis on locally sourced produce, where I can. Obviously this isn't possible for things like Wagyu, but whenever possible I try to reduce my carbon footprint this way.
Which new sustainability initiatives are working well for you at the moment? 
For the Oscar's menu, I requested we use a bamboo cone and wooden fork for the fish and chips to reduce plastic waste. These little things all add up. I'd like to incorporate more sustainable methods into my cooking in the future.
What would you like your next project to be? 
I'm currently working on a Spago pop up at 45 Park Lane with Wolfgang at the end of March. I'm also assisting him at a four-hands dinner with Alain Ducasse in June, both really cool projects. The main focus for 45 Park Lane this summer will be the CUT OUT terrace which we introduced permanently last year. An outdoor dining area facing Hyde Park and the perfect place to enjoy a summery meal.
What is your favourite dish, and who cooks it?
Eggs Benedict, without a doubt. Can't go wrong really, homemade or eating out.