Boasting sweeping views over the Camel Estuary and across to Padstow, St. Enodoc Hotel – a 21-key boutique hotel – is managed by husband-and-wife duo James and Lucy Strachan, a family with a longstanding love of the hotel and area. The privately owned Cornish boutique is guided by a commitment to using local produce, which is reflected across the property's two restaurants and made possible thanks to the family's own farm nearby.
The food offering at the contemporary costal retreat is headed up by Guy Owen (previously of The Idle Rocks and a contestant on Great British Menu) who is ensuring the hotel's two restaurants are making their mark on the culinary landscape of the area.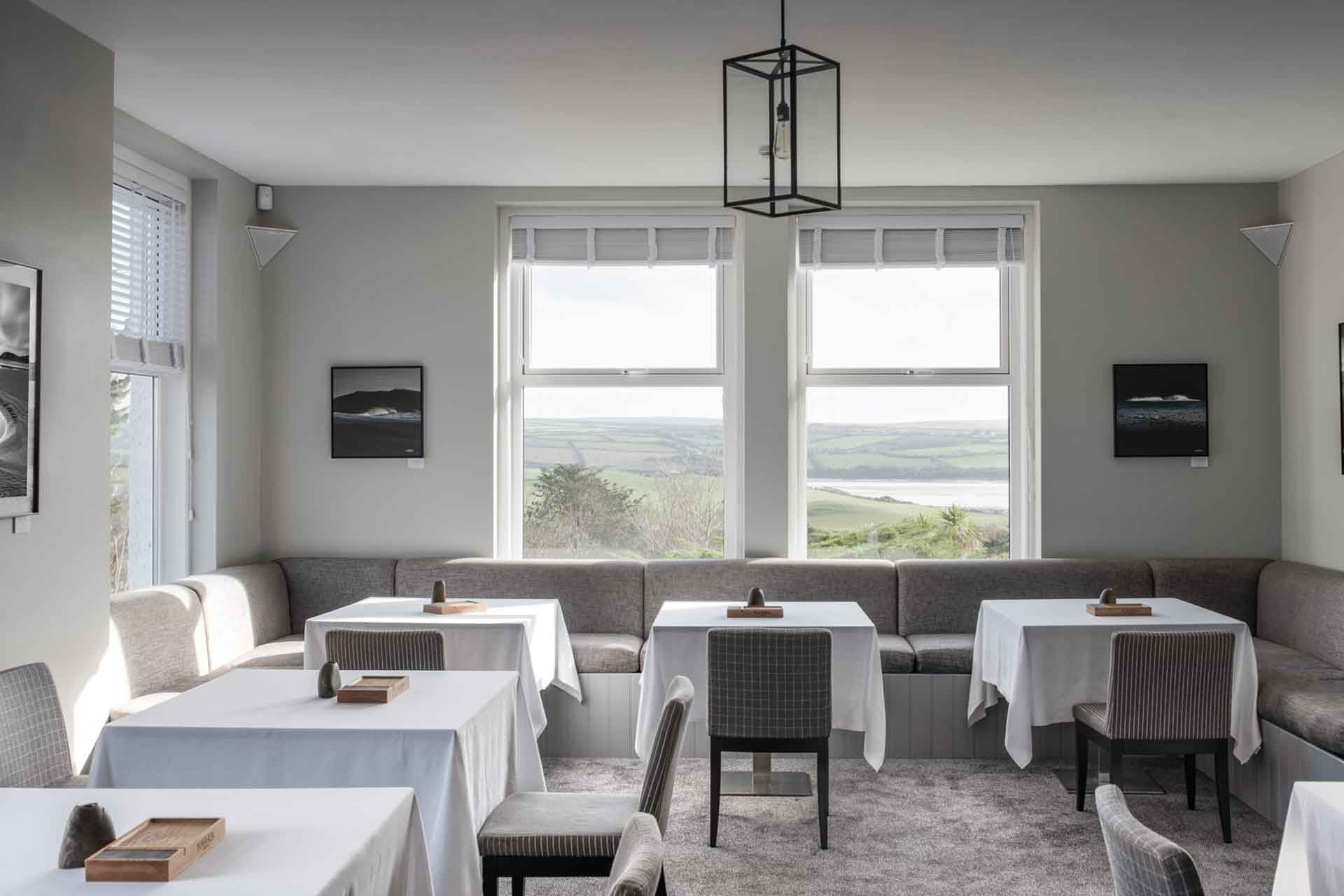 Karrek, overseen by Owen and Head Chef Martin Hrivnac, offers a nine-course tasting menu that is a celebration of the wealth of produce on the doorstep of the hotel with a particular focus on seafood and the products of local producers such as Camel Valley Winery.
The menu shows evidence of Owen's successful stints on Great British Menu with his two 2020 dishes featuring on the tasting menu; Tom Bawcock's Catch and Formula 86' Delayed Action Mouse Maker. These sit alongside Made-Well Lamb, Turnip, Roscoff Onion, Parsley from the family farm and Mum's Favourite Bouillabaisse.

The hotel's second restaurant is also overseen by Owen and Head Chef Luke Hill; The St Enodoc Brasserie. The restaurant serves brasserie style, homely fare, offering variety to the hotel's guests and locals alike. Dishes include Teriyaki Mackerel, Puffed Rice, Wasabi, Cucumber, Radish and Roast Tronḉon of Plaice, Leeks, Sea Vegetables, Brown Crab Sauce.
With the easing of lockdown restrictions taking place across the UK, we sat down with Guy Owen and Martin Hrivnac to talk about the hotel's commitment to local producers and suppliers, the diversity of its F&B offering and what to expect from St. Enodoc's grand reopening.
---
Could I start by asking a little about the overall dining concept at St. Enodoc Hotel?
Martin: At the hotel, our focus is on celebrating the best of Cornwall, using fresh local produce, some of which we are growing on site, with seasonality and sustainability at the forefront. We also use products from our farm,Made-Well, in Hatherleigh where possible.

Guy: The dining concept at the hotel is singular in its message, simple and considered dishes served in a relaxed environment. We have two restaurant spaces so we can offer a broad range of styles within the hotel space. We take what we do very seriously but not ourselves so much, so we can obtain a really good balance.
How does this food philosophy translate across the two restaurants?

Martin: Both restaurants have the same high, fine-dining standards in the way we look at our produce and the food we are cooking. Where we differ is our menus and cooking styles. Brasserie has a set menu consisting of simpler dishes and offering comforting food for a wider customer base, whereas Karrek is focusing on techniques and the details in each individual dish in our tasting menu to accompany our wine tastings.
Guy: The mentality behind the food is matched in both sites. The standards are the same, it always worries me when people compare the standards differently across their restaurants. We still need to cook a piece of fish, meat or vegetables as close to perfectly as we can in either restaurant space, we just use different techniques in the spaces and refine in different areas. The Brasserie is designed to accommodate a larger audience and satisfy a multitude of tastes and requirements. Karrek is much more about the pairing of food and wine and a longer meal time.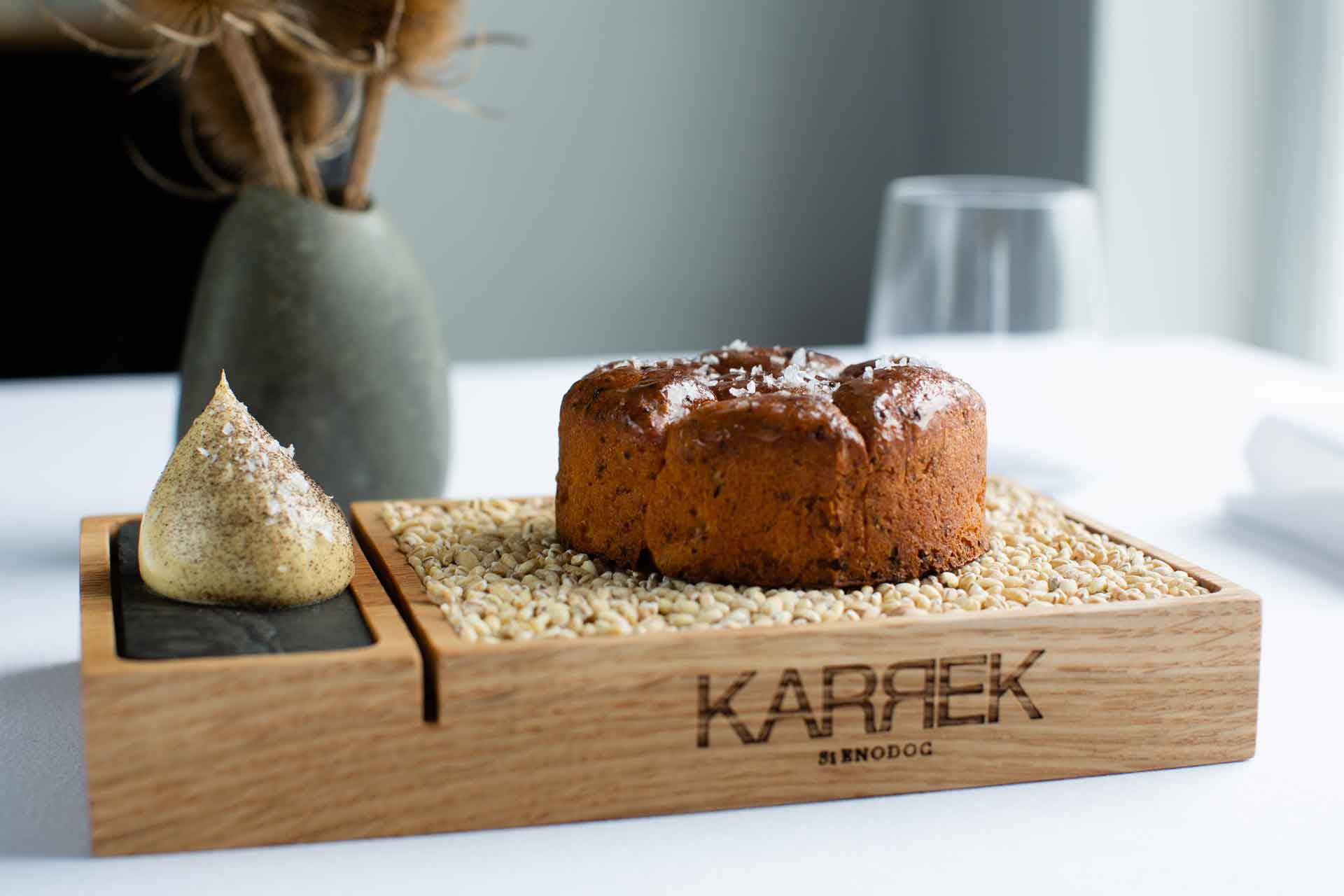 Having been through several lockdowns, are you excited to be back in the kitchens and has this time allowed you to refine or change the F&B offering?
Martin: Absolutely yes, all of us cannot wait to get back in the kitchen and start cooking. The lockdown gave us time to relax and gain new fresher ideas and skill i.e. how we are going to reopen and how we can refine our menus and dishes. We also had time to make some refurbishments across the whole hotel including a new layout of the Brassiere restaurant where we can now fit more people, following social distancing rules.
Guy: Excited is an understatement! I think lockdown has had its benefits though; a lot of businesses, including ours, have had some real time now to reflect and look at how they operate and plan going forward. A big focus of ours has always been staff welfare, but after this time we have some great protocol and procedure we have put in place to really help promote the right work/life balance and the right environment for our team to work in.
Could you explain a bit about your roles and how they work together?
Martin: I am Head Chef at Karrek, working closely with Guy. We create new menus or discuss new dishes together as well as planning our next steps and in which direction we would like to go. I am quite new to the Head Chef role, but Guy's confidence in me gives me the opportunity to grow under his guidance. We are both on the same page and have quite the same view on what we want on our menu.
Guy: My role is to be across our food and beverage offerings in any way I can. Fundamentally, I'm focused on working with my head chefs in each kitchen to oversee the standards and dishes. My role allows me to be active in all aspects of our food offering here at the hotel and cook all the styles of food I enjoy so much.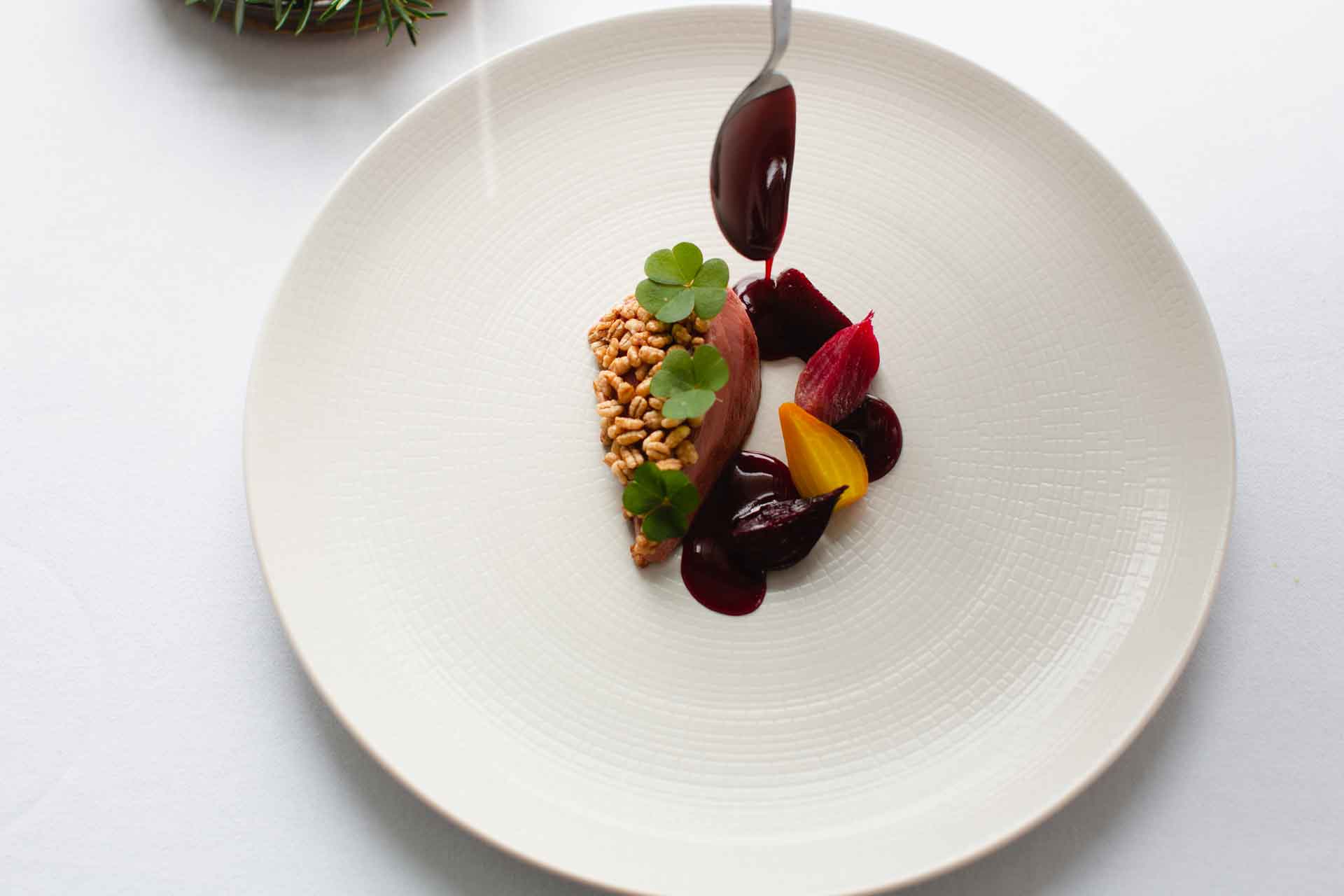 What is the main inspiration behind Karrek?
Martin: We wanted to create a fine-dining restaurant that is not so formal like most of the Michelin-starred restaurants. We wanted something relaxed where our guests will have a really memorable time. It's a small, intimate restaurant where one can enjoy a tasting menu without having a stiff feeling while experiencing our food. Paired with wine tasting and listening to house music in the background; it's a great atmosphere. 
Guy: The main inspiration in Karrek is to cook refined food in an intimate space, whilst trying to break down some of the preconceptions of traditional fine dining. From great produce from ultra-local suppliers of fresh products, through to using a Cornish potter to create a range of crockery for us. With only 18 covers, attention to small details is much more achievable.
Could you tell us a bit about what to expect from Karrek's nine-course tasting menu?
Martin: The focus behind our menu is to cook food using classic Michelin-starred techniques, which is refined and original but also fun to eat. The menu is based on local Cornish produce, using our farm where possible. The whole menu is about fresh and sustainable ingredients with Asian and Nordic twists. With the opportunity to have each dish paired with a glass of wine from our sommelier.
Guy: Everything from traditional French methods, through to Asian, Middle Eastern and British. One course could be something very focused on Porthilly Shellfish, just a stone's throw away, through to farm reared Mangalitsa from our owner's farm. It's a constantly changing menu based upon the availability of produce around us and from our suppliers.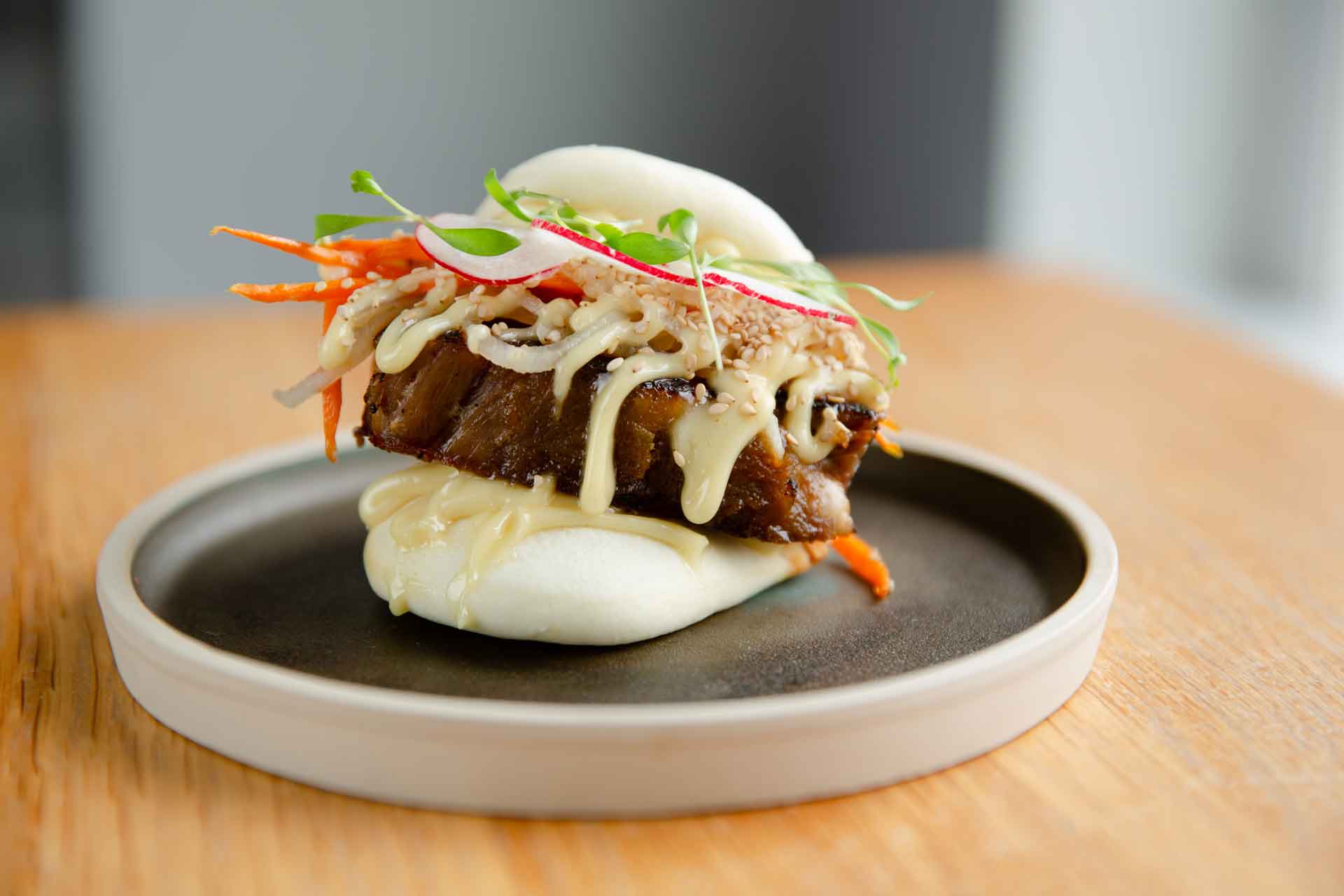 Who do you work with to source the ingredients for Karrek?
Martin: We are mainly using Wellocks for all drystore and West Country Fruit and Veg for our vegetables. For fish it is Fish for Thought and meat is mainly coming from our farm Made-Well using butcher Aubrey Allen. We are also working with Bello Wild food to forage seasonal ingredients.
Guy: We use larger wholesalers for our general products. But work with some very good local suppliers like Fish For Thought who work In collaboration with The Cornwall Seafood Guide to ensure sustainability is always in the forefront of purchasing decisions. Local suppliers would be people like Porthilly Shellfish which can be seen from our restaurants. Bello Wild food for foraged items. We are also branching out to work with some local day boat fishermen. Our Gardens here at the hotel and at the farm are starting to play a big part in how we obtain some key products as well as the rearing program for livestock we have at Made-Well. 
Can you tell me a bit about the concept and menu at the Brasserie?
Martin: We have a set menu offering snacks, small plates, fish, meat and vegetarian dishes. We execute classic dishes using fresh local, sustainable and seasonal ingredients, using the farm produce and our on-site ingredients as much as we can. The overall dining experience in Brasserie is relaxed and very informal.
Guy: Our focus in the Brasserie is to create a menu that is large enough to cater for a multitude of different tastes, but ensures we are cooking everything from fresh. You could pop in for some light snacks to enjoy with an evening or lunchtime drink, through to a three-course meal with friends and family, through to light salads should you wish for a lighter or healthier option.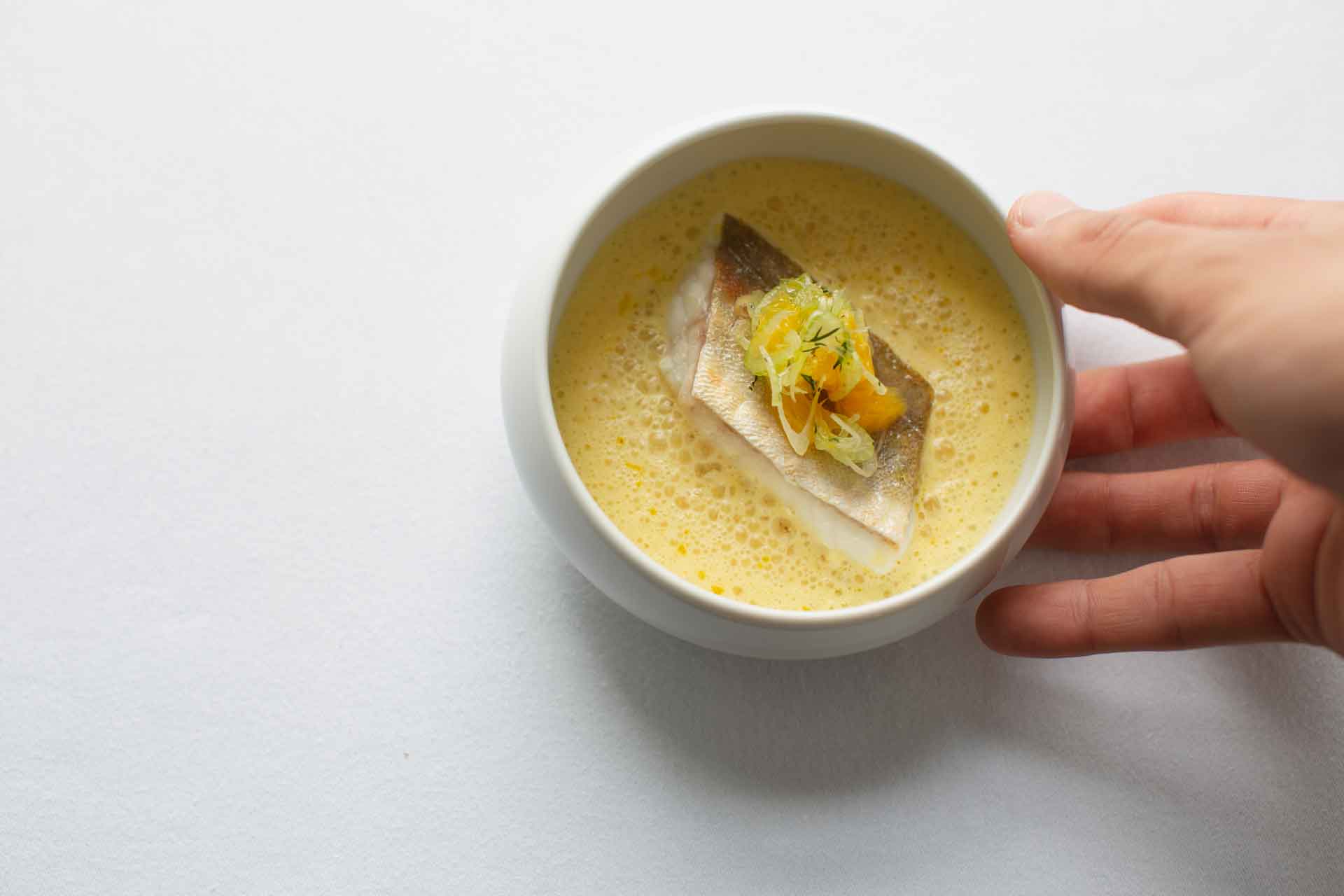 What do you have planned for the hotel's F&B offering over the coming months?
Martin: Karrek will introduce a new menu with more courses and this time we will open the restaurant for four evening services and two lunch services. We are planning to do a few chef nights where we will invite other Michelin-starred chefs to deliver their food experience to our guests. Brassiere will introduce summer barbecues on Saturdays and Friday Sundowners to enjoy Cornish summer after the long-lasting lockdown. We will also have a picnic menu that our guests can order and take with them on the beach.
Guy: We have a lot planned for the coming months. We are launching a new BBQ Saturdays menu throughout the summer months which will feature a couple of guest chefs. Then as they wind down through September, we will begin our autumn chef series, over both restaurants, with some top chefs joining us, then on into Christmas and New Year, which is new to the hotel as they haven't opened for that period before.
Will outdoor-dining be available and will you introduce a new menu concept for this?
Martin: Yes, There is availability for our guests to dine outside overlooking the Camel estuary. We are also planning on doing Barbecues on Saturdays.
Guy: We will be offering some form of outside dining on select days up until we are able to open properly from 17 May. Keep an eye out on the St Enodoc Social Media forums to see the dates.